Ink Refill Instructions Canon PG-540, PG-540 XL
As with any other print head cartridge you should not to print until the PG-540 cartridge is completely empty. If there is ink left inside the printer head it will easily start printing after refilling. If the cartridge is completely empty, the print head may be damaged due to dry printing. Please start refilling only after reading the instructions carefully.
For refilling the Canon PG-540 (XL) cartridge, you need the following supplies:
black ink (8ml for Canon PG-540, 21ml for Canon PG-540 XL)

syringe with needle
small drill
putty knife or cutter knife
Preparation:
Place the cartidge on the table in front of you. Carefully remove the label from the upper side of the cartridge (picture 1), preferably with a putty knife or cutter knife. There is a ventilation opening underneath the label, which can be widened with a drill (picture 2) in order to be used as a filler opening.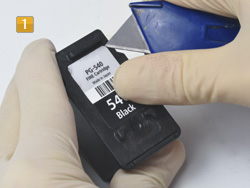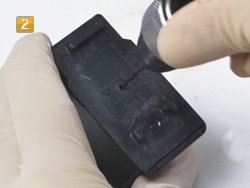 Refilling the Canon PG-540, PG-540 XL cartridge:
Draw as much ink as required into the syringe. The amounts of ink indicated above apply for completely empty cartridges. Insert the needle carefully into the sponge inside the cartridge (picture 3). Carefully fill in the ink. If ink leaks from the filler opening, draw 1-2 ml of ink back into the syringe. Now you can glue the label back on and insert the cartridge into the printer.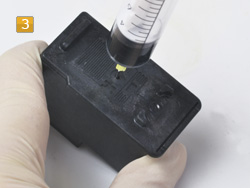 Deactivating the filling level indicator of the printer: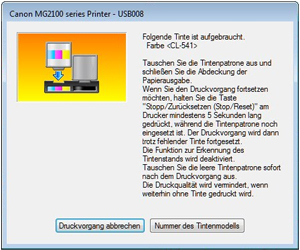 When the PG-540 cartridge is empty, the following filling level warning appears on the screen of your computer: "The following ink cartridge is empty: Colour (PG-540)". This message is shown even after you refilled the cartridge, because the printer remembers the last, empty status of the cartridge. The filling level indicator asks you to exchange the cartridge or to press the "Stop/Reset" button for 5 seconds. If you are using a refilled Canon PG-540 cartridge, press the "Stop/Reset" button for 5 seconds. Then you can continue printing without the filling level indicator. Watch out for stripes on your printouts that indicate a low level of ink, and refill the cartridge before it runs dry.
Characteristics of the Canon PG-540 cartridge:
The printer has an internal memory. This memory may remember the serial number of the Canon PG-540 cartridge. Therefore, your refilled cartridge may still be recognised as empty. The memory usually stores the last 4 cartridges. If you insert 4 different cartridges and then the refilled one, the printer should recognise and accept it as a new cartridge.
All trademarks, trade names or service marks are the property of their respective owners and are used for identification purposes only.