Refill mit dem QU-FILL :: Newsletter Oktober 2013
Wir möchten Ihnen das Nachfüllen leerer Druckerpatronen stets erleichtern. Oft ist es jedoch notwendig, eine Bohrung zu setzen und diese dann wieder mit einem Stopfen oder Heißkleber zu verschließen.
Für das Nachfüllen der aktuellen HP® Patronen 932, 933, 950, 951 sowie 970 und 971 ist genau diese Vorgehensweise jetzt nicht mehr nötig. Die Patronen können nun mit dem QU-FILL ganz leicht befüllt werden.
Doch was genau ist dieser QU-FILL Spritzenaufsatz? Das Octopus-Team hat getüfftelt und möchte Ihnen das Ergebnis heute vorstellen.

Der QU-FILL™ Spritzenaufsatz
Mit dem QU-FILL™ befüllen Sie die aktuellen HP® Patronen ganz einfach mit einer Spritze. Der Spritzenaufsatz verdrängt die Kugel im Ventil der Patrone. Die Tinte gelangt dann durch die Querbohrung in die Patrone. Auf Grund dieser quer gesetzten Bohrung trägt der Spritzenaufsatz auch seinen Namen "QU-FILL". Sehen Sie den QU-FILL im Einsatz bei der Wiederbefüllung der HP® 950 Patrone.
>> Nachfüllanleitung mit dem QU-FILL

Octopus Fluids Tinten für HP® 932, 933
Im Octopus Fluids Labor wurde die alternative Tinte für die HP® 932, 933 entwickelt und fertiggestellt. Unserem Chemiker ist es gelungen, die pigmentierte Tinte für HP 940 so anzupassen, dass ihre Kompatibilität jetzt auf 950, 951 und 932, 933 Patronen anzuwenden ist. Sie haben damit also eine Tinte für drei Patronentypen und das mit bester Farbwiedergabe.
>> Octopus Fluids Tinte für HP 932, 933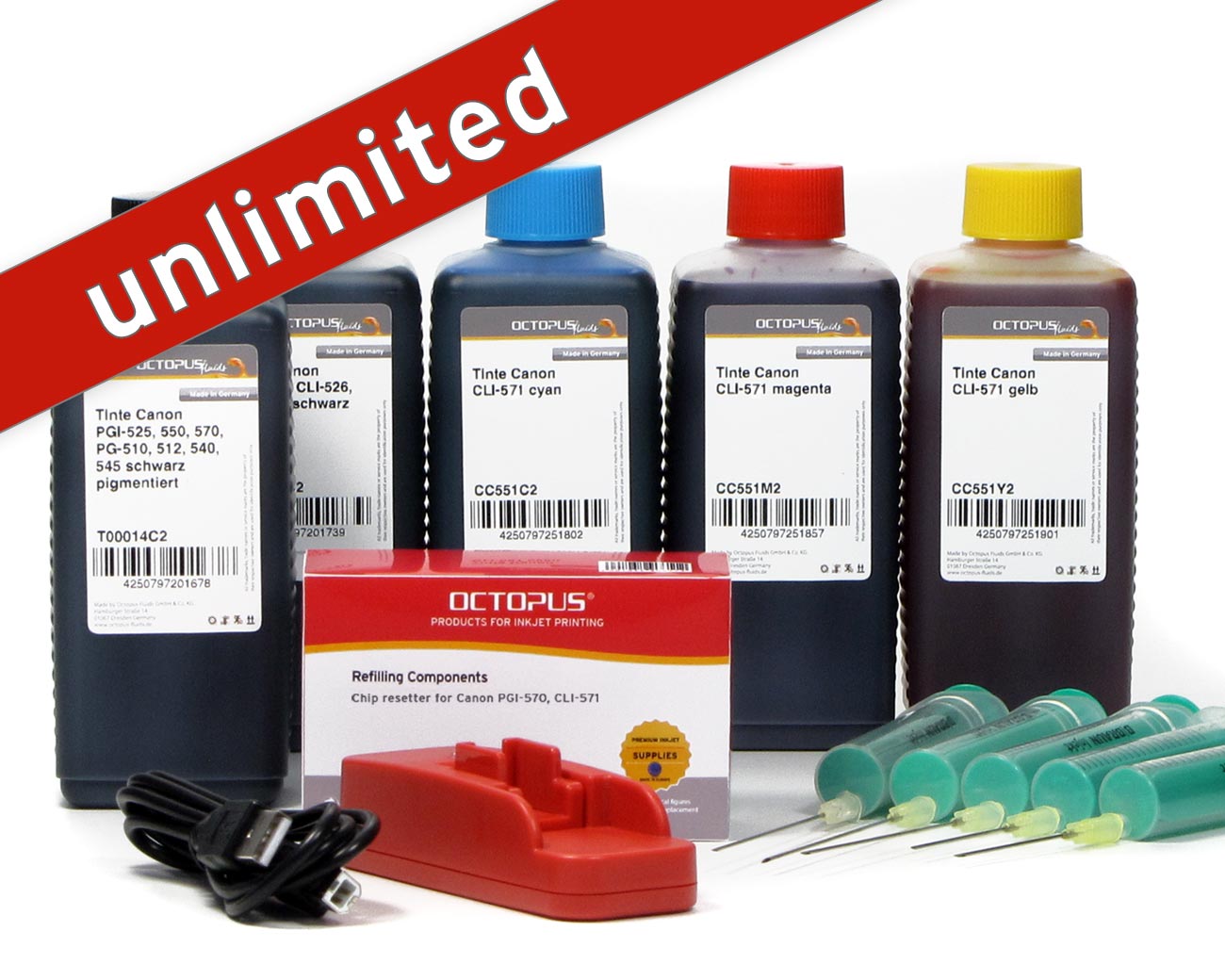 Set with chip resetter for Canon PGI-570, CLI-571 inkjet cartridges and 5x refill ink
Der Canon Chipresetter für PGI-570 und CLI-571 mit Tinte für Pixma MG 5700, MG 6800 und TS 5000, TS6000 Drucker
Chipresetter for Canon PGI-550, CLI-551 inkjet cartridges with 5x refill ink
Der Canon Chipresetter für PGI-550 und CLI-551 mit Tinte für Pixma IP, IX, MG und MX Drucker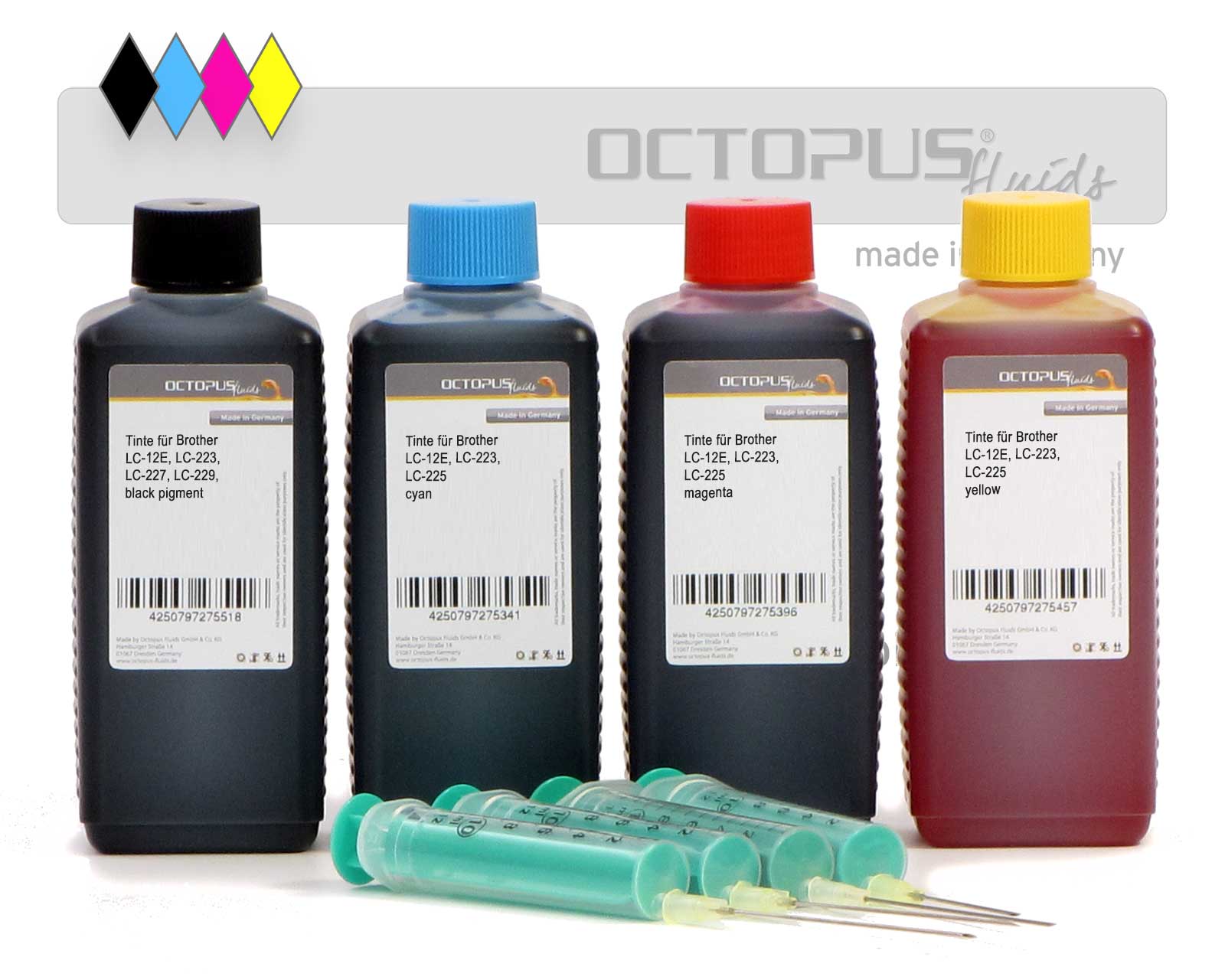 Ink set Brother LC-223, LC-225, LC-227, LC-229, LC-12E
Set comprising five ink colours and refill syringes.
Set of refillable cartridges for Brother LC-227, LC-225 with ink refill kits
Complete kit for Brother LC-227, LC-225, DCP-J 4120, MFC-J 4420, MFC-J 4425, MFC-J 4620, MFC-J 4625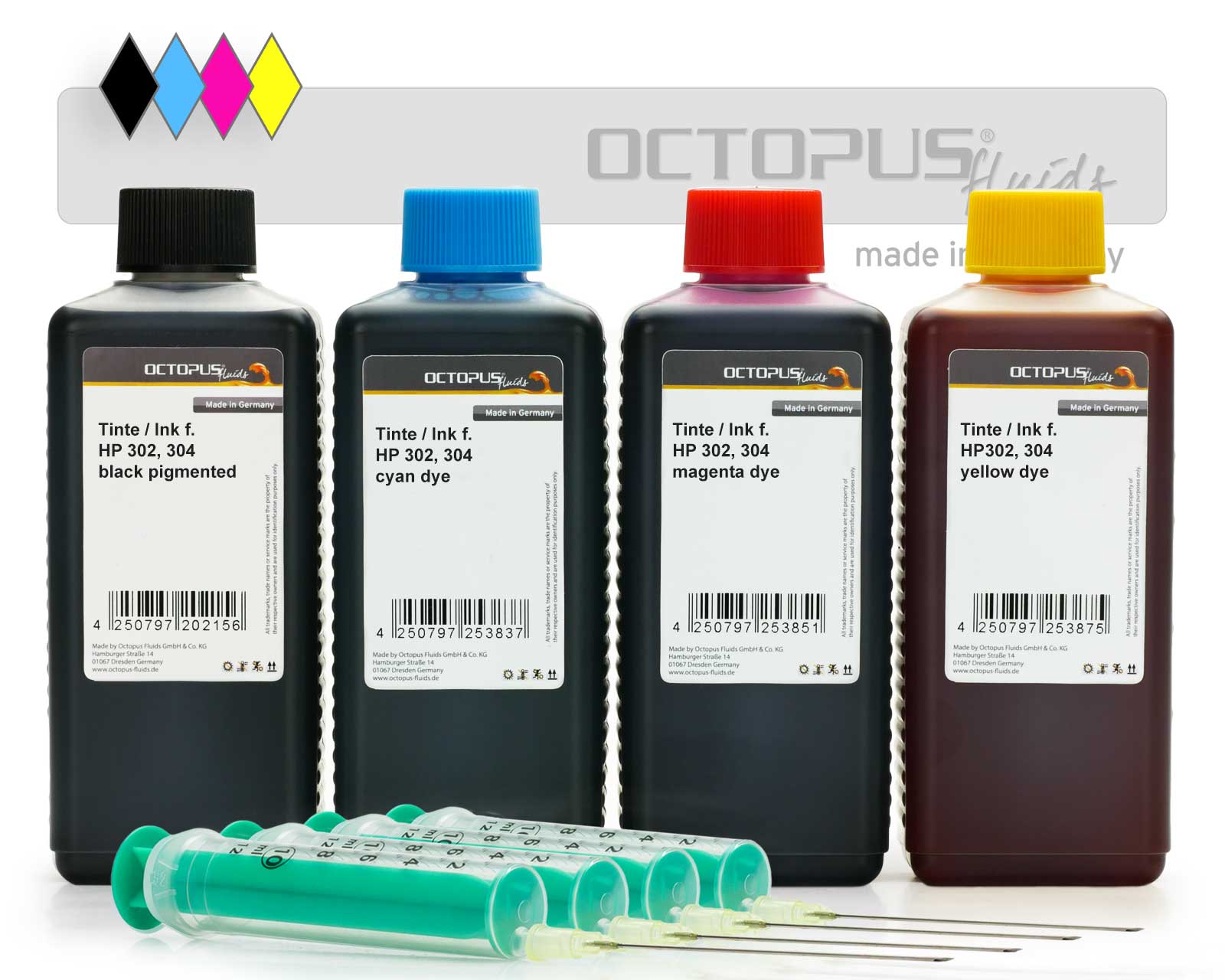 Refill ink kit for HP 302, HP 304 four colours
Druckertinten Komplettset für HP 302, HP 304, F6U68AE, F6U66AE, F6U67AE, F6U65AE, N9K08AE, N9K06AE, N9K07AE, N9K05AE