Newsletter vom 01.02.2015 zu den neuen Epson L355 und L555 Tinten
die neuen Epson EcoTank L300, L355, L555 Drucker drucken mit Farbstofftinte die seitlich am Drucker in Vorratstanks, dem sogenannten CISS, enthalten ist. Die Tinte lässt sich durch einfaches Öffnen der Tanks ganz leicht nachfüllen. Hierzu ziehen Sie einfach den Stopfen aus dem Vorratstank und füllen die neue Tinte ein. Zur Veranschaulichung stellen wir Ihnen auf unserer Seite bereits ein Video zur Verfügung.

Passend zu diesen Druckern bieten wir Ihnen seit dieser Woche unsere optimierten Nachfülltinten an. Die Farbwerte dieser Tinten sind dem Original so angepasst, dass Sie keinerlei Kompromisse zu den Farbräumen der Originaltinten hinnehmen müssen. Die Schwarze Tinte hat in dieser Serie einen besonders hohen Farbstoffanteil. So drucken Sie äußerst kontrastreiche Bilder. Aber auch bei den restlichen Farben wird jeder Text und jedes Bild die Zufriedenheit des kritischen Betrachters erreichen.
35x 30 ml Octopus Fluids Resin Ink Set, Alcohol Ink for Epoxy Resin and UV Resin
Colour-intensive alcohol ink for colouring epoxy resin and UV resin. Colour-faithful and without brown tint. 35 radiant epoxy resin colours in an economy set.
Chipresetter for Brother LC-3237, LC-3239, LC-3233, LC-3235 inkjet cartridges, for 60 Resets
Chip Resetter for resetting Brother LC-3237, LC-3239, LC-3233, LC-3235 und Brother DCP-J 1100, HL-J 6000, HL-J 6100, MFC-J 1300, J 5945, J 6945, J 6947 cartridges
Refill Ink set for Brother LC-3211, LC-3213 cartridges, CMYK
Set for Brother LC-3211, LC-3213, Brother DCP-J 572, DCP-J 770, DCP-J 772, DCP-J 774, MFC-J 490, MFC-J 491, MFC-J 497, MFC-J 890, MFC-J 895 a.o.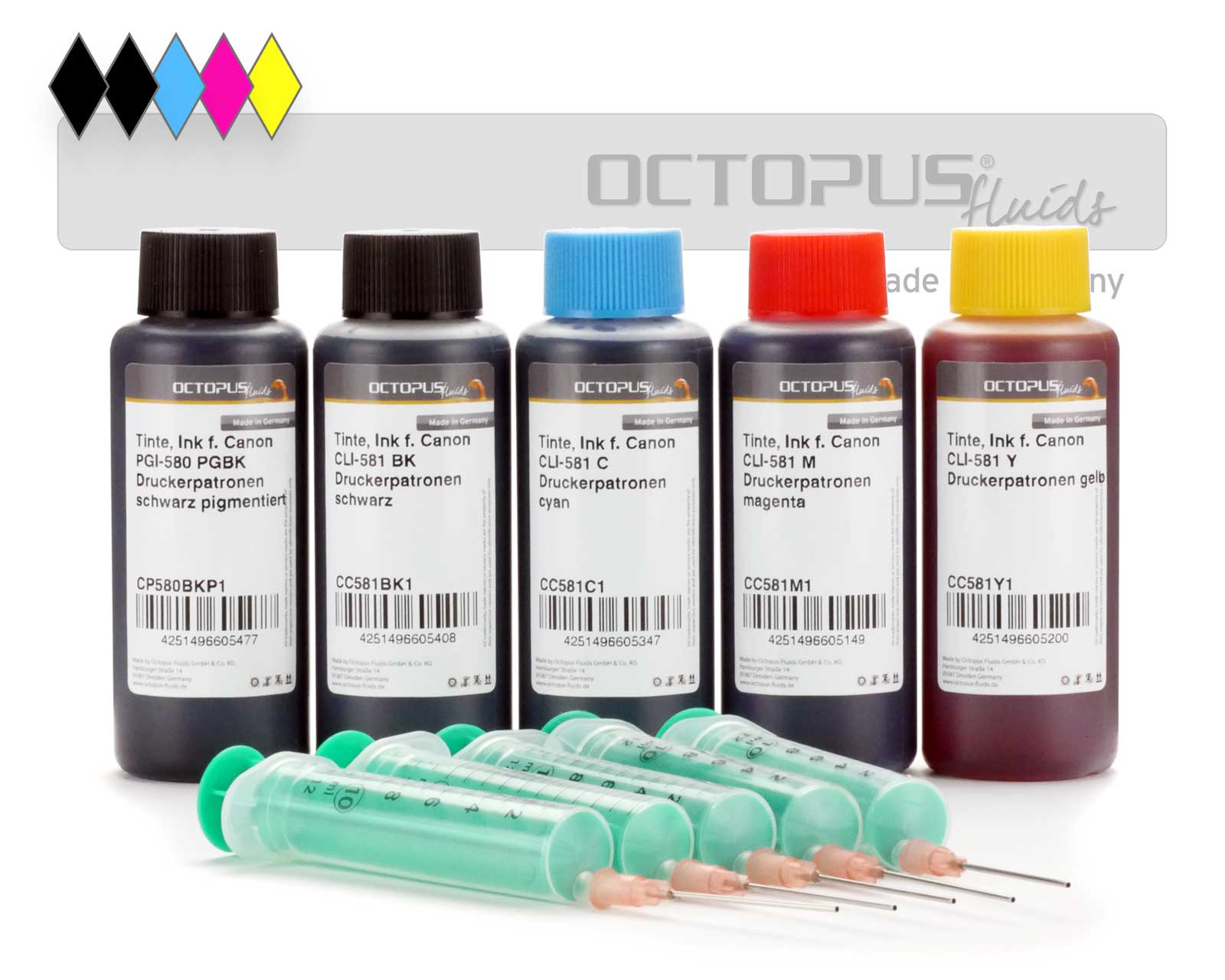 Refill ink kit for Canon PGI-580 PGI-280, CLI-581, CLI-281 inkjet cartridges
Original Printer Cartridge Lexmark 34 xl black.
Refill ink kit for Epson 33, Expression Premium XP-530, XP-630, XP-830 CMYK
Refill inks specifically for Epson 33, Epson Expression Premium XP-530, XP-540, XP-630, XP-635, XP-640, XP-645, XP-830, XP-900, XP-7100 printers. Set comprising 5 ink colours and refill syringes.