Pigmenttinten sind frostempfindlich und keine einfachen Farbstofflösungen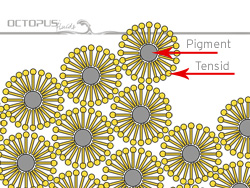 Pigmenttinte ist nicht nur eine einfache Farbstofflösung, sondern eine hochkomplexe Mischung von flüssigen (Lösemittel) und festen (Pigmente) Bestandteilen. Damit die festen Bestandteile nicht zu Boden sinken, wie im Fall einer Sand-Wasser-Mischung, müssen diese sehr klein gemahlen (ca. 50 nm, das sind 50 millionstel Millimeter) werden und die Tinte muss sorgfältig ausbalanciert werden. Zum einen soll der Unterschied in der Dichte zwischen Pigment und Lösemittel klein sein, zum anderen werden Hilfsstoffe ("Tenside") verwendet, die in Lösung kugelförmige Strukturen bilden (sogenannte Kugelmizellen), die die Pigmentteilchen umschließen und in der Schwebe halten.
Die fertige Tinte befindet sich dann in einem sehr empfindlichen Gleichgewicht. Mit der natürlichen Alterung der Tinte wird dieses Gleichgewicht gestört und die Pigmentteilchen sinken zu Boden. Nun kann dieser Prozess beschleunigt werden, indem die Tinte z.B. mit Wasser oder Alkohol verdünnt wird. Ebenso sind Änderungen des pH-Werts schädlich für die Tinte. Aber auch große Temperaturschwankungen führen zum Ausflocken, deshalb darf Pigmenttinte nicht eingefroren oder durch allzu tiefe (ab ca. 5°C) oder hohe (ab ca. 50°C) Temperaturen "geschockt" werden. Diese Alterung lässt sich nicht wieder Umkehren, d.h. Durch z.B. Schütteln oder starkes Rühren kann die Tinte nicht wieder funktionsfähig gemacht werden. Das liegt daran, dass sich viele Teilchen (Pigmente) zusammengelagert haben, die immer wieder absinken oder sogar den Druckkopf Ihres Druckers blockieren können.
Zu Ihrer Sicherheit liefern wir daher Pigmenttinten oder Artikel, die Pigmenttinten enthalten bei extrem niedrigen Aussentemperaturen nicht mehr aus. Für Sie hat das den Vorteil, dass die Pigmente in den Tinten unserer Octopus Fluids nicht bereits verklumpt bei Ihnen ankommen. Sie erhalten immer ein hochwertiges Qualitätsprodukt aus dem Hause Octopus Fluids GmbH & Co. KG.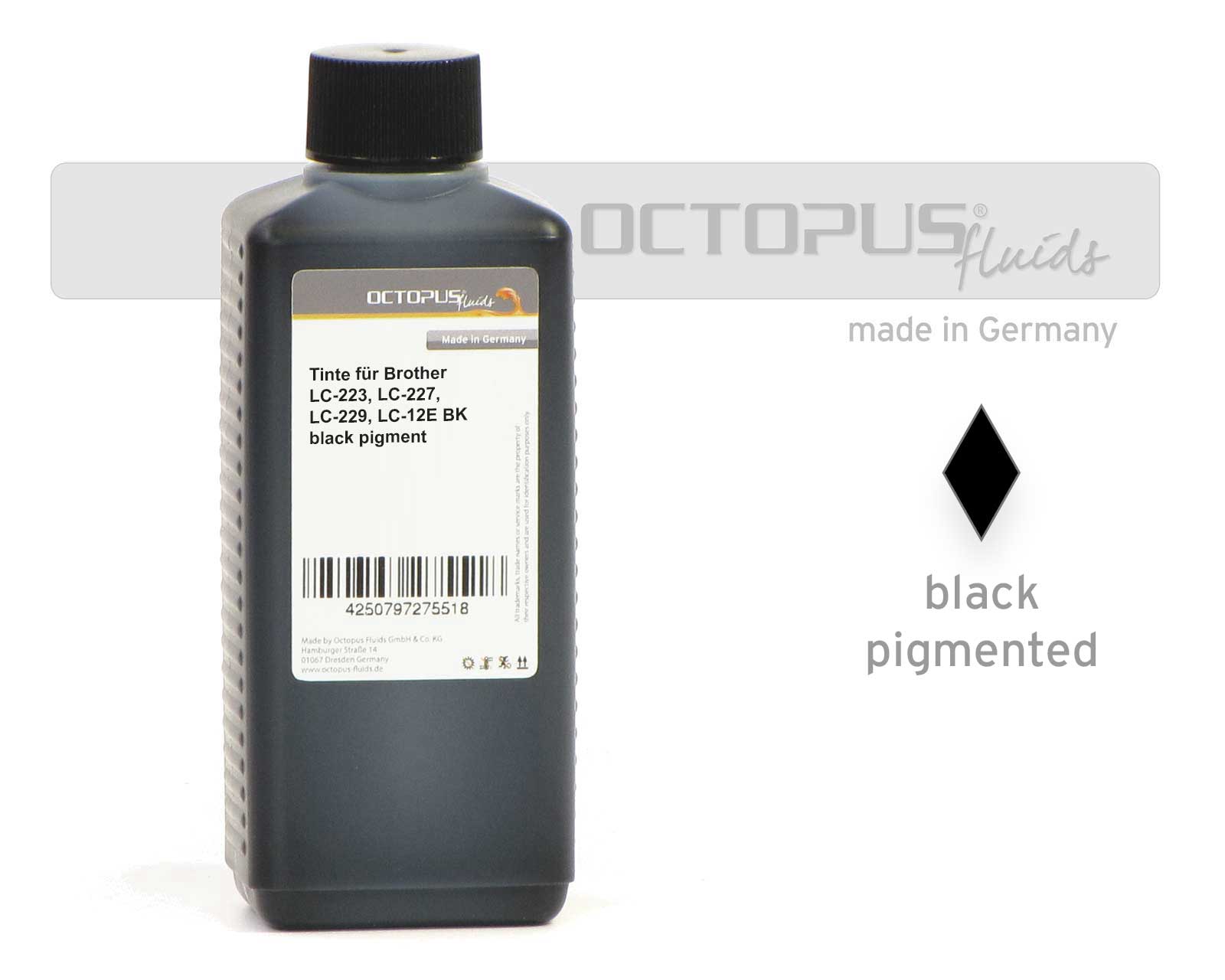 Refill ink Brother LC-223, LC-227, LC-229, LC-12E black pigmented
Refill Ink Selection, a selection of the best inks of the manufacturer OCP.
Refill ink Brother LC-22UBK, BT6000BK, DCP-J 785, MFC-J 985 black
The colour was developed by Octopus Fluids, specifically for Brother DCP-J 785, MFC-J 985.
Ink for Canon PGI-525, 550, 555, 570, PG-540, 545, 510, 512 pigm. black
The colour was developed by OCP specifically for Canon Pixma PRO 100 photo printers.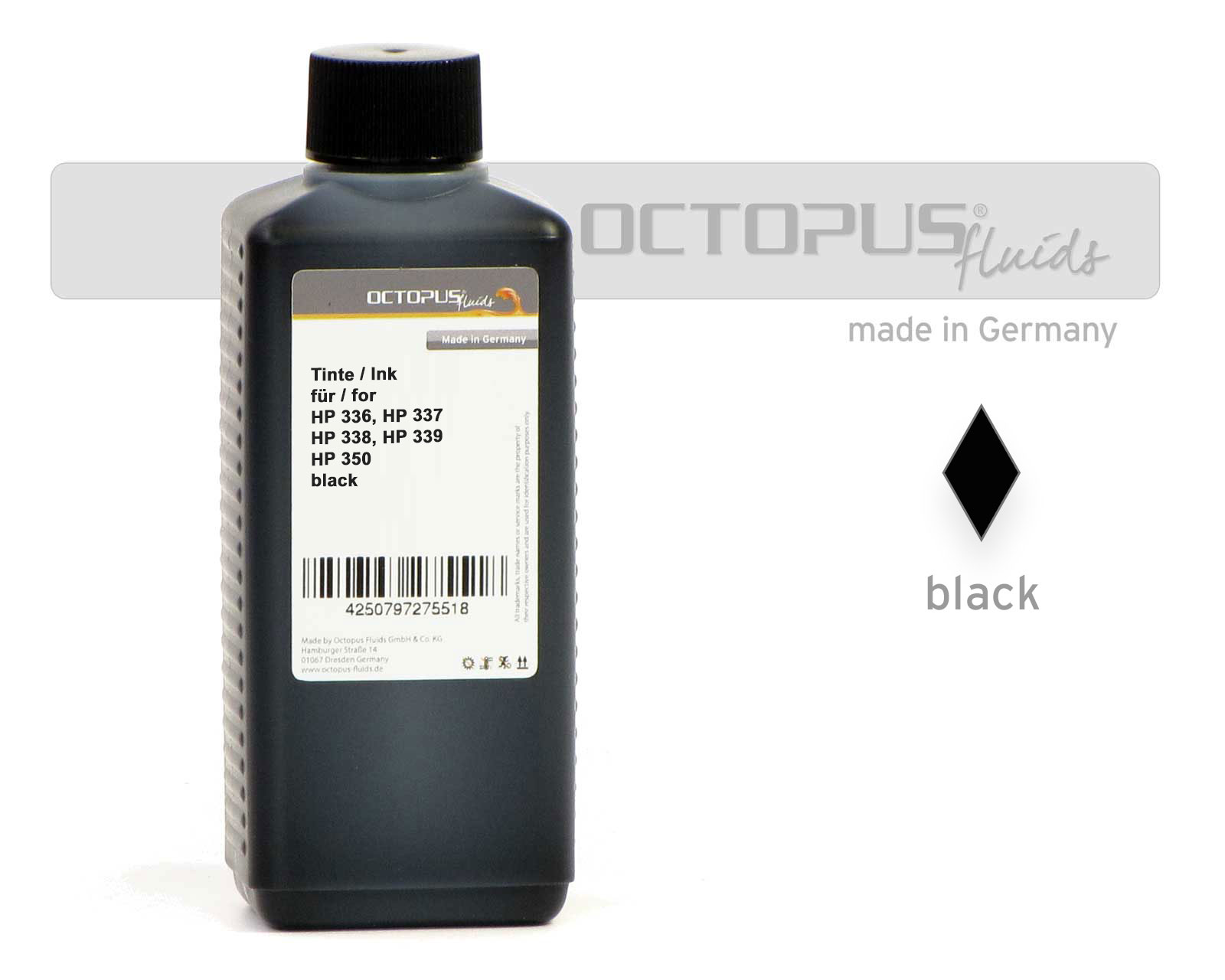 Octopus Refill Ink for HP 336, 337, 338, 339, 350, 350 XL pigmented black
Test inks according to DIN 53126 are produced by Octopus Fluids® and tested according to DIN EN 14370, DIN 19268 and DIN 51562.