Wie entfernt man Tintenflecken von Händen, Kleidung oder Stoff?
Einführung
In Octopus Inkjet-Tinten werden zwei Arten von Farbstoffen eingesetzt: Wasserlösliche und Pigmentfarbstoffe. Wasserlösliche sind, wie der Name sagt, vollständig in Wasser gelöst und können daher mit dem Wasser aus der Tinte weit in die Textilfaser eindringen. Pigmentfarbstoffe lagern sich im allgemeinen nur äußerlich an die Fasern an. Beide Farbstoffe können sich aber über molekulare Wechselwirkungen bis hin zu chemischer Bindung an die Fasern anhaften. Dies hängt von den chemischen Eigenschaften des Farbstoffs ab. Einen Farbstoff rein mechanisch wieder von den Händen oder Textilfasern zu entfernen ist daher sehr schwer. Weiterhin ist bei der Fleckentfernung Eile geboten, da sonst die Farbstoffe zu tief eindringen, um wieder abgelöst werden zu können.

Wie entfernt man Tintenflecken von Händen, Kleidung oder Stoff?
Hinweis: Die befleckten Textilien oder Hände sofort mit kaltem Wasser spülen. Danach verfahren Sie wie jeweils nachfolgend beschrieben.

Tintenflecken an den Händen
Waschen Sie Ihre Hände mit Handwaschpaste, um die Farbe mechanisch von den Händen abzureiben. Danach waschen Sie die Hände mit Seife. Zum Schluß sollten Sie Ihre Hände mit einer rückfettenden Handcreme einreiben. Für hartnäckige Fälle nehmen Sie eine Waschpaste mit chmischen Zusätzen, die die Farbstoffe reduktiv zerstören, z.B. ReDuRan (Octopus Art.-Nr. RED250).

Tintenflecken auf weißen Textilien
Sind Spritzer von farbiger Inkjet-Tinte auf weisse Textilien gelangt, benutzen Sie Chlorbleiche und kaltes Wasser, um den Fleck zu entfernen. Sie müssen hierbei aber schnell handeln, sonst dringt die Farbe zu tief ein.
Bitte kein warmes oder heisses Wasser verwenden! Dadurch wird der Farbstoff nur fester an die Faser gebunden.

Tintenflecken auf bunten Textilien
Verwenden Sie eine mit kaltem Wasser verdünnte Mischung aus Waschmittel und Ammoniaklösung. Auch hier müssen Sie schnell handeln. Weiterhin sollten Sie an einer unauffälligen Stelle testen, ob die Reinigungslösung die Farbe des Gewebes angreift. Bitte kein warmes oder heisses Wasser verwenden.
Warnung: Mischen Sie auf gar keinen Fall Ammonikwasser mit Chlorbleiche. Hierbei entstehen giftige Dämpfe!
Latex gloves PapStar deluxe, large, powder free
InkJet labels, adhesive labels for HP 57 color to replace damaged cartridge labels quickly and without difficulty.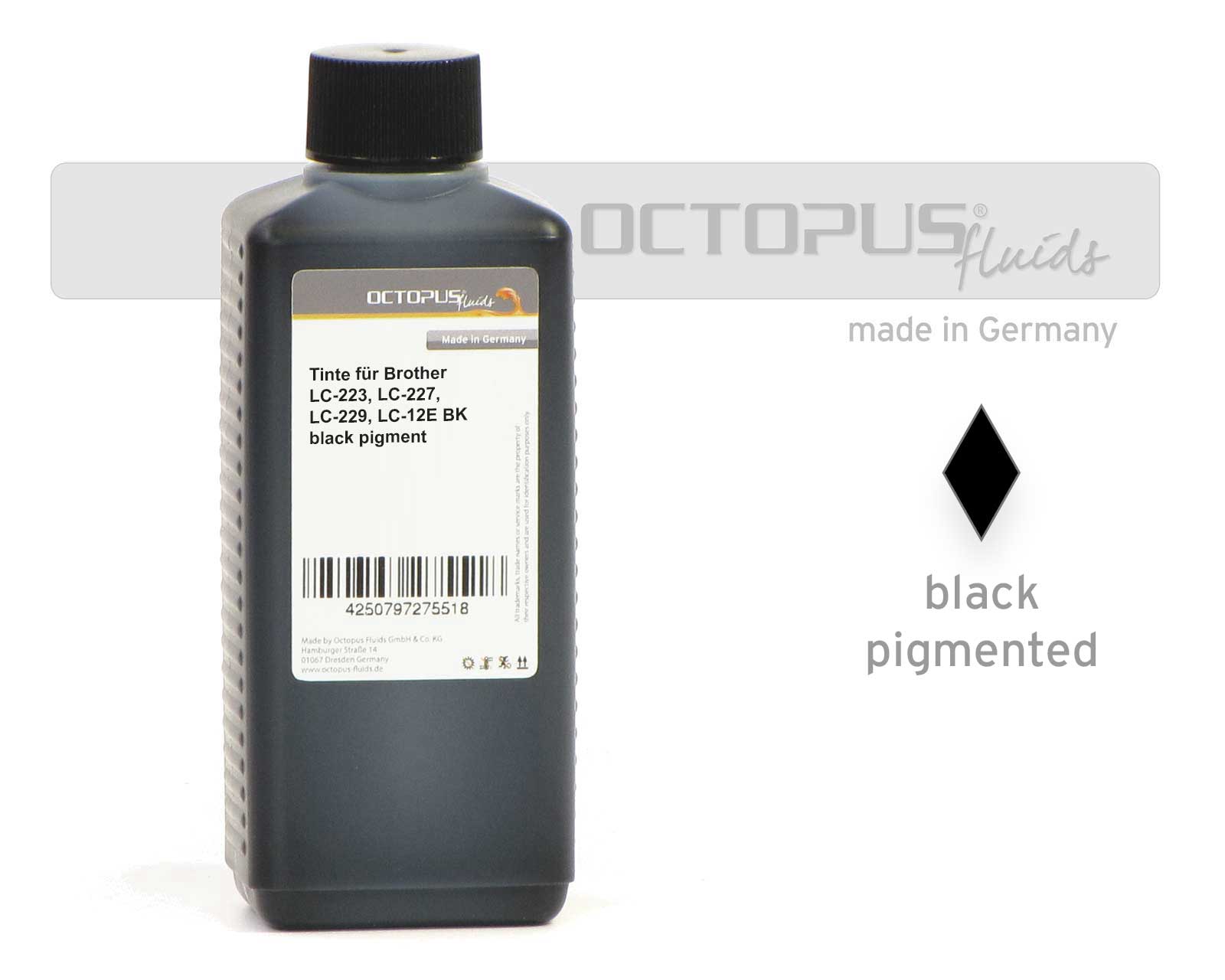 Refill ink Brother LC-223, LC-227, LC-229, LC-12E black pigmented
Refill Ink Selection, a selection of the best inks of the manufacturer OCP.
Refill ink Brother LC-22UBK, BT6000BK, DCP-J 785, MFC-J 985 black
The colour was developed by Octopus Fluids, specifically for Brother DCP-J 785, MFC-J 985.
Ink for Canon PGI-525, 550, 555, 570, PG-540, 545, 510, 512 pigm. black
The colour was developed by OCP specifically for Canon Pixma PRO 100 photo printers.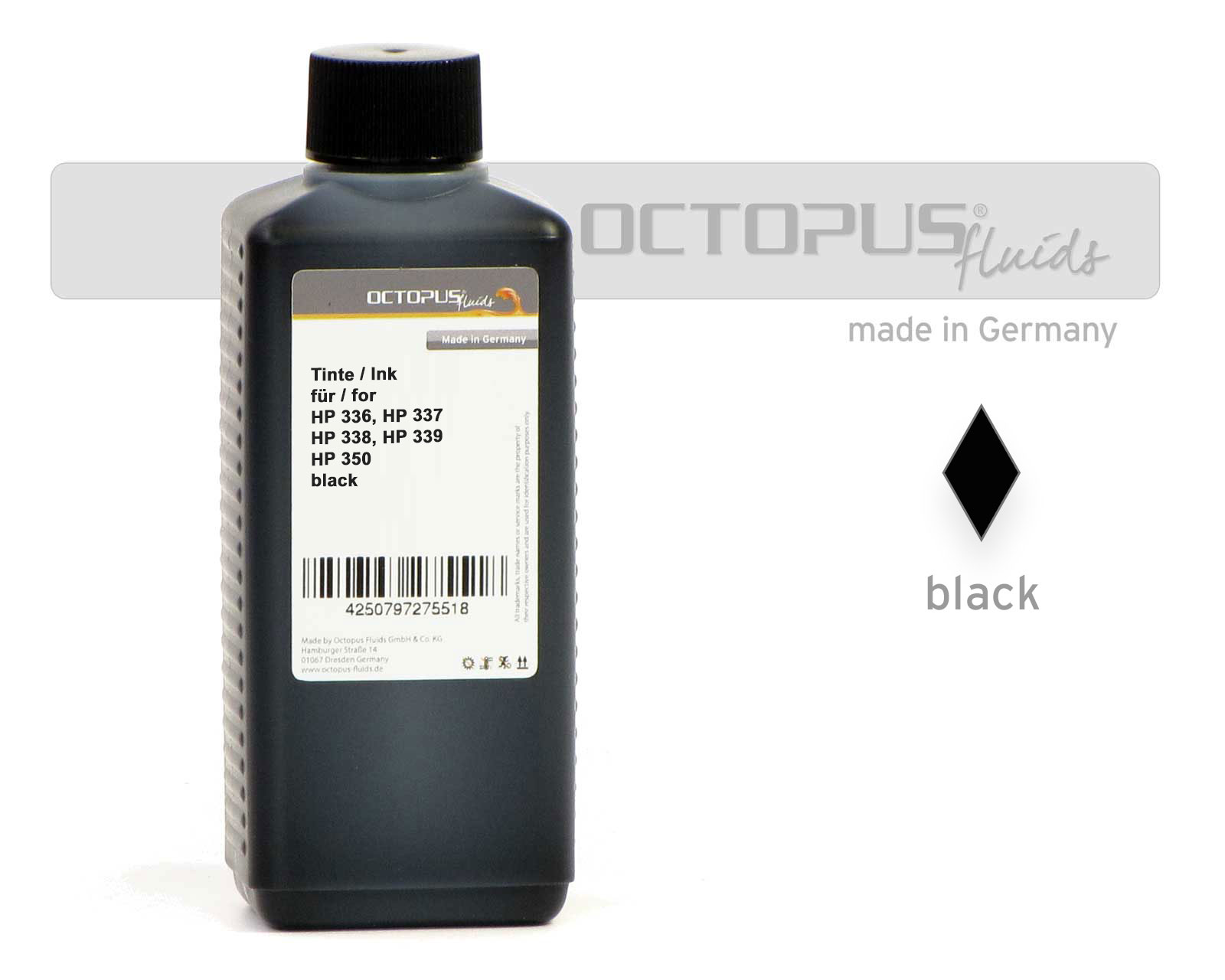 Octopus Refill Ink for HP 336, 337, 338, 339, 350, 350 XL pigmented black
Test inks according to DIN 53126 are produced by Octopus Fluids® and tested according to DIN EN 14370, DIN 19268 and DIN 51562.