Co-Desk / Octopus Compafix - die umfangreichste Hardcopy Informationssoftware Europas

Unsere Informationsoftware Octopus Compafix ist ideal für Hersteller, Distributoren und Händler von Verbrauchsmaterialien für Büromaschinen. Vielleicht kennen Sie Ihn schon unter den Bezeichnungen anderer Distributoren?
Octopus Compafix ist die Basis für weitere Entwicklungen anderer Hersteller. Durch seine europa- und wahrscheinlich weltweit umfangreichsten Hardcopy Informationen sowie seiner einfachen Bedienung erfreut es sich nicht nur in Deutschland großer Beliebtheit.
| | |
| --- | --- |
| Büromaschinen | Über 75.000 Einträge aus den Bereichen Laser, InkJet, Fax, Kopierer, Plotter, Non-Impact, POS, Schreibmaschinen usw. |
| Verbrauchsmaterial | Über 25.000 Einträge von Original- und Alternativherstellern mit OEM- und Partnummer, Kapazitäten, Inhalt usw. |
| Hersteller | Über 1.600 Kataloge von Original- und Alternativherstellern |
| Kompatibilitätsgruppen | Über 2.000 Kompatibilitätsgruppen mit Angaben über Codierungen und Querverweisen |
| Forum | Internes Forum zum Austausch wichtiger Informationen, Modifizierungen und Features zu Verbrauchsmaterial und Druckwerken. |
| | |
| --- | --- |
| Suche | Vier verschiedene Suchmöglichkeiten über Bezeichnung, Kataloge, Gruppennummern und Kategorienindex |
| Gruppenangaben | Angabe des Druckwerks, der Druckwerksfamilie, der Deutschen Gruppennummer und der englischen Carmanr. |
| Kompatibilitäten | Angabe über baugleiche und bauähnliche Geräte mit identischen oder modifizierten Druckwerken mit Angabe der Codierung und verwandten Druckwerken. |
| Büromaschinenansicht | Ansicht der Gerätedaten, des Druckwerks sowie sämtlicher Original- und Alternativ-Verbrauchsmaterialien, die sich mit oder ohne Modifizierung einsetzen lassen. |
| Verbrauchsmaterialansicht | Ansicht des Artikels mit Basisangaben, Deutscher Gruppennummer, Carmanr sowie alternativen Verbrauchsmaterialien, die sich anstelle des gewählten Artikels verwenden lassen sowie Einträge des Forums. |
| Katalogansicht | Vollständig, in Verzeichnisbäumen gegliederte Ansicht sämtlicher Büromaschinen und Verbrauchsmaterialien eines Herstellers. |
| Neuheiten | Übersicht aller Neuprodukte der letzten Monate. |
| Update | Monatliches Update sämtlicher Daten und der Software durch email-Benachrichtigung. |
| Forum | Internes Forum zum Sammeln von Hinweisen zu Büromaschinen und Artikeln. |
| Mehrsprachigkeit | Samtliche Daten und Funktionen können im laufenden Betrieb auf deutsch, englisch, französisch, spanisch, italienisch, niederländisch und schwedisch umgeschaltet werden. |
| Hilfe | Zu sämtlichen Funktionen und Ansichten erhalten Sie eine umfangreiche Hilfe, die keine Fragen offen lässt. |
Octopus Compafix wird monatlich per email/Internet aktualisiert. Damit sind Sie immer up-to-date und bekommen Neuerscheinungen und Messeneuheiten sofort geliefert.
Octopus Compafix ist auch in Netzwerkversionen für bis zu 50 User erhältlich.
Möchten Sie sich einen Eindruck von Octopus Compafix verschaffen?
Dann sehen Sie sich doch ein paar Screenshots an oder laden Sie sich kostenlos eine Demo-Version herunter!
Preise netto zzgl. 19% MwSt.
| | |
| --- | --- |
| Octopus Compafix Einzelplatzversion | 71,- EUR/Jahr |
| Octopus Compafix 3-User Netzwerkversion | 129,- EUR/Jahr |
| Octopus Compafix 5-User Netzwerkversion | 169,- EUR/Jahr |
| Octopus Compafix 10-User Netzwerkversion | 249,- EUR/Jahr |
| Octopus Compafix 20-User Netzwerkversion | 369,- EUR/Jahr |
| Octopus Compafix 50-User Netzwerkversion | 659,- EUR/Jahr |
Alle Preise verstehen sich inklusive monatliches Update für das volle laufende Jahr. . Sollten Sie Compafix inmitten eines Jahres bestellen, wird Ihnen der Betrag anteilig berechnet.
Beispiel:
Sie bestellen eine Compafix Einzelplatzversion im Juli. Wir berechnen Ihnen 71 EUR abzüglich 50% für die ersten sechs Monate des Jahres. Erst im Januar des folgenden Jahres zahlen Sie wieder 71 EUR für das volle Jahr.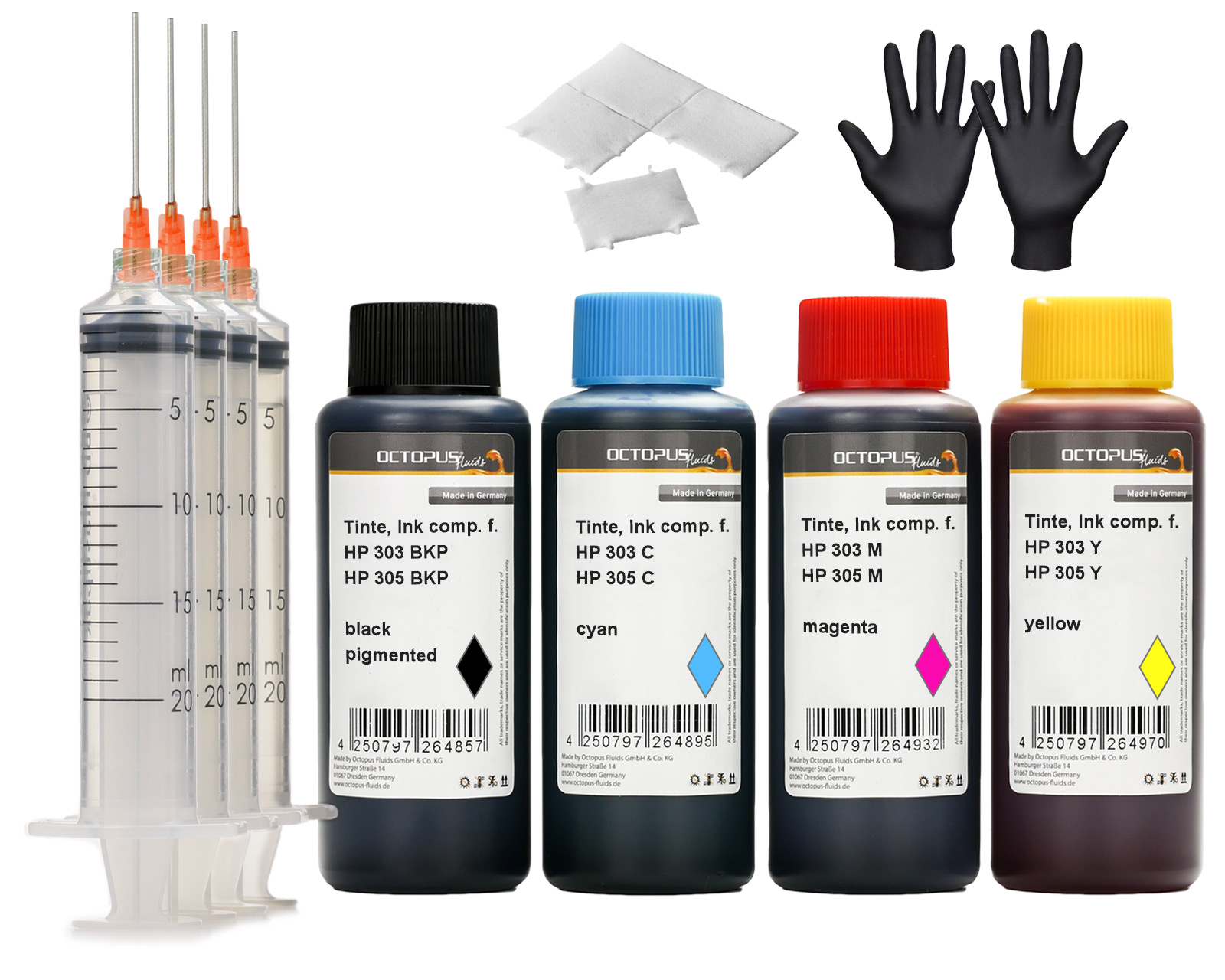 Printer Ink Set for HP 303 and HP 305 Ink cartridges
Printer ink for HP ENVY, Photo 7130, 7134, 6232, 7830, 6230, 6234, 6220, Tango, DeskJet 2700 Series, DeskJet Plus 4100 Series, Envy 6000 Series, Envy Pro 6400 Series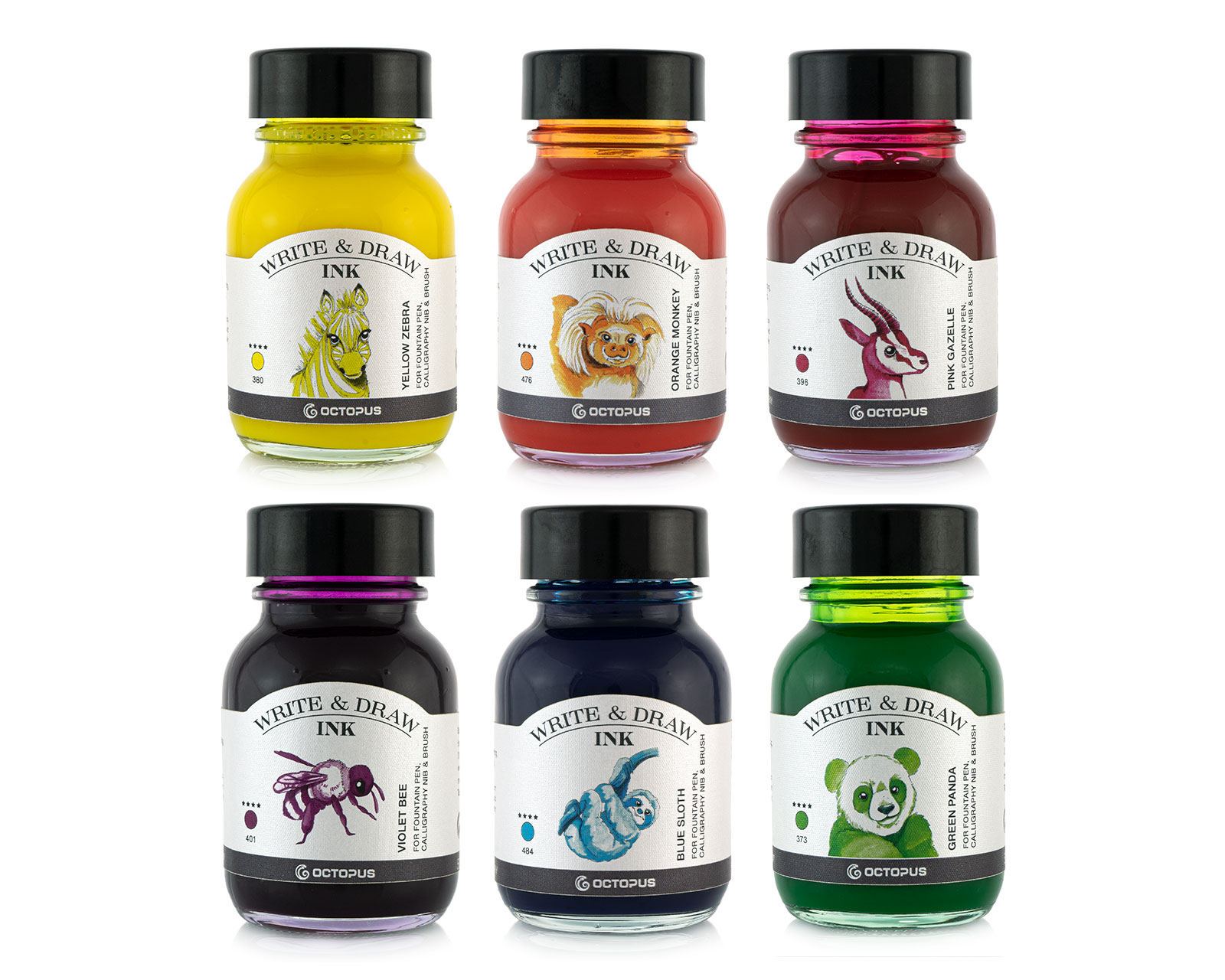 Write and Draw Ink Set, waterproof drawing ink for fountain pens, 6 colours
Octopus Write & Draw Ink, waterproof ink for fountain pen, nib and brush, vegan
The Octopus Write & Draw inks are unique, smudge-proof and waterproof writing and drawing inks in a wide range of colours. They were developed for daily use in fountain pens and are also popular with graphic artists, illustrators, calligraphers and artists for writing, sketching, drawing and colouring with calligraphy pens, glass pens or brushes.

Each of the 38 brilliant shades inspires with its intense colour power thanks to its high, balanced pigmentation. In addition to a deep black and various shades of grey, the extensive colour palette also includes a particularly opaque white, which can be used on dark backgrounds.
During the development of the drawing ink, special attention was paid to its use in the fountain pen. The use of the finest colour pigments in a carefully balanced formula ensures high light fastness and a good, even ink flow without clogging the ink duct of the fountain pen. These pigmented writing inks also feature the excellent writing behaviour of the classic Octopus fountain pen inks. The Write & Draw drawing ink meets the requirements for document-proof ink according to DIN ISO 12757-2 and DIN ISO 14145-2 and is produced exclusively with vegan ingredients.

Writing enthusiasts love the razor-sharp typeface that can be achieved on fountain pen-suitable paper and the pleasant shading of the Write & Draw writing ink. Calligraphers can create the finest hairlines and impressive flourishing elements, while urban sketchers can draw precise outlines.
The ink dries waterproof in a very short time and can then be painted over with another shade of Octopus Write & Draw ink or watercolour. It is eraser-proof and most of the colours are also highlighter-proof.
Both pure and diluted with water, Octopus Write & Draw ink is excellent for colouring. Used undiluted, the waterproof ink convinces with its opacity. The many colours of Octopus drawing ink can be mixed with each other, but also with water. In this way, countless colour shades can be achieved for beautiful watercolour effects.
Unlike most other waterproof inks, Octopus Write & Draw can be used in a fountain pen without hesitation. However, care should be taken not to let the fountain pen dry out. We therefore recommend that you rinse and clean your writing instrument carefully after use to prevent the ink from drying up accidentally.

The Octopus special cleaner for pigmented inks is available for cleaning your writing Instruments.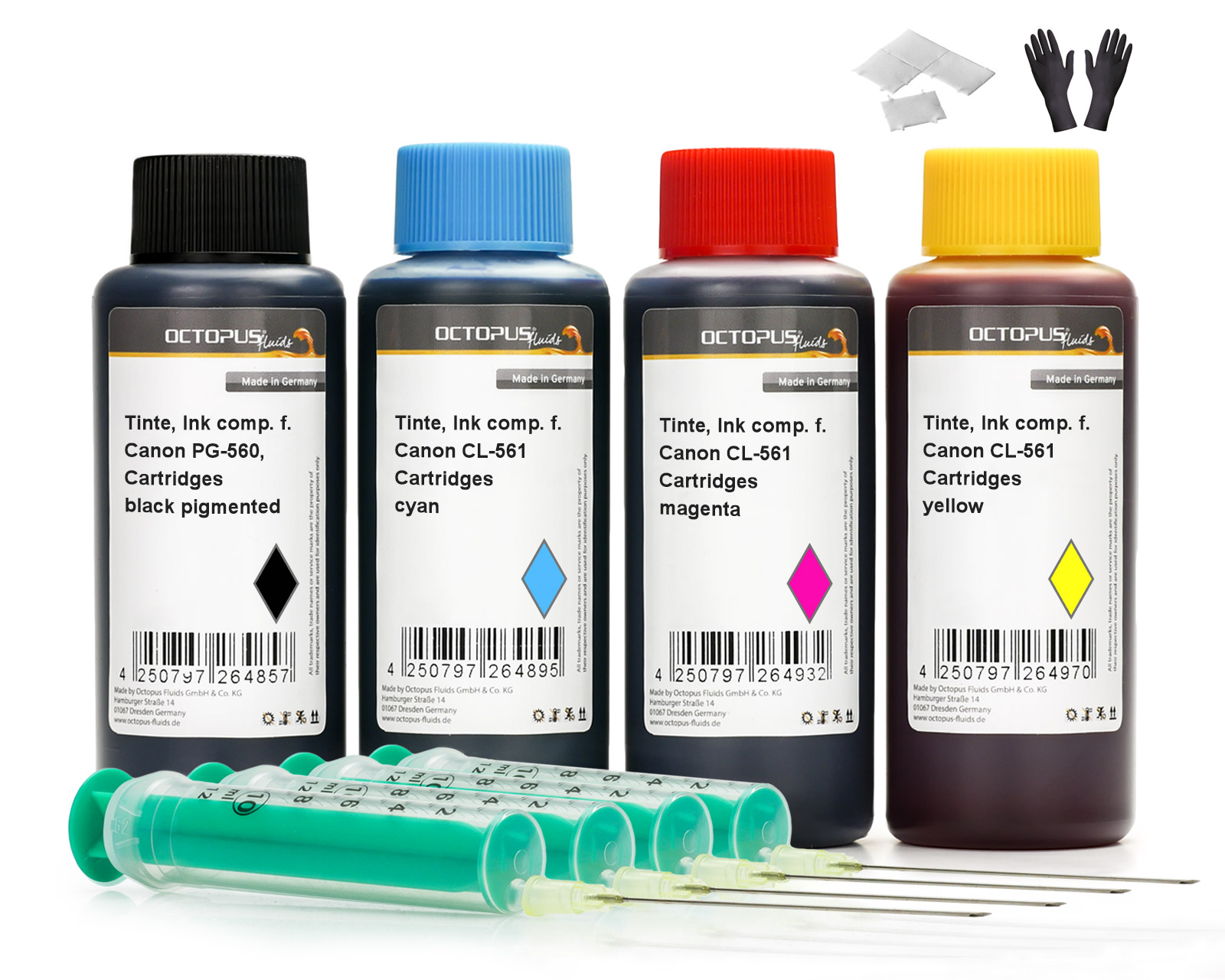 Octopus printer ink set compatible for Canon PG-560, CL-561 ink cartridges, Canon Pixma TS 5300, 7400
Druckertinte für Canon Pixma TS 5300, TS 5350, TS 5350, TS 5351, TS 5352, TS 5353, TS 7400, TS 7450, TS 7450, TS 7451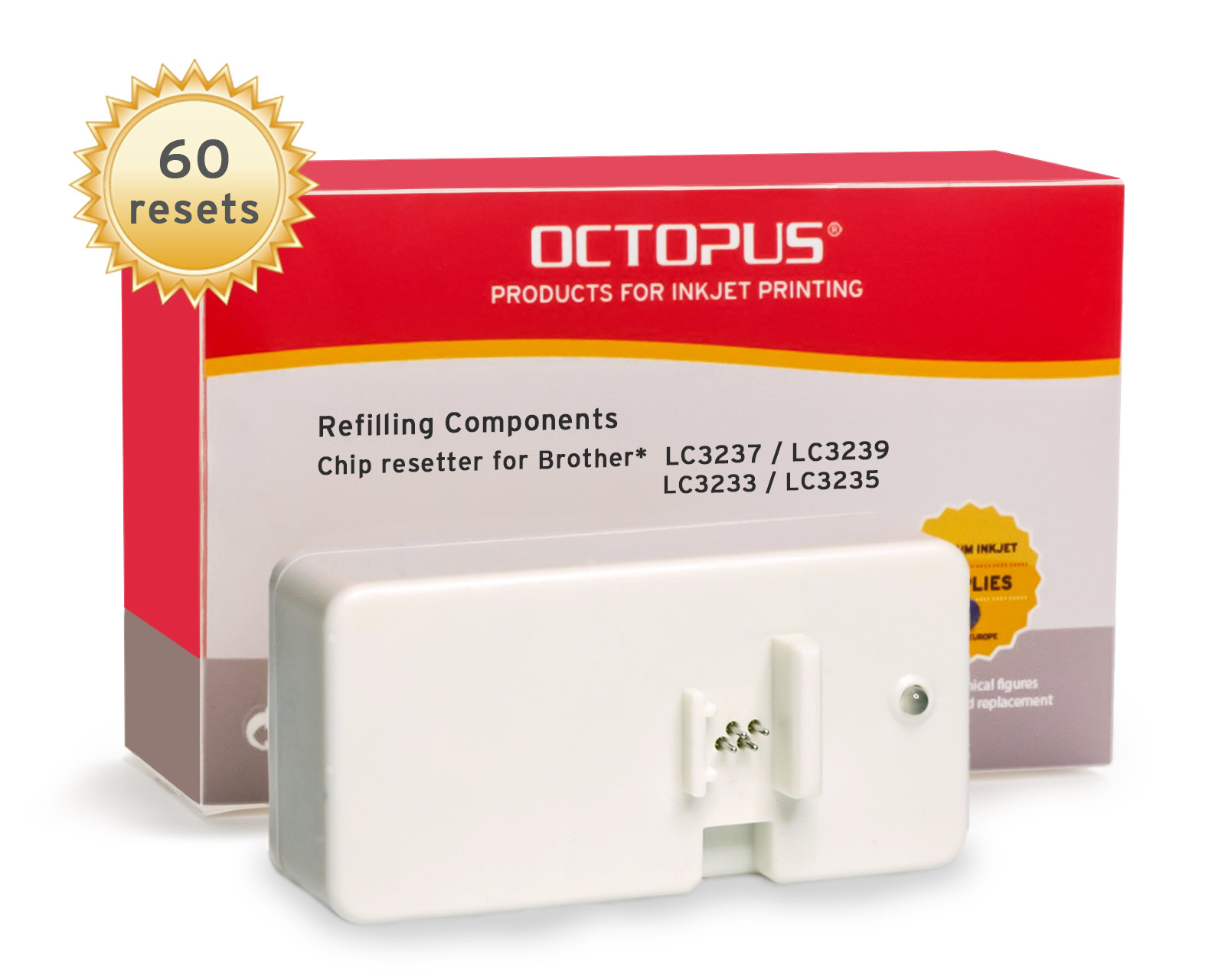 Chipresetter for Brother LC-3237, LC-3239, LC-3233, LC-3235 inkjet cartridges, for 60 Resets
Chip Resetter for resetting Brother LC-3237, LC-3239, LC-3233, LC-3235 und Brother DCP-J 1100, HL-J 6000, HL-J 6100, MFC-J 1300, J 5945, J 6945, J 6947 cartridges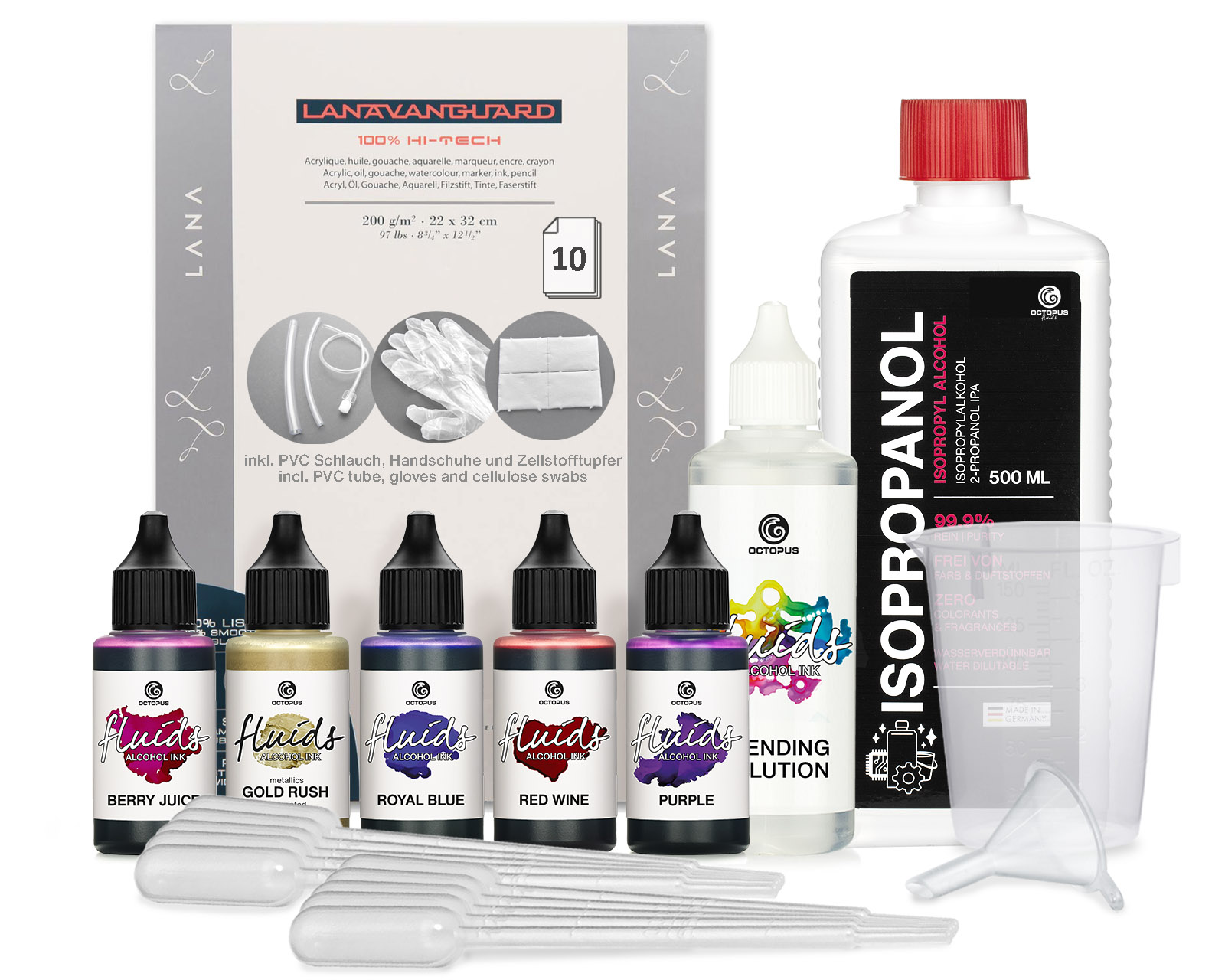 Octopus Fluids Alcohol Ink Complete Kit GOLDEN EVE with Blending Solution, Alcohol Ink Paper and accessoreies for fluid art, 5 x 30 ml
Start now with Alcohol Ink painting with the complete set Octopus Fluids alcohol inks from Germany. 5 colours Alcohol Ink, Blending Solution and all accessories in a set.