Nachfolgend erklären wir Ihnen an Beispielen einige Funktionen von Co-Desk.
Die Suchmaschine von Co-Desk findet einfach alles! Sie brauchen nur einen bekannten Begriff in das Suchfenster einzugeben, und innerhalb von Sekundenbruchteilen erhalten Sie alle Datensätze von Büromaschinen, Artikeln und Druckwerken, die diesen Begriff enthalten. Besonders bei unvollständigen Büromaschinenbezeichnungen ist dies eine wertvolle Hilfe.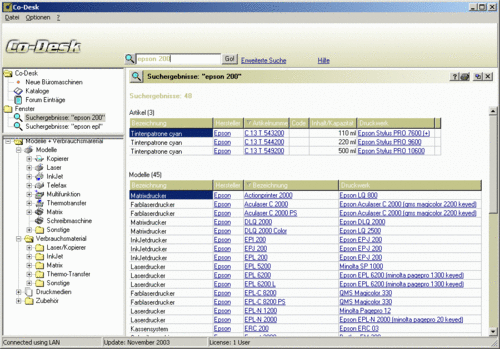 Hier werden alle Verbrauchsmaterialien angezeigt, die in die gewählte Büromaschine passen, gegliedert nach OEM/ForUse Verbrauchsmaterial und OEM/ForUse Druckmedien. Sie sehen bei allen Artikeln sofort, in welche Druckwerke sie noch hineinpassen.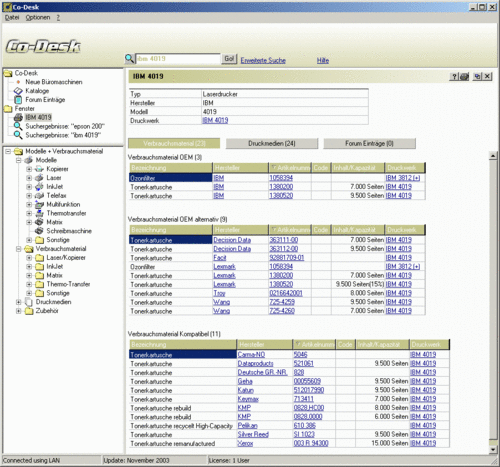 Kataloge in Co-Desk enthalten alle Büromaschinen und Artikel eines Herstellers, gegliedert nach Typen und Bezeichnungen. Je nachdem, welche Ebene Sie im linken Baum wählen, können Sie sich alle Artikel anzeigen lassen oder nach Typen gefiltert. Sie erkennen sofort die Druckwerkzuordnung und entsprechende Kompatibilitäten.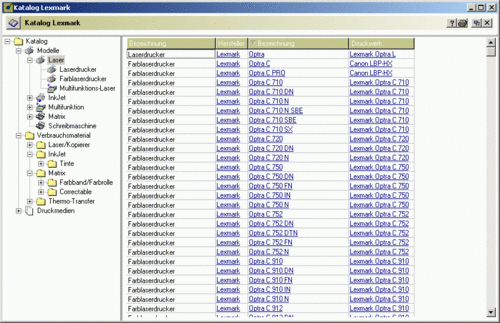 Die Artikel-Info zeigt Ihnen sofort alle verwandten Artikel an, welche in die verschiedenen Büromaschinen passen. Sie sehen ausserdem sofort, in welche Büromaschinen der Artikel passt.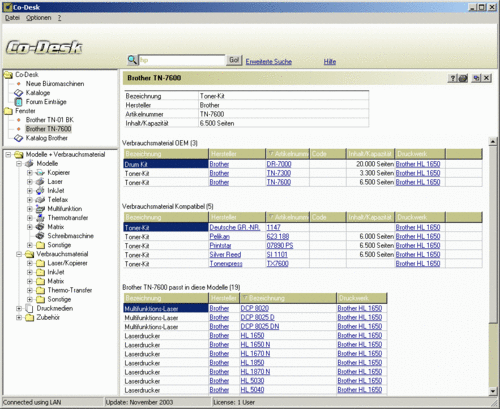 Als Zusatzfunktion können Sie sich Co-Desk beliebig lange Notizen zu Druckwerken anlegen, die auch in den Modell- und Artikel-Info Fenstern sofort angezeigt werden. In Netzwerkversionen wissen Ihre Mitarbeiter dann sofort über Änderungen Bescheid.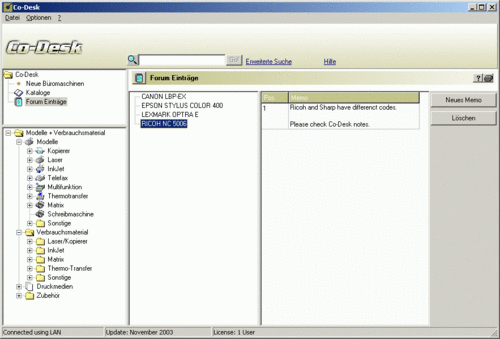 Anzeige von Kompatibilitäten
Kompatibilitäten in Co-Desk definieren solche Büromaschinen, die gleiche oder auch ähnliche Druckwerke einsetzen. Ist das Druckwerk ähnlich, wird es grau angezeigt, mit entsprechendem Hinweis auf Unterschiede. In diesem Fenster werden alle Inkjetdrucker angezeigt, die entweder voll kompatibel sind oder nur bedingt, weil sie nur die Farbpatrone der anderen Drucker verwendet.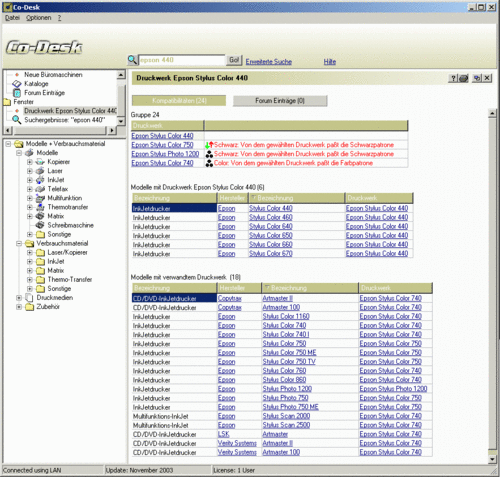 Anzeige von neuen Büromaschinen
Nach den Updates ist es immer interessant zu wissen, welche Büromaschinen neu eingetragen wurden. Hier sehen Sie sofort die wichtigsten Neuheiten.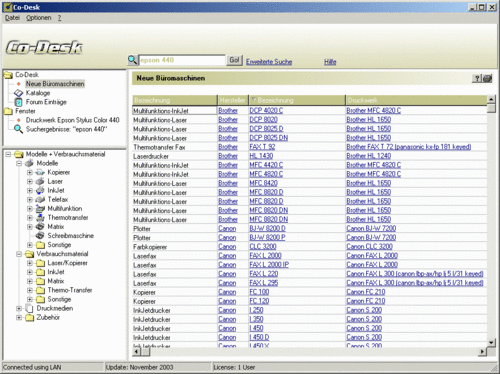 Bitte senden Sie uns eine E-Mail um Co-Desk jetzt zu bestellen.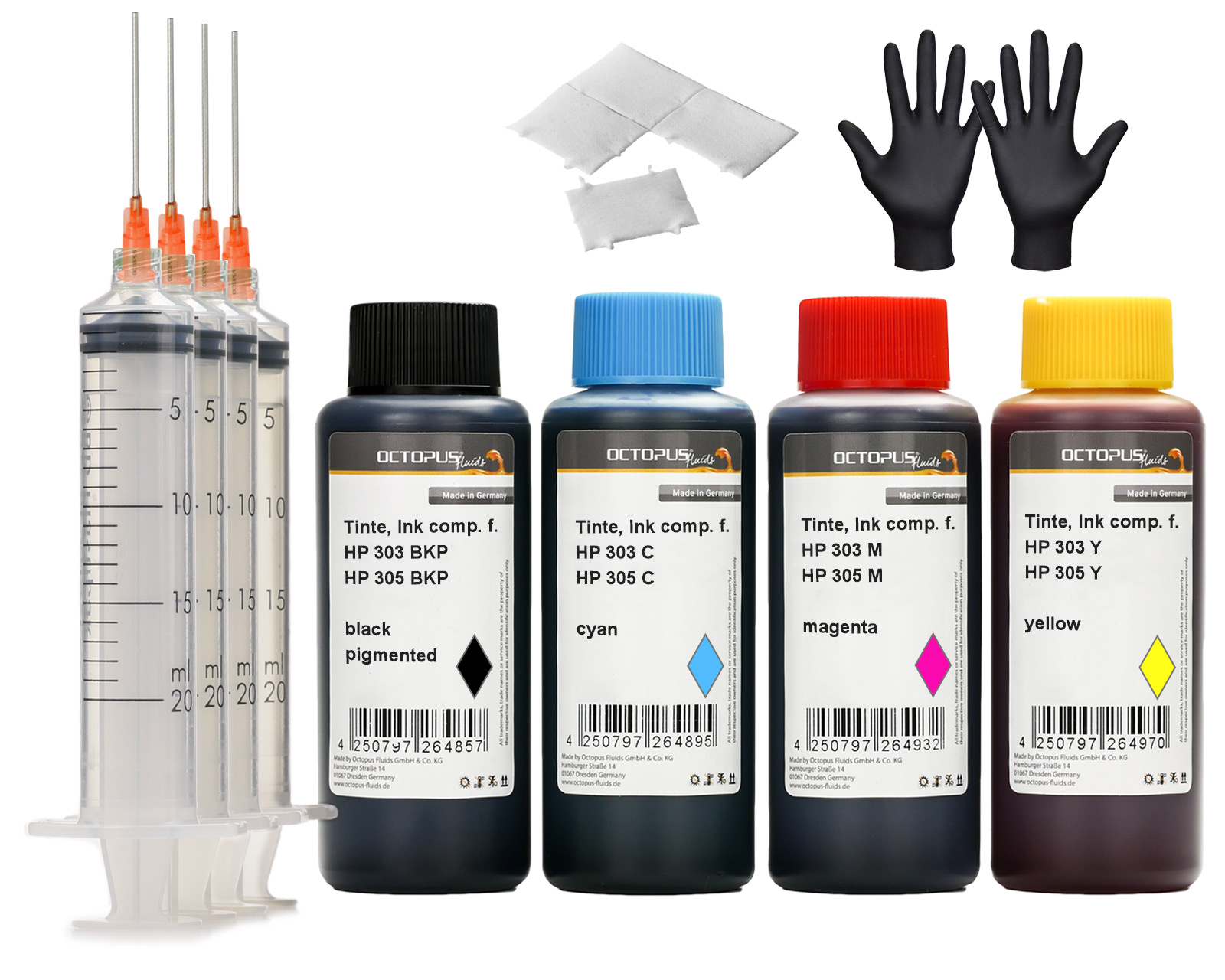 Printer Ink Set for HP 303 and HP 305 Ink cartridges
Printer ink for HP ENVY, Photo 7130, 7134, 6232, 7830, 6230, 6234, 6220, Tango, DeskJet 2700 Series, DeskJet Plus 4100 Series, Envy 6000 Series, Envy Pro 6400 Series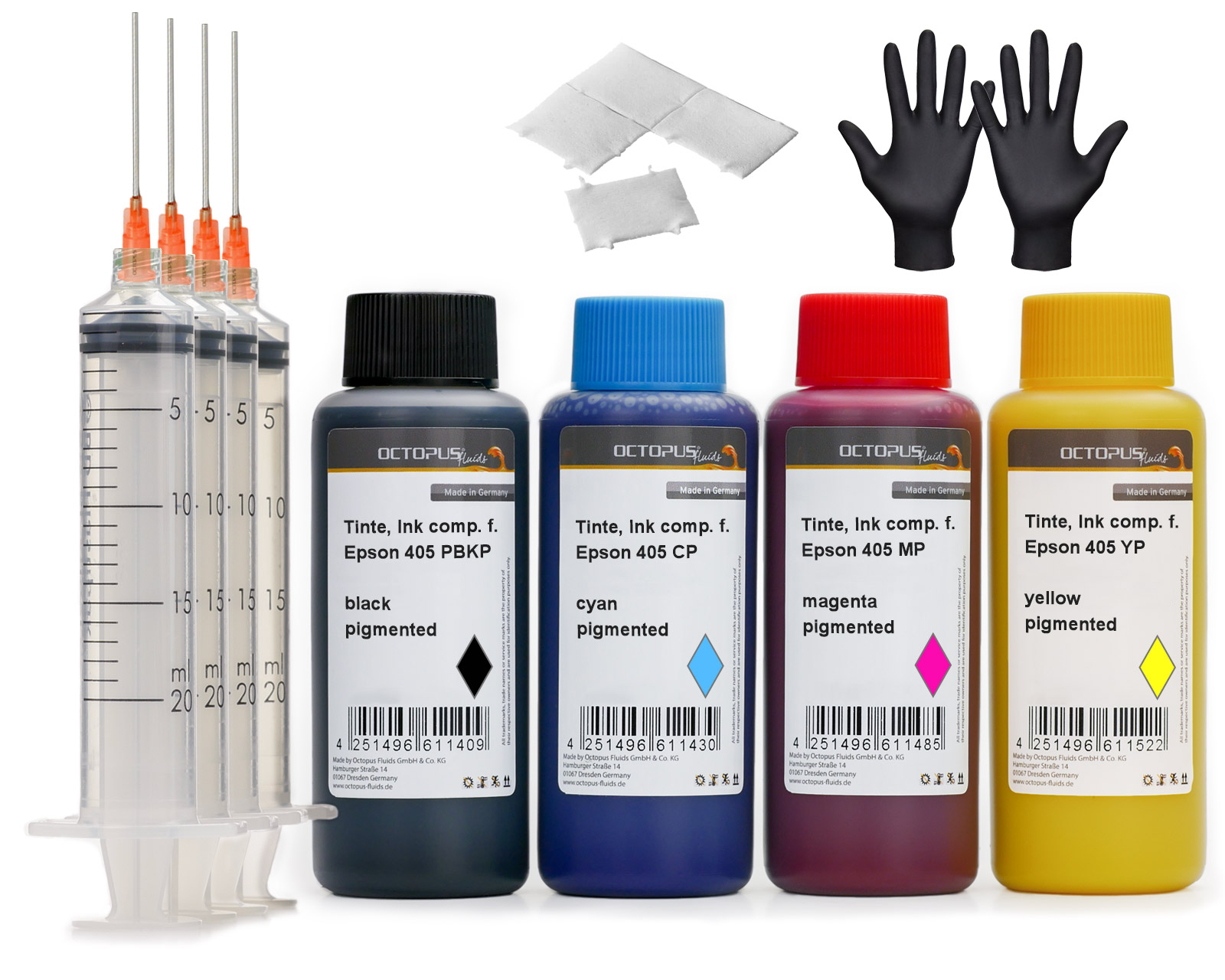 Printer ink set for Epson 405 ink cartridges, WF-3820, WF-4820, WF-7830
Printer ink for Epson WorkForce EC-C 7000, Pro WF-3820, WF-3825, WF-3830, WF-4820, WF-4825, WF-4830, WF-7830, WF-7835, WF-7840, WF-7310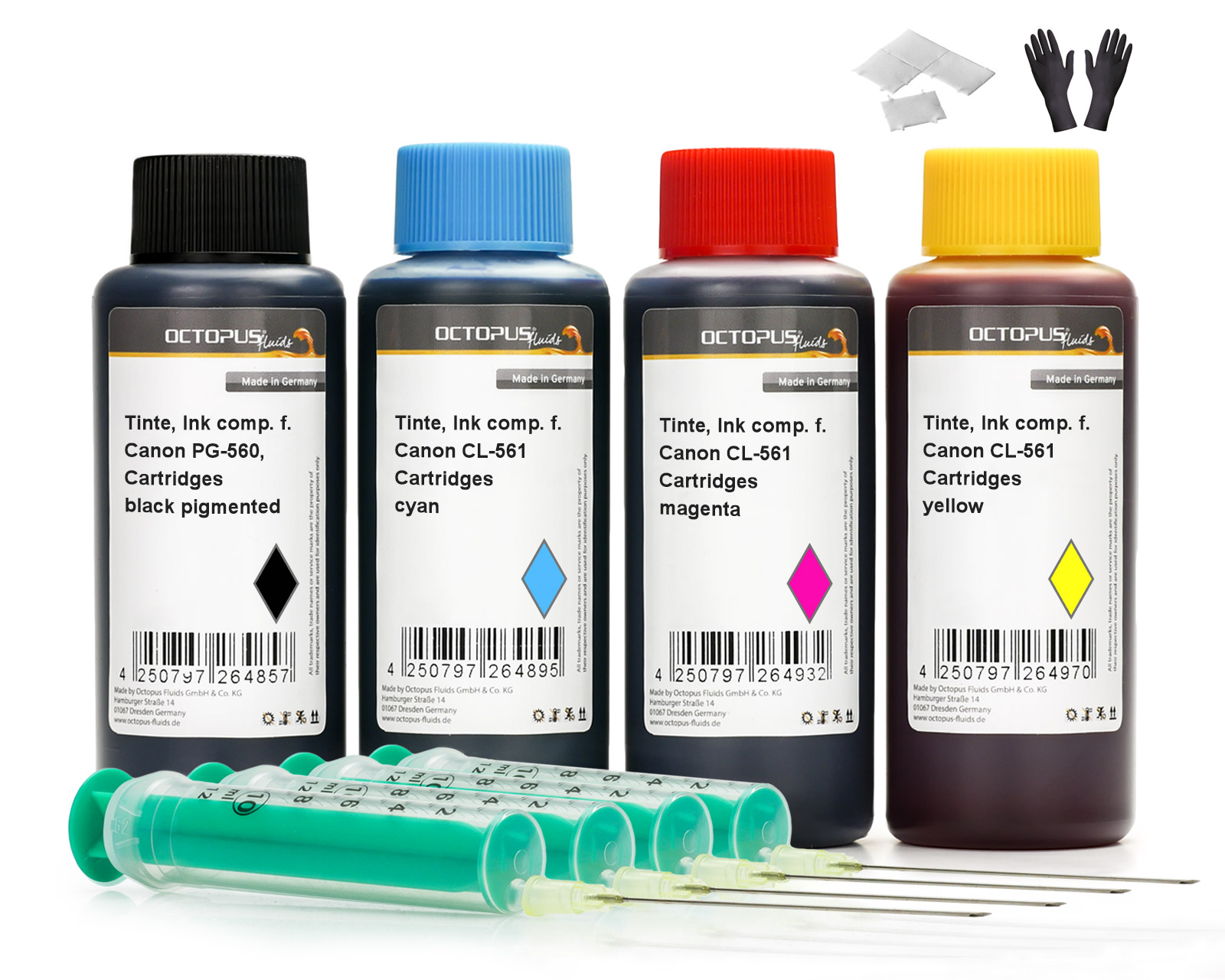 Octopus printer ink set compatible for Canon PG-560, CL-561 ink cartridges, Canon Pixma TS 5300, 7400
Druckertinte für Canon Pixma TS 5300, TS 5350, TS 5350, TS 5351, TS 5352, TS 5353, TS 7400, TS 7450, TS 7450, TS 7451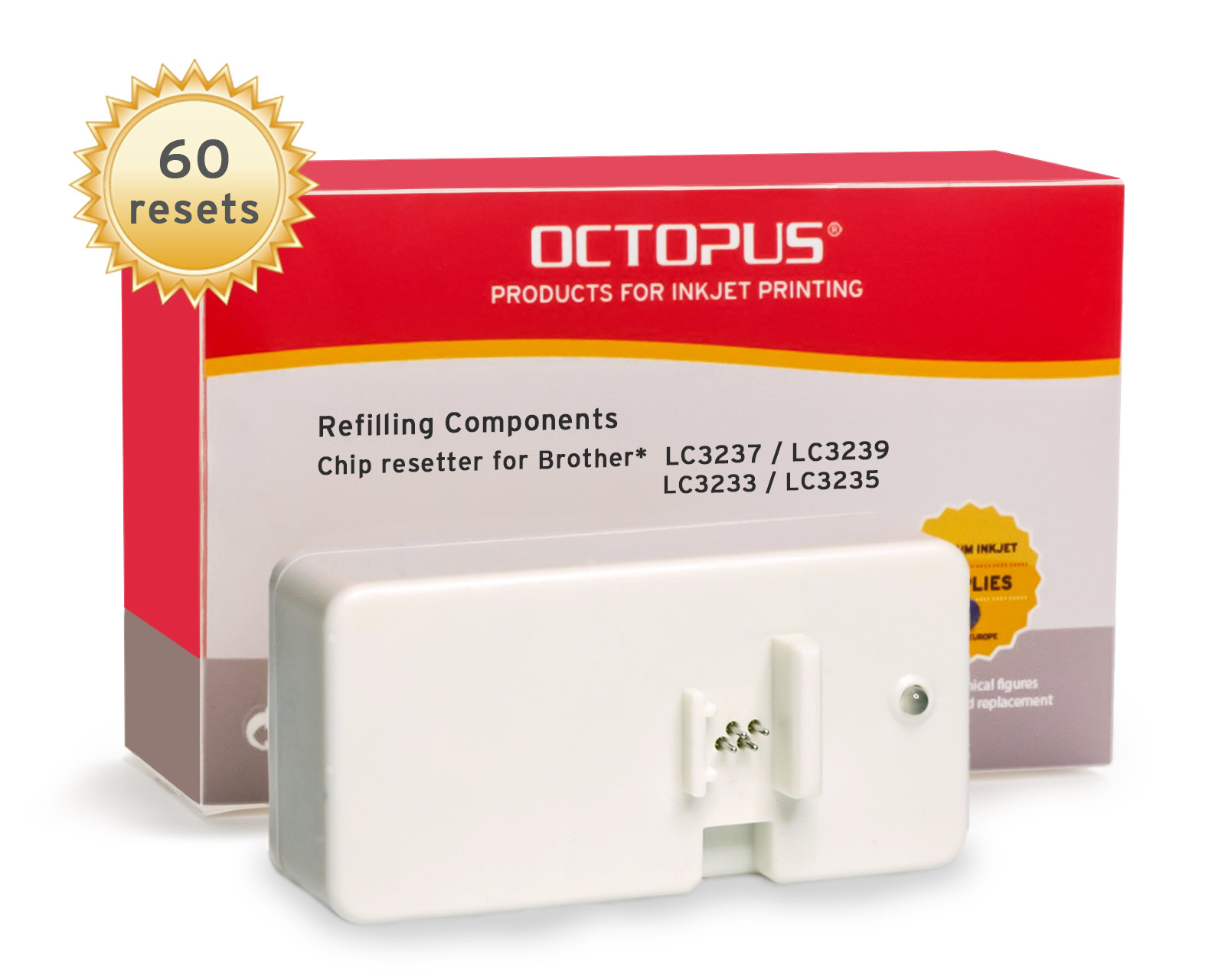 Chipresetter for Brother LC-3237, LC-3239, LC-3233, LC-3235 inkjet cartridges, for 60 Resets
Chip Resetter for resetting Brother LC-3237, LC-3239, LC-3233, LC-3235 und Brother DCP-J 1100, HL-J 6000, HL-J 6100, MFC-J 1300, J 5945, J 6945, J 6947 cartridges
5 x 30 ml Octopus Fluids Alcohol Ink Complete Kit GOLDEN EVE with Blending Solution, Alcohol Ink Paper and accessoreies for fluid art
Start now with Alcohol Ink painting with the complete set Octopus Fluids alcohol inks from Germany. 5 colours Alcohol Ink, Blending Solution and all accessories in a set.