Information only available in German language.
Umsatzchancen mit Ihrem eigenen Refillshop?
Sie spielen mit dem Gedanken, Ihren eigenen Refillshop oder Tintentankstelle zu eröffnen? Oder wollen Sie in Ihrem bestehenden Geschäft das Befüllen von Druckerpatronen als zusätzliche Dienstleistung anbieten? Vielleicht sind Sie auch einfach nur unzufrieden mit der Unterstützung Ihres derzeitigen Lieferanten oder Systempartners bzw. Franchisegebers?
Dann heißen wir von OCTOPUS® Sie recht herzlich willkommen.
OCTOPUS® ist spezialisiert auf die Belieferung und den Support von gewerblichen Refillern. Zu unseren Kernaufgaben gehören die fachliche und unternehmerische Unterstützung unserer Partner und Kunden.
Stellen Sie sich vor, Sie arbeiten in einem Unternehmen. Von wem erhalten Sie wertvolle Tipps? Wen können Sie fragen, wenn´s mal nicht so einfach ist? Natürlich fragen Sie Ihre Kollegen. Genauso machen es unsere Partner und Kunden. Wir sind Ihre Kollegen!
Und das ohne das steife Korsett einer vertraglichen Bindung wie Franchising und etwaige Vertriebsvereinbarungen, in der Sie sich nach kurzer Zeit in Ihrer unternehmerischen Freiheit beeinträchtigt fühlen könnten. Gegenüber OCTOPUS® gibt es für unsere über 3.000 angeschlossenen gewerblichen Refiller keinerlei Verpflichtungen.
Der Einzige, der sich verpflichtet, ist OCTOPUS®.
Unser Name steht für Ihren Erfolg. Ob Sie einen Refillshop eröffnen oder ein "Shop in Shop"- System in Ihr bestehendes Geschäft installieren wollen. OCTOPUS® hat das branchenspezifische Wissen, welches Sie benötigen. Zapfen Sie es an!
Was benötigen Sie, um Ihren eigenen Refillshop zu eröffnen?
Handwerken sollten Sie schon können. Immerhin sind es Ihre Hände, die für die Befüllung der Patronen verantwortlich sind.
PC Kenntnisse sind fast unerlässlich.
Ein gutes Händchen im Umgang mit Ihren Kunden, hilft Ihnen Vertrauen zu schaffen.
Betriebswirtschaftliche Grundkenntnisse geben Ihnen die Gelassenheit, sich voll und ganz auf Ihr Tagesgeschäft zu konzentrieren.
2 bis 6 Quadratmeter Verkaufsfläche, sollten Sie ein "Shop in Shop"- System favorisieren.
15 bis 25 Quadratmeter Ladenlokal, sollten Sie sich für die Refillshop-Variante entscheiden.
Komplette Investitionskosten von ca. 500 - 1.000 € bei "Shop in Shop" und ca. 6.000 - 10.000 € bei Refillshop-Planungen.
Eröffnen Sie Ihren eigenen Refillshop oder Ihre eigene Tintentankstelle
Eröffnen Sie Ihren Refillshop oder Ihr Shop in Shopsystem mit der vollen Unterstützung von Octopus®. Neben dem Gesamtsortiment Tinte, Toner und Refillzubehör zu günstigen Großhandelskonditionen, erhalten Sie von Octopus auf Wunsch grafische Dienstleistungen bis hin zum millimetergenauen Designentwurf für Ihr zukünftiges Geschäft. In Absprache mit der von Ihnen bevorzugten Werbeagentur/ Schilderfirma koordinieren wir sogar die Fertigung Ihrer Außenwerbeanlagen. So wird Ihre Shoperöffnung so einfach wie noch nie zuvor.
Ob Sie als Geschäftsname anstelle des Namens "OCTOPUS" (Bild links) Ihren Vor- oder Nachnamen, den Namen Ihrer Stadt/ Ort oder einen fiktiven Namen verwenden, bleibt Ihnen überlassen. Trotzdem werden Sie zukünftig von dem Vorteil profitieren, dass Octopus regelmäßig im passenden Design Werbemittel zur Verfügung stellt. Mit grafisch ansprechenden Postern, Flyern, Preislisten und sonstigen Drucksachen zu aktuellen Themen unterstützen wir Sie dabei, Ihre Kunden auf Sie aufmerksam zu machen und für immer an Sie zu binden. Auch diesbezüglich ist unser Service einmalig in Deutschland.
Wenn wir Ihr Interesse für dieses Dienstleistungssegment steigern konnten, freuen wir uns. Doch mit welchen Überlegungen machen Sie sinnvoller Weise weiter, dieses Projekt umzusetzen? Rufen Sie uns hierzu unter (+49) 0351 88 94 981 an. Beratung erhalten Sie von Profis mit Erfahrung von über 300 Shoperöffnungen in dieser Dienstleistungslandschaft.
Registrieren Sie sich bereits heute als Fachhändler. Mit Ihrem persönlichen Händlerlogin haben Sie Zugriff auf unsere attraktiven Großhandelspreise und unverzichtbaren Vergleichslisten für den Umgang mit Nachfülltoner und Tinte für alle Druckertypen und Druckerverbrauchsmaterialien.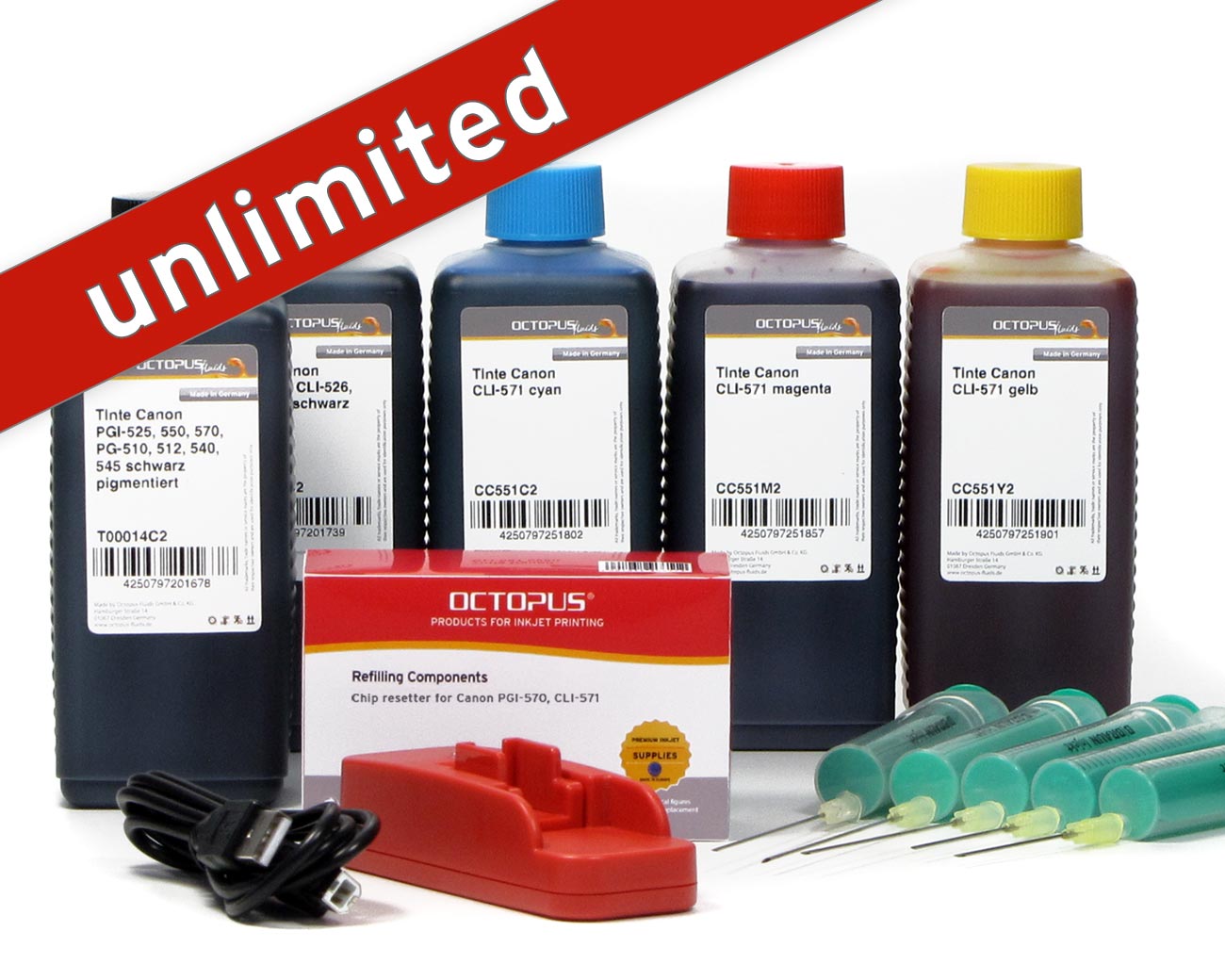 Set with chip resetter for Canon PGI-570, CLI-571 inkjet cartridges and 5x refill ink
Reset and refill Canon PGI-570 and Canon CLI-571 printer cartridges, unlimited Chipresetter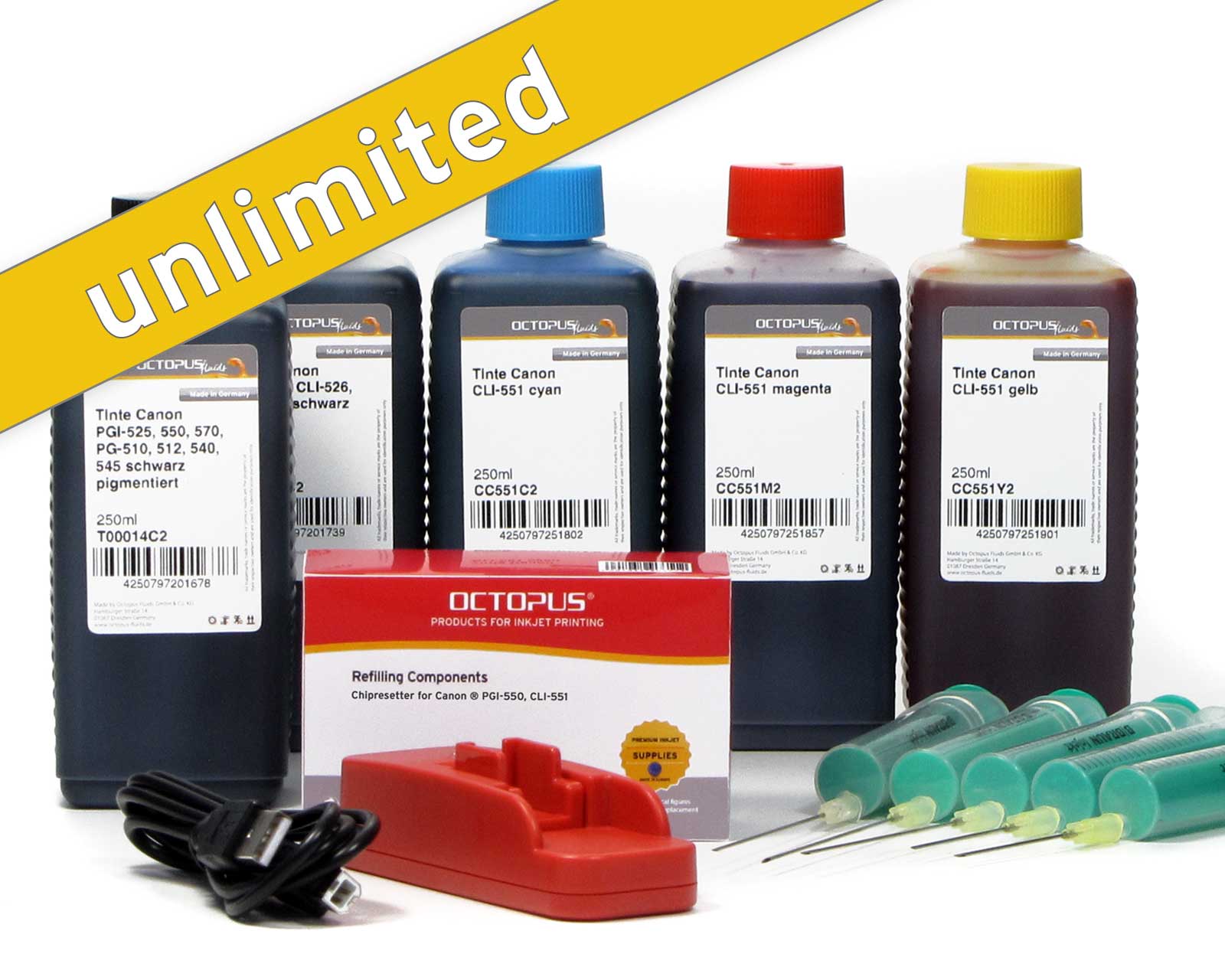 Chipresetter for Canon PGI-550, CLI-551 inkjet cartridges with 5x refill ink
Reset and refill Canon PGI-550 and Canon CLI-551 printer cartridges, this Chipresetter is for unlimited resets
Ink set Brother LC-223, LC-225, LC-227, LC-229, LC-12E
Ink set for Brother LC-223, LC-225, LC-227, LC-229 cartridges, every colour. Buy online.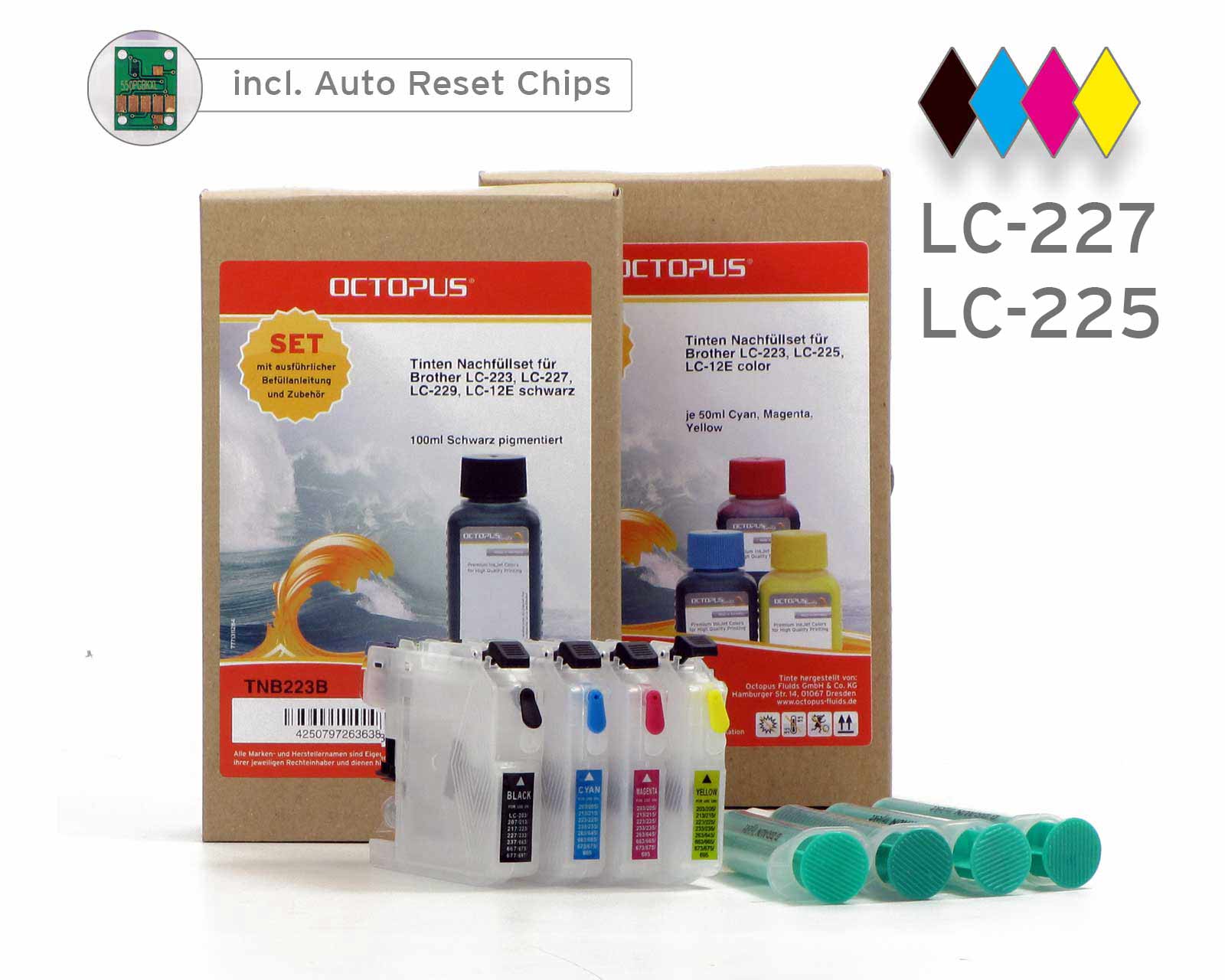 Set of refillable cartridges for Brother LC-227, LC-225 with ink refill kits
Complete kit for Brother LC-227, LC-225, DCP-J 4120, MFC-J 4420, MFC-J 4425, MFC-J 4620, MFC-J 4625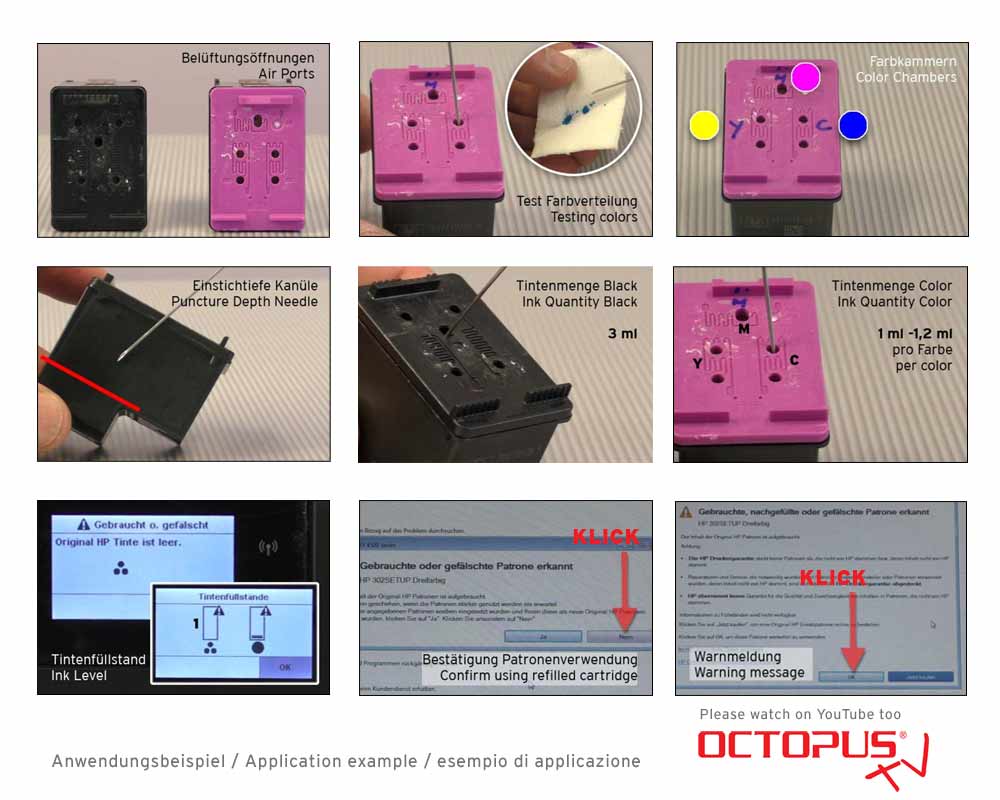 Refill ink kit for HP 302, HP 304 four colours
HP 302, HP 304 refill inks and syringes. Buy online.