HP 950, 951 Nachfüllanleitung und Chip überlisten, Newsletter vom 28.03.2012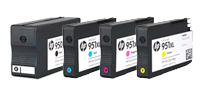 Mit den HP 950 und HP 951 Druckerpatronen brachte HP im Herbst 2011 wieder einmal einen vollkommen neuen Patronentyp auf den Markt. Vier einzelne Tintentanks: für jede Farbe eine Patrone mit ungewöhnlicher Größe, jeweils mit einem Chip ausgestattet. Eingesetzt werden diese Druckerpatronen bisher in den Druckern HP Officejet Pro 8100 und Pro 8600. Mit weiteren Druckermodellen dieser Art ist zu rechnen. So sind beispielsweise brandneu die ersten Drucker mit HP 932 und HP 933 Patronen am Markt, welche die gleiche Technik verwenden.


Wie man diese Patronen befüllt und anschließend am Drucker den Tintenfüllstand überlistet, haben wir Ihnen in den letzten Wochen online gestellt. Das Ausschalten der Tintenfüllstandsanzeige sollte Sie, als professioneller Refiller besonders interessieren. Denn diese Information müssen Sie Ihren Kunden nach der Befüllung der Patronen mit auf den Weg geben.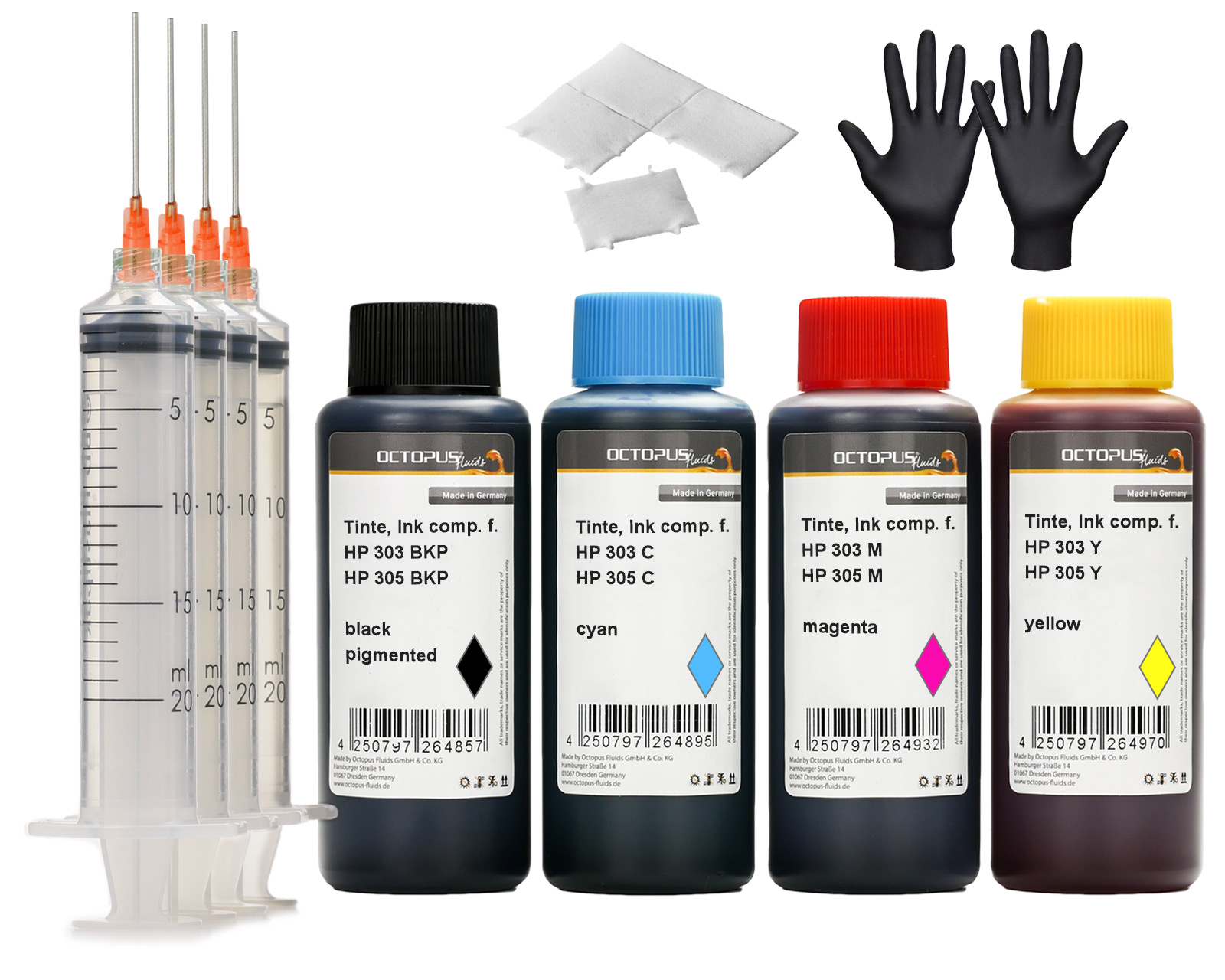 Printer Ink Set for HP 303 and HP 305 Ink cartridges
Printer ink for HP ENVY, Photo 7130, 7134, 6232, 7830, 6230, 6234, 6220, Tango, DeskJet 2700 Series, DeskJet Plus 4100 Series, Envy 6000 Series, Envy Pro 6400 Series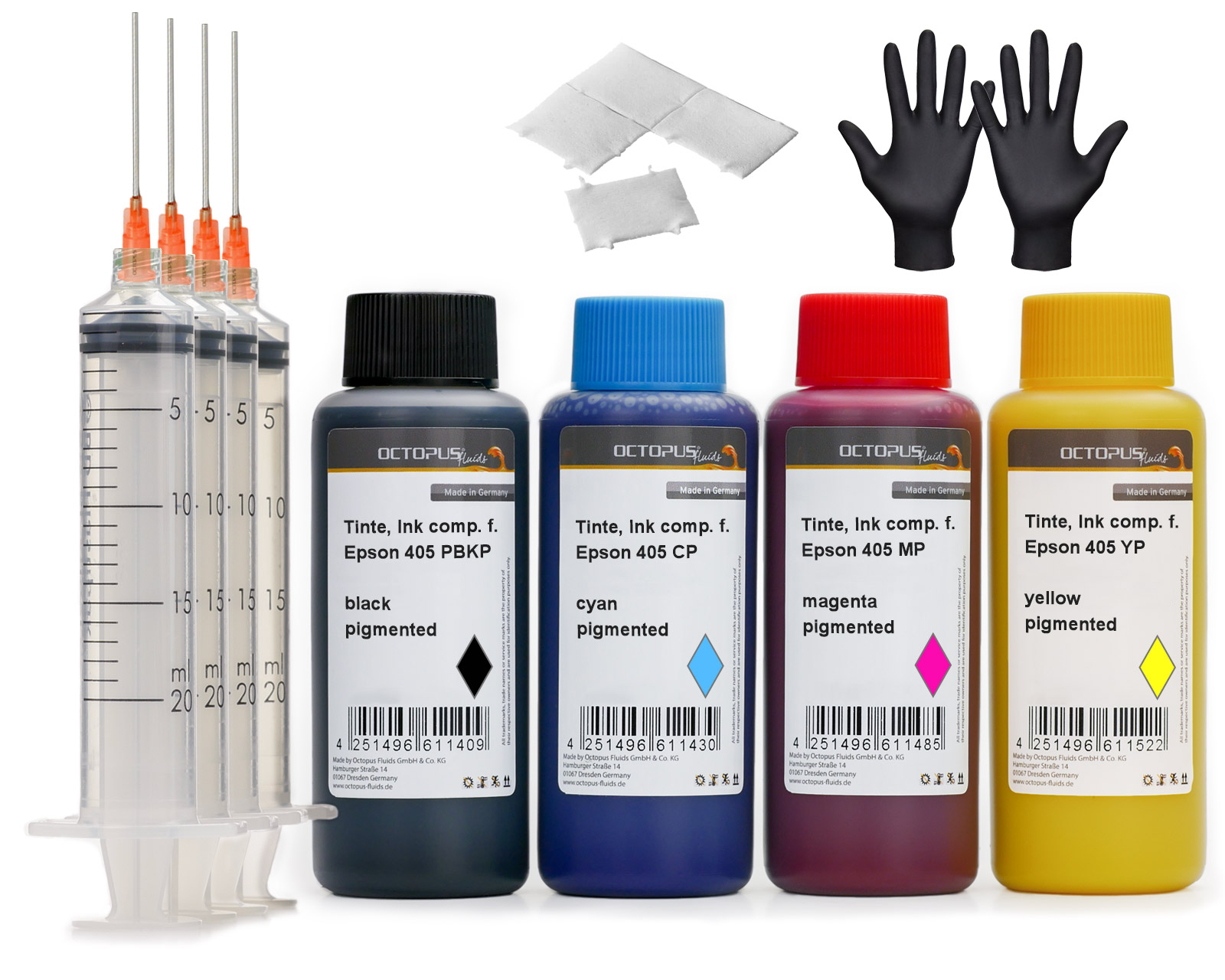 Printer ink set for Epson 405 ink cartridges, WF-3820, WF-4820, WF-7830
Printer ink for Epson WorkForce EC-C 7000, Pro WF-3820, WF-3825, WF-3830, WF-4820, WF-4825, WF-4830, WF-7830, WF-7835, WF-7840, WF-7310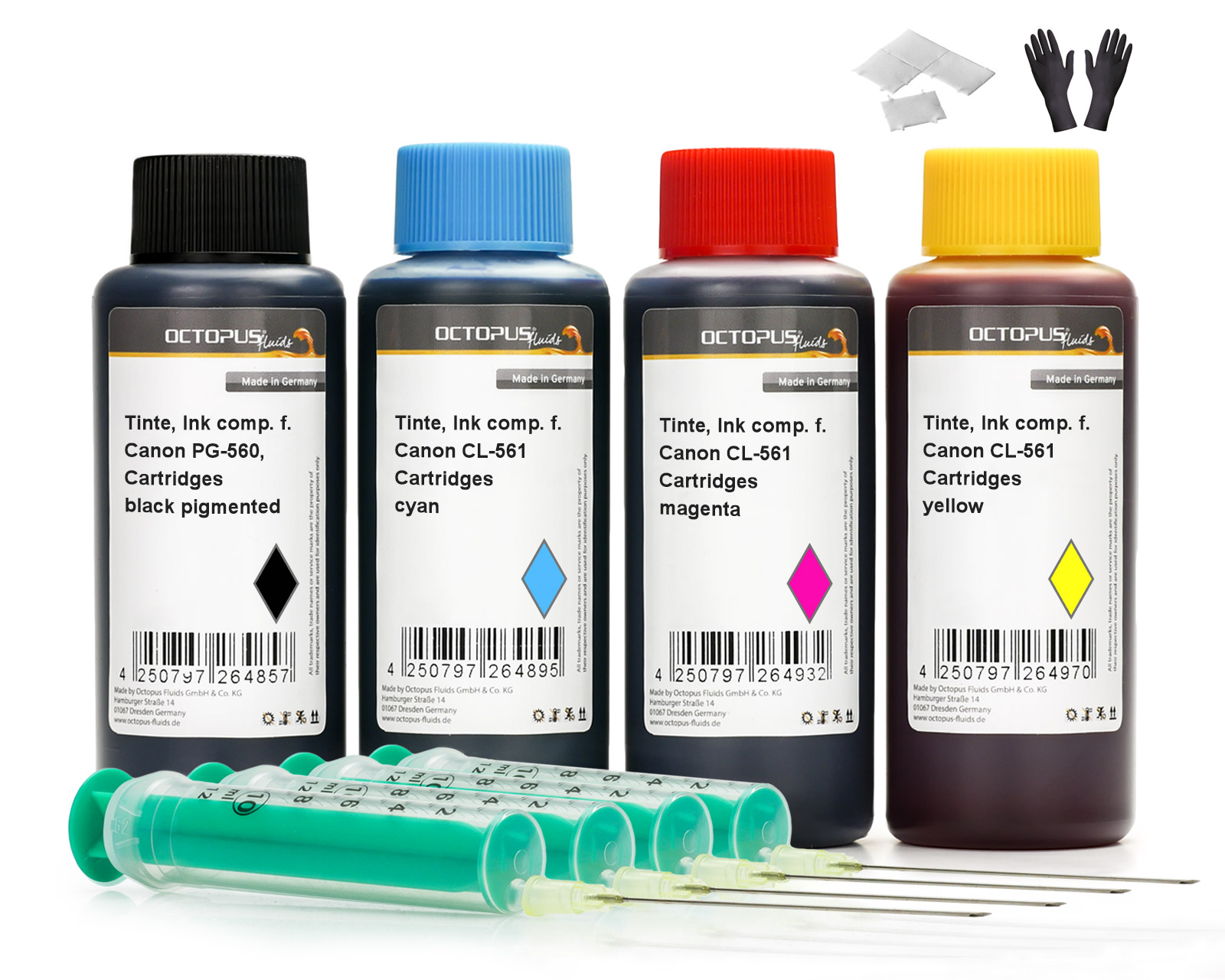 Octopus printer ink set compatible for Canon PG-560, CL-561 ink cartridges, Canon Pixma TS 5300, 7400
Druckertinte für Canon Pixma TS 5300, TS 5350, TS 5350, TS 5351, TS 5352, TS 5353, TS 7400, TS 7450, TS 7450, TS 7451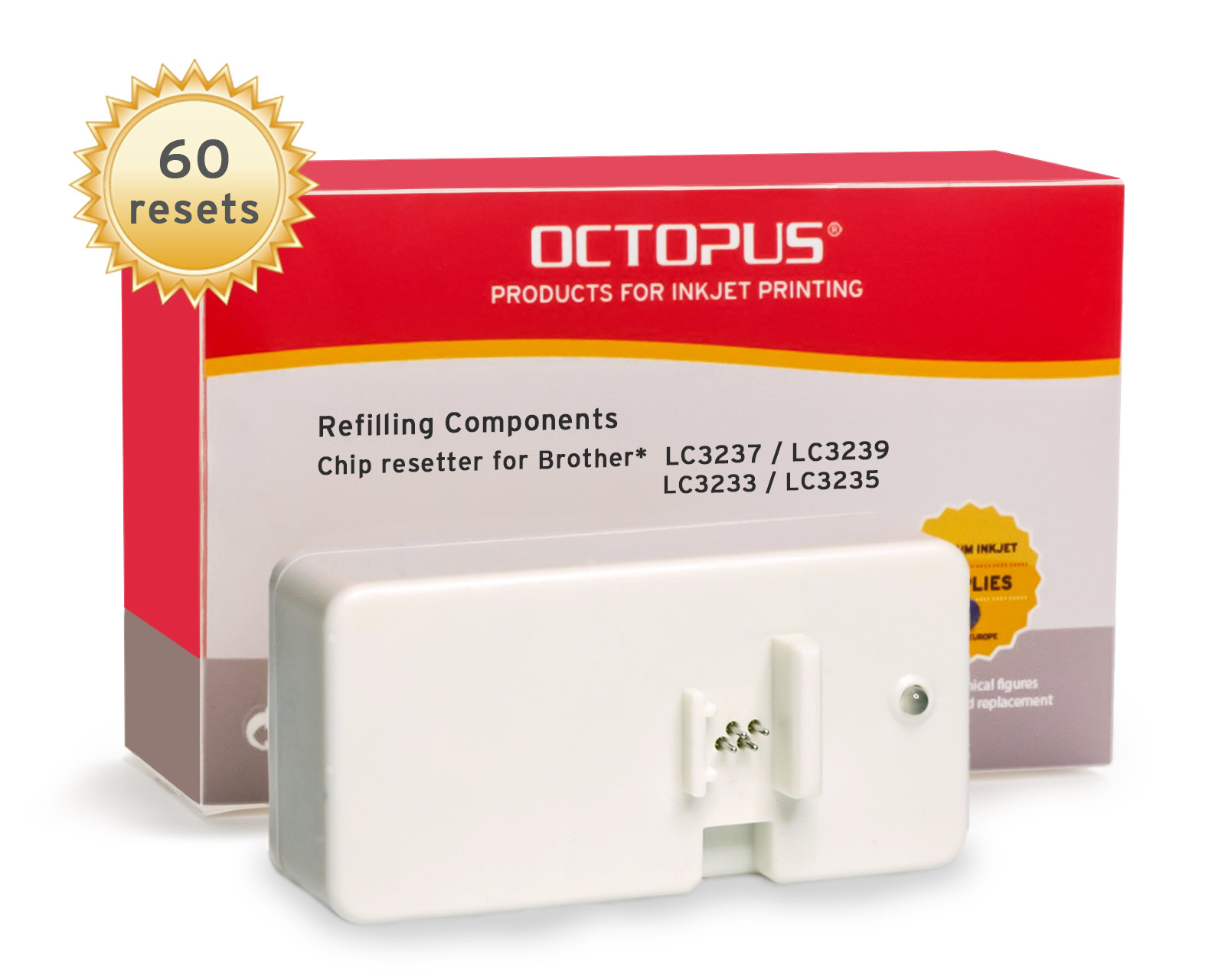 Chipresetter for Brother LC-3237, LC-3239, LC-3233, LC-3235 inkjet cartridges, for 60 Resets
Chip Resetter for resetting Brother LC-3237, LC-3239, LC-3233, LC-3235 und Brother DCP-J 1100, HL-J 6000, HL-J 6100, MFC-J 1300, J 5945, J 6945, J 6947 cartridges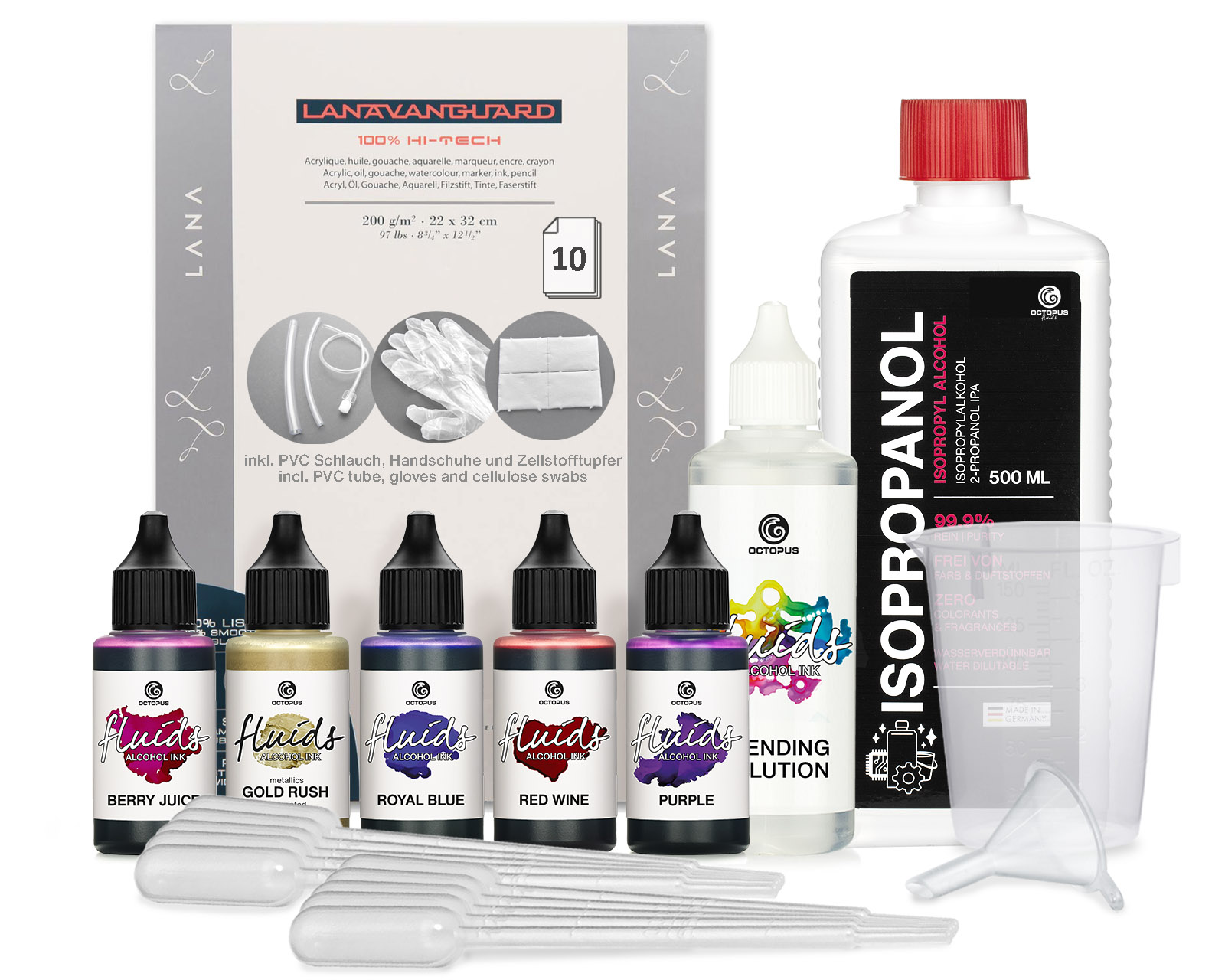 Octopus Fluids Alcohol Ink Complete Kit GOLDEN EVE with Blending Solution, Alcohol Ink Paper and accessoreies for fluid art, 5 x 30 ml
Start now with Alcohol Ink painting with the complete set Octopus Fluids alcohol inks from Germany. 5 colours Alcohol Ink, Blending Solution and all accessories in a set.