Kundenbindung mittels Treuerabatt Karte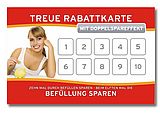 Binden Sie Ihre Kunden und gewinnen Sie neue Kunden hinzu. Nie war es so einfach wie mit unserer Treuerabatt- Karte.
Händigen Sie jedem Kunden, der Ihr Geschäft betritt, diese Karte aus und erklären Sie ihm kurz, dass er mit jeder Befüllung von Ihnen ein Feld abgestempelt bekommt. Die 11. Patronenbefüllung ist für ihn, bei Vorlage der Treue-Rabattkarte, dann kostenlos. So macht Kundenbindung und Neukundenakquise richtig Spaß.

Wenn Ihre Kunden Ihr Treuerabattkärtchen im Portemonnaie tragen und dadurch regelmäßig an Sie erinnert werden, dann sind Sie auf dem richtigen Weg. Sie prägen sich ihm ein und der Kunde wird unterbewusst eine tiefere Beziehung zu Ihnen herstellen als das ohne Treuerabatt- Karte der Fall gewesen wäre. Er wird Sie zukünftig aufmerksamer wahrnehmen und in Gesprächen häufiger weiterempfehlen.

Aber vor allem wird er gerne wieder zu Ihnen kommen und Stempel sammeln, damit er beim 11. Mal richtig spart.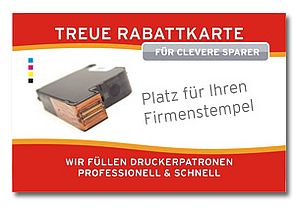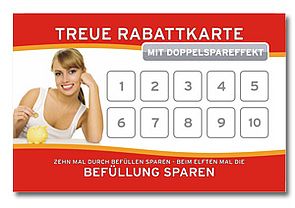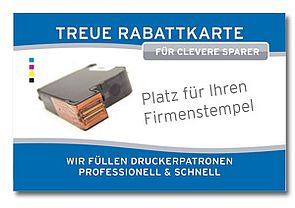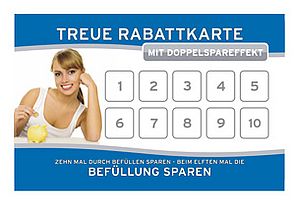 Händleranfrage zu unserer Treuerabatt-Karte
Betreff: Vorgehen, wenn Rabattkarte voll (1 Befüllung gratis)
"Hallo Herr Lange,

bei uns kam vor kurzem die Frage auf, wie buchungstechnisch/
kassentechnisch vorgegangen wird, wenn ein Kunde seine kostenfreie
11.Befüllung einlöst (volle Rabattkarte wird eingezogen). Was macht
man z.B., wenn der Kunde zwei Ries Papier kauft und drei Befüllungen
bezahlt - davon eine kostenfrei?
Können Sie uns hierzu eine Auskunft geben bzw. wie machen Sie es im
Tintenhaus in Zwickau?

Vielen Dank für die Auskunft und sonnige Grüße aus dem...."

Unsere Antwort:
Hallo Herr ...,

im Grunde verhält es sich so, dass für den Kunden unsere Treuerabatt- Karte einen 10%-igen Rabatt bedeutet. Wir versuchen allerdings immer so flexibel wie nur möglich zu sein.
In Ihrem Fall würde der Kunde von uns nur eine Befüllung/ Patrone kostenlos erhalten. Manche Kunden wollen aber etwas mehr rausschlagen. In diesen Fällen machen wir dann oft eine Ausnahme und geben ihm etwas mehr, wie z.B. noch mal 10% Rabatt auf den restlichen Kassenpreis oder einen zusätzlichen Stempel in seiner neuen Rabattkarte. So ist für ihn die nächste kostenlose Befüllung seiner Patrone nicht mehr so lang hin.
Das Schlimmste was passieren kann ist, dass der Kunde bzgl. der Treuerabatt-Karte frustriert Ihr Geschäft verlässt.

Viele Grüße nach ... aus dem sonnigen Dresden
Gunther Lange
Poster A1 "Wir befüllen Druckerpatronen, Tinte & Toner" für innen
Product available in German language only.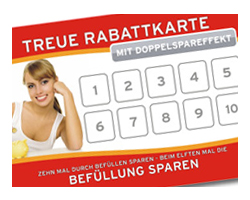 Treuerabattkarte für Kundenbindung, rotes Design
Product available in German language only.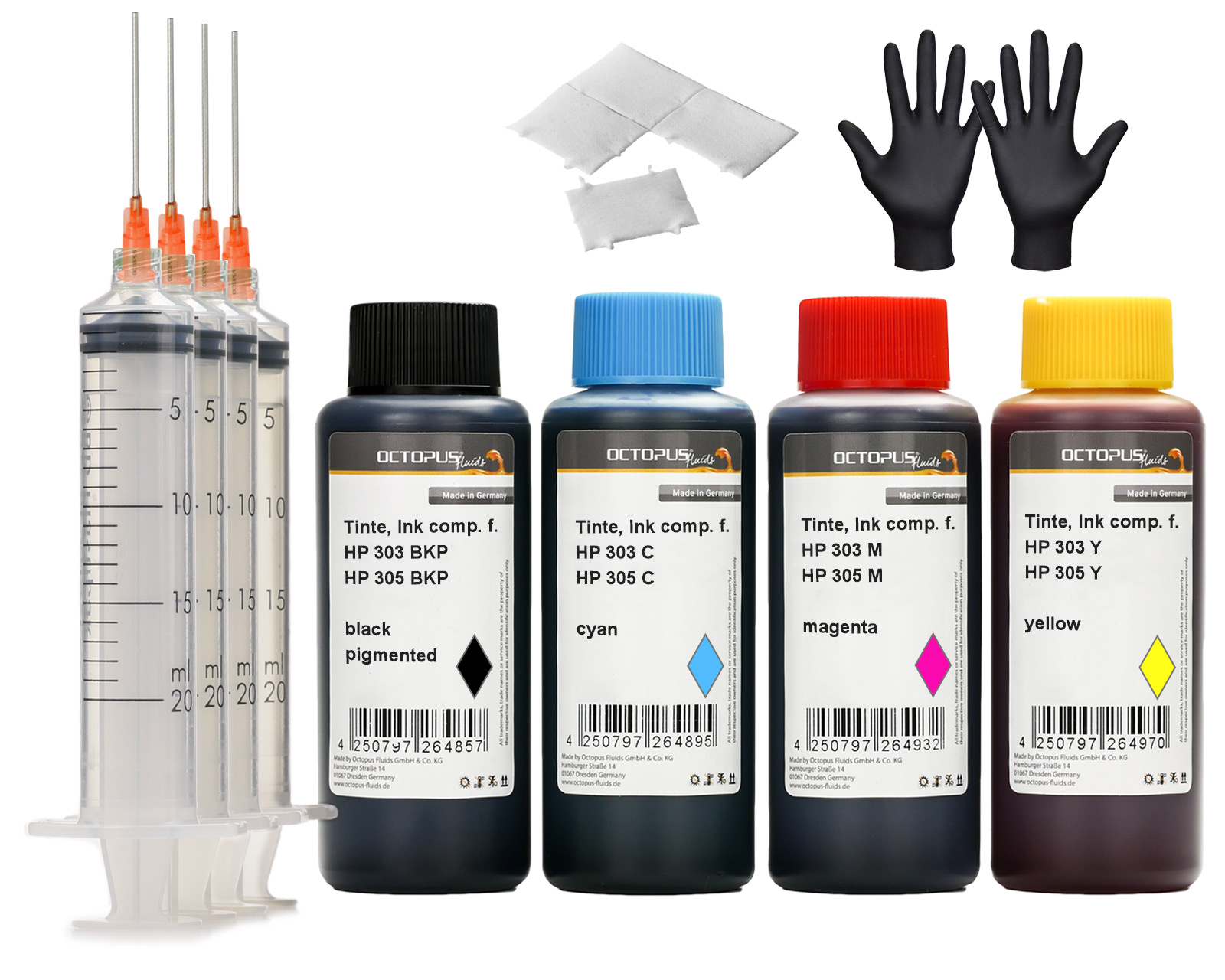 Printer Ink Set for HP 303 and HP 305 Ink cartridges
Printer ink for HP ENVY, Photo 7130, 7134, 6232, 7830, 6230, 6234, 6220, Tango, DeskJet 2700 Series, DeskJet Plus 4100 Series, Envy 6000 Series, Envy Pro 6400 Series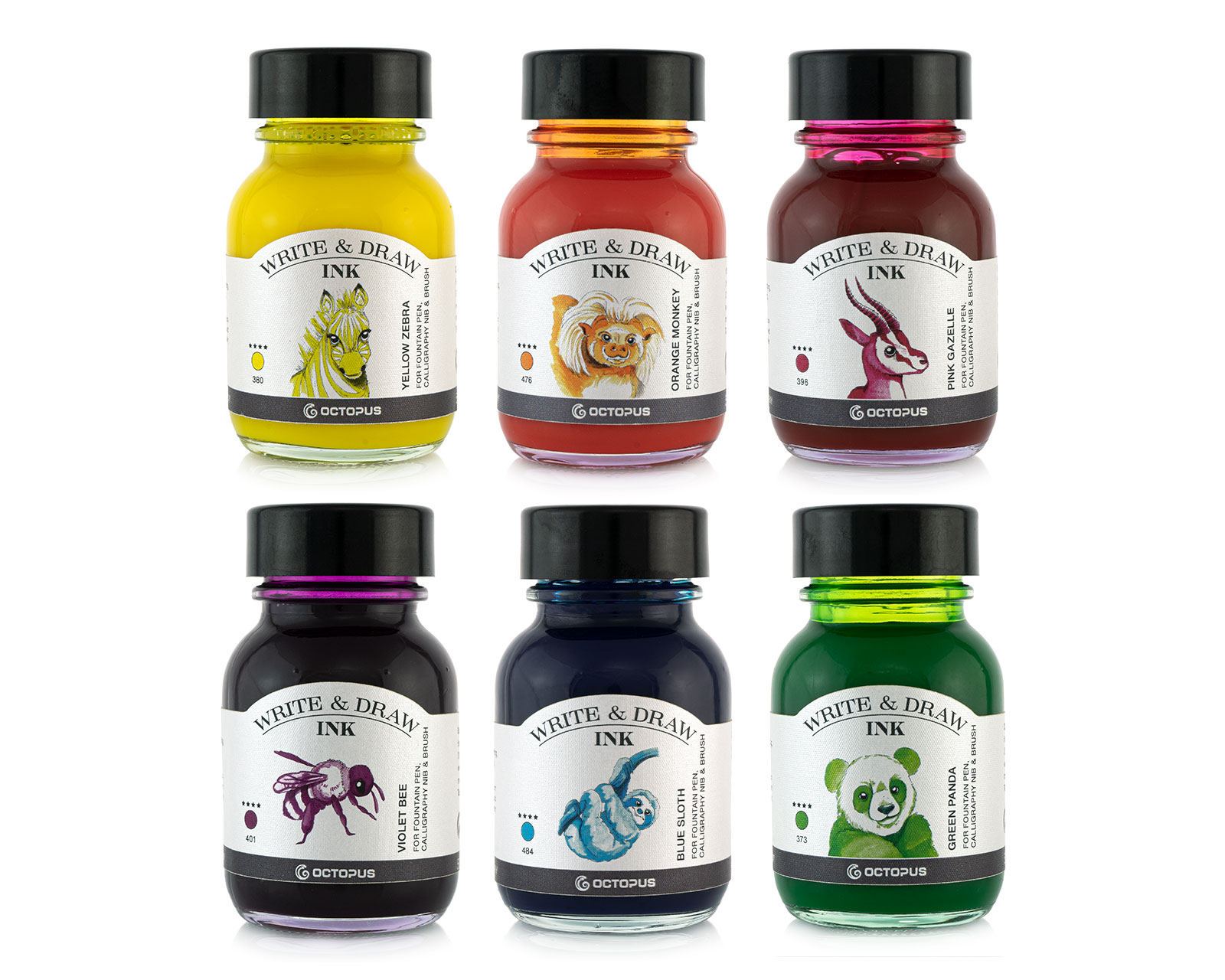 Write and Draw Ink Set, waterproof drawing ink for fountain pens, 6 colours
Octopus Write & Draw Ink, waterproof ink for fountain pen, nib and brush, vegan
The Octopus Write & Draw inks are unique, smudge-proof and waterproof writing and drawing inks in a wide range of colours. They were developed for daily use in fountain pens and are also popular with graphic artists, illustrators, calligraphers and artists for writing, sketching, drawing and colouring with calligraphy pens, glass pens or brushes.

Each of the 38 brilliant shades inspires with its intense colour power thanks to its high, balanced pigmentation. In addition to a deep black and various shades of grey, the extensive colour palette also includes a particularly opaque white, which can be used on dark backgrounds.
During the development of the drawing ink, special attention was paid to its use in the fountain pen. The use of the finest colour pigments in a carefully balanced formula ensures high light fastness and a good, even ink flow without clogging the ink duct of the fountain pen. These pigmented writing inks also feature the excellent writing behaviour of the classic Octopus fountain pen inks. The Write & Draw drawing ink meets the requirements for document-proof ink according to DIN ISO 12757-2 and DIN ISO 14145-2 and is produced exclusively with vegan ingredients.

Writing enthusiasts love the razor-sharp typeface that can be achieved on fountain pen-suitable paper and the pleasant shading of the Write & Draw writing ink. Calligraphers can create the finest hairlines and impressive flourishing elements, while urban sketchers can draw precise outlines.
The ink dries waterproof in a very short time and can then be painted over with another shade of Octopus Write & Draw ink or watercolour. It is eraser-proof and most of the colours are also highlighter-proof.
Both pure and diluted with water, Octopus Write & Draw ink is excellent for colouring. Used undiluted, the waterproof ink convinces with its opacity. The many colours of Octopus drawing ink can be mixed with each other, but also with water. In this way, countless colour shades can be achieved for beautiful watercolour effects.
Unlike most other waterproof inks, Octopus Write & Draw can be used in a fountain pen without hesitation. However, care should be taken not to let the fountain pen dry out. We therefore recommend that you rinse and clean your writing instrument carefully after use to prevent the ink from drying up accidentally.

The Octopus special cleaner for pigmented inks is available for cleaning your writing Instruments.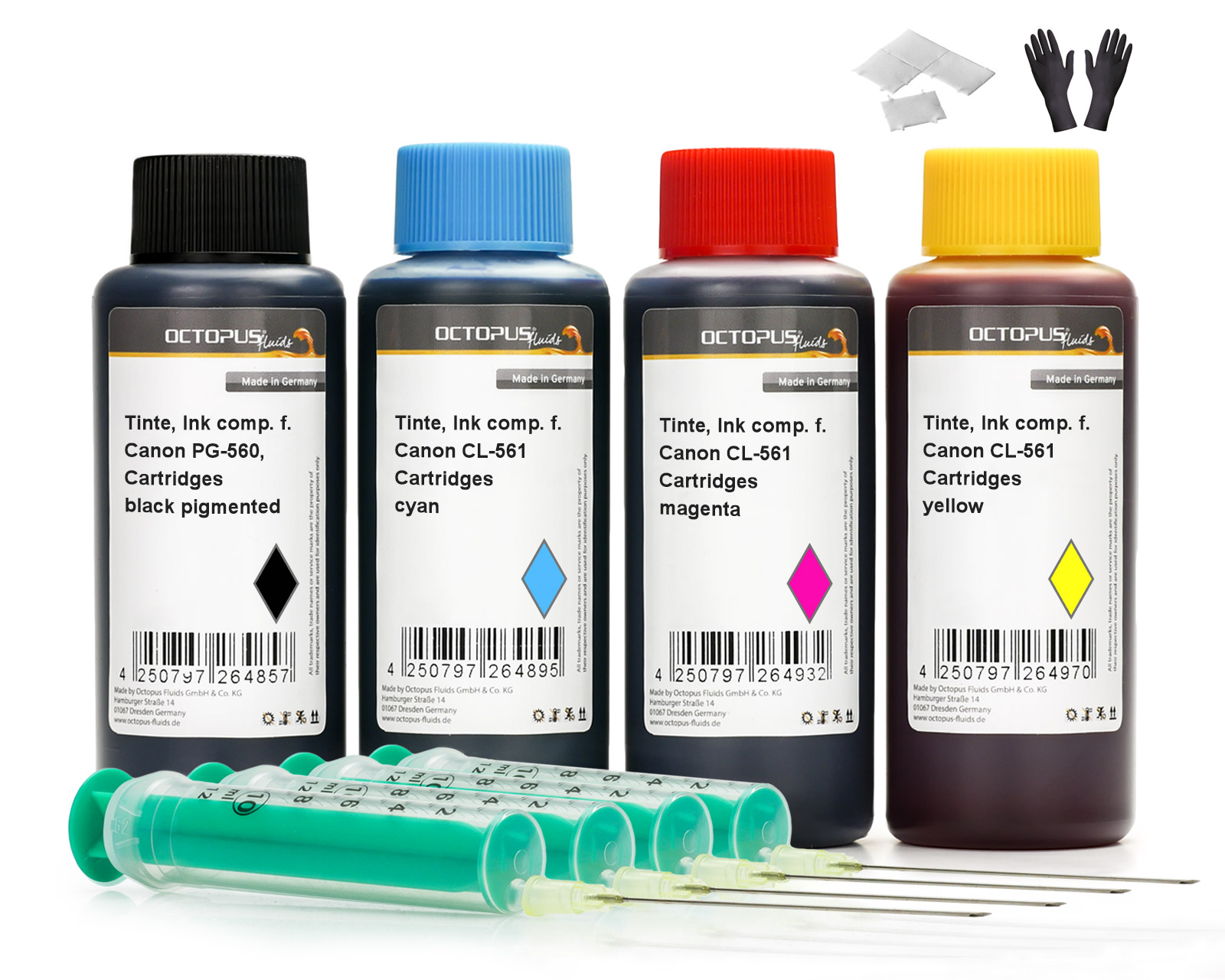 Octopus printer ink set compatible for Canon PG-560, CL-561 ink cartridges, Canon Pixma TS 5300, 7400
Druckertinte für Canon Pixma TS 5300, TS 5350, TS 5350, TS 5351, TS 5352, TS 5353, TS 7400, TS 7450, TS 7450, TS 7451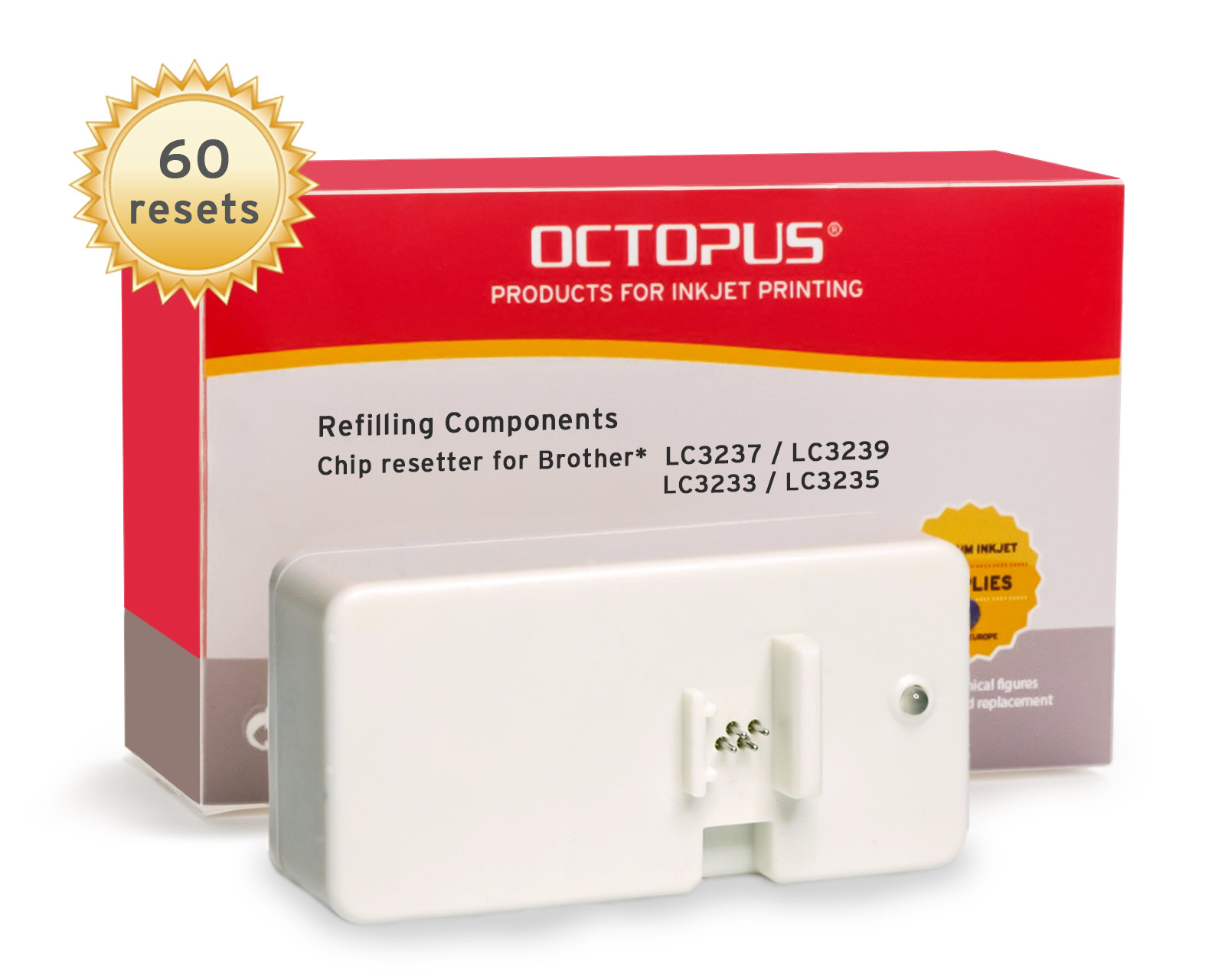 Chipresetter for Brother LC-3237, LC-3239, LC-3233, LC-3235 inkjet cartridges, for 60 Resets
Chip Resetter for resetting Brother LC-3237, LC-3239, LC-3233, LC-3235 und Brother DCP-J 1100, HL-J 6000, HL-J 6100, MFC-J 1300, J 5945, J 6945, J 6947 cartridges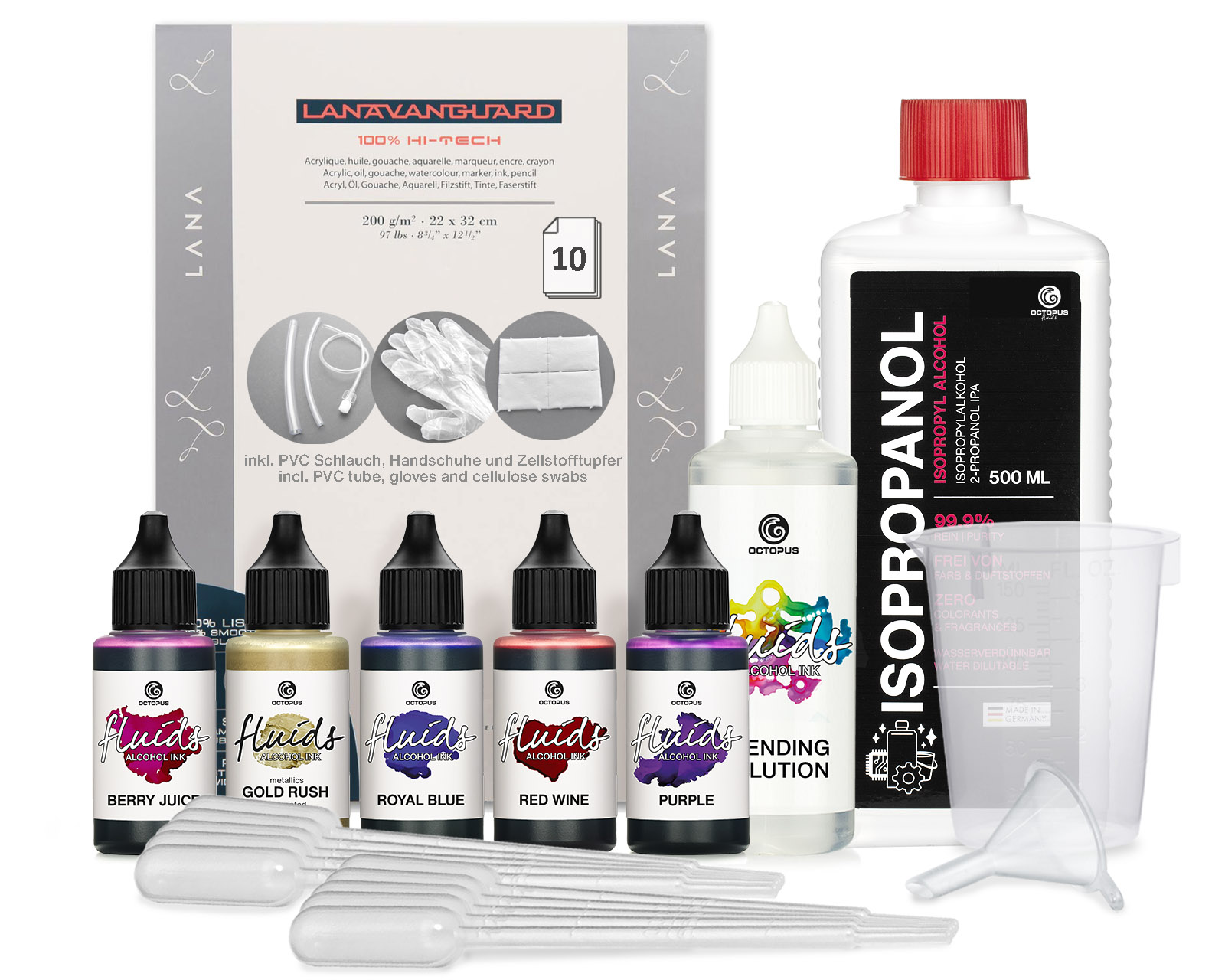 Octopus Fluids Alcohol Ink Complete Kit GOLDEN EVE with Blending Solution, Alcohol Ink Paper and accessoreies for fluid art, 5 x 30 ml
Start now with Alcohol Ink painting with the complete set Octopus Fluids alcohol inks from Germany. 5 colours Alcohol Ink, Blending Solution and all accessories in a set.