Ink Refill Kit for Canon CL-511, CL-513 color
This ink refill kit includes an illustrated instruction and all tools needed for refilling your cartridges.
Ink for Canon PGI-525, 550, 555, 570, PG-540, 545, 510, 512 pigm. black
The colour was developed by OCP specifically for Canon Pixma PRO 100 photo printers.
Octopus Ink for Canon CL-511, CL-513 cyan
Octopus Refill Ink was specially developed and produced for HP 10, 11, 12, 13, 82, 88 yellow cartridges and is subject to very strict quality control.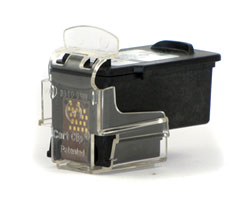 Storage Clip for Canon PG-510, 512, PG-545, CL-511, 513, CL-546
Use this cartridge clips for medium-term storage of your refilled printer cartridges.
Original printer cartridge Canon CL-513 color
Original Printer Cartridge Canon CL-513 color with a capacity of 13ml.