Refill instruction Lexmark 100 A, 100 XLA cartridge
For refilling Lexmark cartridge 100 A, 100 XLA you need:
syringe with needle
cutter
paper towel
4ml 100A cyan (7,5ml 100 XLA)
4ml 100A magenta (7,5ml 100 XLA)
4ml 100A yellow (7,5ml 100 XLA)
7ml 100A black (14ml 100XLA)
For refilling Lexmark cartridge 100 A, 100 XLA, follow the instructions below:
Take the Lexmark cartridge out of the printer and put it on an absorbent underlay (for example paper towel). Afterwards, you have to remove the label on the upper part of the cartridge with a cutter. Lead the cutter carefully under the label and release it slowly (pict. 1). When you´ve removed the label, you can see the filler opening and the fill level chip (pict. 2). The chip controls the fill level of the cartridge Lexmark 100 A, 100 XLA during the printing process and shows the printer how much ink is left within the cartridge. Stab the needle over the filler opening into the sponge and fill the cartridge slowly until a bit ink comes out of the filler opening.
Extract the 1-2ml of ink again, because the sponge may not hold the surplus ink. in this case, it is possible, that the ink comes out of the cartridge again. Your cartridge is now refilled and you can put it back into your printer.

That´s how the chip of the Lexmark 100 A, 100 XLA cartridge works:

The communication between the printer and the chip of the cartridge takes place through radio transmissions without having contact. That is why there are no visual contacts on the cartridge. The cartridge is equipped with a so called RFID Chip (RFID = radio frequency identification). This chip has no own energy supplies. It is activated and read through the radio waves that the printer sends out.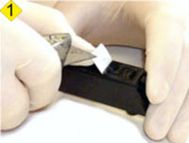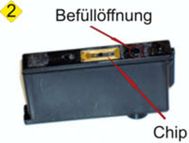 Please note the following advice:
Never print the cartridges completely empty, but refill small amounts of ink from time to time. That´s how you can avois the drying out and the clogging of the nozzle. The sponge inside the cartridge stays smooth. After each refill, leave the cartridge for about 15 minutes on an absorbent underlay. Never insert a dripping cartridge into your ptinter! Clean the print head fom time to time with some destillated water!
Exclusion of Liability:
Neither printer manufacturers nor Octopus Office are liable for damages which result from a faulty or improper refilling. Since ink is water soluble, the bottles can be cleaned after usage and littered into the yellow bin. Syringes and needles (WITH PROTECTING CAP!!!!) belong to the residual waste. As a matter of course, we are also willing to take back the empty bottles and the equipment. Please do not store the products within reach of children! When stored properly, the ink is durable up to 3 years.
All trademarks, trade names or service marks are the property of their respective owners and are used for identification purposes only.