Neue Transportsicherungen für Canon-Patronen
Neu im Sortiment:
Transportsicherungen für gehobene Anforderungen. Bestens für die langfristige Lagerung von Canon-Patronen geeignet. Testen Sie die Produkte aus unserer Qualitätsoffensive jetzt.
Neue Image Poster für einen besseren Eindruck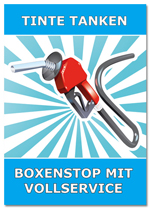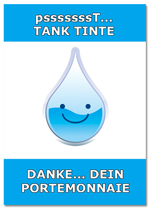 Wie nimmt Sie der Kunde wahr? Wie fallen Sie am besten auf? Was animiert Ihre Kunden, Ihr Geschäft zu betreten? Diese Fragen stellen wir uns, wenn wir für Sie Poster entwerfen. Hier präsentieren wir Ihnen zwei neu Image-Poster speziell für Refillshops.
Unser neues Poster (Art. IPO14) greift den Servicegedanken auf. Rundumservice = Vollservice. Boxenstop mit Vollservice.
Das zweite Poster (Art. IPO15) ist ein Emotions-Poster. Der freundliche Tropfen gibt Ihrem Geschäft eine positiv gutgelaunte Ausstrahlung. Das Kundenverhalten ist zu vergleichen mit Ihrer Reaktion auf gutgelaunte bzw. lächelnde Menschen. Sie werden auf freundliche Menschen immer etwas offener reagieren. Und so geht es Ihren Kunden auch mit der Auswahl Ihres Geschäftes. Das zweite Poster soll auch den Spareffekt der Tintenbefüllung ansprechen. Deshalb spricht in dem Poster das Portemonnaie zum Poster-Betrachter.
Sie finden beide Poster (IPO14, IPO15) in der Preisliste Werbemittel für Händler im Händlerbereich. Zur größeren Ansicht gelangen Sie über folgenden Link in unseren Onlinebereich. >> Hier klicken <<
Neue Tonerpulver eingetroffen
Alle Tonerpulver jetzt ab Lager lieferbar. Heute bestellt... morgen geliefert. Schnellerer Kundendienst sichert Ihren Umsatz. Octopus Office bleibt dafür der richtige Partner:-)
TU10808 Samsung ML 3050, 3051 Absolute Black® toner 215g
TU10810 Samsung ML 3050, 3051 Smartchip ®
TU10155 Ricoh CL 3000, 2000, Type 125 Absolute Black ® toner 160g
TU10156 Ricoh CL 3000, 2000, Type 125 Absolute Cyan ® toner 160g
TU10157 Ricoh CL 3000, 2000, Type 125 Absolute Magenta ® toner 160g
TU10158 Ricoh CL 3000, 2000, Type 125 Absolute Yellow ® toner 160g
TU7716 Ricoh FX 10, Type 1210 Absolute Black toner toner 200g
TU8968 Minolta Di 200, 250, 350 Absolute Black® toner 400g
TU8970 Minolta Di 250, 350 Uni Drum ® OPC with gears
TU11021 HP P 3005, M 3027, 3035 Absolute Black® toner 610g
TU11138 HP P 3005 Smartchip ®
TU8833 Ricoh CL 7000 Black toner 510g
TU8834 Ricoh CL 7000 Cyan toner 275g
TU8835 Ricoh CL 7000 Magenta toner 275g
TU8836 Ricoh CL 7000 Yellow toner 275g
TU497 Okidata OL 400e Absolute Black® toner 60g
TU10612 Okidata C 5900,5800,5500 Absolute Black ® Glossy toner
TU10613 Okidata C 5900,5800,5500 Absolute Cyan ® Glossy toner
TU10614 Okidata C 5900,5800,5500 Absolute Magenta ® Glossy toner
TU10615 Okidata C 5900,5800,5500 Absolute Yellow ® Glossy toner
TU11957 Okidata C 5900, 5800, 5500Smartchip Black toner
TU11958 Okidata C 5900, 5800, 5500 Smartchip Cyan toner
TU11959 Okidata C 5900, 5800, 5500 Smartchip Magenta toner
TU11960 Okidata C 5900, 5800, 5500 Smartchip Yellow
TU101 Canon NP 1010, 1020 copier comp. toner cartridge, 2 x 105g
TU10829 Okidata C 3530, 3400, 3300 Absolute Black ® glossy toner
TU10830 Okidata C 3530, 3400, 3300 Absolute Cyan ® glossy toner
TU10831 Okidata C 3530, 3400, 3300 Absolute Magenta ®glossy toner
TU10832 Okidata C 3530, 3400, 3300 Absolute Yellow ® glossy toner
TU10833 Okidata C 3400, 3300 Smartchip Black
TU10834 Okidata C 3400, 3300 Smartchip Cyan
TU10835 Okidata C 3400, 3300 Smartchip Magenta
TU10836 Okidata C 3400, 3300 Smartchip Yellow
TU9830 Brother HL 4000 CN Absolute Black ® toner 220g
TU9831 Brother HL 4000 CN Absolute Cyan ® toner 200g
TU9832 Brother HL 4000 CN Absolute Magenta ® toner 200g
TU9833 Brother HL 4000 CN Absolute Yellow ® toner 200
TU5913 Xerox P 8 Absolute Black® toner 90g
B4TN10180 Brother TN 550, 580, 3170, 3130, HL 5250 Absolute Black®
B4DR3050 Brother HL5240OPC Bildtrommel, OptiPrint, mit Zahnrad

70 % der Deutschen nutzen zu Hause einen PC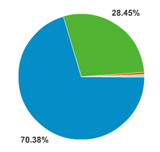 Der Anteil der deutschen Bundesbürger ab 10 Jahren, die zu Hause einen PC nutzen, ist im Jahr 2007 auf 70 % gestiegen. Im Vergleich dazu lag diese Quote 2005 bei 66 % und 2003 noch bei 56 %. (Quelle: Bundesverband Informationswirtschaft, Telekommunikation und neue Medien; Berlin)
Getrieben wird diese Entwicklung durch den vermehrten Absatz von Laptops, deren Absatzzahl übertraf in 2007 mit 5 Millionen erstmalig den Verkauf von stationären PCs.
Im Zusammenhang mit der Gesamtzahl der Laptops und PCs im Privatbereich steigt insgesamt auch die Anzahl der Peripheriegeräte wie Tinten-Drucker und Laser-Drucker an. Ausgehend davon kann auch zukünftig mit einer weiteren Zunahme des Bedarfes zur Wiederbefüllung von Druckerpatronen und Druckertonern gerechnet werden. Bei der Bewältigung zukünftiger technischer Entwicklungen steht Ihnen Octopus Office auch weiterhin gern zur Seite.
99 % der Deutschen nutzen einen Rechner zu Hause - wenn es soweit ist .... Octopus Office ist dabei !
DATENSCHUTZ großgeschrieben!
Wir garantieren jedem Kunden, dass seine Daten bei uns dem allumfassenden Datenschutz unterliegen. Es werden keinerlei Informationen über unsere Kunden an Drittunternehmen oder Drittpersonen weitergereicht. Ausgenommen: Unternehmen wie Paketdienste. Wir teilen Ihnen das mit, weil wir immer wieder hören, dass manch einer unserer Kunden in diesem Punkt bei seinen Lieferanten lieber auf Nummer Sicher geht. Und mit uns gehen Sie auf Nummer Sicher. Garantiert...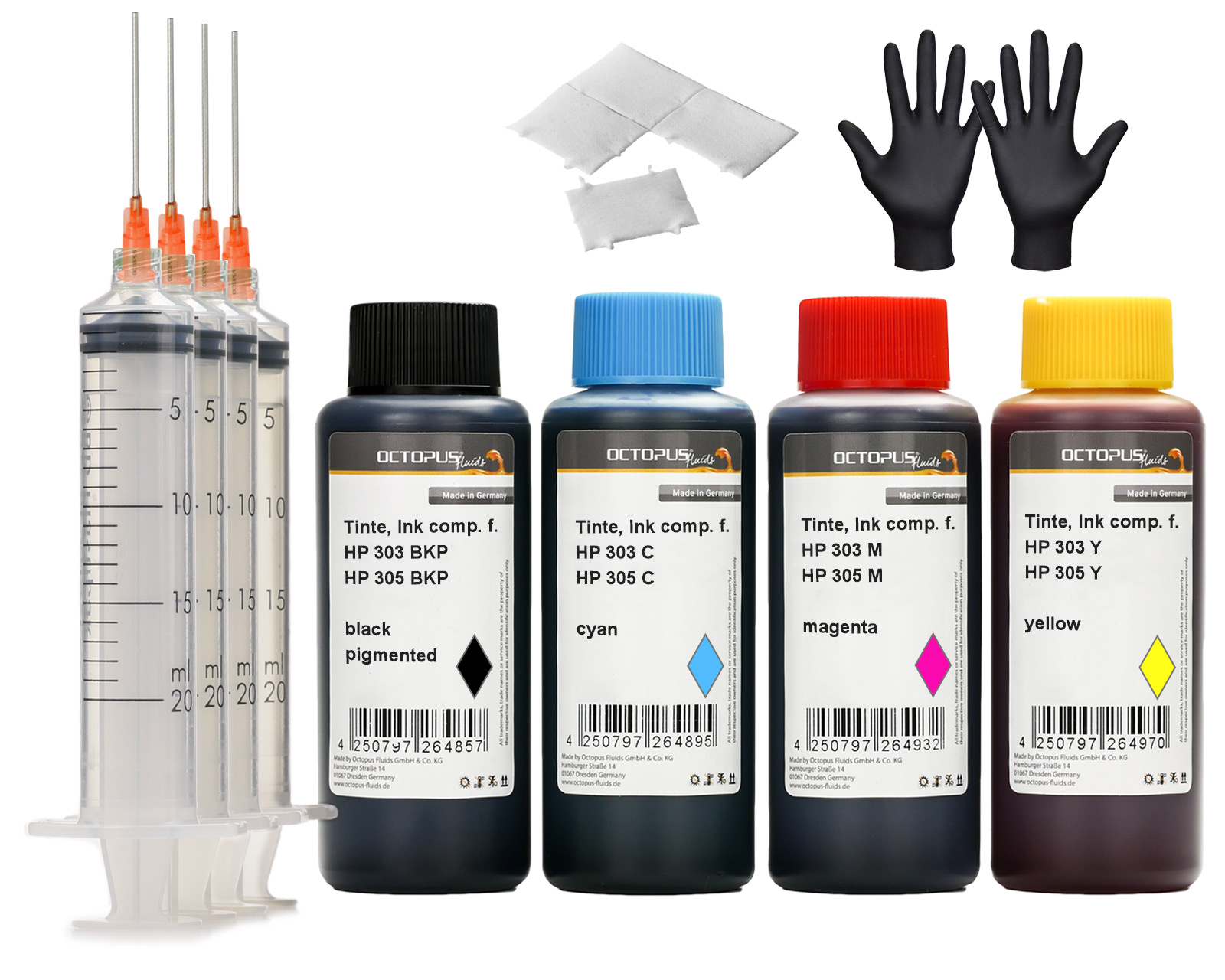 Printer Ink Set for HP 303 and HP 305 Ink cartridges
Printer ink for HP ENVY, Photo 7130, 7134, 6232, 7830, 6230, 6234, 6220, Tango, DeskJet 2700 Series, DeskJet Plus 4100 Series, Envy 6000 Series, Envy Pro 6400 Series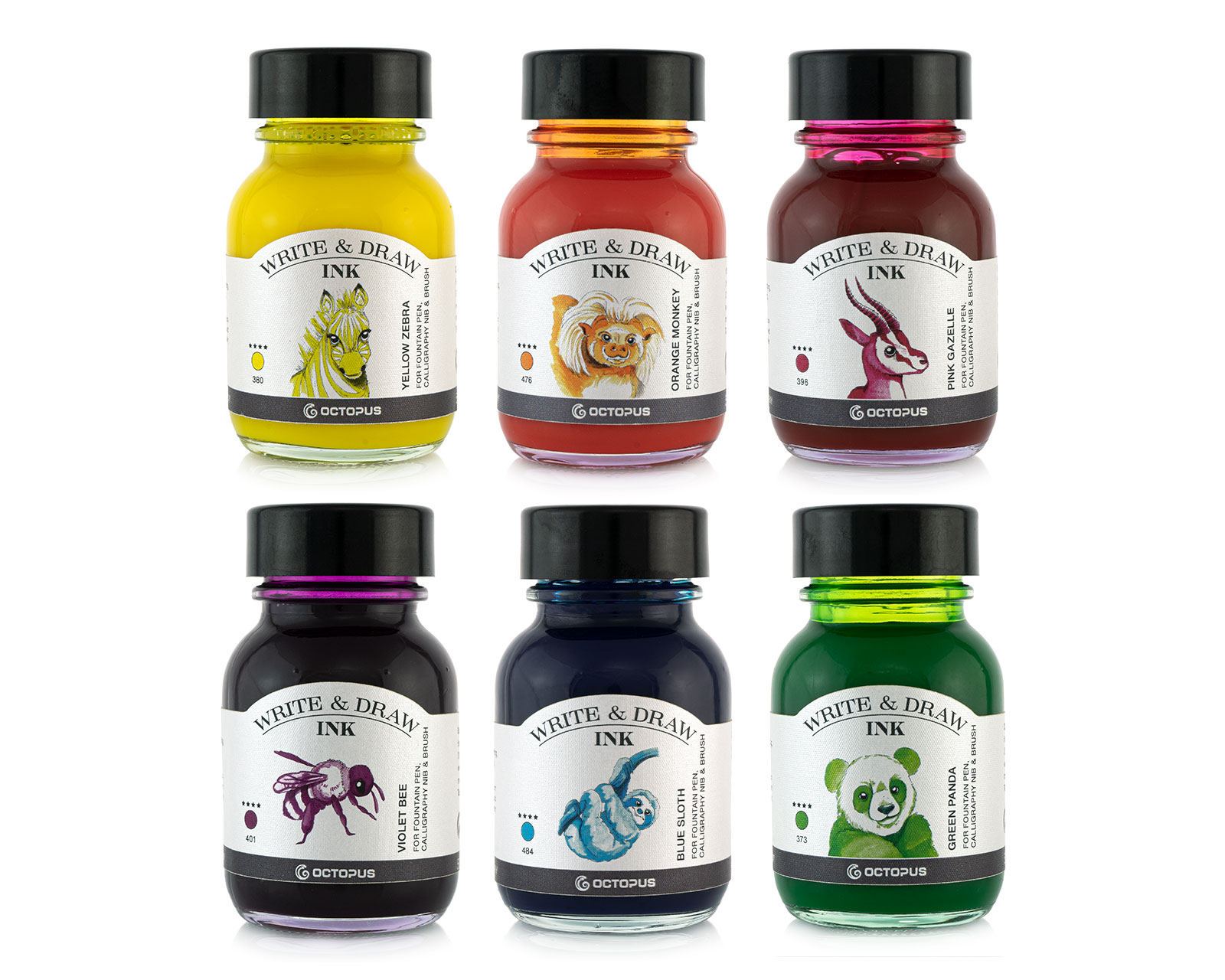 Write and Draw Ink Set, waterproof drawing ink for fountain pens, 6 colours
Octopus Write & Draw Ink, waterproof ink for fountain pen, nib and brush, vegan
The Octopus Write & Draw inks are unique, smudge-proof and waterproof writing and drawing inks in a wide range of colours. They were developed for daily use in fountain pens and are also popular with graphic artists, illustrators, calligraphers and artists for writing, sketching, drawing and colouring with calligraphy pens, glass pens or brushes.

Each of the 38 brilliant shades inspires with its intense colour power thanks to its high, balanced pigmentation. In addition to a deep black and various shades of grey, the extensive colour palette also includes a particularly opaque white, which can be used on dark backgrounds.
During the development of the drawing ink, special attention was paid to its use in the fountain pen. The use of the finest colour pigments in a carefully balanced formula ensures high light fastness and a good, even ink flow without clogging the ink duct of the fountain pen. These pigmented writing inks also feature the excellent writing behaviour of the classic Octopus fountain pen inks. The Write & Draw drawing ink meets the requirements for document-proof ink according to DIN ISO 12757-2 and DIN ISO 14145-2 and is produced exclusively with vegan ingredients.

Writing enthusiasts love the razor-sharp typeface that can be achieved on fountain pen-suitable paper and the pleasant shading of the Write & Draw writing ink. Calligraphers can create the finest hairlines and impressive flourishing elements, while urban sketchers can draw precise outlines.
The ink dries waterproof in a very short time and can then be painted over with another shade of Octopus Write & Draw ink or watercolour. It is eraser-proof and most of the colours are also highlighter-proof.
Both pure and diluted with water, Octopus Write & Draw ink is excellent for colouring. Used undiluted, the waterproof ink convinces with its opacity. The many colours of Octopus drawing ink can be mixed with each other, but also with water. In this way, countless colour shades can be achieved for beautiful watercolour effects.
Unlike most other waterproof inks, Octopus Write & Draw can be used in a fountain pen without hesitation. However, care should be taken not to let the fountain pen dry out. We therefore recommend that you rinse and clean your writing instrument carefully after use to prevent the ink from drying up accidentally.

The Octopus special cleaner for pigmented inks is available for cleaning your writing Instruments.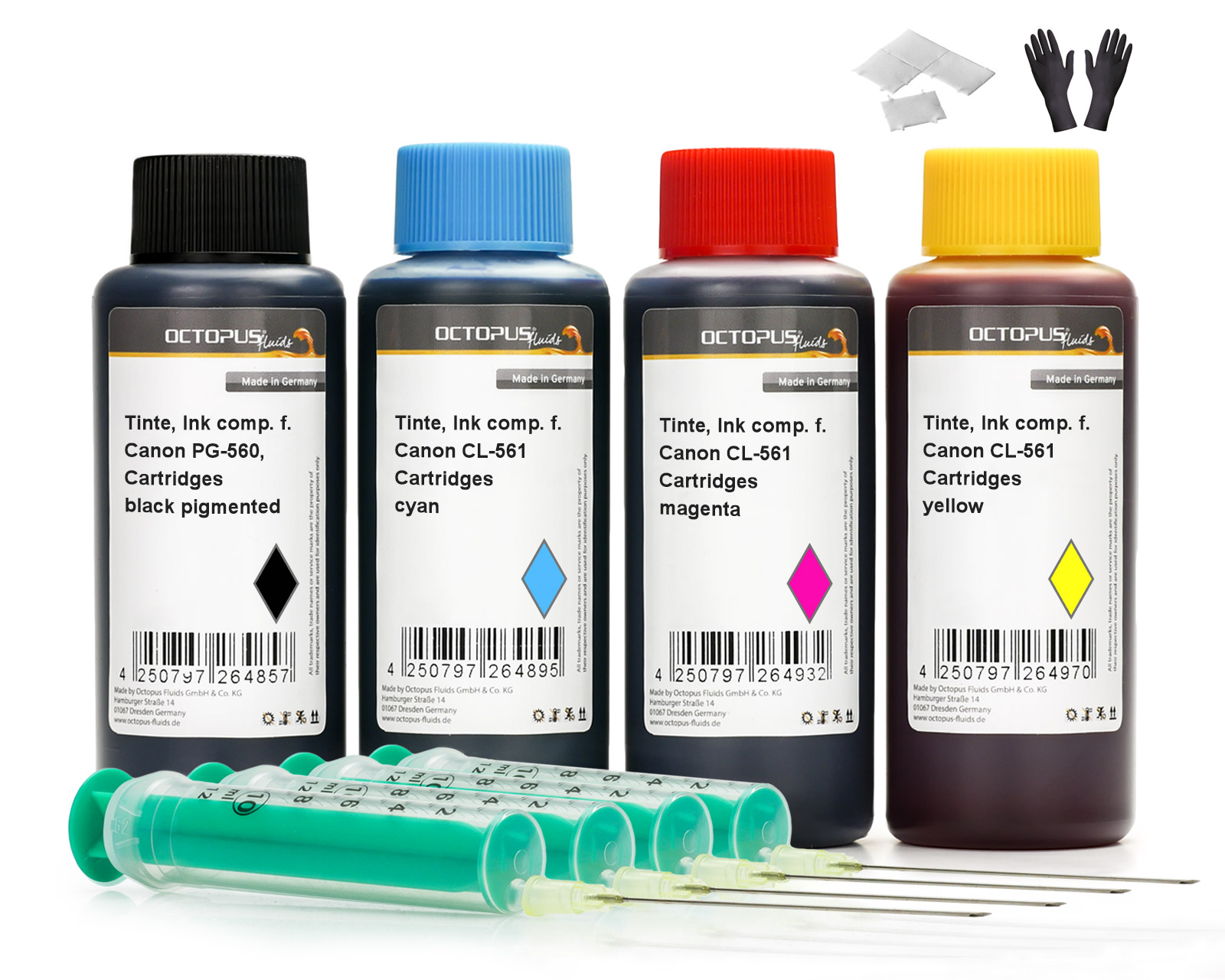 Octopus printer ink set compatible for Canon PG-560, CL-561 ink cartridges, Canon Pixma TS 5300, 7400
Druckertinte für Canon Pixma TS 5300, TS 5350, TS 5350, TS 5351, TS 5352, TS 5353, TS 7400, TS 7450, TS 7450, TS 7451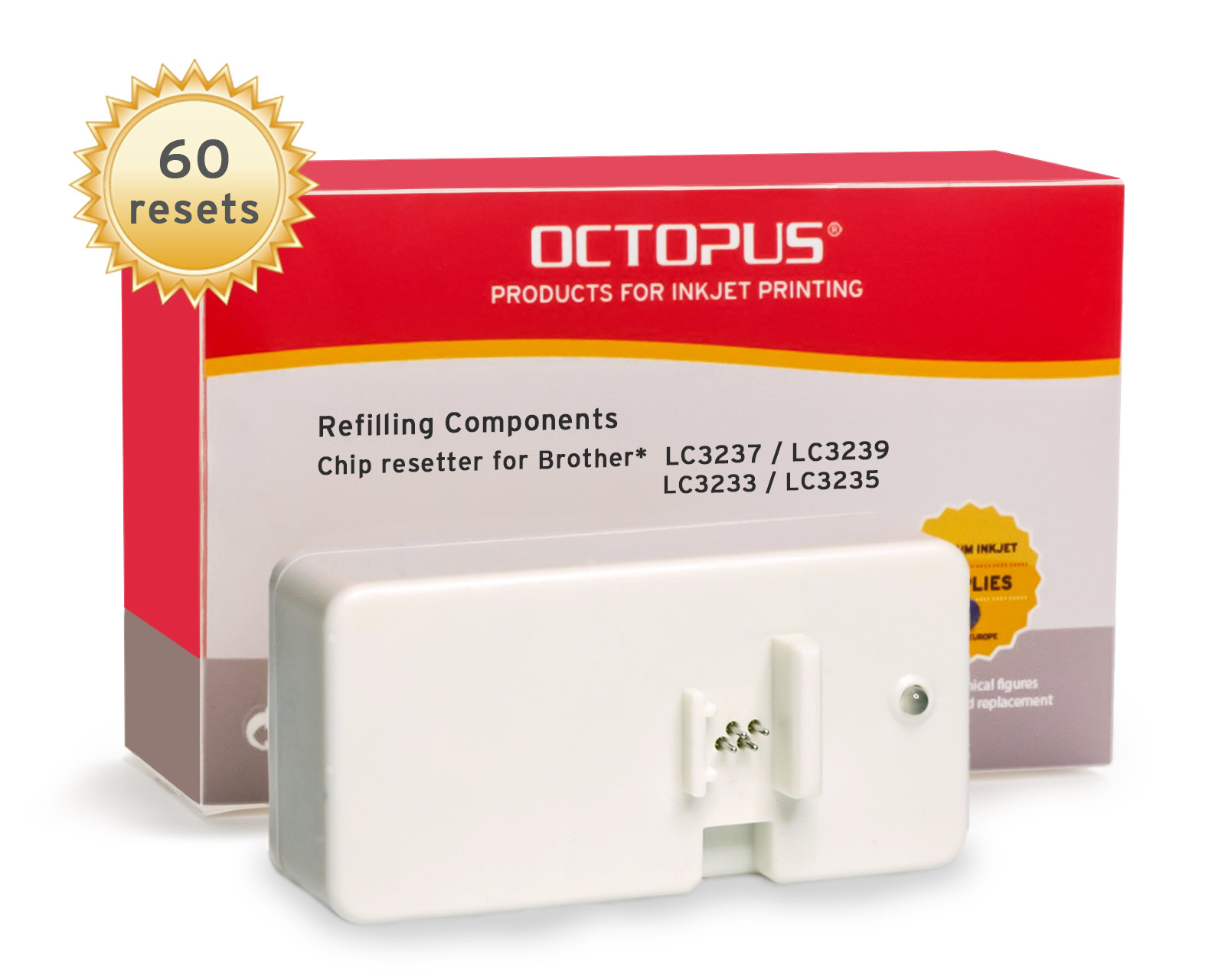 Chipresetter for Brother LC-3237, LC-3239, LC-3233, LC-3235 inkjet cartridges, for 60 Resets
Chip Resetter for resetting Brother LC-3237, LC-3239, LC-3233, LC-3235 und Brother DCP-J 1100, HL-J 6000, HL-J 6100, MFC-J 1300, J 5945, J 6945, J 6947 cartridges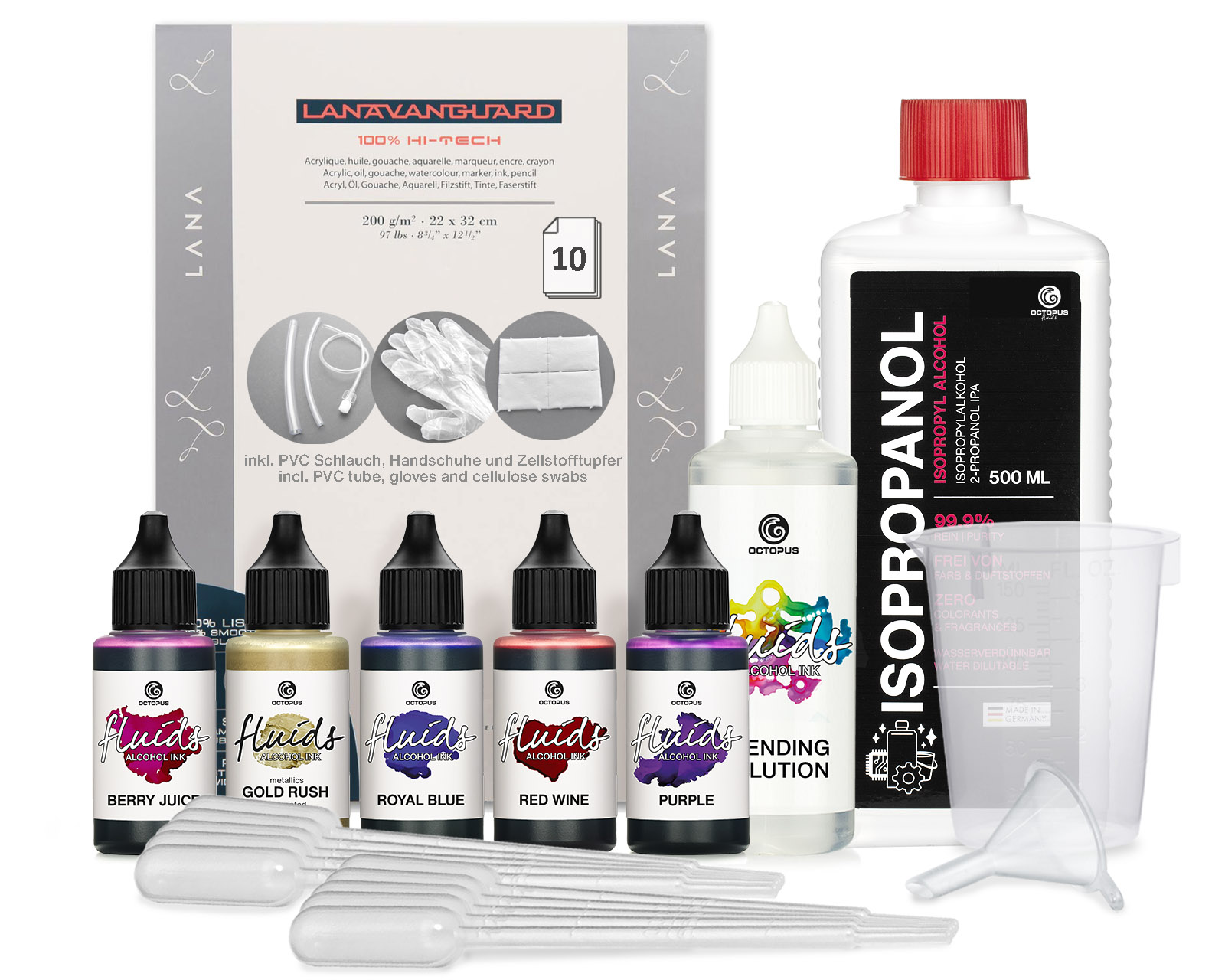 Octopus Fluids Alcohol Ink Complete Kit GOLDEN EVE with Blending Solution, Alcohol Ink Paper and accessoreies for fluid art, 5 x 30 ml
Start now with Alcohol Ink painting with the complete set Octopus Fluids alcohol inks from Germany. 5 colours Alcohol Ink, Blending Solution and all accessories in a set.