Das lukrative Geschäft mit der Tinte
Bei Kartuschen gibt es Preisunterschiede von bis zu 70 Prozent - Fremdanbieter lassen sich von Geräteherstellern nicht ausbremsen
Berlin Sie ist alles andere als ein Schnäppchen: Druckertinte hat den Weg zu einer der weltweit teuersten Flüssigkeiten geschafft. Der Herstel­ler Hewlett Packard (HP) verlangt für einen mit nur acht Milliliter ge­fällten Farbdruckkopf 23 Euro, macht pro Liter stolze 2875 Euro. Der Markt ist hart umkämpft. Bei weltweit mehr als 270 Millionen verkauften Tintenstrahldruckern ist der Verkauf von Tintenpatronen für uns - wie für alle Druckerhersteller - ein großes, wichtiges Geschäft", be­tont etwa Ralf Groh, HP-Vertriebsdi­rektor Zubehör Deutschland.
Es ist ein offenes Geheimnis, dass vor allem die teuren Nachkaufpatronen einen wesentlichen Beitrag zum Gewinn der Druckersparten der Ge­rätebauer leisten. Der Verkauf des Druckers ist aus ihrer Sicht im Ideal­fall deshalb nur der Beginn einer langen Kundenbeziehung. Die Herstel­ler bestreiten vehement, dass Tinten­strahldrucker unter Preis verkauft werden", beschreibt Tim Gerber vom Fachmagazin C't" die Eigen­heiten der Branche. Es ist aber ein lukratives Geschäft, Verbraucher zu ködern." Tatsächlich gibt es Neuge­räte bereits ab 40 Euro. Nach einigen Ersatzfüllungen ist derselbe Betrag zuweilen schnell erneut ausgegeben.
Bei jährlich drei Millionen in Deutschland verkauften Tinten strahldruckern boomt das Nachfüll­geschäft. Um sich diese Einnahmen und ihr Liefermonopol zu sichern, unternehmen einige Anbieter erheb­liche Anstrengungen. Allen voran Lexmark und HP, deren Drucker nur Kombinationskartuschen aus High-Tech-Druckkopf, Elektronik und Tintentank zulassen.
Damit wird Fremdanbietern das Geschäft erschwert, denn die Einweg-Druck­käpfe sind patentgeschätzt und dür­fen nicht nachgebaut werden. Doch auch das bremst die Kon­kurrenz nicht' aus.
Dritthersteller wie Pelikan Hardcopy, KMP Print­technik, K+U Printware sammeln leere Tintenkartuschen, befüllen sie und können so Originalpatronen oh­ne Patentverletzungen bis zu 70 Pro­zent günstiger anbieten.
In Europa setzen diese Refiller inzwischen jähr­lich zwei Milliarden Euro um. Die Originalhersteller kontern teilweise mit einem Software-Kniff: So lässt sich die Füllstandsanzeige zuweilen nicht überreden, wieder aufgefüllte Patronen auch als voll anzuzeigen. Wesentlich leichter ist es bei Ca­non und Epson, auf Fremdware um­zusteigen, denn dort können Tinten­tanks weitgehend problemlos ausge­tauscht oder nachgefällt werden.
Die Druckerhersteller haben sich auf die billiger Konkurrenz einge­stellt und werben mit Qualität. Wie in anderen Branchen existieren hier unterschiedliche Qualitätsstufen und Preismarken", sagt Epson-Mana­ger Rolf-Hendrik Arens. Doch die Billigangebote sind je nach Anspruch durchaus eine über­legung wert.
Tests der Fachzeit­schriften C't" oder PC Professio­nell" zeigen, dass gute unter den Bil­ligtinten in Einzeldisziplinen mitun­ter besser als das Original sind. Die ausgeglichene Leistung und die Langzeitqualität von Originaltinte seien aber weiterhin unschlagbar. Die Markenware kann jedoch auch nur trumpfen, wenn teure Spezial-papiere verwendet werden: Wer sei­nem Drucker nur billiges Kopierpa­pier gönnt, kann sich den Griff zur teuren Originalpatrone sparen.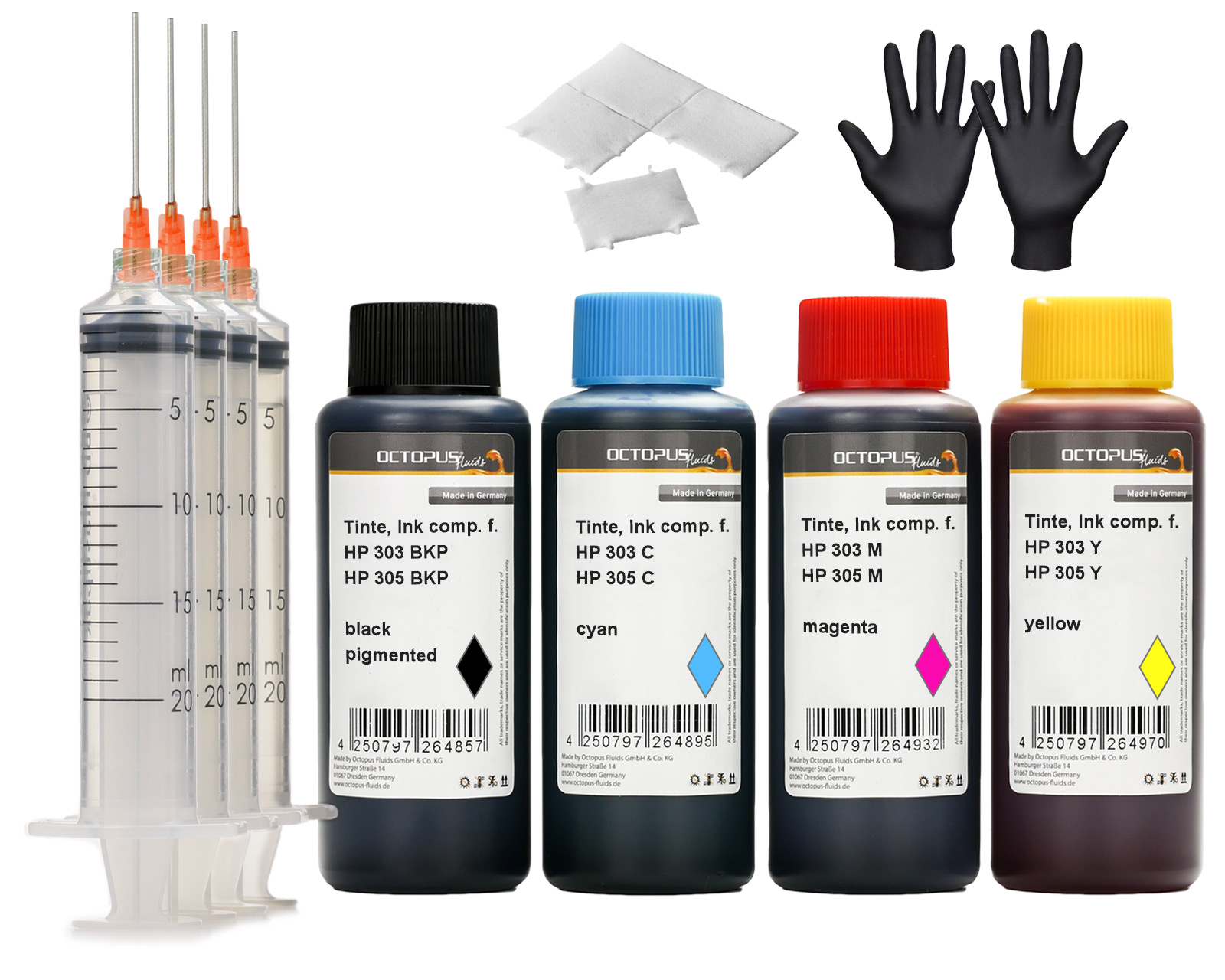 Printer Ink Set for HP 303 and HP 305 Ink cartridges
Printer ink for HP ENVY, Photo 7130, 7134, 6232, 7830, 6230, 6234, 6220, Tango, DeskJet 2700 Series, DeskJet Plus 4100 Series, Envy 6000 Series, Envy Pro 6400 Series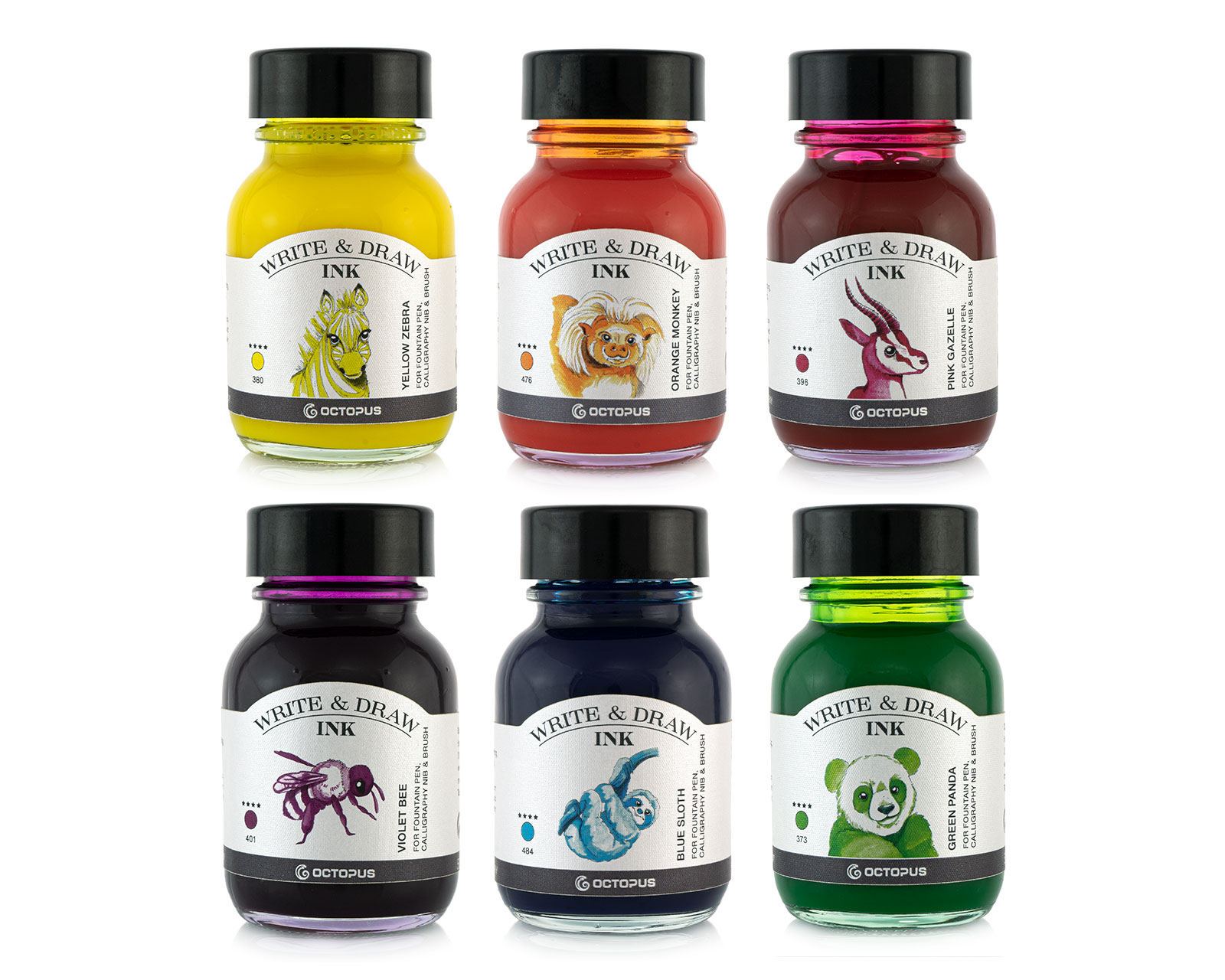 Write and Draw Ink Set, waterproof drawing ink for fountain pens, 6 colours
Octopus Write & Draw Ink, waterproof ink for fountain pen, nib and brush, vegan
The Octopus Write & Draw inks are unique, smudge-proof and waterproof writing and drawing inks in a wide range of colours. They were developed for daily use in fountain pens and are also popular with graphic artists, illustrators, calligraphers and artists for writing, sketching, drawing and colouring with calligraphy pens, glass pens or brushes.

Each of the 38 brilliant shades inspires with its intense colour power thanks to its high, balanced pigmentation. In addition to a deep black and various shades of grey, the extensive colour palette also includes a particularly opaque white, which can be used on dark backgrounds.
During the development of the drawing ink, special attention was paid to its use in the fountain pen. The use of the finest colour pigments in a carefully balanced formula ensures high light fastness and a good, even ink flow without clogging the ink duct of the fountain pen. These pigmented writing inks also feature the excellent writing behaviour of the classic Octopus fountain pen inks. The Write & Draw drawing ink meets the requirements for document-proof ink according to DIN ISO 12757-2 and DIN ISO 14145-2 and is produced exclusively with vegan ingredients.

Writing enthusiasts love the razor-sharp typeface that can be achieved on fountain pen-suitable paper and the pleasant shading of the Write & Draw writing ink. Calligraphers can create the finest hairlines and impressive flourishing elements, while urban sketchers can draw precise outlines.
The ink dries waterproof in a very short time and can then be painted over with another shade of Octopus Write & Draw ink or watercolour. It is eraser-proof and most of the colours are also highlighter-proof.
Both pure and diluted with water, Octopus Write & Draw ink is excellent for colouring. Used undiluted, the waterproof ink convinces with its opacity. The many colours of Octopus drawing ink can be mixed with each other, but also with water. In this way, countless colour shades can be achieved for beautiful watercolour effects.
Unlike most other waterproof inks, Octopus Write & Draw can be used in a fountain pen without hesitation. However, care should be taken not to let the fountain pen dry out. We therefore recommend that you rinse and clean your writing instrument carefully after use to prevent the ink from drying up accidentally.

The Octopus special cleaner for pigmented inks is available for cleaning your writing Instruments.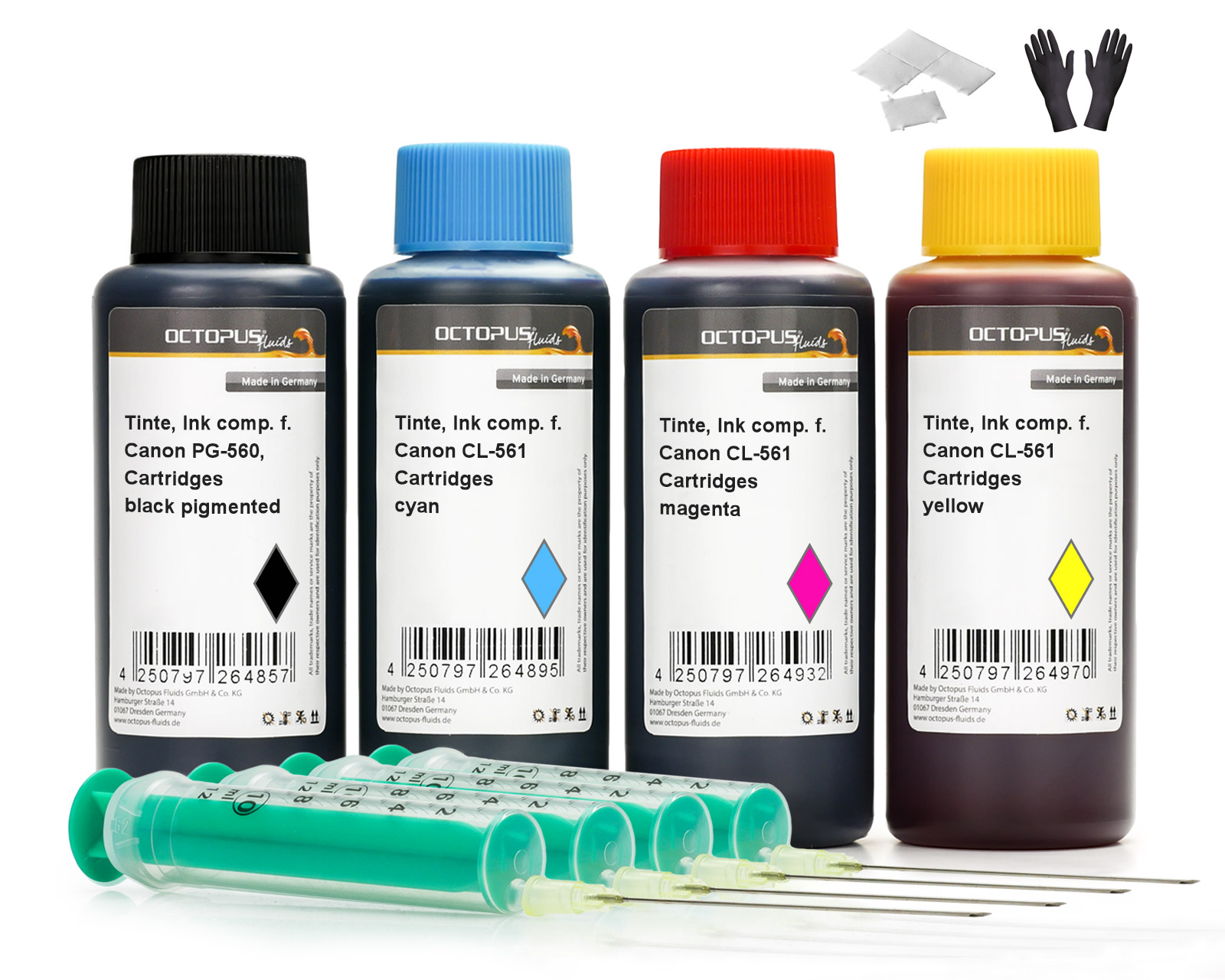 Octopus printer ink set compatible for Canon PG-560, CL-561 ink cartridges, Canon Pixma TS 5300, 7400
Druckertinte für Canon Pixma TS 5300, TS 5350, TS 5350, TS 5351, TS 5352, TS 5353, TS 7400, TS 7450, TS 7450, TS 7451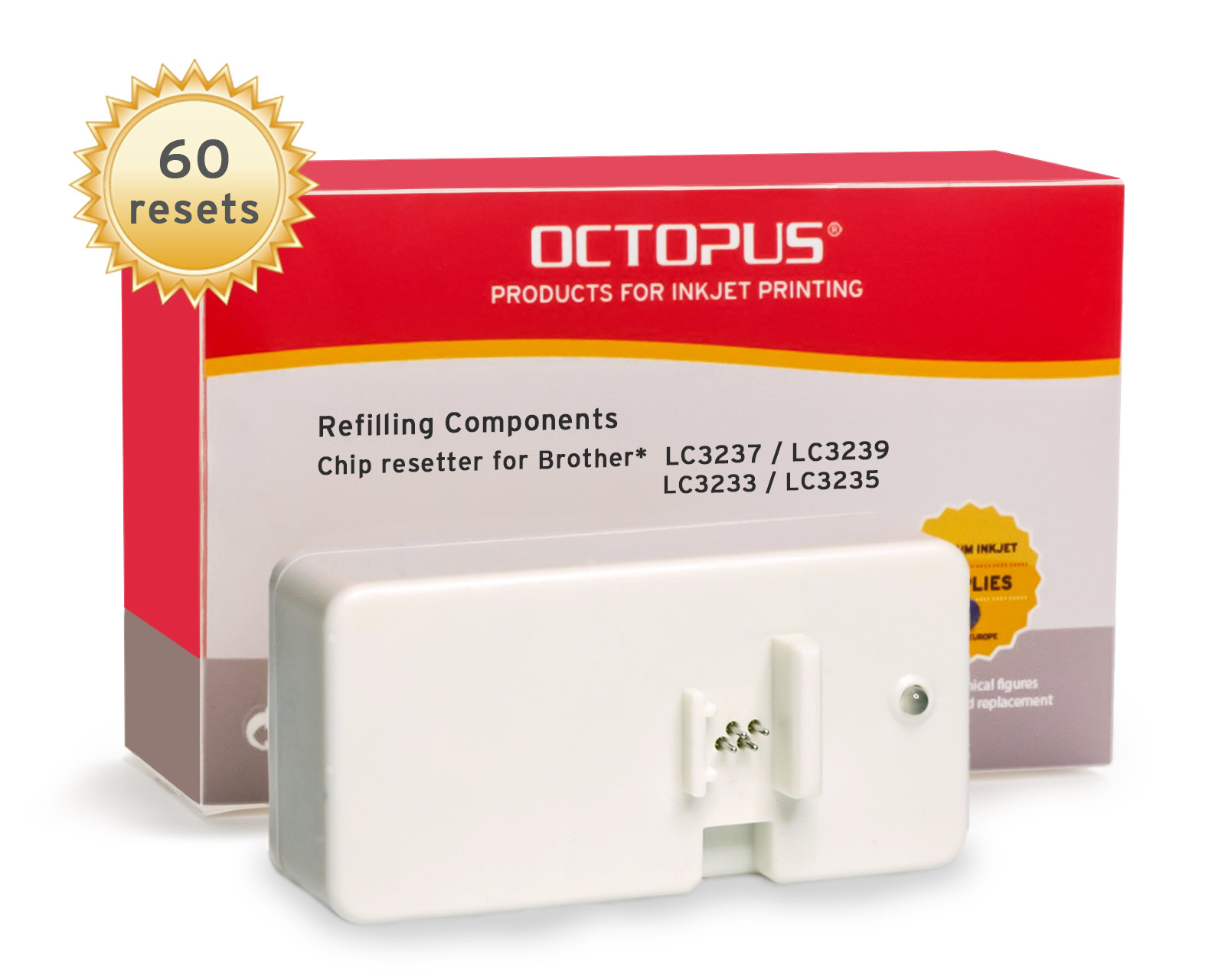 Chipresetter for Brother LC-3237, LC-3239, LC-3233, LC-3235 inkjet cartridges, for 60 Resets
Chip Resetter for resetting Brother LC-3237, LC-3239, LC-3233, LC-3235 und Brother DCP-J 1100, HL-J 6000, HL-J 6100, MFC-J 1300, J 5945, J 6945, J 6947 cartridges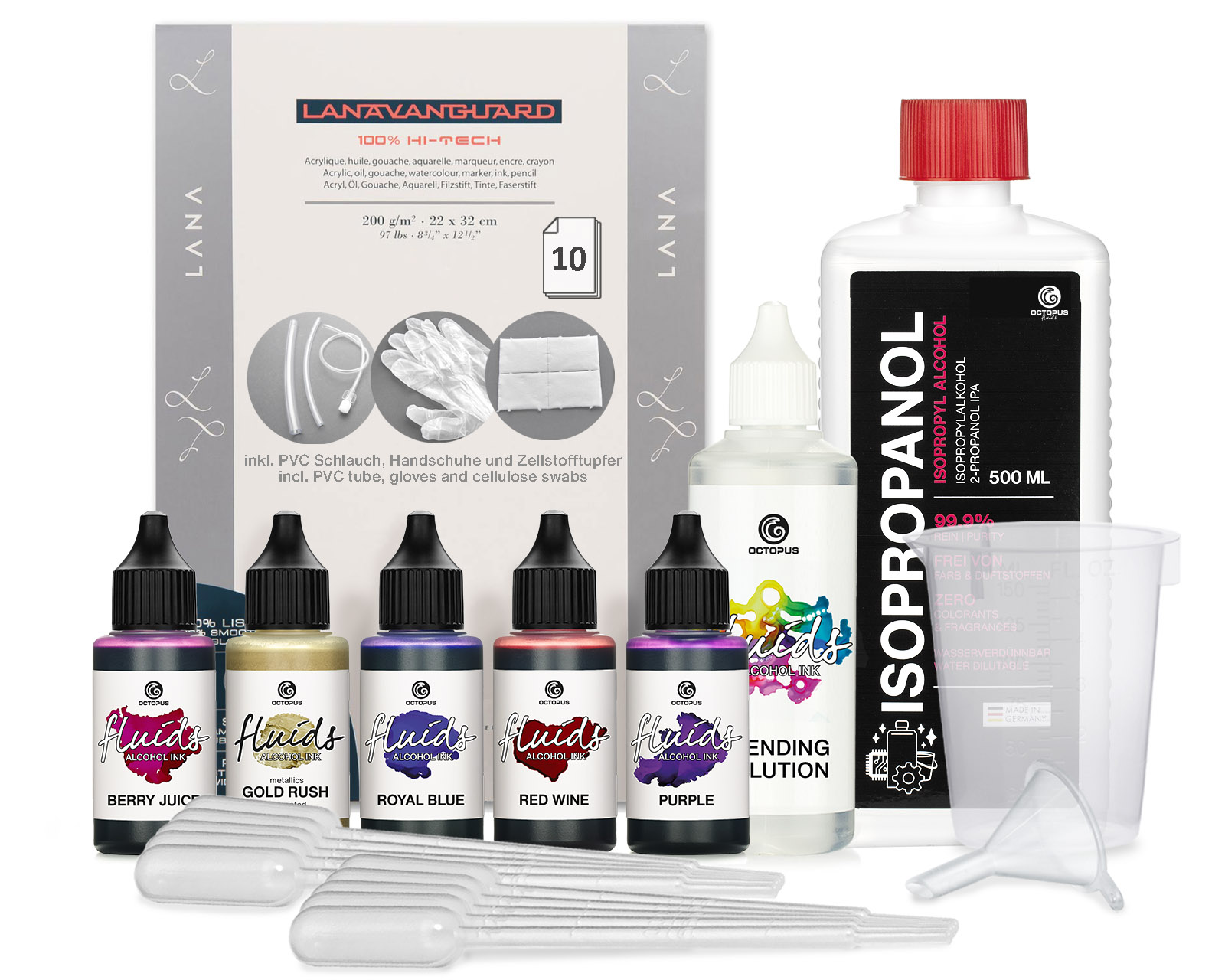 Octopus Fluids Alcohol Ink Complete Kit GOLDEN EVE with Blending Solution, Alcohol Ink Paper and accessoreies for fluid art, 5 x 30 ml
Start now with Alcohol Ink painting with the complete set Octopus Fluids alcohol inks from Germany. 5 colours Alcohol Ink, Blending Solution and all accessories in a set.