Canon greift zum Chip bei Druckerpatronen CLI-8 und PGI-5
Der japanische Elektronik-Konzern Canon hat eine neue Serie von insgesamt zwölf Tintendruckern und Multifunktionsgeräten mit neuen Patronentypen angekündigt. Die derzeit gebräuchlichen Patronen für Canon-Drucker waren seit vielen Jahren unverändert von Modellgeneration zu Modellgeneration übernommen worden. Die neuen Modelle sollen nun je nach Preisklasse entweder mit Patronen arbeiten, bei denen wie bei Druckern von Hersteller Hewlett-Packard und Lexmark Tintentank und Druckkopf zu einer Kombipatrone verschmolzen sind; oder mit Einzelfarbtanks, die nunmehr mit einem Chip zur Tintenstandsüberwachung und einer LED bestückt sind. Letztere soll durch verschiedene Blinkfrequenzen auch ohne PC den jeweiligen Füllstand der Patrone signalisieren.

Bisher ist Canon als einziger der vier bedeutenden Tintendrucker-Hersteller bei allen gängigen Patronentypen ohne jegliche Elektronik ausgekommen. Mit der neuen Füllstandsanzeige will Canon vor allem die Kosten für Fehldrucke reduzieren, die entstehen, wenn während eines Druckes die Tinte ausgeht, heißt es in einer offiziellen Mitteilung.

Erheblich erschwert, wenn nicht gar völlig unterbunden werden dürfte jedoch das Angebot an Alternativ-Patronen und das Wiederauffüllen leerer Originale. In der Vergangenheit hatte Canon bereits versucht, durch mehr oder minder abstruse Patentklagen andere Anbieter am Geschäft mit Tinte für seine Drucker zu hindern. Inwieweit die Verchipung gegen die sogenannte Elektronikschrott-Richtlinie der EU verstößt, ist bislang eine Frage des jeweiligen Standpunktes. Im so genannten "Clever-Chip-Artikel" (Artikel 4) der Elektronikschrott-Richtlinie hatten die EU-Parlamentarier festgeschrieben, dass die Hersteller die Wiederverwendung von Verbrauchsteilen nicht durch technische Maßnahmen verhindern dürfen. Von den Druckerherstellern wird jedoch einstimmig damit argumentiert, ihre Chips dienten ja nicht der Wiederverwendungsblockade, sondern ausschließlich der Tintenstandskontrolle oder der Qualitätssicherung. Zur wirklichen Durchsetzung des ursprünglichen Willens der Volksvertreter in Brüssel ist die Formulierung in der Richtlinie und in der deutschen Umsetzung jedoch viel zu schwammig.
Die Benutzer heutiger Canon-Drucker scheinen die Chips jedenfalls nicht vermisst zu haben. Nach Einschätzung von Markbeobachtern waren Drucker dieser Marke in den letzten Jahren ganz im Gegenteil gerade wegen des Verzichts auf solche Maßnahmen und den aus dieser Produktpolitik resultierenden niedrigen Druckkosten enorm erfolgreich. Dem Hersteller gelang es damit sogar, die viele Jahre unangefochtene Nummer Eins HP vom Thron zu stoßen und die Marktführerschaft bei Tintendruckern zu erlangen. Bei großen Internet-Versendern belegen die derzeitigen Modell iP3000 und iP4000 die besten Plätze im Verkaufsranking -- mit großem Abstand vor der Konkurrenz.

Nicht zuletzt bestätigte eine Umfrage bei heise online im Februar, dass das bisherige Verbrauchsmaterial-Konzept bei den Anwendern außerordentlich gut ankommt. Besitzer von Canon-Druckern waren mit Abstand die zufriedensten.

Quelle: c´t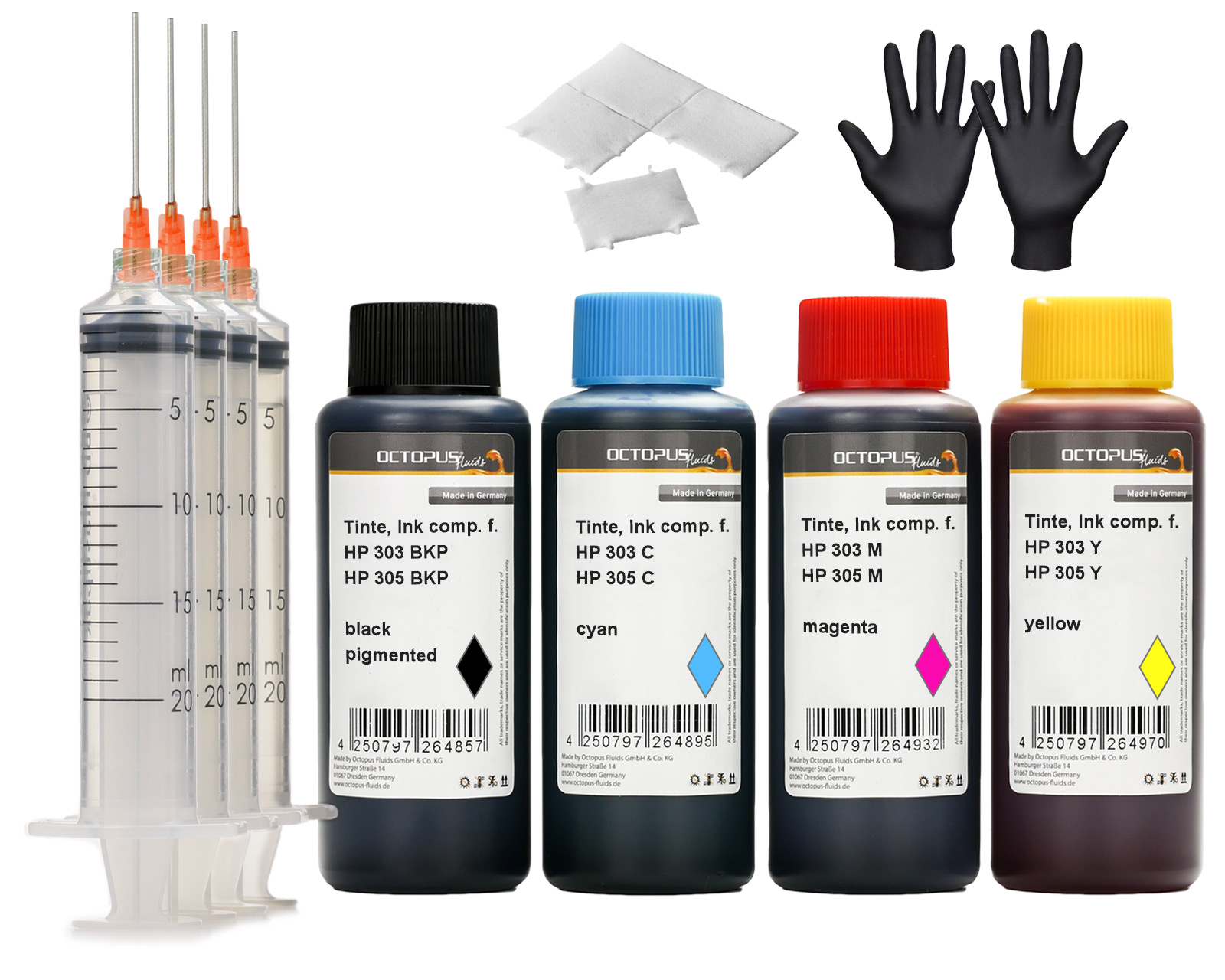 Printer Ink Set for HP 303 and HP 305 Ink cartridges
Printer ink for HP ENVY, Photo 7130, 7134, 6232, 7830, 6230, 6234, 6220, Tango, DeskJet 2700 Series, DeskJet Plus 4100 Series, Envy 6000 Series, Envy Pro 6400 Series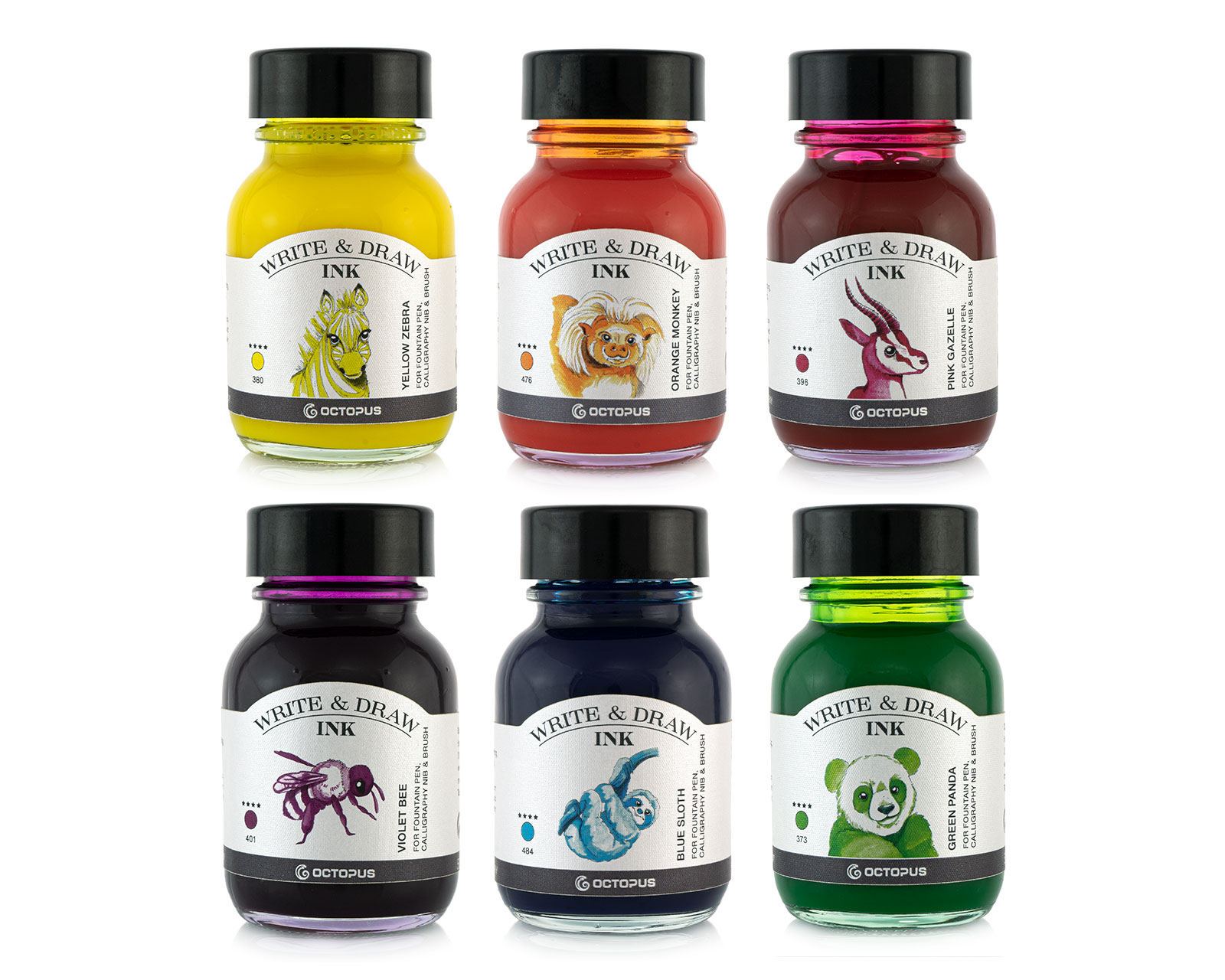 Write and Draw Ink Set, waterproof drawing ink for fountain pens, 6 colours
Octopus Write & Draw Ink, waterproof ink for fountain pen, nib and brush, vegan
The Octopus Write & Draw inks are unique, smudge-proof and waterproof writing and drawing inks in a wide range of colours. They were developed for daily use in fountain pens and are also popular with graphic artists, illustrators, calligraphers and artists for writing, sketching, drawing and colouring with calligraphy pens, glass pens or brushes.

Each of the 38 brilliant shades inspires with its intense colour power thanks to its high, balanced pigmentation. In addition to a deep black and various shades of grey, the extensive colour palette also includes a particularly opaque white, which can be used on dark backgrounds.
During the development of the drawing ink, special attention was paid to its use in the fountain pen. The use of the finest colour pigments in a carefully balanced formula ensures high light fastness and a good, even ink flow without clogging the ink duct of the fountain pen. These pigmented writing inks also feature the excellent writing behaviour of the classic Octopus fountain pen inks. The Write & Draw drawing ink meets the requirements for document-proof ink according to DIN ISO 12757-2 and DIN ISO 14145-2 and is produced exclusively with vegan ingredients.

Writing enthusiasts love the razor-sharp typeface that can be achieved on fountain pen-suitable paper and the pleasant shading of the Write & Draw writing ink. Calligraphers can create the finest hairlines and impressive flourishing elements, while urban sketchers can draw precise outlines.
The ink dries waterproof in a very short time and can then be painted over with another shade of Octopus Write & Draw ink or watercolour. It is eraser-proof and most of the colours are also highlighter-proof.
Both pure and diluted with water, Octopus Write & Draw ink is excellent for colouring. Used undiluted, the waterproof ink convinces with its opacity. The many colours of Octopus drawing ink can be mixed with each other, but also with water. In this way, countless colour shades can be achieved for beautiful watercolour effects.
Unlike most other waterproof inks, Octopus Write & Draw can be used in a fountain pen without hesitation. However, care should be taken not to let the fountain pen dry out. We therefore recommend that you rinse and clean your writing instrument carefully after use to prevent the ink from drying up accidentally.

The Octopus special cleaner for pigmented inks is available for cleaning your writing Instruments.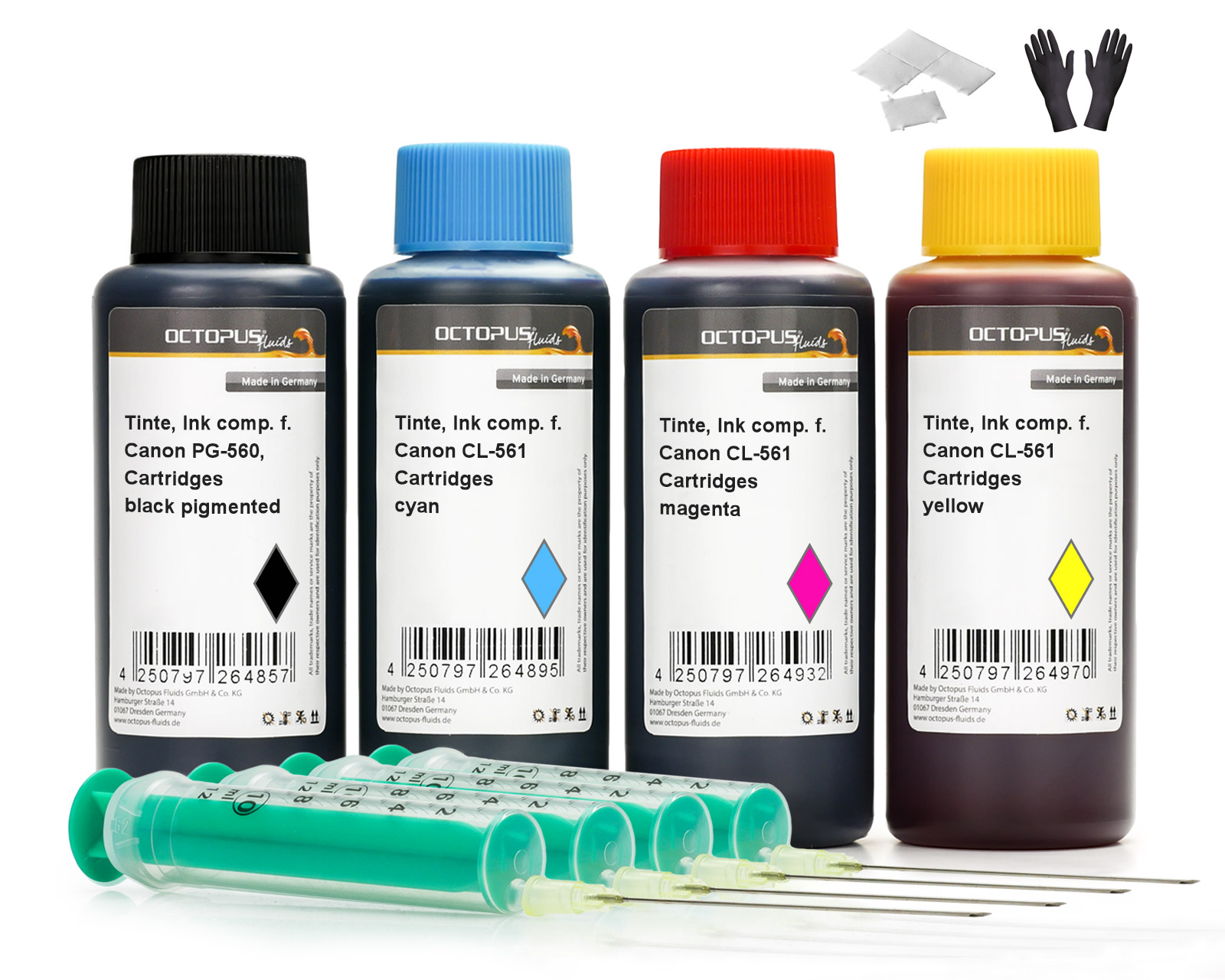 Octopus printer ink set compatible for Canon PG-560, CL-561 ink cartridges, Canon Pixma TS 5300, 7400
Druckertinte für Canon Pixma TS 5300, TS 5350, TS 5350, TS 5351, TS 5352, TS 5353, TS 7400, TS 7450, TS 7450, TS 7451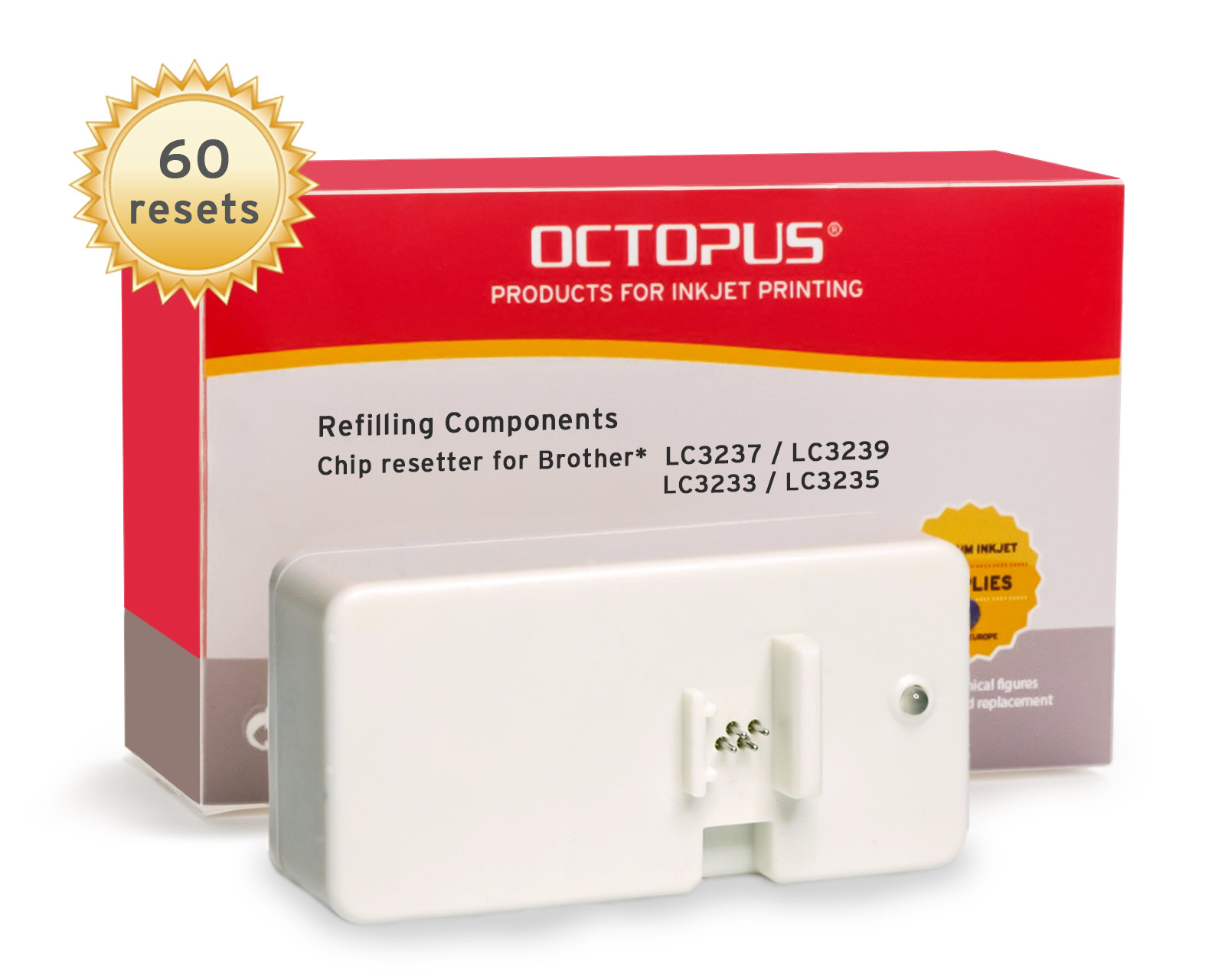 Chipresetter for Brother LC-3237, LC-3239, LC-3233, LC-3235 inkjet cartridges, for 60 Resets
Chip Resetter for resetting Brother LC-3237, LC-3239, LC-3233, LC-3235 und Brother DCP-J 1100, HL-J 6000, HL-J 6100, MFC-J 1300, J 5945, J 6945, J 6947 cartridges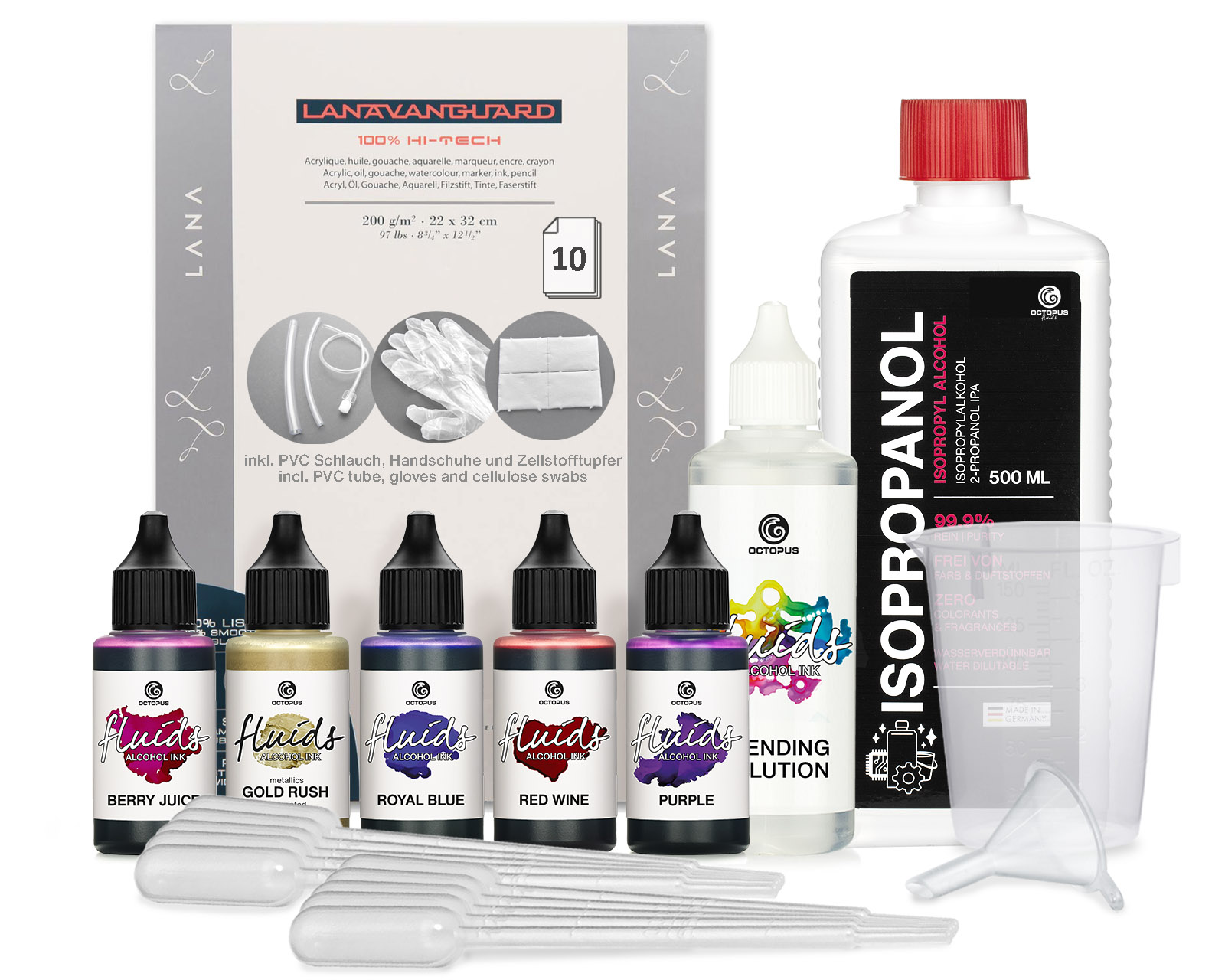 Octopus Fluids Alcohol Ink Complete Kit GOLDEN EVE with Blending Solution, Alcohol Ink Paper and accessoreies for fluid art, 5 x 30 ml
Start now with Alcohol Ink painting with the complete set Octopus Fluids alcohol inks from Germany. 5 colours Alcohol Ink, Blending Solution and all accessories in a set.