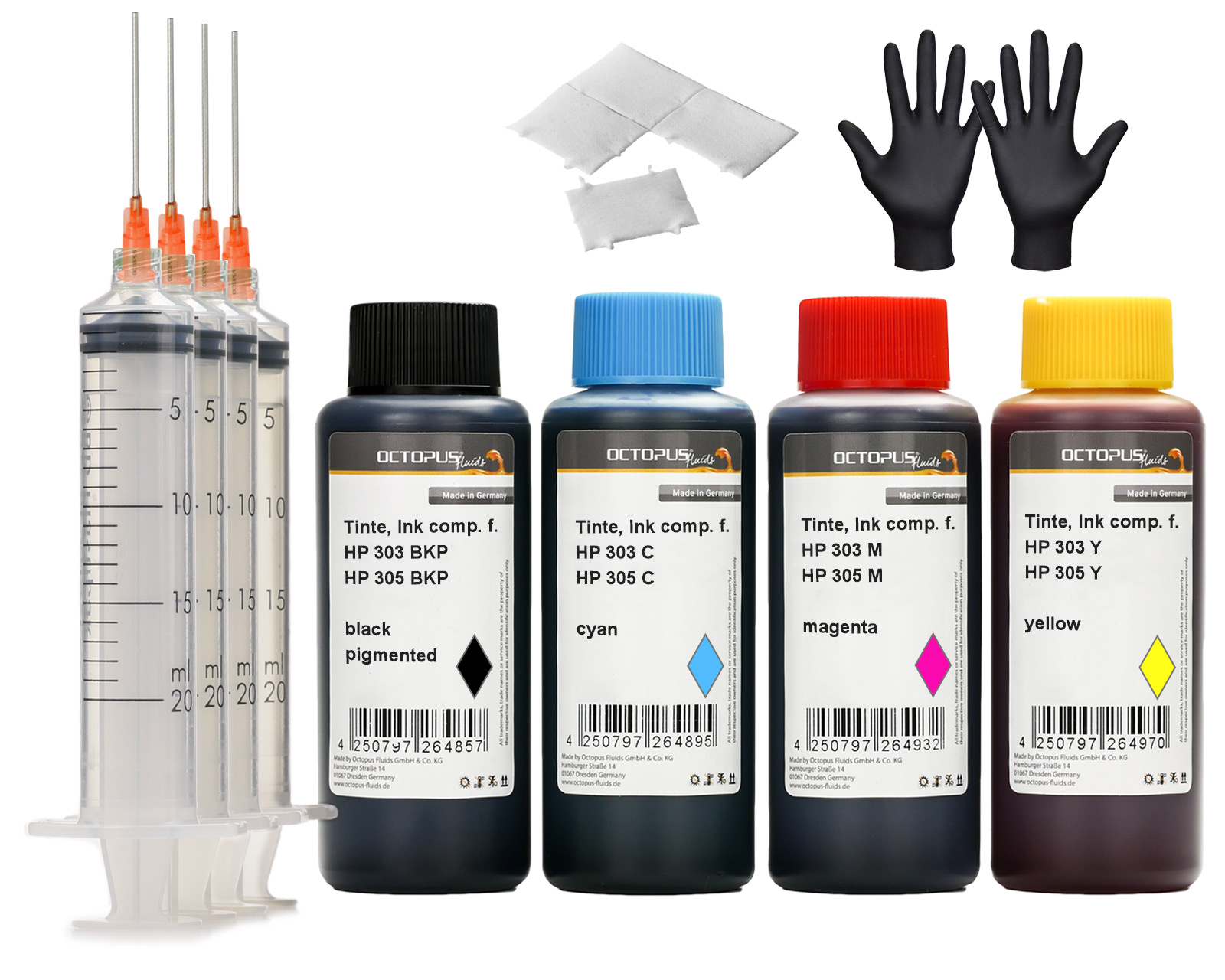 Printer Ink Set for HP 303 and HP 305 Ink cartridges
Printer ink for HP ENVY, Photo 7130, 7134, 6232, 7830, 6230, 6234, 6220, Tango, DeskJet 2700 Series, DeskJet Plus 4100 Series, Envy 6000 Series, Envy Pro 6400 Series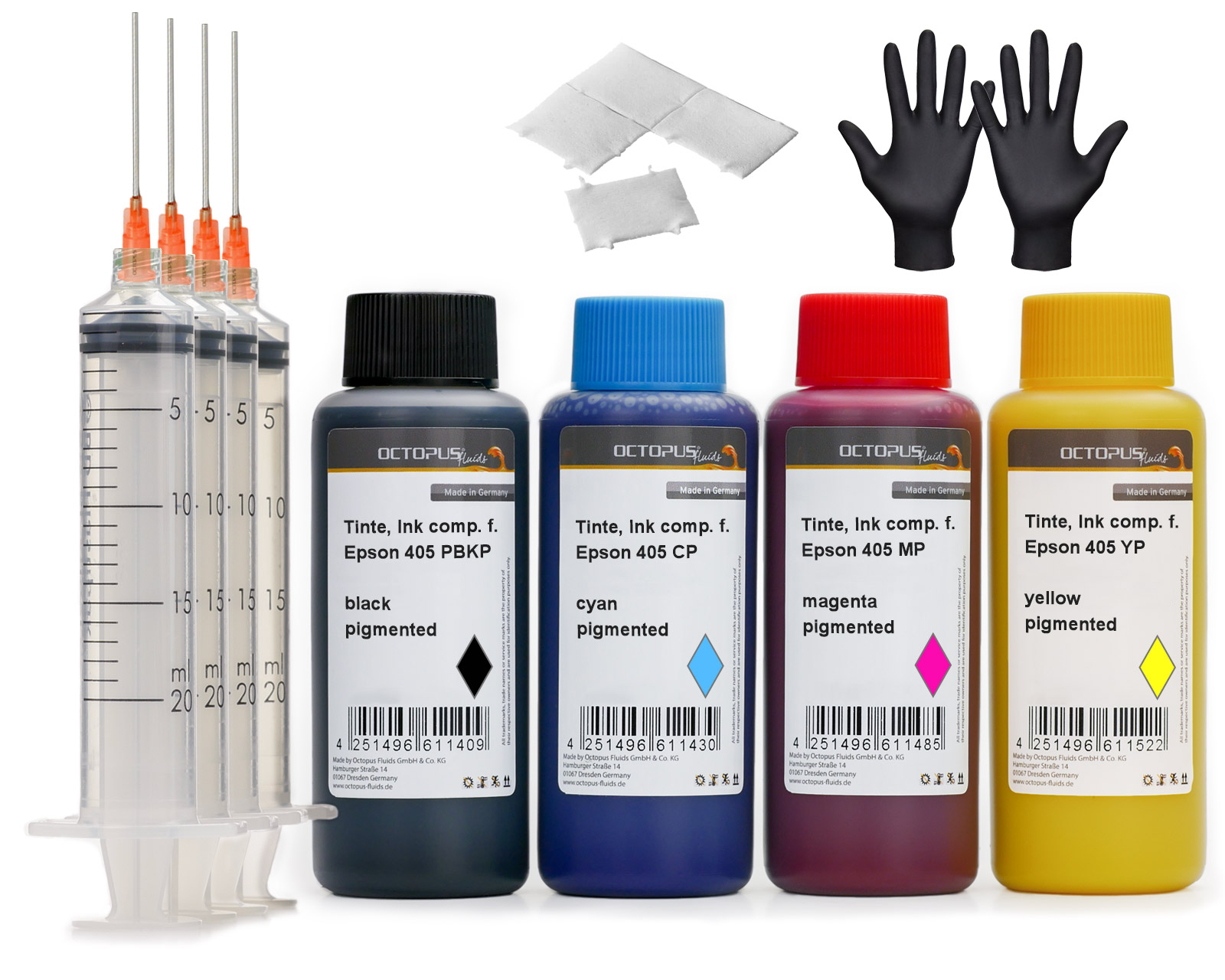 Printer ink set for Epson 405 ink cartridges, WF-3820, WF-4820, WF-7830
Printer ink for Epson WorkForce EC-C 7000, Pro WF-3820, WF-3825, WF-3830, WF-4820, WF-4825, WF-4830, WF-7830, WF-7835, WF-7840, WF-7310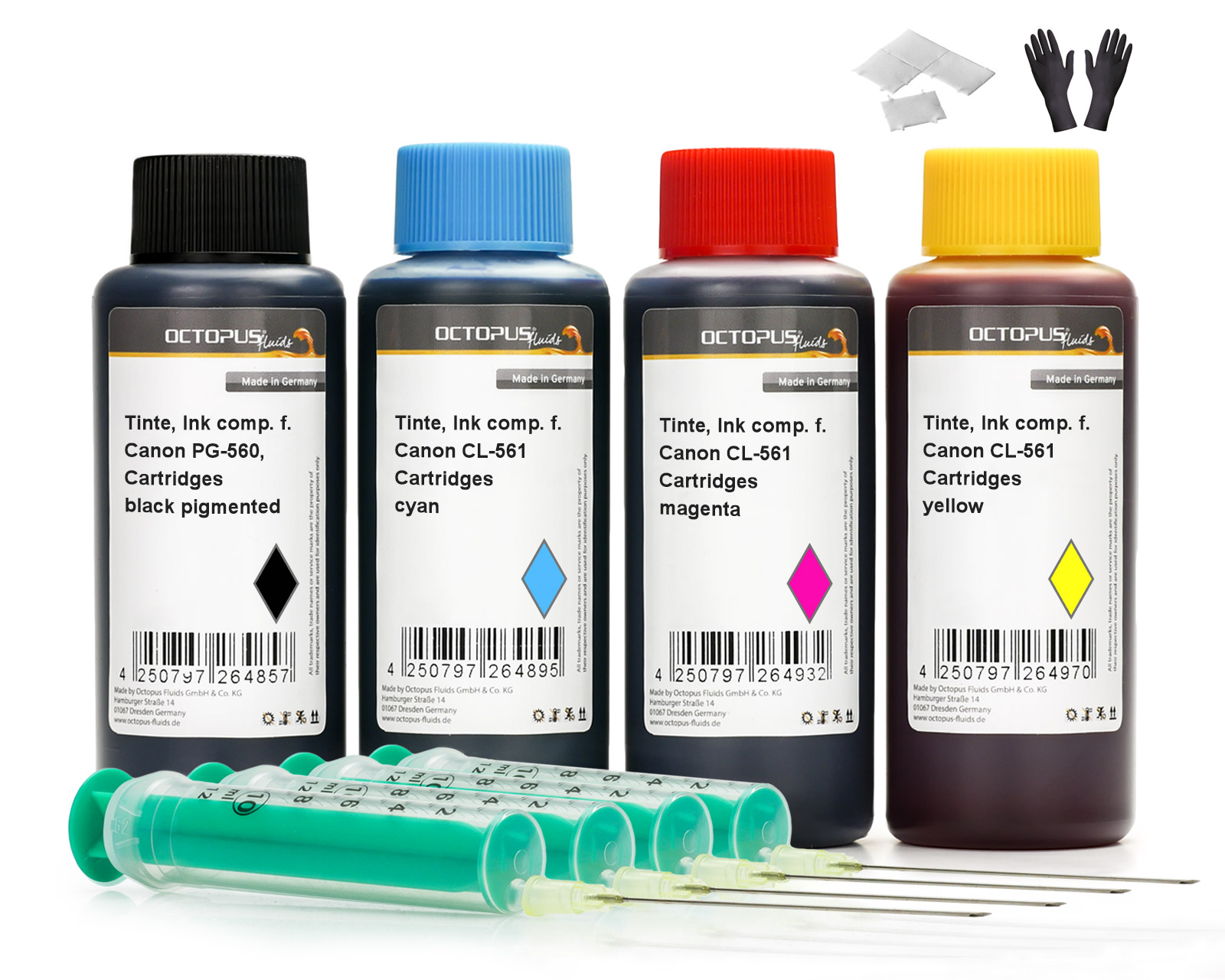 Octopus printer ink set compatible for Canon PG-560, CL-561 ink cartridges, Canon Pixma TS 5300, 7400
Druckertinte für Canon Pixma TS 5300, TS 5350, TS 5350, TS 5351, TS 5352, TS 5353, TS 7400, TS 7450, TS 7450, TS 7451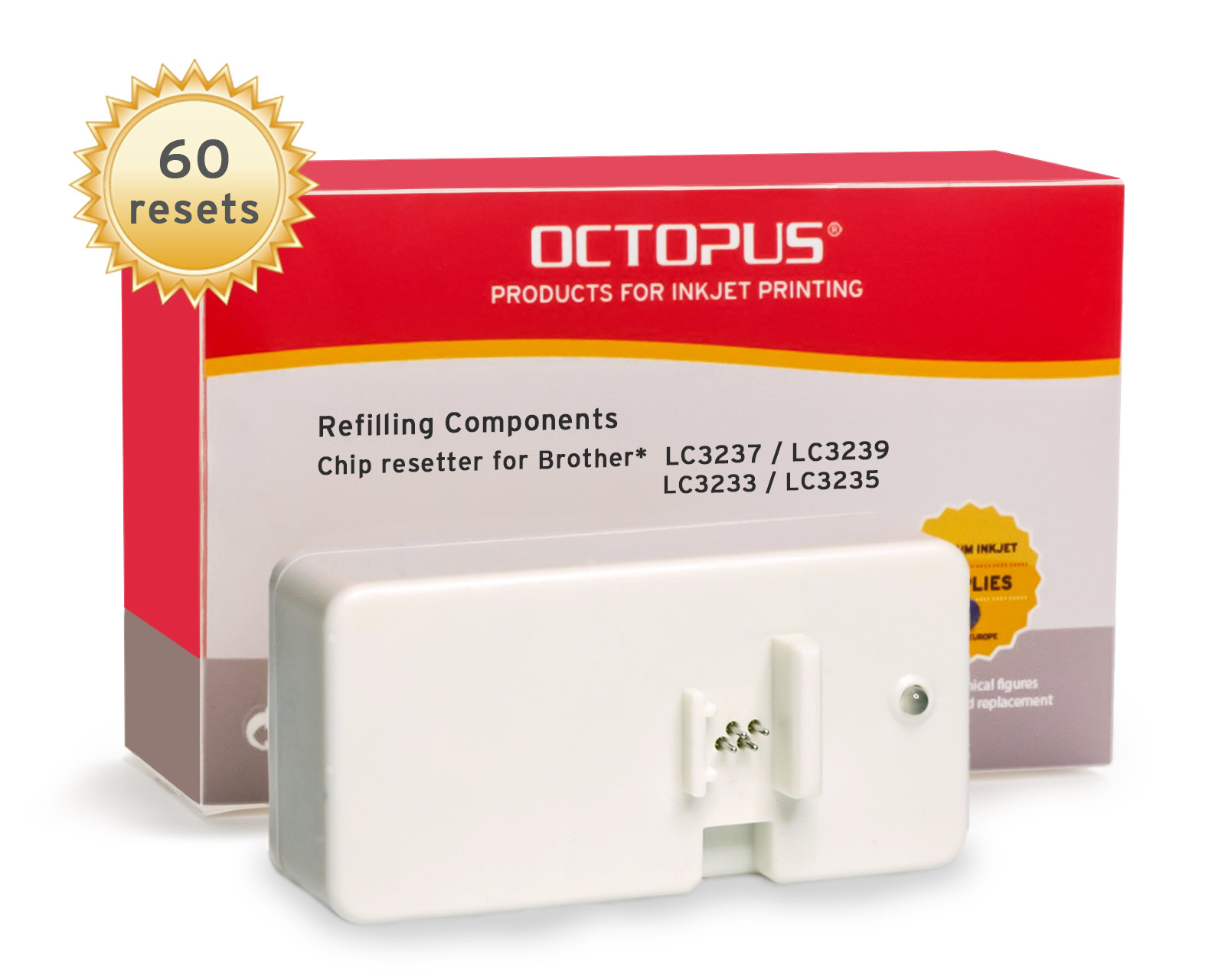 Chipresetter for Brother LC-3237, LC-3239, LC-3233, LC-3235 inkjet cartridges, for 60 Resets
Chip Resetter for resetting Brother LC-3237, LC-3239, LC-3233, LC-3235 und Brother DCP-J 1100, HL-J 6000, HL-J 6100, MFC-J 1300, J 5945, J 6945, J 6947 cartridges
5 x 30 ml Octopus Fluids Alcohol Ink Complete Kit GOLDEN EVE with Blending Solution, Alcohol Ink Paper and accessoreies for fluid art
Start now with Alcohol Ink painting with the complete set Octopus Fluids alcohol inks from Germany. 5 colours Alcohol Ink, Blending Solution and all accessories in a set.
Canon reicht Millionenklage gegen Importeur von Tonernachbauten ein
Die Gerüchte haben schon länger vor sich hin gebrodelt, doch jetzt hat man Ernst gemacht: Nach einem heute im Internet publizierten Bericht des britischen Fachmagazins "The Recycler" hat Canon eine Patentrechtsklage in Höhe von 2 Mio. Euro gegen einen nicht namentlich benannten deutschen Importeur von Newbuilt-Tonerkartuschen eingereicht. Betroffen ist das Patent EP 0 735 432 B1, das den Nachbau der Zahnräder in den Tonermodulen untersagt.

Mit diesem Patent hatte Canon auch schon gegen Recycler in den USA geklagt: Mittlerweile gibt es jedoch nicht patentverletzende Nachbauten. Zur Schadensersatzforderung in Höhe von 2 Mio. Euro kommen noch die Kosten des Verfahrens sowie 1.000 Euro je verkaufter, patentverletzender Kartuschen. Der Verkauf der Toner datiert zurück bis 2001.
Darüber hinaus hat Canon gegen weitere europäische Importeure, Distributoren und Händler ebenfalls wegen des Verstoßes gegen das Patent EP 0 735 432 B1 Klage eingereicht. Hier ist die Schadensersatzforderung noch nicht bekannt.
Patentverletzende Toner-Klone aus Fernost haben den europäischen Markt in den letzten Jahren massiv überschwemmt und sind für die OEMs genauso geschäftsschädigend wie für seriöse Recycler: Letztere treiben einen hohen Aufwand, um das Leergut zu sammeln, die Kartuschen aufwändig wieder aufzubereiten und dann unter eigener Marke als Recycling-Produkte auf den Markt zu bringen. Dem gegenüber werden asiatische Klone zum Teil unter dem Preis für das Leergut auf den deutschen Markt geworfen und untergraben jedes gesunde Preisempfinden. Brancheninsider gehen davon, dass die jetzt von Canon angestoßene Klage wahrscheinlich auf Druck von HP zustande gekommen ist: Der Drucker-Weltmarktführer verliert immer größere Marktanteile an die asiatischen "Fakes", hat jedoch selbst kaum Patente für die Laserdruck-Technologie: Die stammt bekanntlich aus dem Hause Canon.
www.therecycler.com
Auch wir bei Octopus-Office.de erhalten immer wieder Angebote zu Tonerkartuschen, die im ersten Moment als sensationell günstig erscheinen. In solchen Fällen ist es immer wieder ratsam die Quelle genau zu prüfen. In den meisten Fällen handelt es sich dann tatsächlich um sogenannte Newbuilt-Tonerkartuschen. Drum prüfe, wer billig kauft. Hochwertig recycelte Tonerkartuschen müssen nicht teuer sein aber haben ihren Preis. So ist das billigste Angebot immer kritisch zu betrachten.