LG Hagen fordert Kennzeichnungspflicht für Tonerklone
Nach einem kürzlich erschienenen Bericht der Computer Reseller News (CRN) müssen neu hergestellte Tonerklone dezidiert gekennzeichnet werden. Konkret hat das Landesgericht Hagen unlängst entschieden, dass bei der Bewerbung von Tonerklonen zwingend darauf hingewiesen werden muss, dass es sich nicht um wiederaufbereitete Originalkartuschen sondern um neu hergestellte – häufig patentverletzende – Nachbauten handelt.
Alles andere wäre irreführend und damit wettbewerbswidrig. Konkret ging es in dem vor dem Landesgericht Hagen verhandelten Fall um die Artikelbeschreibung "Mehrwegtoner für die HP Laserjet P 2050 Serie P 2055": Das Gericht stufte die reine Angabe der Artikelbezeichnung als irreführend ein.
Das Urteil ist ein weiteres, wichtiges Puzzleteilchen im anhaltenden Kampf der Druckerhersteller und seriösen europäischen Hardcopy-Recycler gegen die Flut an patentverletzenden Tonerklonen aus Fernost. Erst kürzlich hatte es im Rahmen der Paperworld eine Razzia des Hauptzollamts Darmstadt auf dem Messestand von Ninestar gegeben: Das chinesische Unternehmen steht im Ruf, es mit den Schutzrechten der OEMs nicht sonderlich genau zu nehmen und war dafür schon mit zahlreichen Patentrechtsklagen überzogen worden.
Quelle: bit-Verlag Weinbrenner GmbH & Co. KG
35x 30 ml Octopus Fluids Resin Ink Set, Alcohol Ink for Epoxy Resin and UV Resin
Colour-intensive alcohol ink for colouring epoxy resin and UV resin. Colour-faithful and without brown tint. 35 radiant epoxy resin colours in an economy set.
Chipresetter for Brother LC-3237, LC-3239, LC-3233, LC-3235 inkjet cartridges, for 60 Resets
Chip Resetter for resetting Brother LC-3237, LC-3239, LC-3233, LC-3235 und Brother DCP-J 1100, HL-J 6000, HL-J 6100, MFC-J 1300, J 5945, J 6945, J 6947 cartridges
Refill Ink set for Brother LC-3211, LC-3213 cartridges, CMYK
Set for Brother LC-3211, LC-3213, Brother DCP-J 572, DCP-J 770, DCP-J 772, DCP-J 774, MFC-J 490, MFC-J 491, MFC-J 497, MFC-J 890, MFC-J 895 a.o.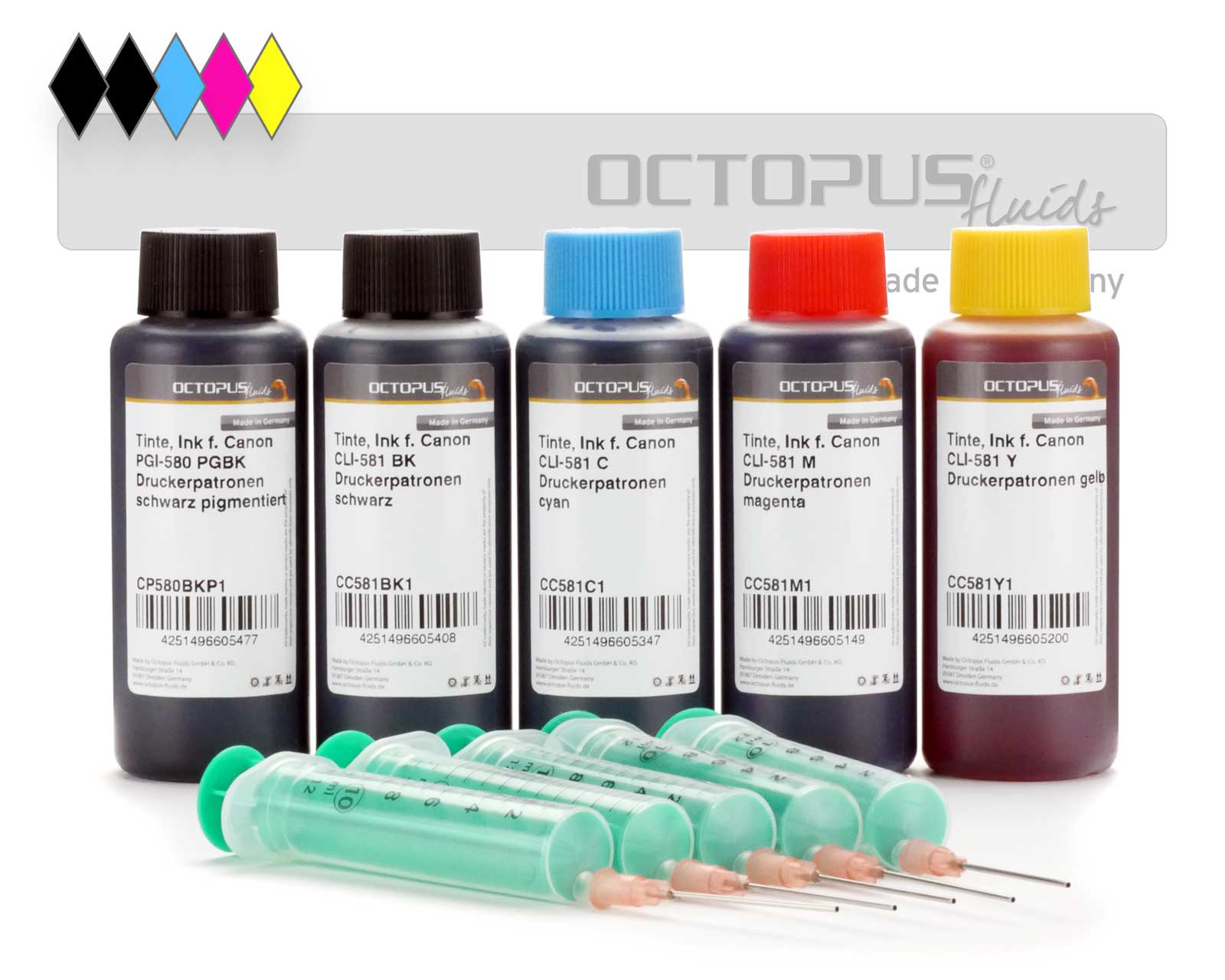 Refill ink kit for Canon PGI-580 PGI-280, CLI-581, CLI-281 inkjet cartridges
Original Printer Cartridge Lexmark 34 xl black.
Refill ink kit for Epson 33, Expression Premium XP-530, XP-630, XP-830 CMYK
Refill inks specifically for Epson 33, Epson Expression Premium XP-530, XP-540, XP-630, XP-635, XP-640, XP-645, XP-830, XP-900, XP-7100 printers. Set comprising 5 ink colours and refill syringes.