2013/09 :: Internationale Funkausstellung - Neue Drucker
Neuvorstellungen der Druckerhersteller auf der IFA 2013 – neue Geräte, bewährte Patronen
Jedes Jahr Anfang September öffnet die Internationale Funkausstellung in Berlin ihre Tore. Herbstzeit ist somit für die Druckerhersteller Neuvorstellungszeit.
Brother, Canon, Epson und Samsung haben ihre neusten Modelle präsentiert. So bleibt Brother beispielsweise dabei, künftig auf Chippatronen zu setzen. Die neusten Geräte arbeiten allesamt mit den Patronen LC-121 bzw. den größeren LC-123, LC-125 und LC-127.
Canon stellte seine neuen Geräte mit mehr mobilen Funktionen vor. So gibt es verschiedene Möglichkeiten, soziale Netzwerke / Dienste mit dem Drucker zu nutzen sowie das Gerät über eine eigene App zu bedienen. Alle Refiller unter Ihnen können beruhigt sein: auch hier gibt es keine neuen Patronen. In allen Neuvorstellungen sind die PGI-550 / CLI-551 verbaut.
Auch bei den neuen Epsondruckern wie z.B. der XP-510 (erhältlich ab Oktober 2013) oder XP-950 gibt es keine Neuigkeiten hinsichtlich der Patronentypen. Die präsentierten Modelle laufen mit den Patronen Epson 18 bzw. Epson 26.
Samsung setzt auf Design mit überraschenden Zusatzfeartures und drahtlosen Kommunikationsmöglichkeiten via NFC (Near Fiel Communikation). So gibt es beispielsweise Geräte mit integriertem Lautsprecher und Docking Station für das Smartphone. Welche Verbrauchsmaterialien in den Druckern sind, ist bisher nicht bekannt.

Refiller und Recycler haben also wie jedes Jahr wieder einige Hausaufgaben zu erledigen. Zusammengefasst sollte die Konzentration bei der Ausarbeitung von Refilltechniken und die Überwindung der Chiphürden auf folgenden Patronen liegen.
Brother LC-121, LC-123, LC-125, LC-127
Epson 18 und Epson 24, 26
Canon PGI-550 und CLI-551
Nicht auf der Funkausstellung präsentiert, aber trotzdem seit 2013 neu am Markt sind Drucker mit den Tintenpatronen HP 970 und 971, Canon 545 und 546. Auch hier dürfte es für Refiller und Recycler interessant werden. Wir gehen davon aus, dass diese Drucker einen hohes Absatzvolumen finden und entsprechend ebenso oft günstigere Verbrauchsmaterialien benötigen als sie der OEM bereitstellt.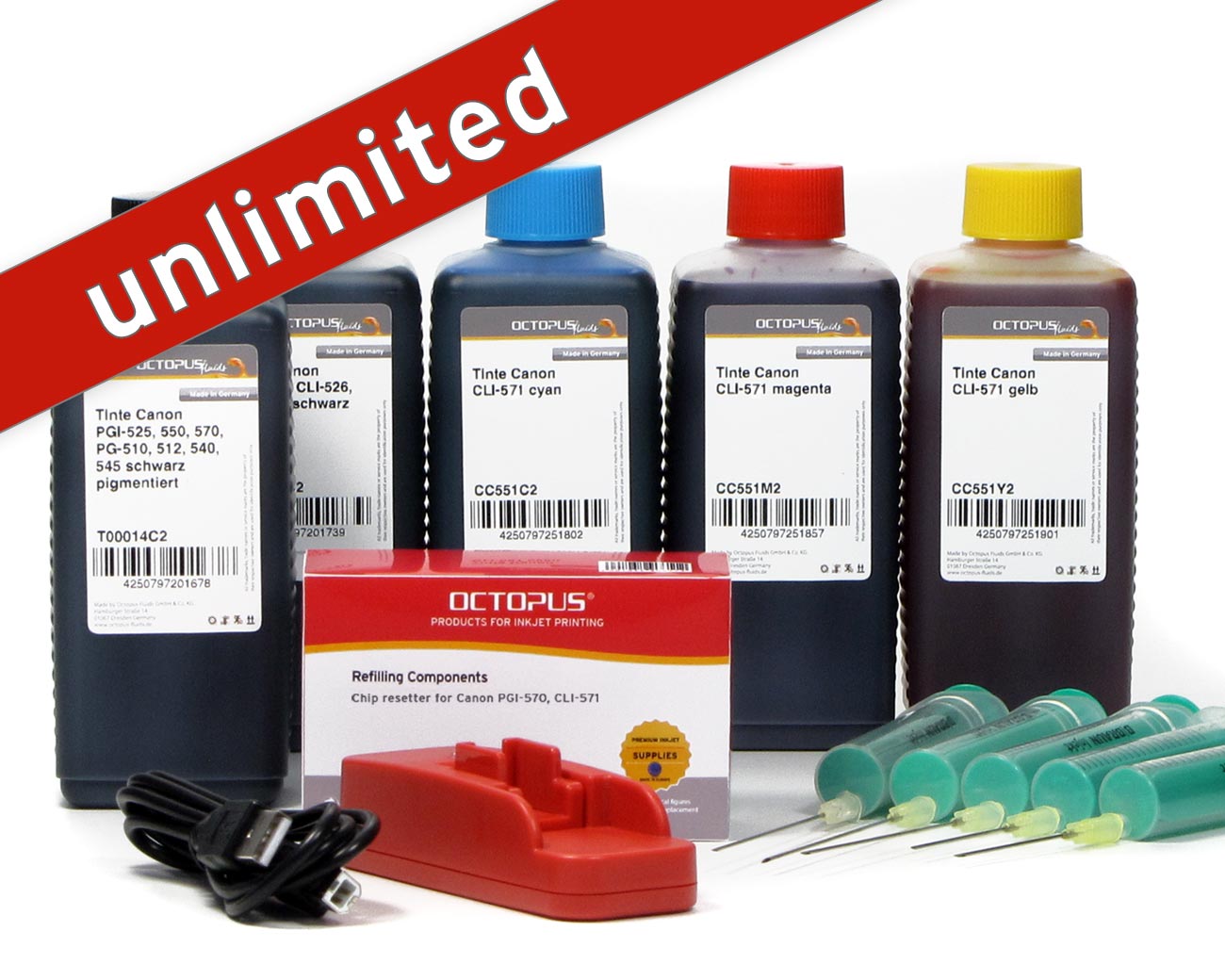 Set with chip resetter for Canon PGI-570, CLI-571 inkjet cartridges and 5x refill ink
Der Canon Chipresetter für PGI-570 und CLI-571 mit Tinte für Pixma MG 5700, MG 6800 und TS 5000, TS6000 Drucker
Chipresetter for Canon PGI-550, CLI-551 inkjet cartridges with 5x refill ink
Der Canon Chipresetter für PGI-550 und CLI-551 mit Tinte für Pixma IP, IX, MG und MX Drucker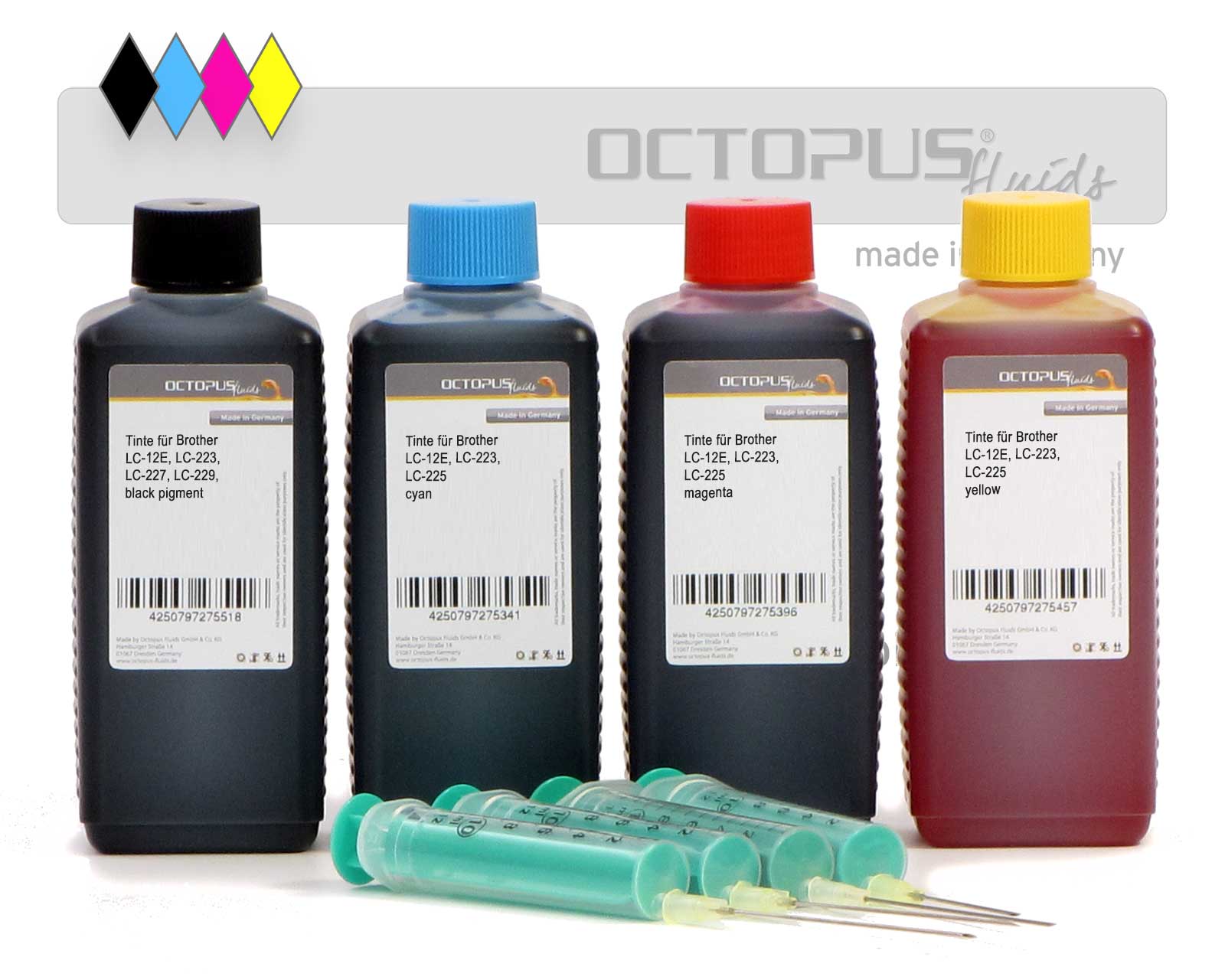 Ink set Brother LC-223, LC-225, LC-227, LC-229, LC-12E
Set comprising four ink colours and refill syringes.
Set of refillable cartridges for Brother LC-227, LC-225 with ink refill kits
Complete kit for Brother LC-227, LC-225, DCP-J 4120, MFC-J 4420, MFC-J 4425, MFC-J 4620, MFC-J 4625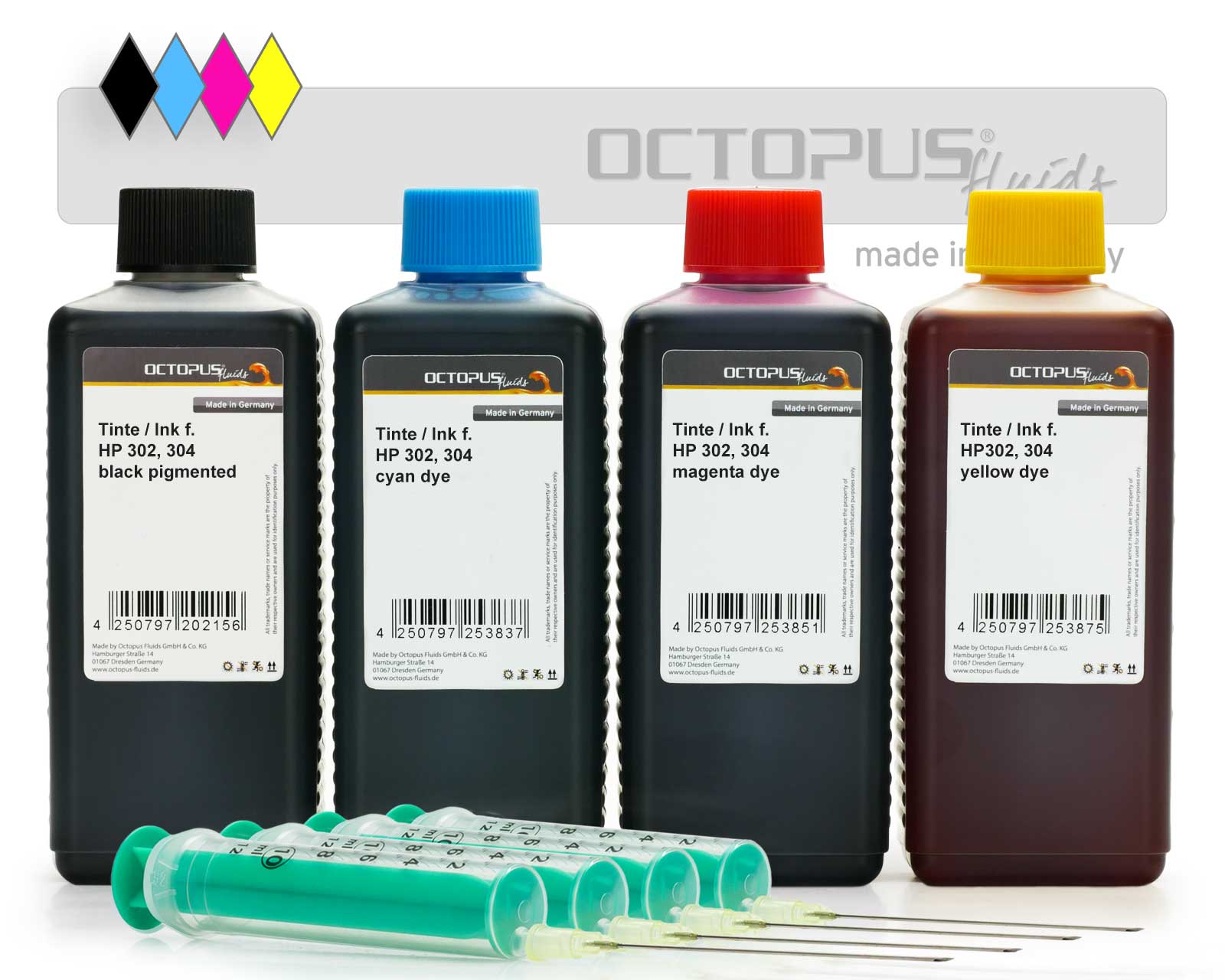 Refill ink kit for HP 302, HP 304 four colours
Druckertinten Komplettset für HP 302, HP 304, F6U68AE, F6U66AE, F6U67AE, F6U65AE, N9K08AE, N9K06AE, N9K07AE, N9K05AE