Tinte und Chips für Kodak 10 Patronen: Newsletter vom 13.07.2011.2011
Um den Druckerhersteller Kodak war es lange Zeit still. Doch mit seinen EasyShare und ESP Druckerserien ist er am Markt wieder spürbar vertreten.
Die Kodak Druckermodelle EasyShare und ESP mit den Patronen Nr. 10 werden zu günstigen Preisen in großen Stückzahlen verkauft. Die Zahl der Kunden, die mit Kodak 10 Patronen zum Befüllen in Refillshops kommen, steigt kontinuierlich.
Insbesondere die Kodak Easyshare Modelle sind Tintenstrahldrucker mit hohem Tintenverbrauch, da sie im Wesentlichen für den Fotodruck mit 100% Farbdeckung verwendet werden.

Ab sofort können Sie diese Patronen risikofrei befüllen. Mit unseren getesteten Austausch-Chips und hochwertigen Pigment-Tinten erreichen Sie Druckergebnisse, die dem Kodak 10 Original in nichts nachstehen.
Erweitern Sie jetzt Ihr Sortiment und bieten Sie ab sofort Kodak 10 Befüllungen ohne Wartezeiten an. Ihre Kunden werden es Ihnen danken, denn Kodak Easyshare Besitzer sind oft leidenschaftliche Fotodrucker und damit auch Vieldrucker.
OCP Nachfülltinte für Kodak Nr. 10 Tintenpatronen

Für die Kodak Nr. 10 Tintenpatronen passende Nachfülltinte steht Ihnen in der hochwertigen Octopus Selection Qualität zur Verfügung.
Unser Partner OCP hat schnell reagiert: Exzellente Forschung und Entwicklung stellen für alle Farben die entsprechende Tinte zur Verfügung.

Kodak folgt mit den Originaltinten dem aktuellen Trend der Zeit, das heißt, alle Tinten in diesen Patronen sind pigmentierte Tinten. Des Weiteren verwendet die Farbpatrone einen Gloss-Optimizer für die Farbbrillianz bei Fotodrucken.
Die Octopus Selection Tinten sind ebenfalls pigmentiert und der verfügbare Gloss-Optimizer rundet das Komplettpaket ab. Mit dieser Kombination stehen die wiederbefüllten Originalpatronen den OEM Patronen im Druckergebnis in nichts nach. >>Kodak Nachfülltinte<<
Chips für Kodak 10 Tintenpatronen

Die Kodak 10 Tintenpatronen sind mit einem Chip für die Tintenfüllstandskontrolle ausgestattet. Meldet der Chip die Patrone als leergedruckt, kann die befüllte Patrone nur mit getauschtem Chip weiterdrucken.

Passend zu den verschiedenen Patronen erhalten Sie bei Octopus Office drei verschiedene Austausch-Chips mit unterschiedlichen Seitenleistungen:
Chip für Kodak 10 black (EAN 3949914), für 425 Seiten
Chip für Kodak 10 XL black (EAN 3949922), für 700 Seiten
Chip für Kodak 10 color (EAN 3947066), für 420 Seiten
Der Austausch des originalen Canon Chips an der Patrone gegen einen passenden Alternativchip ist in der Nachfüllanleitung deutlich beschrieben und bebildert. >>Kodak 10 Chips<<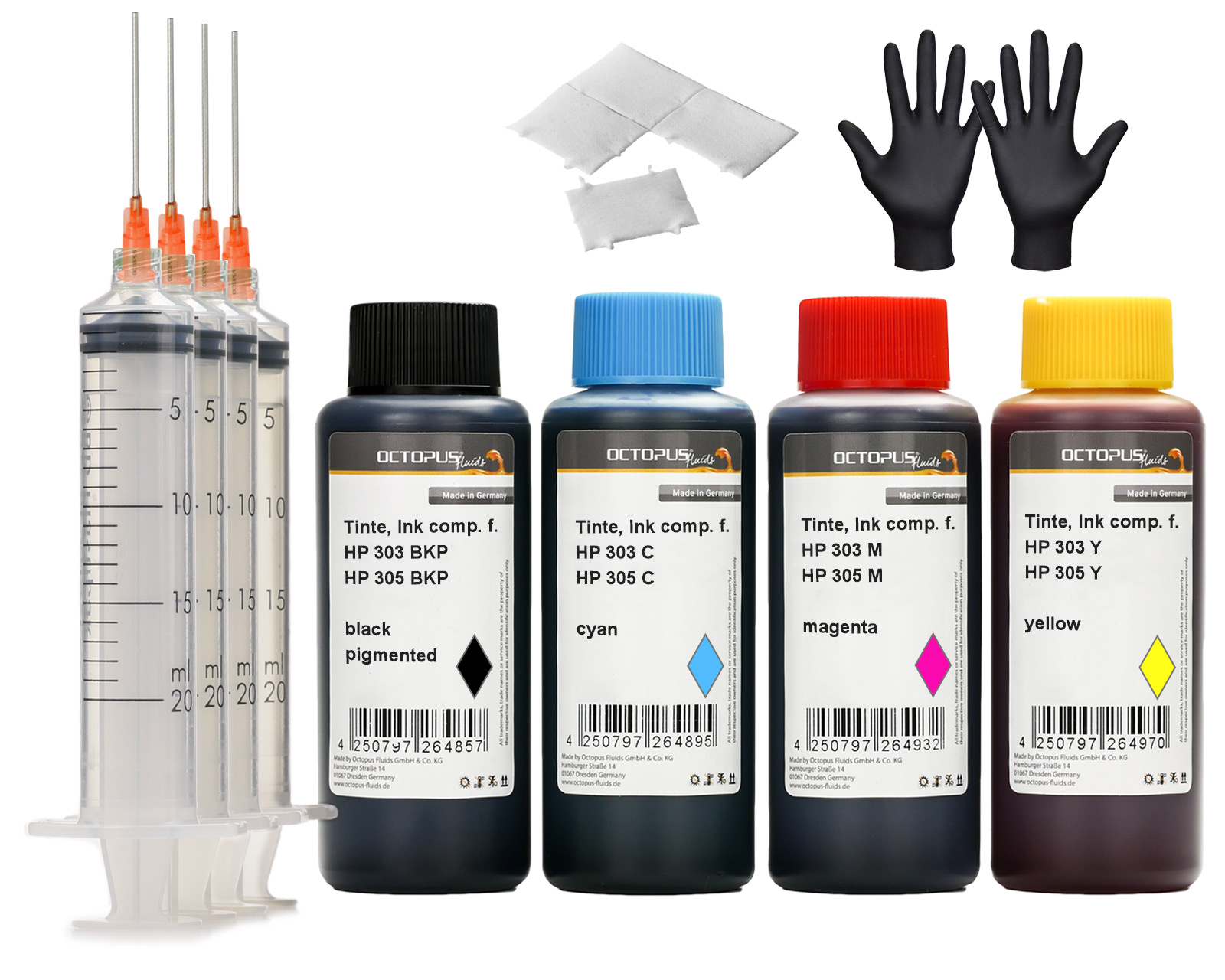 Printer Ink Set for HP 303 and HP 305 Ink cartridges
Printer ink for HP ENVY, Photo 7130, 7134, 6232, 7830, 6230, 6234, 6220, Tango, DeskJet 2700 Series, DeskJet Plus 4100 Series, Envy 6000 Series, Envy Pro 6400 Series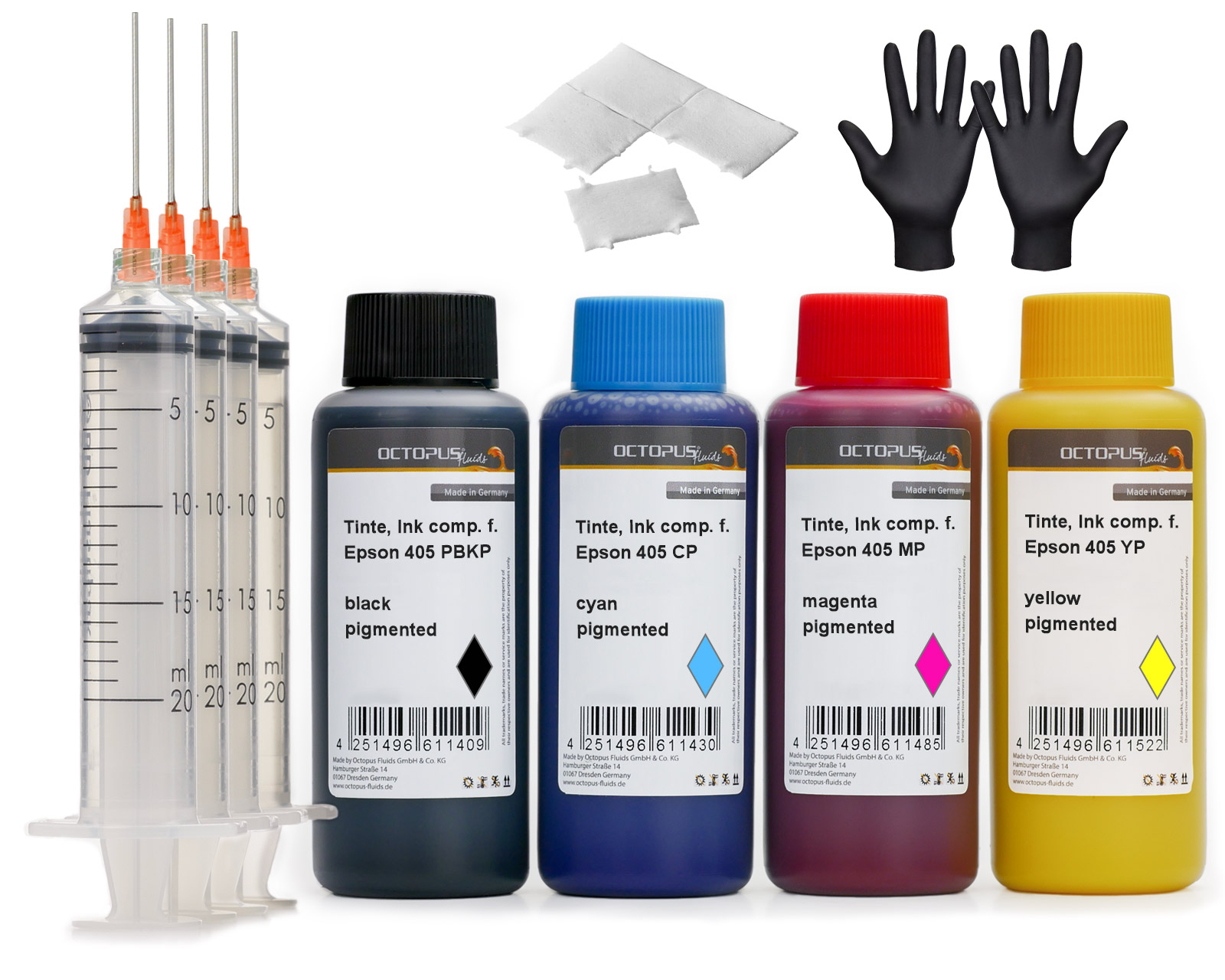 Printer ink set for Epson 405 ink cartridges, WF-3820, WF-4820, WF-7830
Printer ink for Epson WorkForce EC-C 7000, Pro WF-3820, WF-3825, WF-3830, WF-4820, WF-4825, WF-4830, WF-7830, WF-7835, WF-7840, WF-7310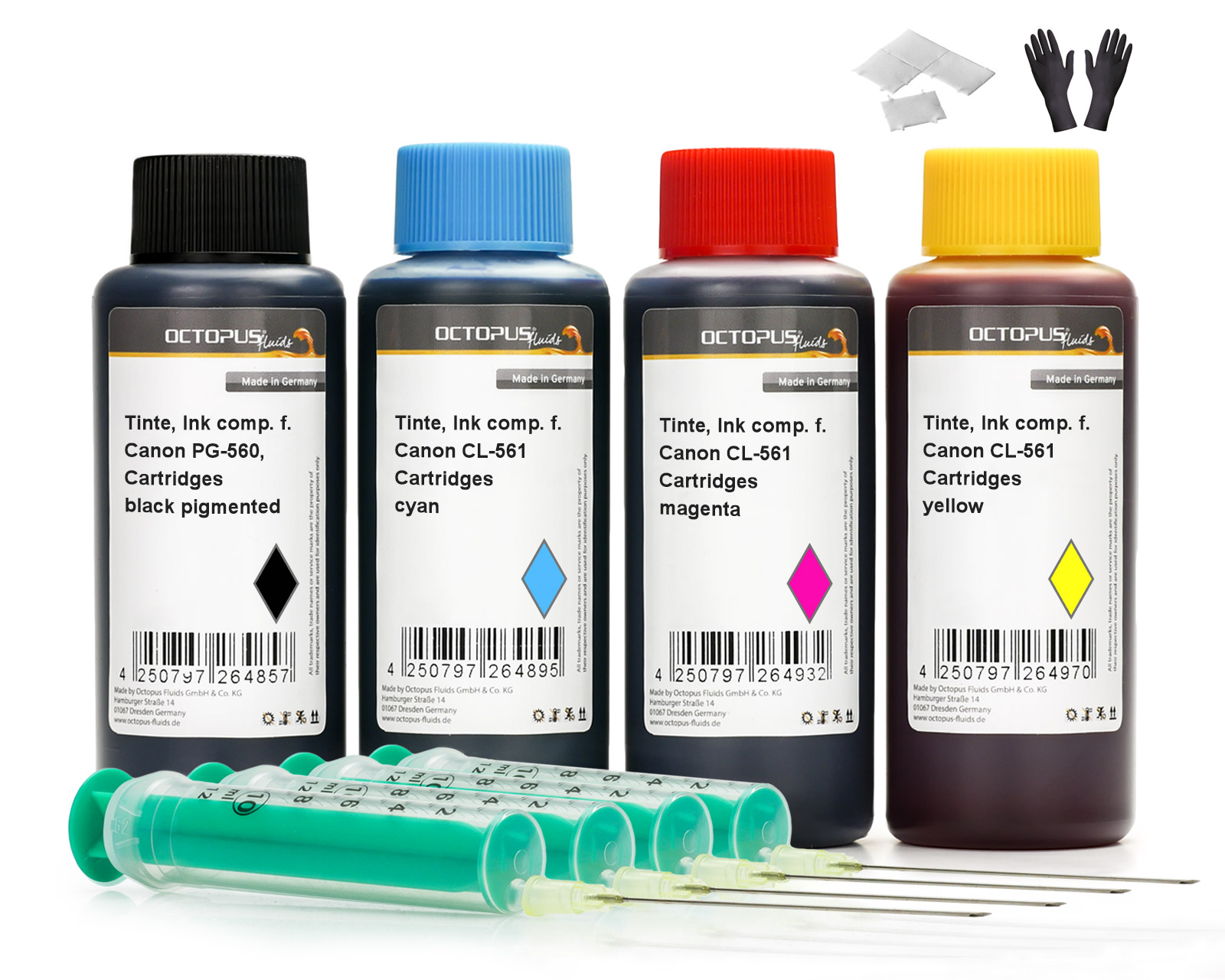 Octopus printer ink set compatible for Canon PG-560, CL-561 ink cartridges, Canon Pixma TS 5300, 7400
Druckertinte für Canon Pixma TS 5300, TS 5350, TS 5350, TS 5351, TS 5352, TS 5353, TS 7400, TS 7450, TS 7450, TS 7451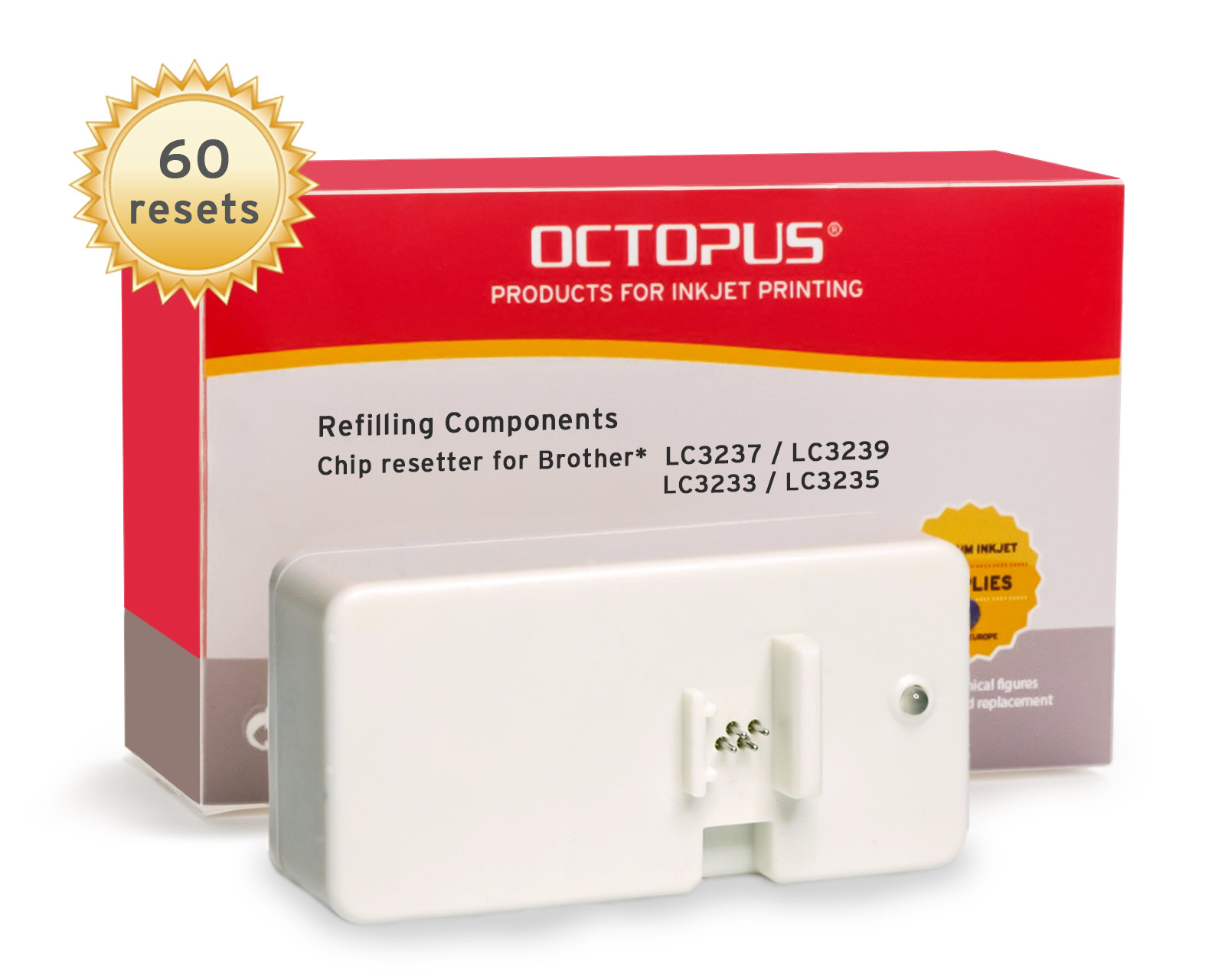 Chipresetter for Brother LC-3237, LC-3239, LC-3233, LC-3235 inkjet cartridges, for 60 Resets
Chip Resetter for resetting Brother LC-3237, LC-3239, LC-3233, LC-3235 und Brother DCP-J 1100, HL-J 6000, HL-J 6100, MFC-J 1300, J 5945, J 6945, J 6947 cartridges
5 x 30 ml Octopus Fluids Alcohol Ink Complete Kit GOLDEN EVE with Blending Solution, Alcohol Ink Paper and accessoreies for fluid art
Start now with Alcohol Ink painting with the complete set Octopus Fluids alcohol inks from Germany. 5 colours Alcohol Ink, Blending Solution and all accessories in a set.