HP 934 and HP 935 inkjet cartridges with chip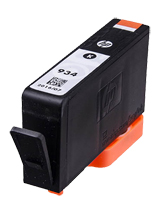 Hewlett Packard released the HP 934 and HP 934 inkjet cartridges by mid of 2014. The cartridges are build as single ink tanks and each cartridge is equipped with a chip. All cartridges contain pigmented ink.

At the moment the following printers use the HP 934 and HP 935 inkjet cartridges (Oktober 2014): HP Officejet Pro 6230, HP Officejet Pro 6820, HP Officejet Pro 6830. It is reasonable to assume that additional models will be released in the future.

HP 934 und HP 935 exist as standard yield cartridges (Black C2P19AE - 400 pages; Cyan C2P20AE, Magenta C2P21AE, Yellow C2P22AE - 400 pages),
as XL yield cartridges (Black C2P23AE - 1.000 pages; Cyan C2P24AE, Magenta C2P25AE, Yellow C2P26AE - 825 pages),
and as setup cartridges which are included in the scope of delivery of the printers.

The HP 934, HP 935 cartridges are similar to certain, previous HP cartridge models. Based on that we assume that there is a way to print with refilled, original cartridges, but without a working ink level control. Octopus is eager to supply as fast as possible working, alternative chips. As soon they are available on the market we will communicate this.