Carmine red ink
Complex red ink...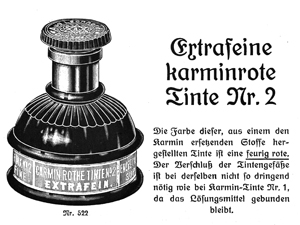 The very expensive red ink was the carmine from the lice of the jimson weed.
Carmine is an organic red dye. It consists of calcium and aluminum salts of carminic acid. The term is derived from the Arabic-Persian word kermes for scarlet berry. The terms carmoisine, carmine red, cochineal (cochineal) are also commonly used. The color varnish is also known as Florentine varnish, ball varnish, Munich varnish, Parisian varnish or Viennese varnish. The shade obtained with this dye is also called scarlet.
In Europe, the dye mixture was obtained under the name Kermes from the Kermes scale insects (Coccus ilicis or Kermes vermilio PLANCHON) that live on Kermes oaks (Quercus coccifera L.), the Polish Kermes louse (Porphyrophora polonica L.) or the Armenian Kermes louse (Porphyrophora hameli BRANDT) that occurs on the roots of certain grasses.
Cheaper was the ink made from folium rubeum (red-brown folium) and wood ash mixed with urine.
A simple ink was the juice of beet. For this purpose, the beet was boiled, pounded to a pulp, the juice strained, filtered several times and thickened by boiling down and adding egg white.
Refill Ink set for HP 30, 31, 32 Smart Tank 315, 450, 455, 457, 550, 555, 559, 570, 655, CMYK
Refill ink set for HP 30, 31, 32 XL HP Smart Tank 315, Wireless 450, Wireless 455, Wireless 457, Plus 550, Plus 555, Plus 559, Plus 570, Plus 655 a.o.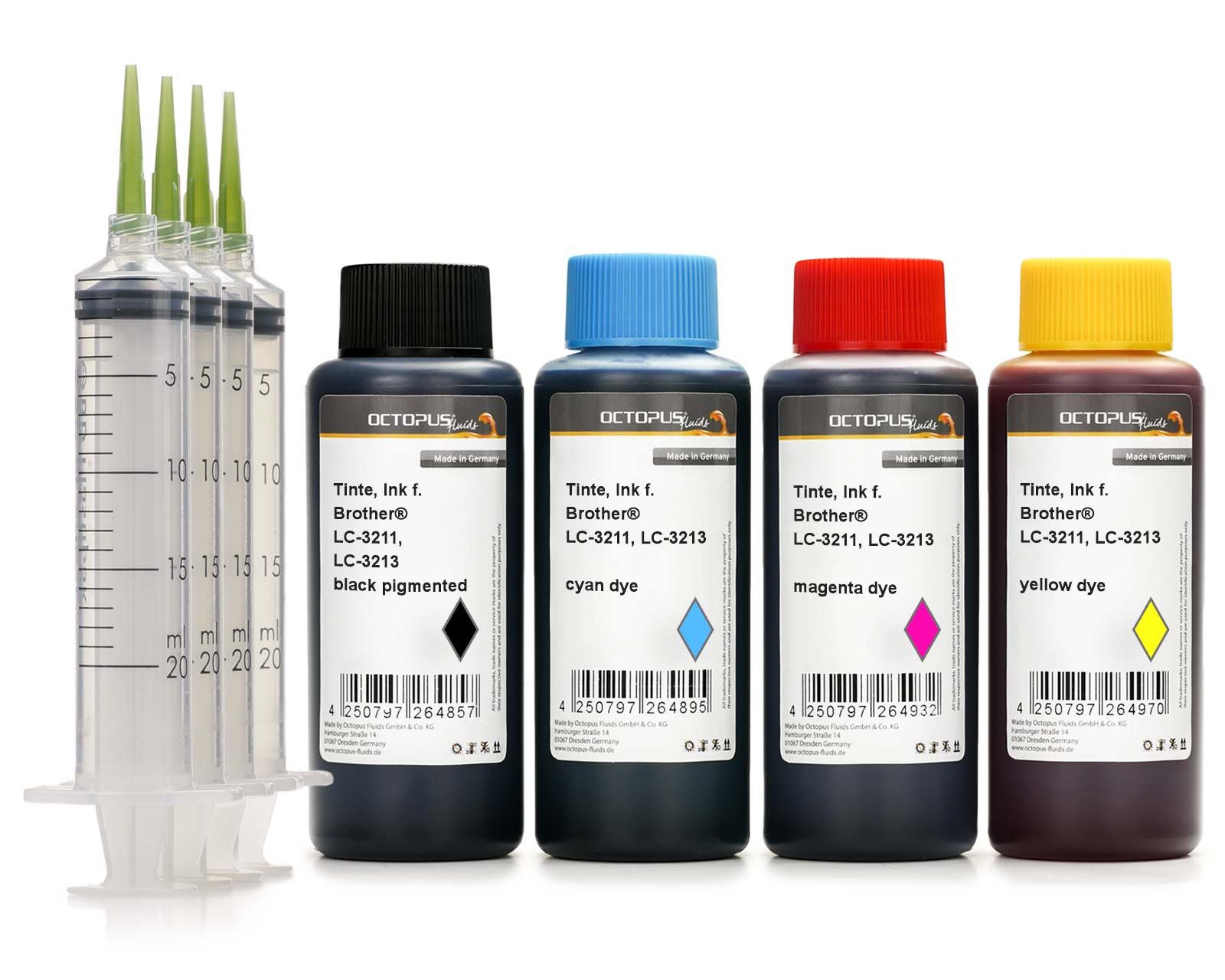 Refill ink comp. with Brother LC-3211, LC-3213 cartridges, CMYK
Set for Brother LC-3211, LC-3213, Brother DCP-J 572, DCP-J 770, DCP-J 772, DCP-J 774, MFC-J 490, MFC-J 491, MFC-J 497, MFC-J 890, MFC-J 895 a.o.