Mit Bildauflösung bezeichnet man gemeinhin die Anzahl der Pixel (Bildpunkte), aus denen eine Rastergrafik besteht. In der Regel wird sie durch Breite x Höhe angegeben.
Grundsätzlich unterscheidet man zwischen absoluter und relativer Auflösung.
Die absolute Bildauflösung
Die absolute Bildauflösung wird auf zwei verschiedene Varianten angegeben:

Die erste Variante gibt die Gesamtanzahl der Bildpunkte an; dies ist z.B. in der Digitalfotografie mit der Einheit Megapixel üblich.
Die zweite Variante kann die Anzahl der Bildpunkte pro Spalte (vertikal) und Zeile / Linie (horizontal) angeben, wie bei Grafikkarten und Bildschirmen üblich, z.B. 1024 × 768; in der Fernsehtechnik wird gleichbedeutend die Anzahl der Zeilen und die der Punkte pro Zeile verwendet.


Die zweite dieser beiden Möglichkeiten absolute Bildauflösungen anzugeben, hat den Vorteil, dass sie auch das Verhältnis zwischen der Anzahl der Bildpunkte pro Spalte und Zeile angibt, man also eine Vorstellung vom Seitenverhältnis bekommt.
Die übertragene bzw. gespeicherte Auflösung kann sich in einer oder beiden Dimensionen von der angezeigten Auflösung unterscheiden, was ggf. zu rechteckigen statt quadratischen Bildpunkten führt. Dies funktioniert allerdings nur, wenn die Bildpunkte zeilen- und spaltenweise angeordnet sind. Im Normalfall geht man hier von quadratischen Bildpunkten (es handelt sich eigentlich um Flächen und nicht um Punkte) aus, die horizontal und vertikal nebeneinander angeordnet sind. Es kann aber auch vorkommen, dass die Bildpunkte unförmig und willkürlich angeordnet sind oder das Bild selbst gar keine Rechteckform besitzt. In diesem Fall ist eine Angabe der Form Breite × Höhe nicht sinnvoll, und man begnügt sich mit der Angabe der Gesamtzahl der Bildpunkte wie in der ersten Variante.
Die relative Bildauflösung
Die relative Bildauflösung gibt die Anzahl der Bildpunkte im Verhältnis zu einer physikalische Längeneinheit an (z.B. angegeben in dpi - dots per inch, ppi - pixel per inch, lpi - lines per inch). Sie heißt auch Punkt-, Pixel- bzw. Zeilendichte. Alternativ kann die Größe (Kantenlänge, Durchmesser oder Fläche) eines Bildpunktes angegeben werden (z.B. in Mikrometern).
Als Pixel wird aber auch ein Farbpunkt eines Bildpunktes bezeichnet. Ein Bildpunkt hat 3 Farbpixel. Bei Digitalkameras werden die Farbbildpunkte als Pixel angegeben. Hat ein Chip je 33% rote , blaue und grüne Pixel, muss die Zahl der Pixel durch drei geteilt werden, um die Bildpunkte zu errechnen. Beim häufig anzutreffenden Bayer-Sensor wird ausgenutzt, dass das menschliche Auge auf grün empfindlicher reagiert als auf die anderen Farben. Aus 50% grünen und je 25% roten und blauen Farbpixeln werden die Bildpunkte berechnet (durch Interpolation). Bei Spitzenkameras werden so weniger als 50% der Farbpixel in Bildpunkte umgesetzt. Consumer-Modelle berechnen dagegen mehr Bildpunkte unter höherem Verlust von Farbinformationen. Bei 3-Chip-Kameras wird der Lichtstrahl über ein Prisma auf drei Chips (pro Farbe einer) verteilt. Das ermöglicht eine hohe Farbauflösung bei hoher Bildauflösung. Bei 3-Chip-Kameras stimmt die Pixelangabe in der Regel mit den Bildpunkten überein.
Schärfe eines Bildes - Auflösungsvermögen des Auges:
Bei einem normalsichtigen Auge bzw. bei korrigierter Fehlsichtigkeit hängt die Sehschärfe vor allem vom Auflösungsvermögen der Netzhaut ab, die im Bereich scharfen Sehens bei 0.5 bis 1 Bogenminuten liegt.
Der Begriff der absoluten Schärfe würde verlangen, dass ein Punkt von z.B. 1 µm Durchmesser auch tatsächlich durch einen Punkt von ebenfalls 1 µm Durchmesser wiedergegeben würde. Der Aufbau der menschlichen Netzhaut des Auges bringt es jedoch mit sich, dass infolge mangelnder Bildauflösung eine ganz beträchtliche Schärfetoleranz besteht. Unter normalen Verhältnissen beträgt diese für eine mittlere Betrachtungsdistanz von 30 cm etwa 1/10 mm. Das Auge betrachtet demnach jede Fläche, die nicht größer als 1/10 mm ist, als scharfen Punkt.
Auf einem Bild kann das gesunde menschliche Auge unabhängig von der Größe des Bildes innerhalb des normalen Bildwinkels von 47° Bilddiagonale, der beim 35-Millimeter-Kleinbildfilm einer Normalbrennweite von 50 Millimetern entspricht, etwa vier Millionen Bildpunkte unterscheiden. Dies entspricht bei einer Vergrößerung auf 10 Zentimeter × 15 Zentimeter einem Abstand der Bildpunkte von circa 0,05 Millimetern beziehungsweise einer Punktdichte von circa 400 dpi und einem Betrachtungsabstand von etwa 20 Zentimetern.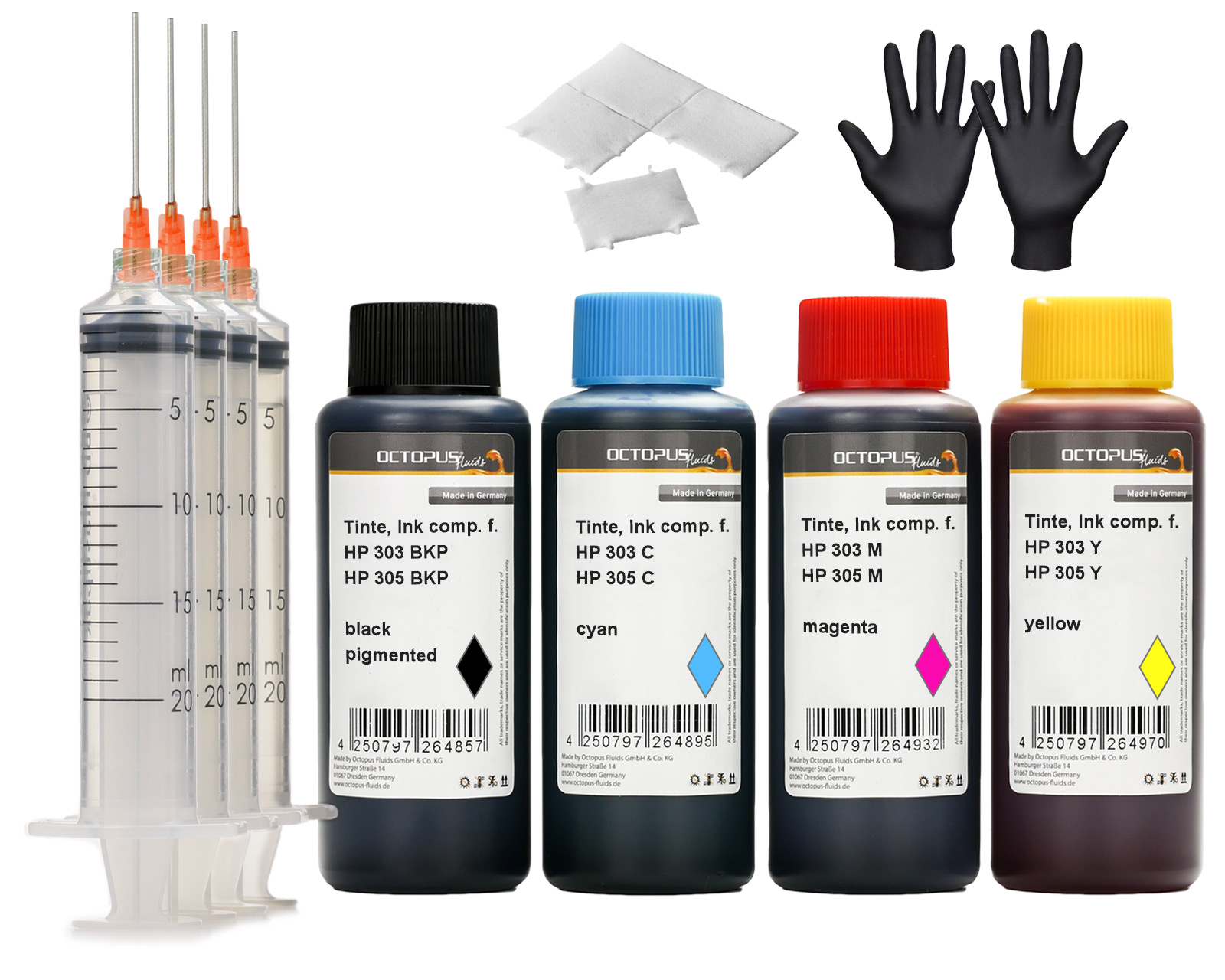 Printer Ink Set for HP 303 and HP 305 Ink cartridges
Printer ink for HP ENVY, Photo 7130, 7134, 6232, 7830, 6230, 6234, 6220, Tango, DeskJet 2700 Series, DeskJet Plus 4100 Series, Envy 6000 Series, Envy Pro 6400 Series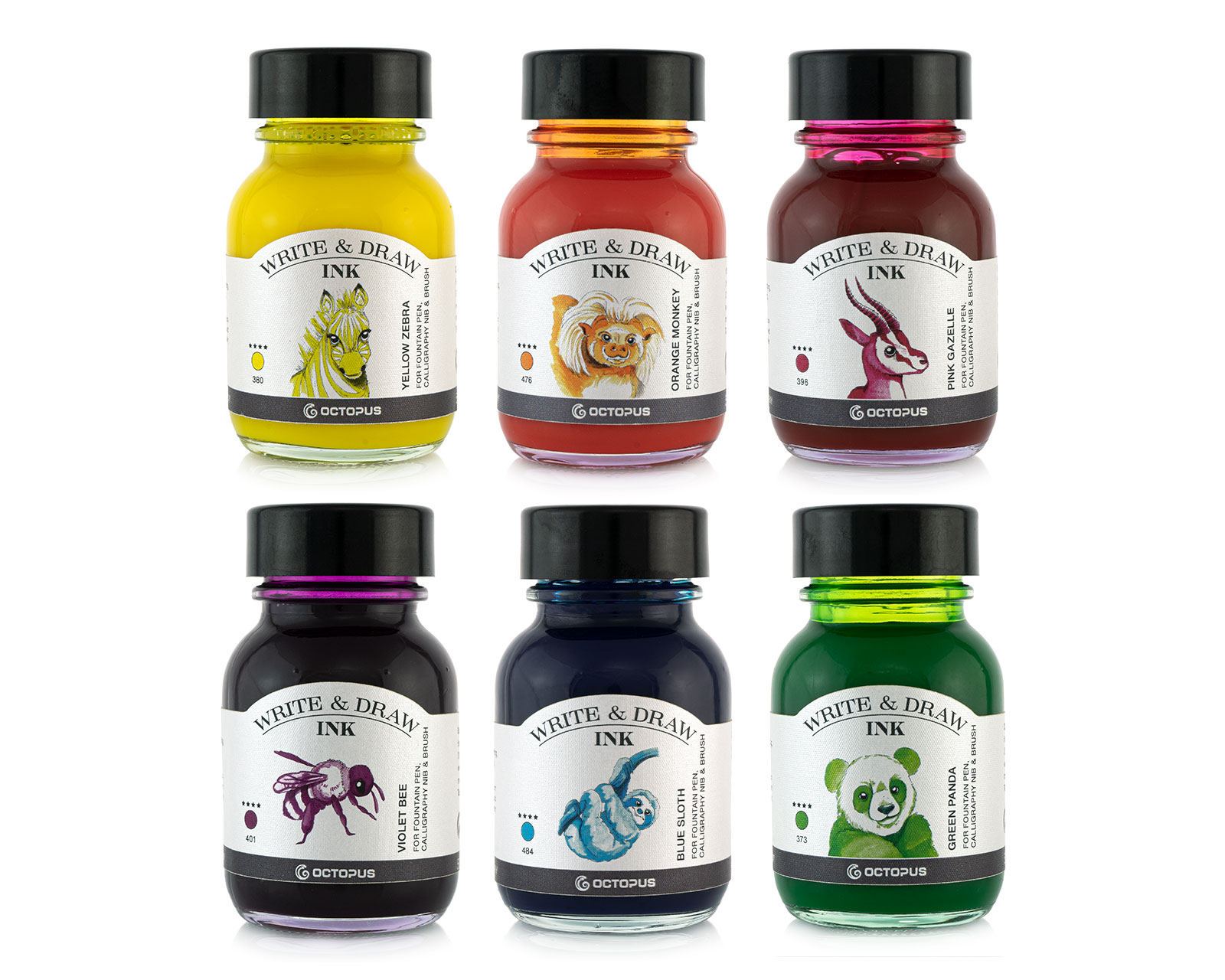 Write and Draw Ink Set, waterproof drawing ink for fountain pens, 6 colours
Octopus Write & Draw Ink, waterproof ink for fountain pen, nib and brush, vegan
The Octopus Write & Draw inks are unique, smudge-proof and waterproof writing and drawing inks in a wide range of colours. They were developed for daily use in fountain pens and are also popular with graphic artists, illustrators, calligraphers and artists for writing, sketching, drawing and colouring with calligraphy pens, glass pens or brushes.

Each of the 38 brilliant shades inspires with its intense colour power thanks to its high, balanced pigmentation. In addition to a deep black and various shades of grey, the extensive colour palette also includes a particularly opaque white, which can be used on dark backgrounds.
During the development of the drawing ink, special attention was paid to its use in the fountain pen. The use of the finest colour pigments in a carefully balanced formula ensures high light fastness and a good, even ink flow without clogging the ink duct of the fountain pen. These pigmented writing inks also feature the excellent writing behaviour of the classic Octopus fountain pen inks. The Write & Draw drawing ink meets the requirements for document-proof ink according to DIN ISO 12757-2 and DIN ISO 14145-2 and is produced exclusively with vegan ingredients.

Writing enthusiasts love the razor-sharp typeface that can be achieved on fountain pen-suitable paper and the pleasant shading of the Write & Draw writing ink. Calligraphers can create the finest hairlines and impressive flourishing elements, while urban sketchers can draw precise outlines.
The ink dries waterproof in a very short time and can then be painted over with another shade of Octopus Write & Draw ink or watercolour. It is eraser-proof and most of the colours are also highlighter-proof.
Both pure and diluted with water, Octopus Write & Draw ink is excellent for colouring. Used undiluted, the waterproof ink convinces with its opacity. The many colours of Octopus drawing ink can be mixed with each other, but also with water. In this way, countless colour shades can be achieved for beautiful watercolour effects.
Unlike most other waterproof inks, Octopus Write & Draw can be used in a fountain pen without hesitation. However, care should be taken not to let the fountain pen dry out. We therefore recommend that you rinse and clean your writing instrument carefully after use to prevent the ink from drying up accidentally.

The Octopus special cleaner for pigmented inks is available for cleaning your writing Instruments.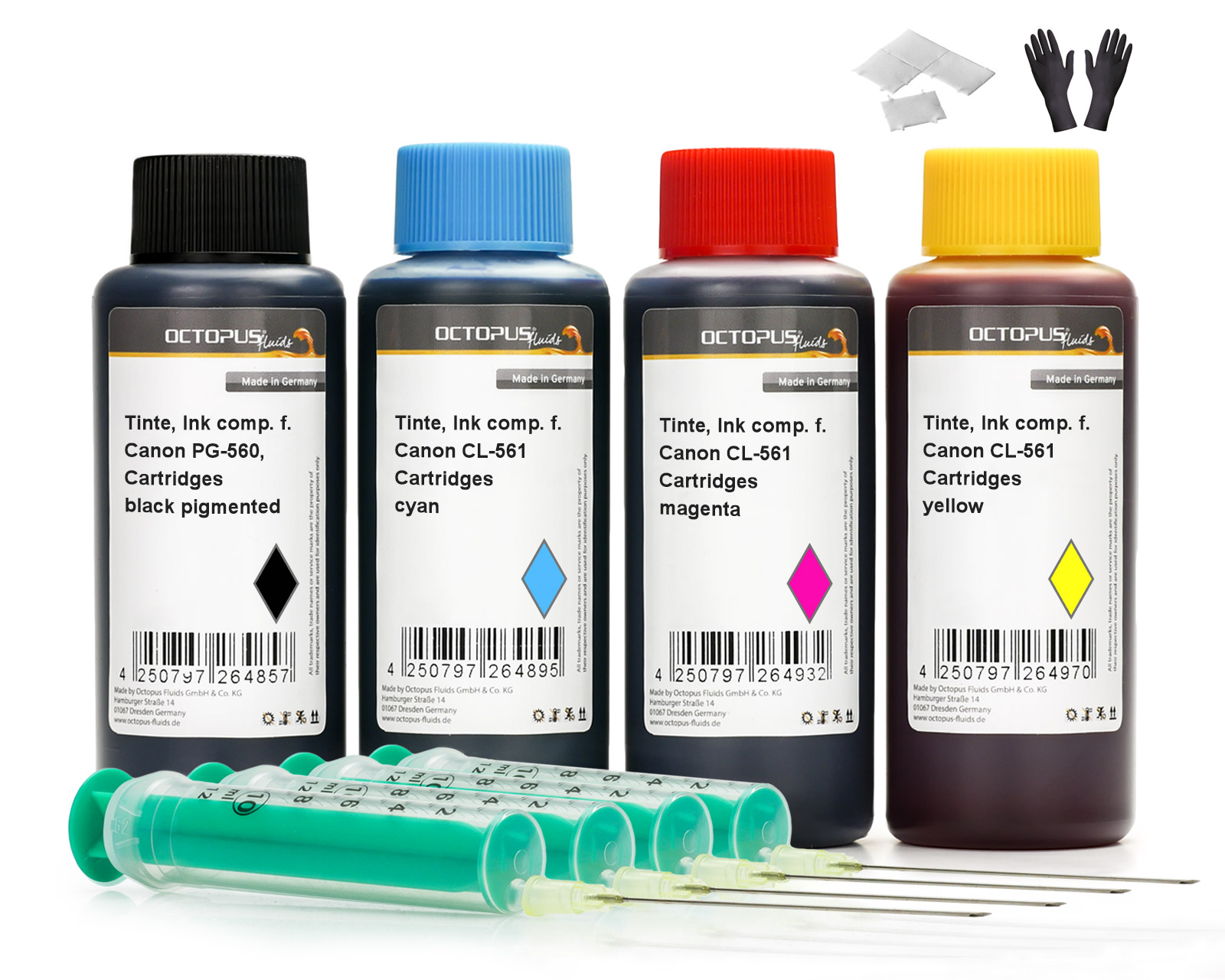 Octopus printer ink set compatible for Canon PG-560, CL-561 ink cartridges, Canon Pixma TS 5300, 7400
Druckertinte für Canon Pixma TS 5300, TS 5350, TS 5350, TS 5351, TS 5352, TS 5353, TS 7400, TS 7450, TS 7450, TS 7451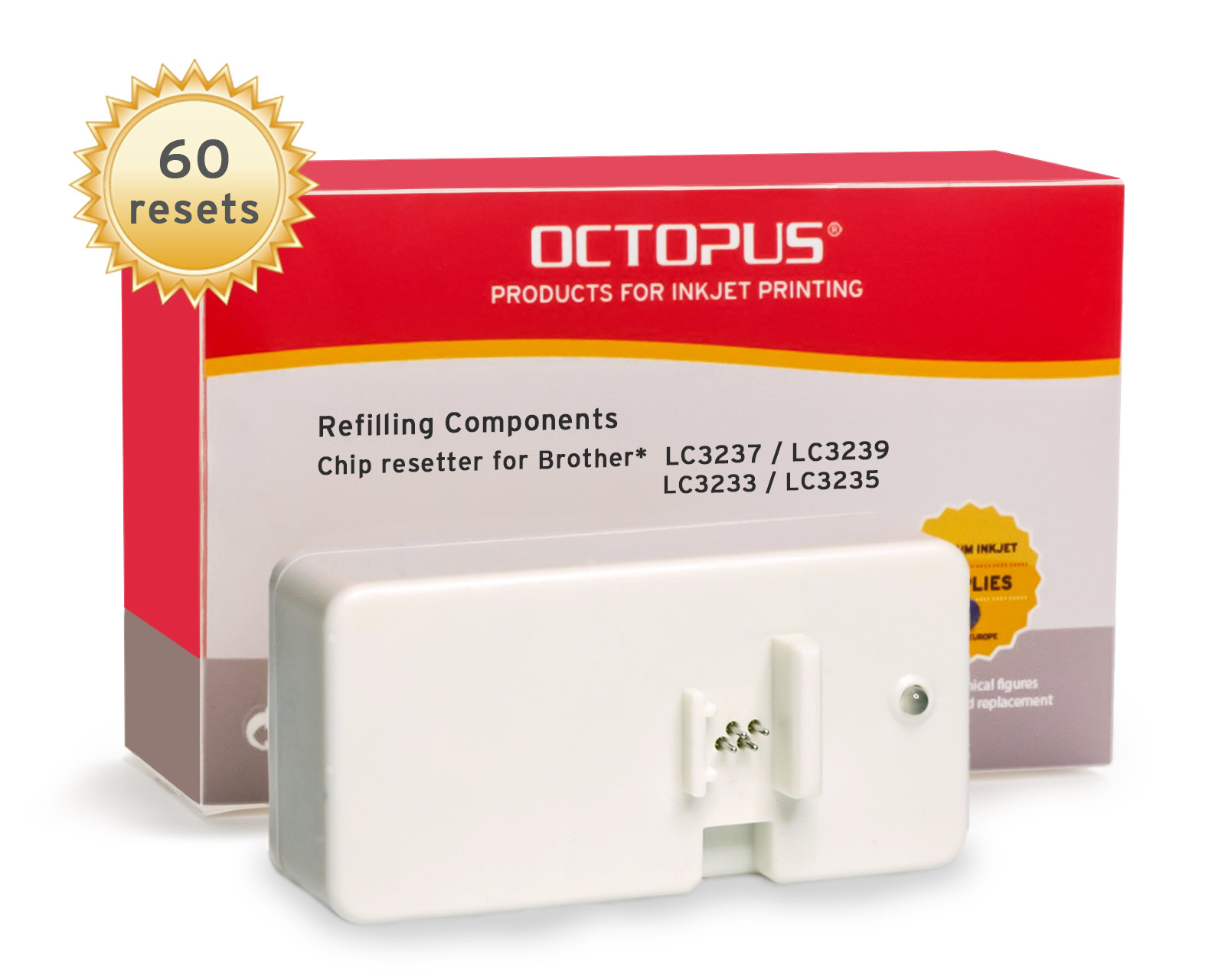 Chipresetter for Brother LC-3237, LC-3239, LC-3233, LC-3235 inkjet cartridges, for 60 Resets
Chip Resetter for resetting Brother LC-3237, LC-3239, LC-3233, LC-3235 und Brother DCP-J 1100, HL-J 6000, HL-J 6100, MFC-J 1300, J 5945, J 6945, J 6947 cartridges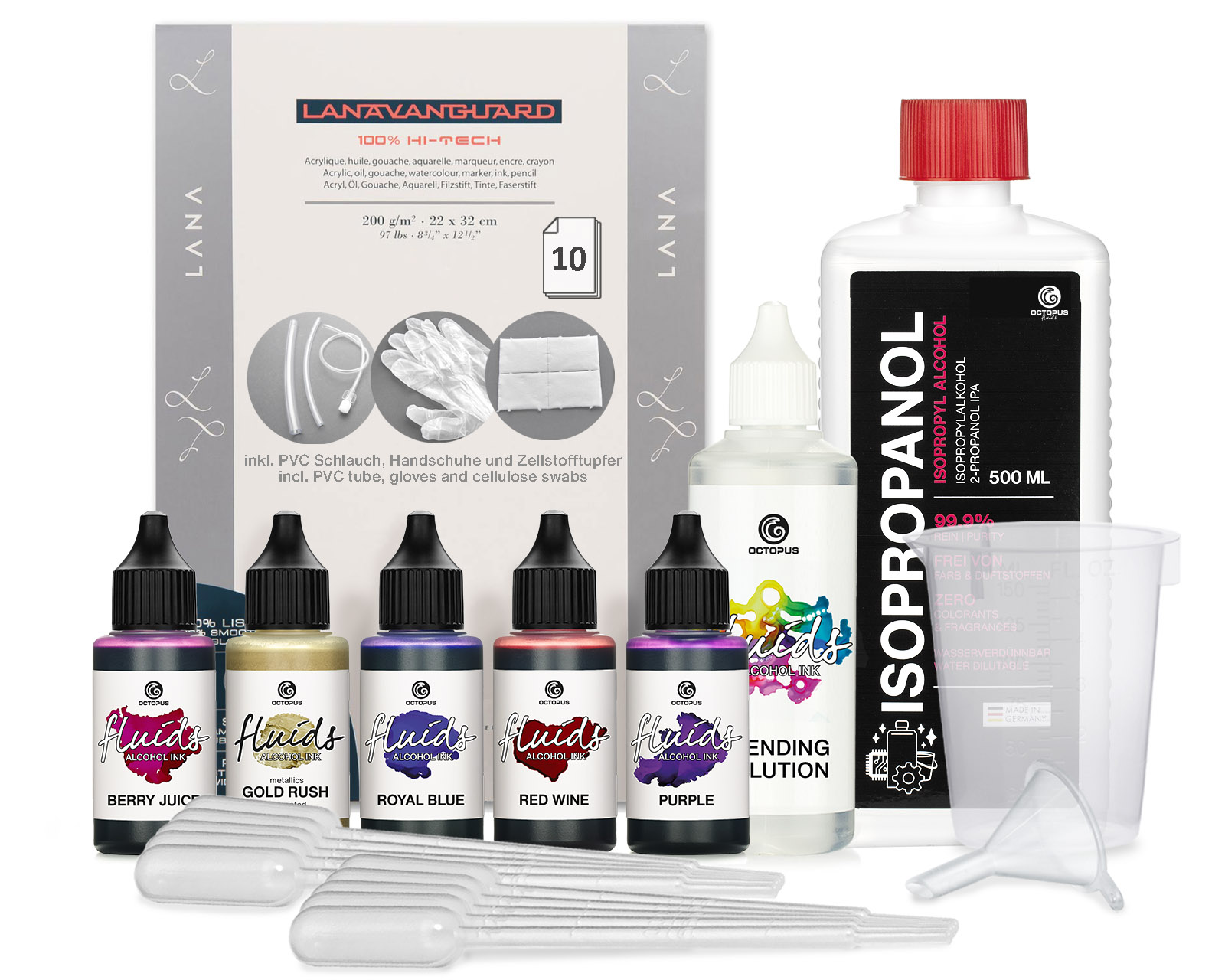 Octopus Fluids Alcohol Ink Complete Kit GOLDEN EVE with Blending Solution, Alcohol Ink Paper and accessoreies for fluid art, 5 x 30 ml
Start now with Alcohol Ink painting with the complete set Octopus Fluids alcohol inks from Germany. 5 colours Alcohol Ink, Blending Solution and all accessories in a set.