Winzig kleine Heizelemente in den Düsen des Druckkopfes werden innerhalb von Millisekunden erhitzt, bis sich Dampfbläschen bilden, die sich rasch ausdehnen.
Als unmittelbare Folge dieses Ausdehnungsvorganges werden Tintentröpfchen mit einem Durchmesser von 0,3 mm - 0,4 mm auf das Papier geschleudert.
Die Lebensdauer eines Druckkopfes mit dieser Technik beträgt ca. 50.000 DIN-A4-Seiten je ca. 4.000 Zeichen [ca. 200 Millionen (Mio.) Zeichen]. Aufgrund dieser relativ kurzen Lebensdauer wird der Druckkopf nicht in den Drucker, sondern in die Tintenpatronen eingebaut. Das hat den Vorteil, dass mit jeder neuen Tintenpatrone (nach ca. 100 - 3.000 DIN-A4-Seiten) auch der Druckkopf ersetzt wird.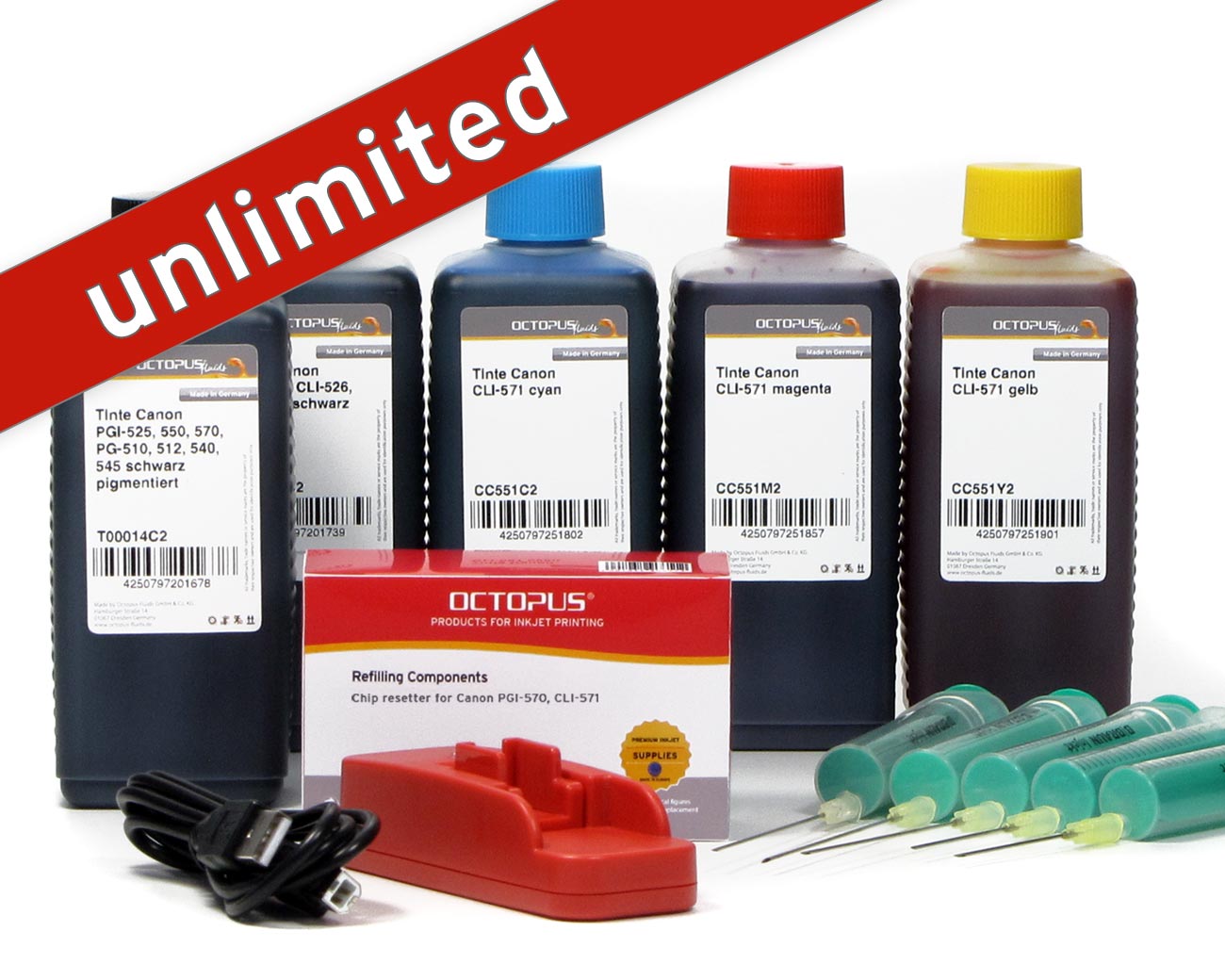 Set with chip resetter for Canon PGI-570, CLI-571 inkjet cartridges and 5x refill ink
Der Canon Chipresetter für PGI-570 und CLI-571 mit Tinte für Pixma MG 5700, MG 6800 und TS 5000, TS6000 Drucker
Chipresetter for Canon PGI-550, CLI-551 inkjet cartridges with 5x refill ink
Der Canon Chipresetter für PGI-550 und CLI-551 mit Tinte für Pixma IP, IX, MG und MX Drucker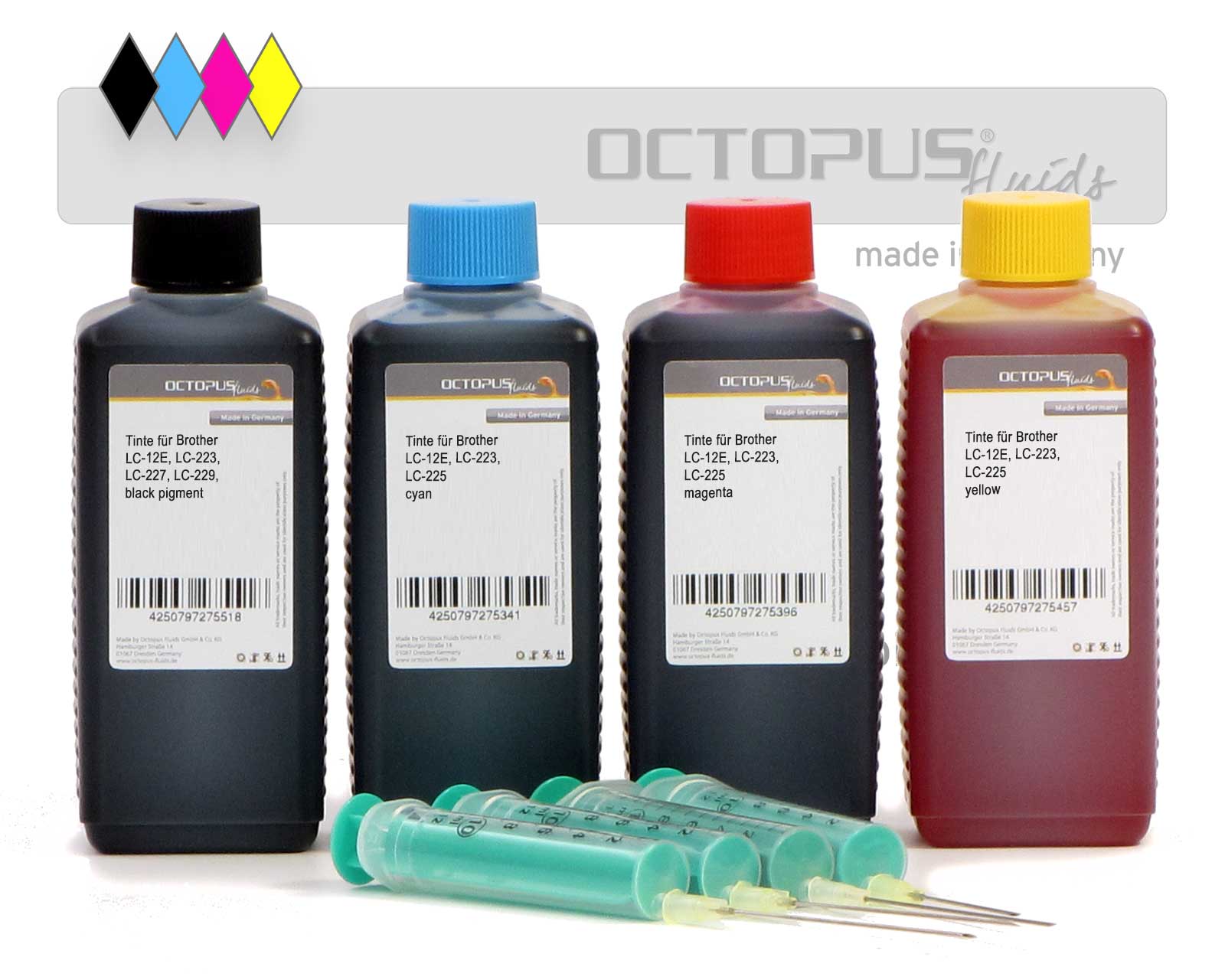 Ink set Brother LC-223, LC-225, LC-227, LC-229, LC-12E
Set comprising five ink colours and refill syringes.
Set of refillable cartridges for Brother LC-227, LC-225 with ink refill kits
Complete kit for Brother LC-227, LC-225, DCP-J 4120, MFC-J 4420, MFC-J 4425, MFC-J 4620, MFC-J 4625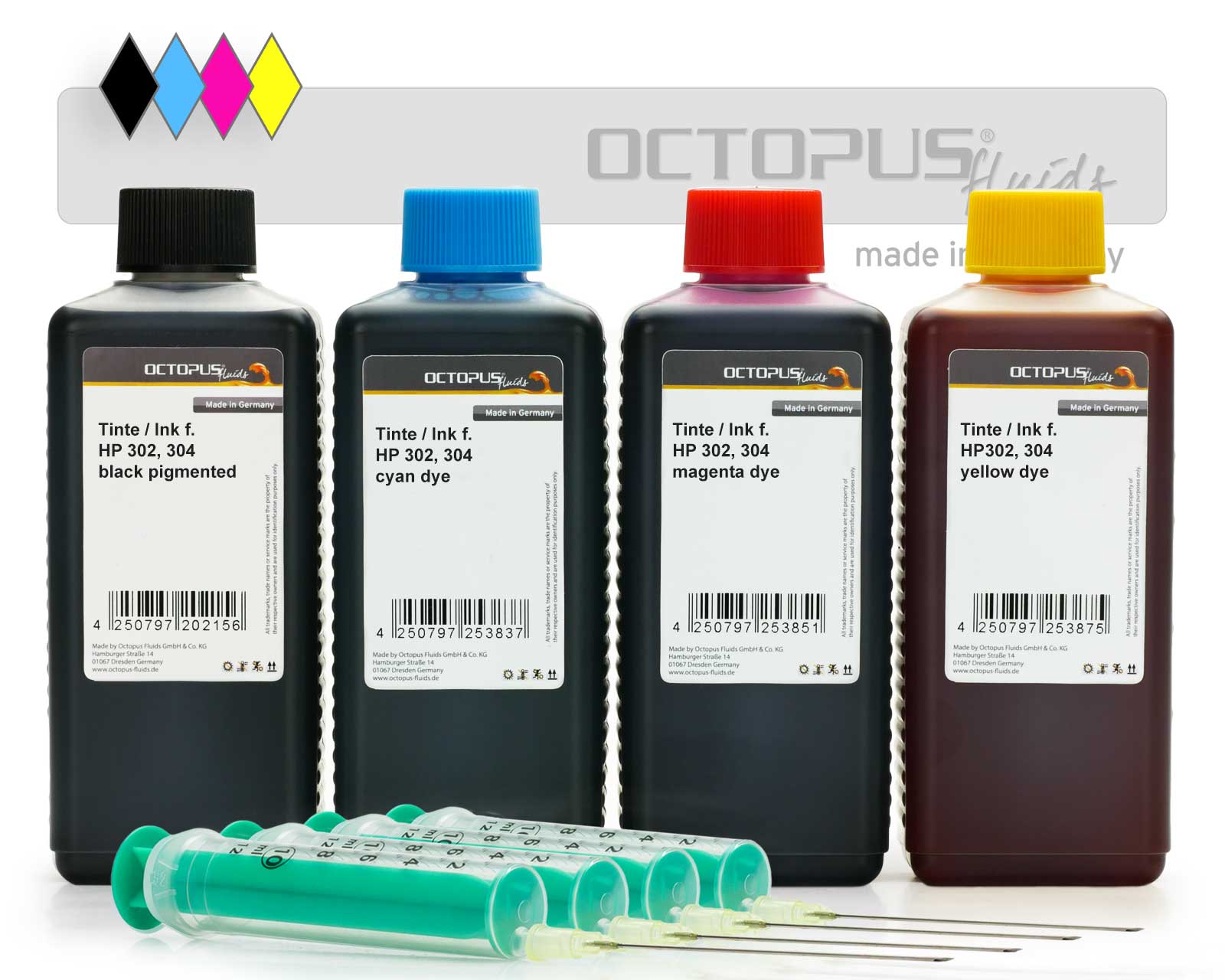 Refill ink kit for HP 302, HP 304 four colours
Druckertinten Komplettset für HP 302, HP 304, F6U68AE, F6U66AE, F6U67AE, F6U65AE, N9K08AE, N9K06AE, N9K07AE, N9K05AE