Die DIN 33870 vom Januar 2001 legt die Standards für Beschaffenheit, Lagerung, Verpackung und Kennzeichnung von Tonerkartuschen fest.
Sie sagt auch aus, mit welcher Flächendeckung/Schwärzungsgrad/Helligkeit die Seitenleistung angegeben werden muss. Die Deckung soll demnach 5% betragen.


Zudem müssen die Tonerkartuschen einem "Armes Test" unterzogen werden. Dieser ist ein bakterielles Prüfverfahren auf erbgutverändernde Eigenschaften von Stoffen. Weiterhin werden Tests auf Ergiebigkeit und in Klimakammern durchgeführt. Untersucht werden müssen auch die Darstellung der Inhaltsstoffe und Sicherheitshinweise.
Selbst die Verpackung wird auf Umweltverträglichkeit hin untersucht. Die Lagerung wird in der DIN 33870 nach Luftfeuchtigkeit und Temperatur normiert.


Die DIN 33870 gilt auch für wiederaufbereitete (rebuilt) Tonermodule. Jedoch dürfen gebrauchte Einheit maximal vier mal wiederverwendet werden, wenn sie der Norm genügen sollen.

Es sind folgende durchzuführende Arbeitsschritte spezifiziert:
Komplette Demontage
Reinigung
Austausch von Verschleißteilen
Wiederbefüllung
RebuiltToner, die nach der DIN 33870 geprüft wurden entsprechen der Qualität von Originalmedien und sind daher vorbehaltlos zu empfehlen, da sie zudem im Preis um bis zu 60% günstiger sind.
35x 30 ml Octopus Fluids Resin Ink Set, Alcohol Ink for Epoxy Resin and UV Resin
Colour-intensive alcohol ink for colouring epoxy resin and UV resin. Colour-faithful and without brown tint. 35 radiant epoxy resin colours in an economy set.
Chipresetter for Brother LC-3237, LC-3239, LC-3233, LC-3235 inkjet cartridges, for 60 Resets
Chip Resetter for resetting Brother LC-3237, LC-3239, LC-3233, LC-3235 und Brother DCP-J 1100, HL-J 6000, HL-J 6100, MFC-J 1300, J 5945, J 6945, J 6947 cartridges
Refill Ink set for Brother LC-3211, LC-3213 cartridges, CMYK
Set for Brother LC-3211, LC-3213, Brother DCP-J 572, DCP-J 770, DCP-J 772, DCP-J 774, MFC-J 490, MFC-J 491, MFC-J 497, MFC-J 890, MFC-J 895 a.o.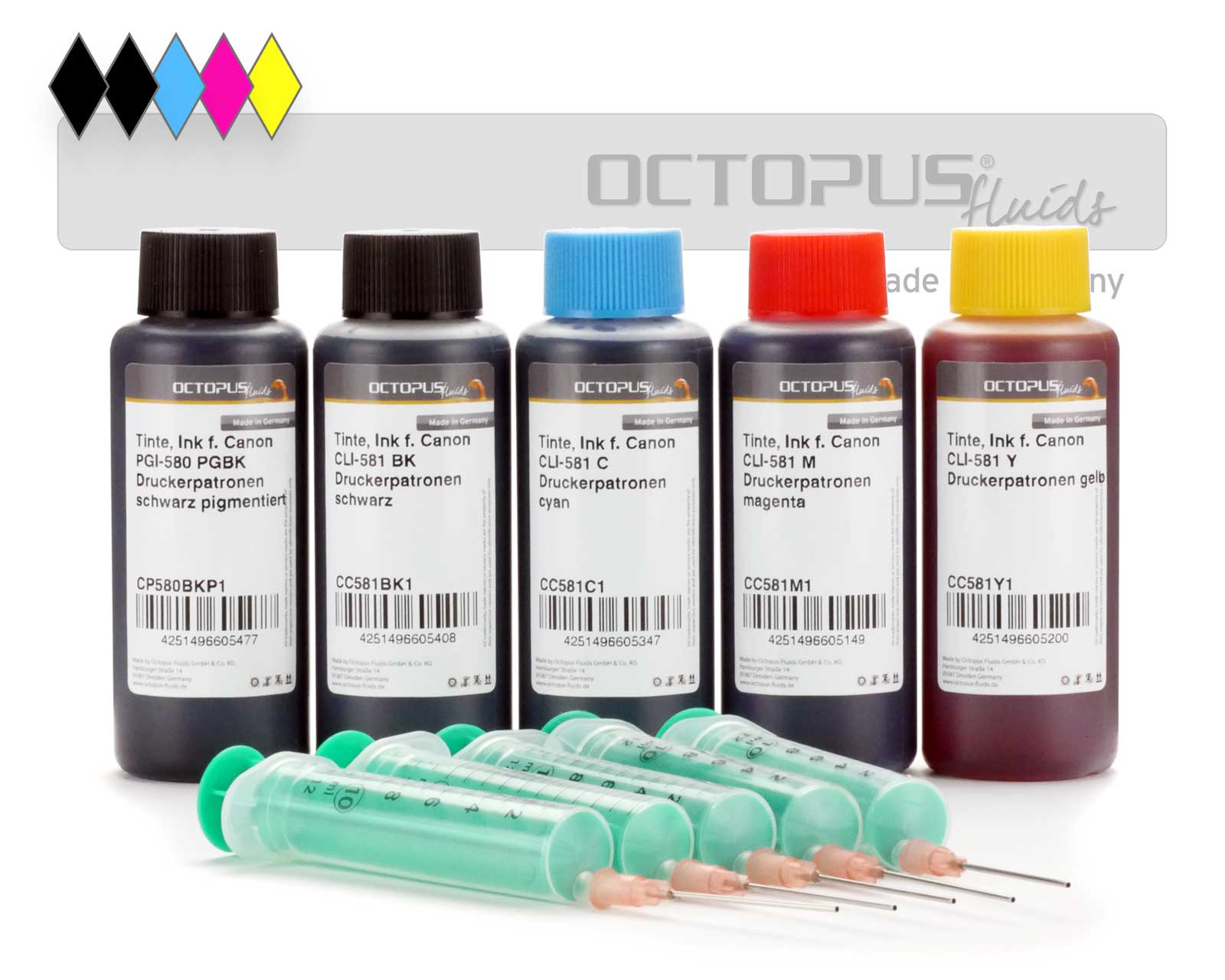 Refill ink kit for Canon PGI-580 PGI-280, CLI-581, CLI-281 inkjet cartridges
Original Printer Cartridge Lexmark 34 xl black.
Refill ink kit for Epson 33, Expression Premium XP-530, XP-630, XP-830 CMYK
Refill inks specifically for Epson 33, Epson Expression Premium XP-530, XP-540, XP-630, XP-635, XP-640, XP-645, XP-830, XP-900, XP-7100 printers. Set comprising 5 ink colours and refill syringes.