Das Deutsche Institut für Normung legt in der DIN 476 von 1922 die Größen für Papierformate fest.
Es wurden hier die Reihen A, B, C und D bestimmt.
Die DIN-A-Reihe legt die Standardgrößen für Fertig-/End-Formate fest und schließt die in Deutschland allgemein gebräuchlichen Formate für Standarddokumente (Briefe, technische Zeichnungen, etc.) ein.
Die anderen Reihen (DIN-B, C und D) dienen fast nur zur Festlegung der Größen von Kuverts, Versandtaschen und Umschlägen für die DIN-A-Papierformate.


Das Format DIN-A0 entspricht in der Fläche einem Quadratmeter. Die Seiten stehen hierbei im Verhältnis 1/ Wurzel aus 2 .


Drucker in Deutschland verwenden im Allgemeinen die Formate der DIN-A-Reihe, zumeist jedoch DIN-A4 bei den meisten Druckern für Heimanwender. Großformatdrucker und Plotter können natürlich Größen bis DIN-A0 und größer drucken.


Als Grundgröße ist immer DIN-A0 zu nehmen. Die nächsten kleineren Formate entstehen immer jeweils durch Falten bzw. Halbieren der längeren Kante, die Zahlen werden dann immer auch volle Millimeter aufgerundet. Die Angabe der Größe erfolgt immer in Breite x Höhe. Daraus lässt sich ersehen, ob Quer- oder Hochformat gemeint ist.
Hier eine Auflistung der Abmessungen für DIN-A-Papierformate:
DIN-A0: 841X1189 mm Vierfachbogen
DIN-A1: 594X841 mm Doppelbogen
DIN-A2: 420x594 mm Bogen
DIN-A3: 297x420 mm Halbbogen
DIN-A4: 210x297 mm Viertelbogen/Briefbogen
DIN-A5: 148x210 mm Blatt
DIN-A6: 105x148 mm Halbblatt (Postkarte)
DIN-A7: 74x105 mm Viertelblatt
DIN-A8: 37x74 mm Achtelblatt
DIN-A9: 26x37 mm
35x 30 ml Octopus Fluids Resin Ink Set, Alcohol Ink for Epoxy Resin and UV Resin
Colour-intensive alcohol ink for colouring epoxy resin and UV resin. Colour-faithful and without brown tint. 35 radiant epoxy resin colours in an economy set.
Chipresetter for Brother LC-3237, LC-3239, LC-3233, LC-3235 inkjet cartridges, for 60 Resets
Chip Resetter for resetting Brother LC-3237, LC-3239, LC-3233, LC-3235 und Brother DCP-J 1100, HL-J 6000, HL-J 6100, MFC-J 1300, J 5945, J 6945, J 6947 cartridges
Refill Ink set for Brother LC-3211, LC-3213 cartridges, CMYK
Set for Brother LC-3211, LC-3213, Brother DCP-J 572, DCP-J 770, DCP-J 772, DCP-J 774, MFC-J 490, MFC-J 491, MFC-J 497, MFC-J 890, MFC-J 895 a.o.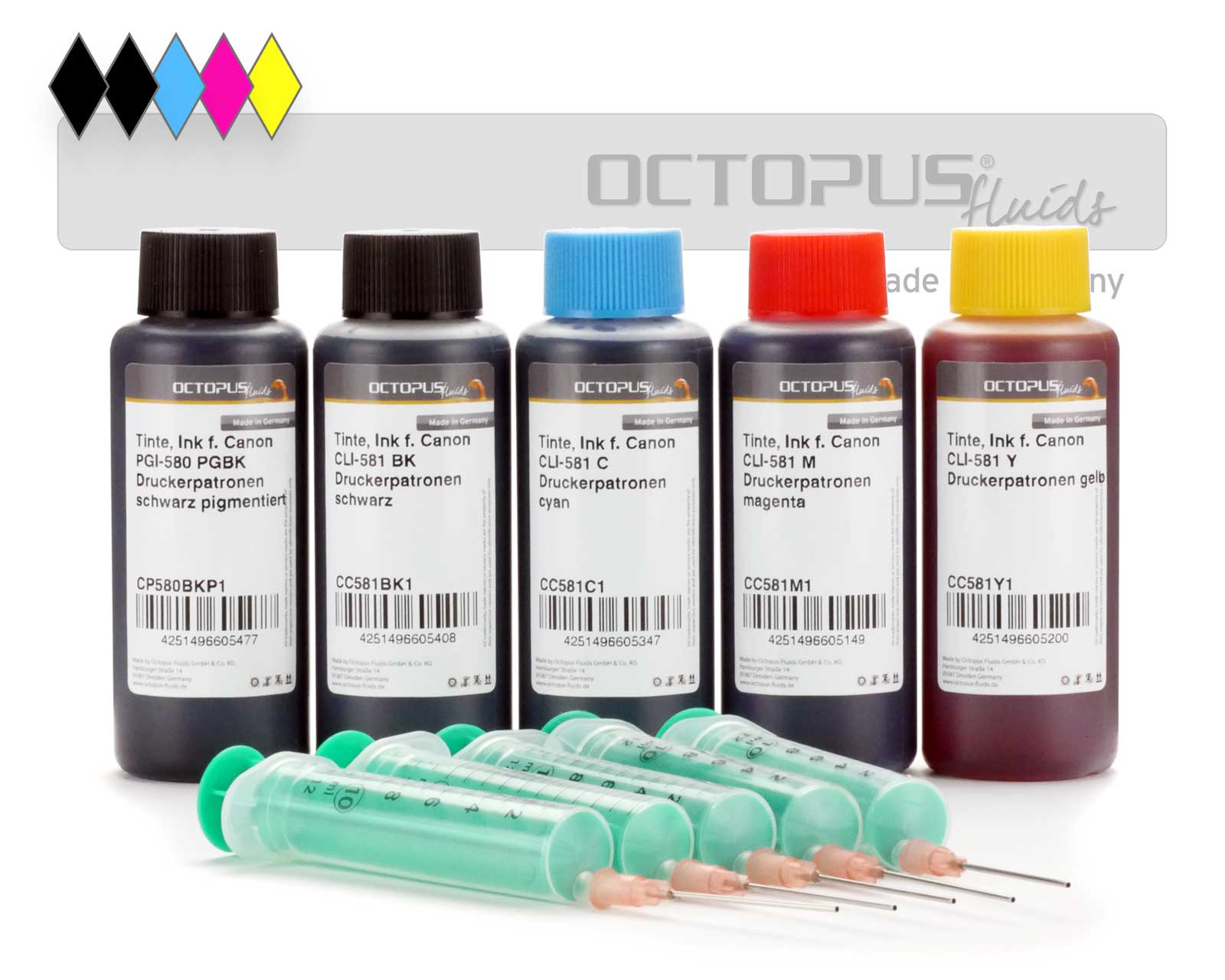 Refill ink kit for Canon PGI-580 PGI-280, CLI-581, CLI-281 inkjet cartridges
Original Printer Cartridge Lexmark 34 xl black.
Refill ink kit for Epson 33, Expression Premium XP-530, XP-630, XP-830 CMYK
Refill inks specifically for Epson 33, Epson Expression Premium XP-530, XP-540, XP-630, XP-635, XP-640, XP-645, XP-830, XP-900, XP-7100 printers. Set comprising 5 ink colours and refill syringes.