Welche Druckerhersteller gibt es?
Auf dem heutigen Markt tummeln sich sehr viel Druckerhersteller. Vielleicht sollte man aber auch sagen Druckertypen. Denn nicht jeder Name, der auf dem Drucker steht, bezeichnet auch einen Druckerhersteller. Selbst bei den namhaften "Druckerherstellern" Canon und HP gibt es Modelle, die nicht von ihnen hergestellt werden bzw. wurden. Sie werden nur gebrandet.
So kommt es dann vor, dass Drucker von HP mit den Druckwerken von Canon arbeiten und umgekehrt bzw. andere Hersteller Drucker vertreiben, in denen eigentlich die Technik wieder anderer Druckerhersteller steckt.
Diese Parallele kann in den meisten Fällen Kompatibilitätssoftware entnommen werden. Octopus Office bietet hierzu mit seiner Compafix Software ein geeignetes Programm.
Hier eine Liste von Druckerherstellern:
Brother
Canon
Epson
Hewlett Packard
Lexmark
Samsung
IBM
Kyocera
OKI
Nashuatec
Panasonic
Ricoh
Xerox
Olivetti
Agfa
Copystar
Gestetner
Infotec
QMS Konica/Minolta
Pitney Bowes
Sharp
Toshiba
Lanier
Diese Liste könnte noch um ca. 50 weitere ergänzt werden. Diese sind im Allgemeinen jedoch eher unbekannt, denn bei vielen Geräten handelt es sich um Drucker für Spezialanwendungen, welche ihren Absatz in absoluten Nischenmärkten finden.
35x 30 ml Octopus Fluids Resin Ink Set, Alcohol Ink for Epoxy Resin and UV Resin
Colour-intensive alcohol ink for colouring epoxy resin and UV resin. Colour-faithful and without brown tint. 35 radiant epoxy resin colours in an economy set.
Chipresetter for Brother LC-3237, LC-3239, LC-3233, LC-3235 inkjet cartridges, for 60 Resets
Chip Resetter for resetting Brother LC-3237, LC-3239, LC-3233, LC-3235 und Brother DCP-J 1100, HL-J 6000, HL-J 6100, MFC-J 1300, J 5945, J 6945, J 6947 cartridges
Refill Ink set for Brother LC-3211, LC-3213 cartridges, CMYK
Set for Brother LC-3211, LC-3213, Brother DCP-J 572, DCP-J 770, DCP-J 772, DCP-J 774, MFC-J 490, MFC-J 491, MFC-J 497, MFC-J 890, MFC-J 895 a.o.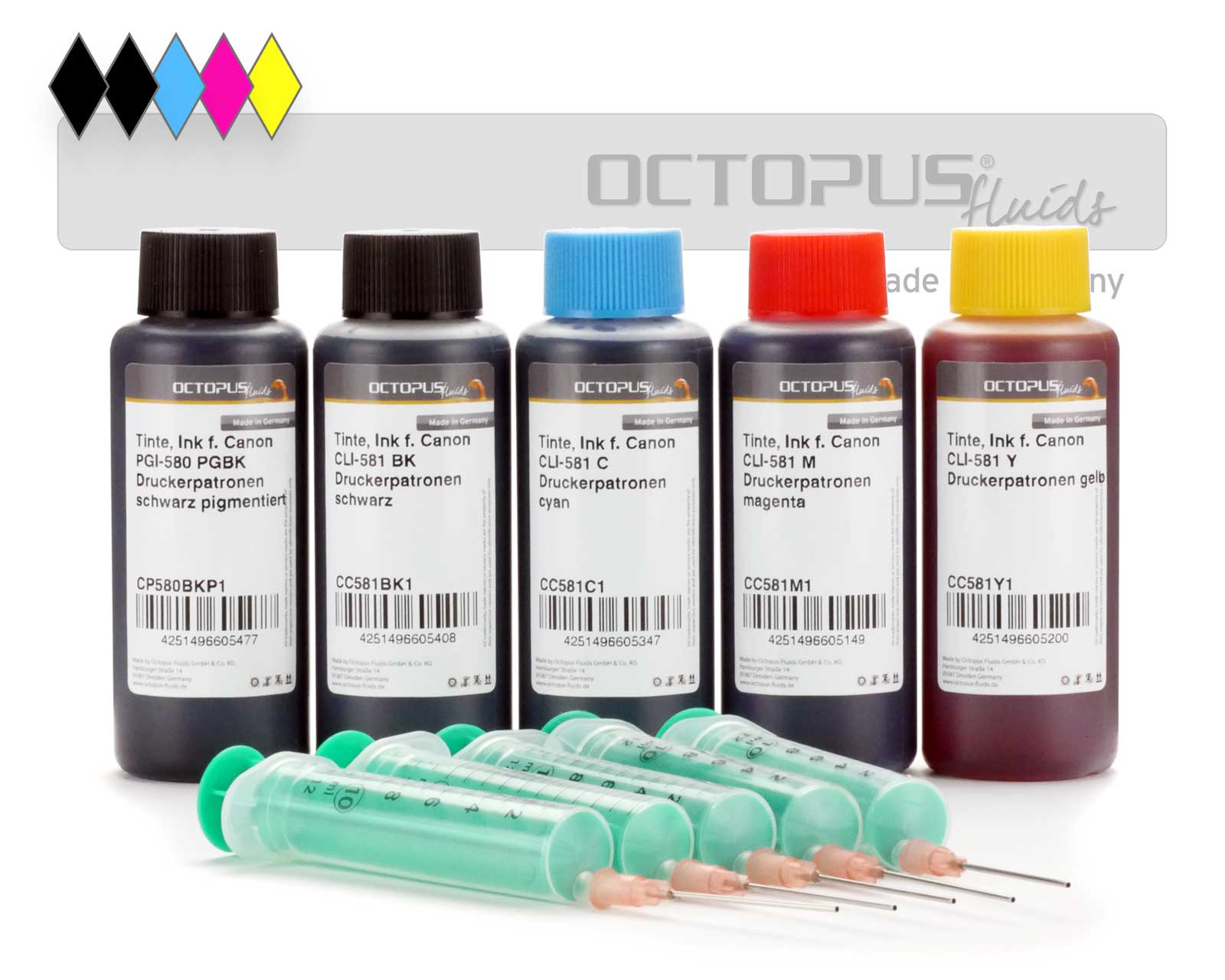 Refill ink kit for Canon PGI-580 PGI-280, CLI-581, CLI-281 inkjet cartridges
Original Printer Cartridge Lexmark 34 xl black.
Refill ink kit for Epson 33, Expression Premium XP-530, XP-630, XP-830 CMYK
Refill inks specifically for Epson 33, Epson Expression Premium XP-530, XP-540, XP-630, XP-635, XP-640, XP-645, XP-830, XP-900, XP-7100 printers. Set comprising 5 ink colours and refill syringes.