Rechte zur Nutzung des Begriffes Druckertankstelle in Verbindung mit dem Befüllen von Druckerpatronen werden von der Firma Refill24 in Form von Franchiseverträgen vergeben.
Refill24 hat mit seinen angeschlossenen Druckertankstellen eine so hohe Verbreitung erreicht, dass das Wort Druckertankstelle bei vielen Leuten bereits in den täglichen Sprachgebrauch übergegangen ist. An dieser Stelle von OCTOPUS® ein Kompliment an Refill24.
Erklärung der Begriffes Druckertankstelle
(Volksmund, ohne Bezug auf Franchisegeschäfte der Firma Refill24):
Eine Druckertankstelle, auch Refill-Shop genannt, befüllt kostengünstig Druckerpatronen verschiedener Druckerhersteller. Dieses Nachfüllen, auch Refill-Verfahren genannt, schont nicht nur den eigenen Geldbeutel, sondern erfüllt auch einen Umweltaspekt. Allein in Deutschland werden jährlich circa 80 Millionen Tintenpatronen verbraucht, aber davon werden bisher nur circa 20 Prozent wiederbefüllt. Das bedeutet, dass etwa 64 Millionen Kartuschen nach einmaligem Gebrauch auf den Müll wandern.
Durch Wiederbefüllen der Kartuschen wird die Umwelt von diesem entstehenden Abfall entlastet und somit erfüllt diese Dienstleistung auch einen wichtigen ökologischen Aspekt.
In Deutschland existieren allein in den Privathaushalten und Kleingewerbebetrieben circa 50 Millionen Drucker, Fax- und Kopiergeräte. Also ein enorm großer Markt! Durch Wiederbefüllen der Kartuschen in einer Druckertankstelle sparen Endkunden bis zu 80 Prozent der Druckkosten. Somit entlasten Sie Ihr Budget für das benötigte Verbrauchsmaterial entscheidend. Ergänzend zu der von den Druckertankstellen angebotenen Dienstleistung des Wiederbefüllens von Tintenpatronen werden oft außerdem Refillsets zum Selbstbefüllen und Spezialpapiere für fotorealistische Ausdrucke in höchster Qualität angeboten.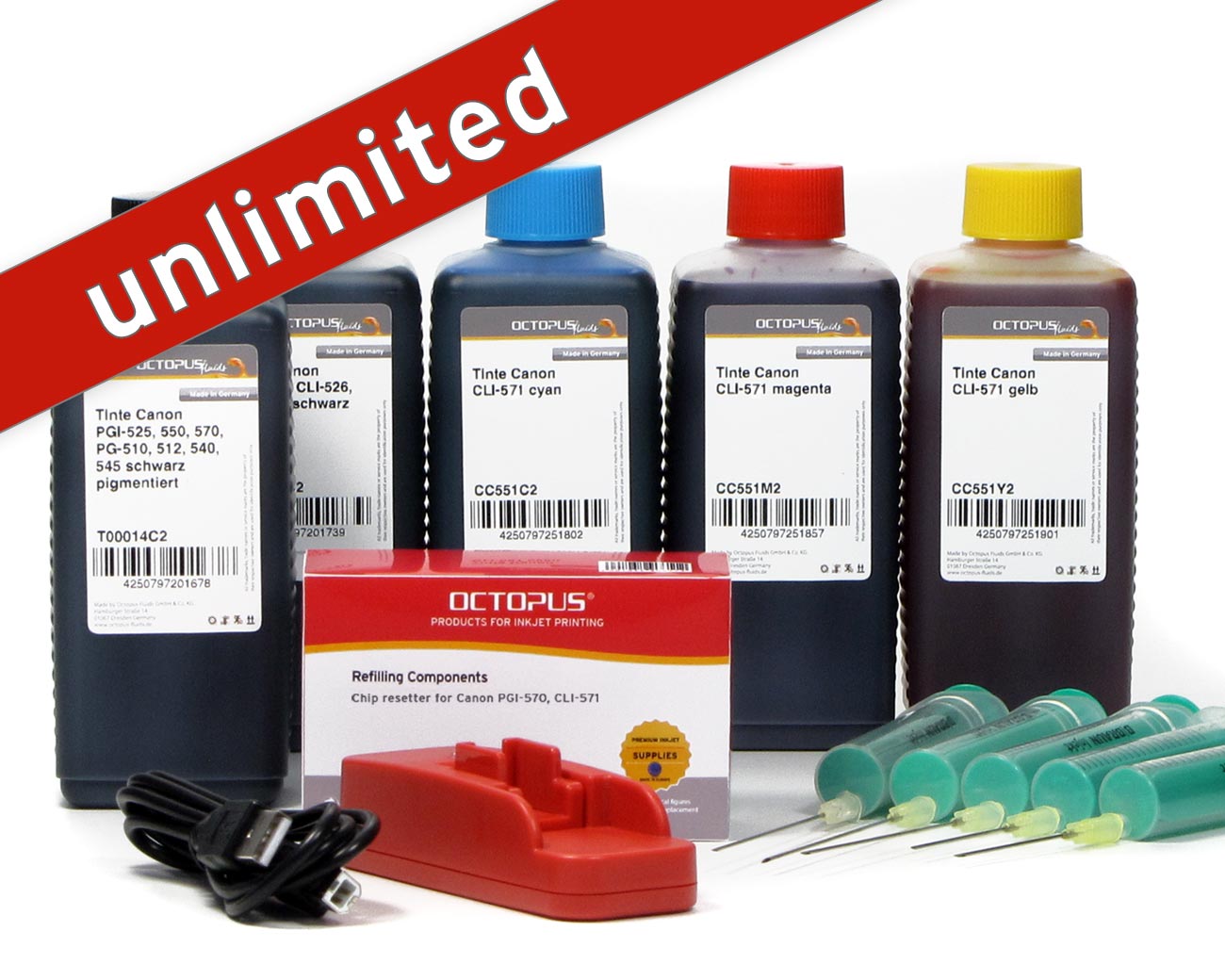 Set with chip resetter for Canon PGI-570, CLI-571 inkjet cartridges and 5x refill ink
Der Canon Chipresetter für PGI-570 und CLI-571 mit Tinte für Pixma MG 5700, MG 6800 und TS 5000, TS6000 Drucker
Chipresetter for Canon PGI-550, CLI-551 inkjet cartridges with 5x refill ink
Der Canon Chipresetter für PGI-550 und CLI-551 mit Tinte für Pixma IP, IX, MG und MX Drucker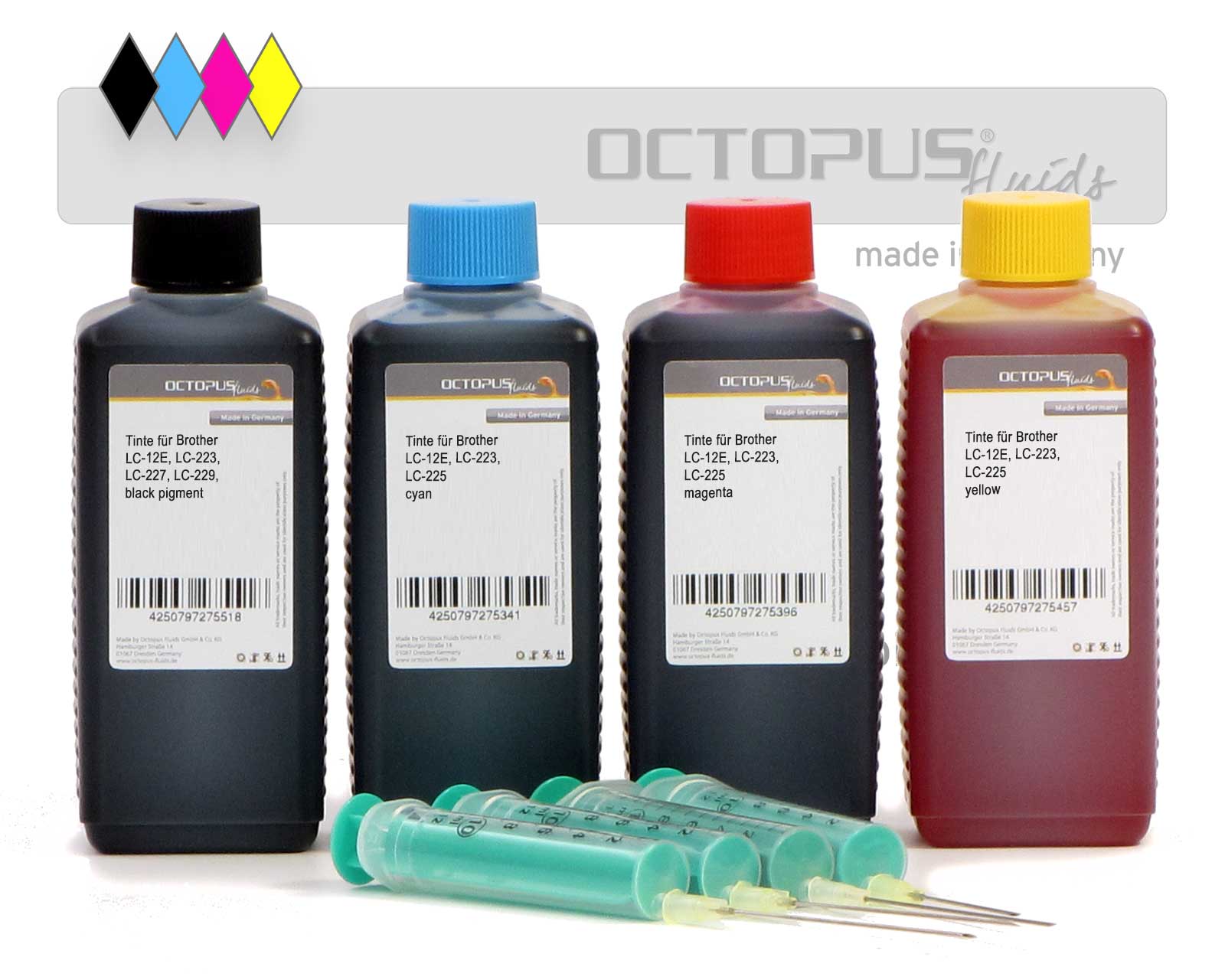 Ink set Brother LC-223, LC-225, LC-227, LC-229, LC-12E
Set comprising four ink colours and refill syringes.
Set of refillable cartridges for Brother LC-227, LC-225 with ink refill kits
Complete kit for Brother LC-227, LC-225, DCP-J 4120, MFC-J 4420, MFC-J 4425, MFC-J 4620, MFC-J 4625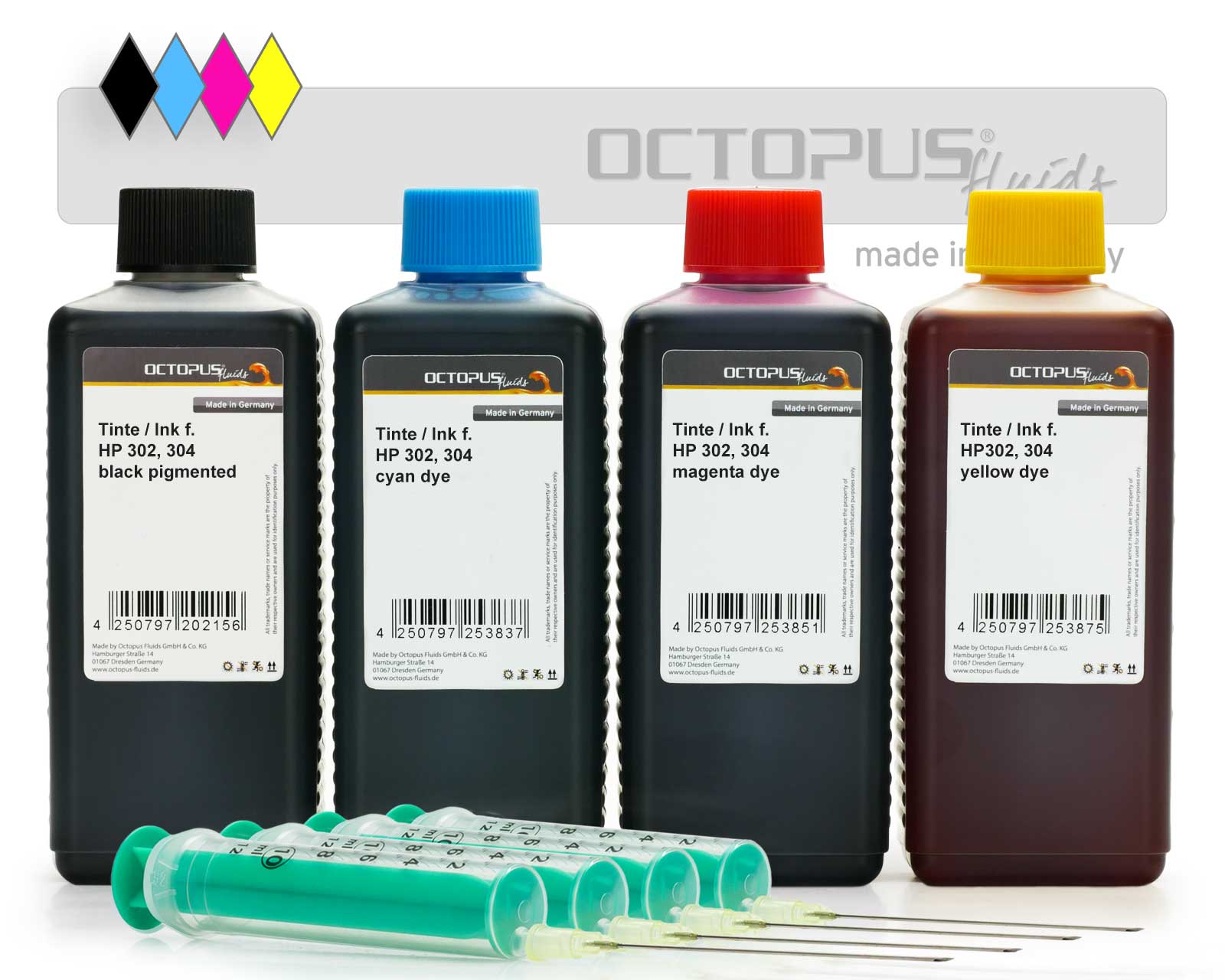 Refill ink kit for HP 302, HP 304 four colours
Druckertinten Komplettset für HP 302, HP 304, F6U68AE, F6U66AE, F6U67AE, F6U65AE, N9K08AE, N9K06AE, N9K07AE, N9K05AE