Das Herzstück eines Tintenstrahldruckers ist der Druckkopf. Er nimmt meistens den Tinten-Tank auf und sorgt dafür, dass die Tinte auf das Papier gebracht wird.
Es gibt auch Systeme, bei denen die Tinte nicht direkt sondern über bewegliche Leitungen zum Druckkopf gebracht wird. Der Nachteil hierin besteht aber in der Störanfälligkeit des Systems, da es komplizierter ist als bei gewöhnlichen Druckern und damit mehr mögliche Fehlerquellen bietet. Als Vorteil ist jedoch eine höhere Druckgeschwindigkeit zu nennen, da der Druckkopf leichter ist und somit schneller hin und her fahren kann.
Druckköpfe sind linear beweglich, das heißt, sie fahren über dem zu bedruckenden Papier zeilenweise hin und her, während das Papier senkrecht zu dieser Bewegung durch den Drucker gezogen wird.

Bei Druckköpfen unterscheidet man zwischen zwei Arten:
Druckköpfe, die Teil des Druckers sind (also fest montiert und nur schwer entnehmbar) und bei denen nur die Tintentanks ausgetauscht werden. Typische Hersteller hierfür sind beispielsweise Canon und Epson. Bei der anderen Variante bilden Druckkopf und Tintentank eine Einheit (Druckerpatrone), so dass immer die komplette Patrone ausgewechselt werden muss. Das bringt natürlich höhere Anschaffungskosten mit sich. Der Vorteil ist jedoch, dass die Druckköpfe nie verstopfen und auch nicht kaputt gehen können, da sie ja immer wieder durch neue ersetzt werden.
Das wichtigste beim Druckkopf sind die Düsen, durch die die Tinte gepresst oder geschleudert und dabei sehr stark erhitzt wird.
Je mehr Druckdüsen in einem Druckkopf angeordnet sind, desto feiner ist der Ausdruck. Je nach Druckertyp besitzt ein Druckkopf zwischen 24 und 64 Düsen, manchmal mehr.

Die Düsen können aber auch kaputt gehen.
Wurde mit einem Drucker sehr lange nicht gedruckt, besteht die Gefahr, dass die Düsenkanäle durch eingetrocknete Tinte blockiert sind. Wenn in diesem Zustand ein Druckvorgang gestartet wird, kann es passieren, dass die Düsen überhitzen und somit der Druckkopf kaputt geht. Eine Druckerpatrone sollte aus diesem Grund niemals ganz leer gedruckt werden.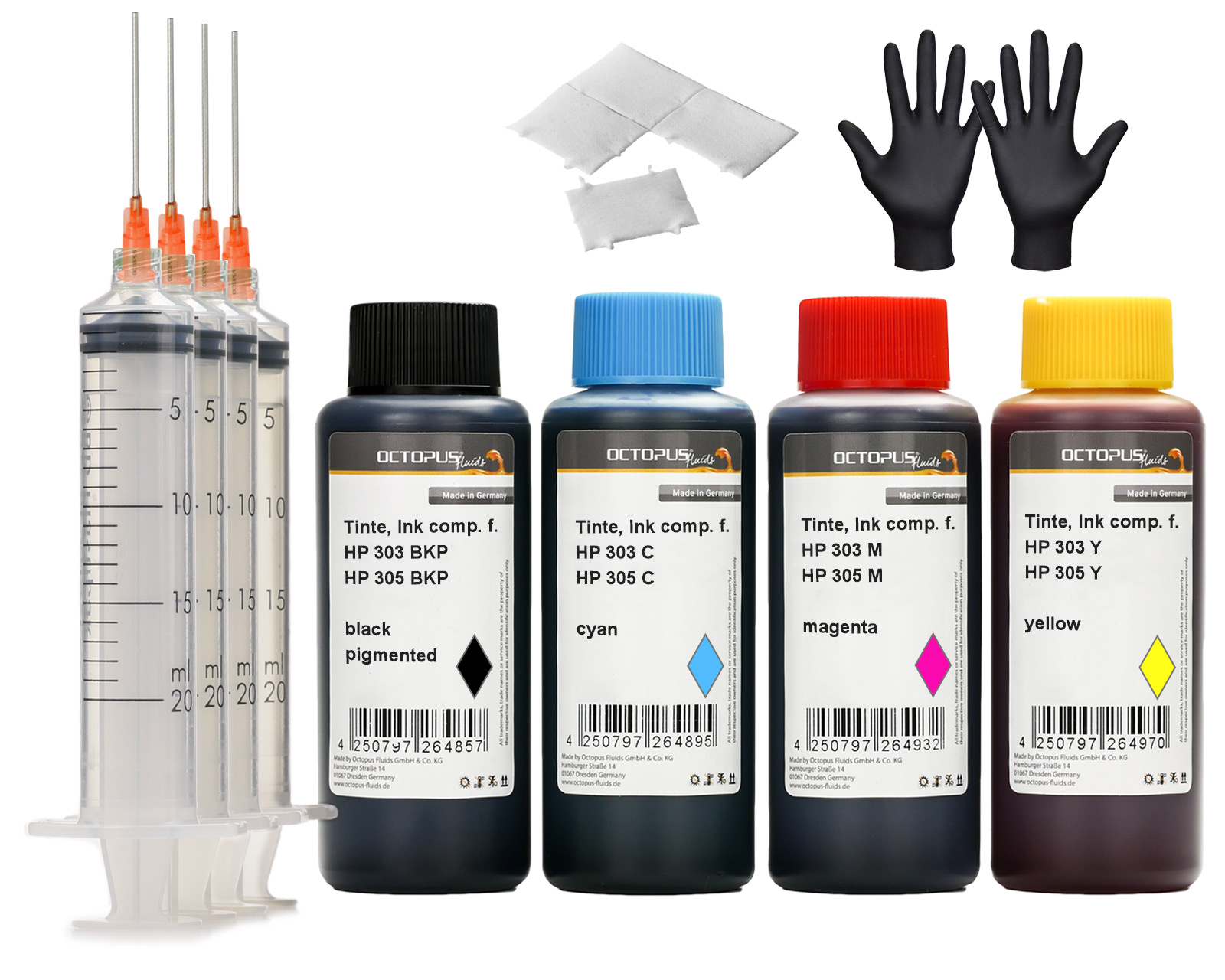 Printer Ink Set for HP 303 and HP 305 Ink cartridges
Printer ink for HP ENVY, Photo 7130, 7134, 6232, 7830, 6230, 6234, 6220, Tango, DeskJet 2700 Series, DeskJet Plus 4100 Series, Envy 6000 Series, Envy Pro 6400 Series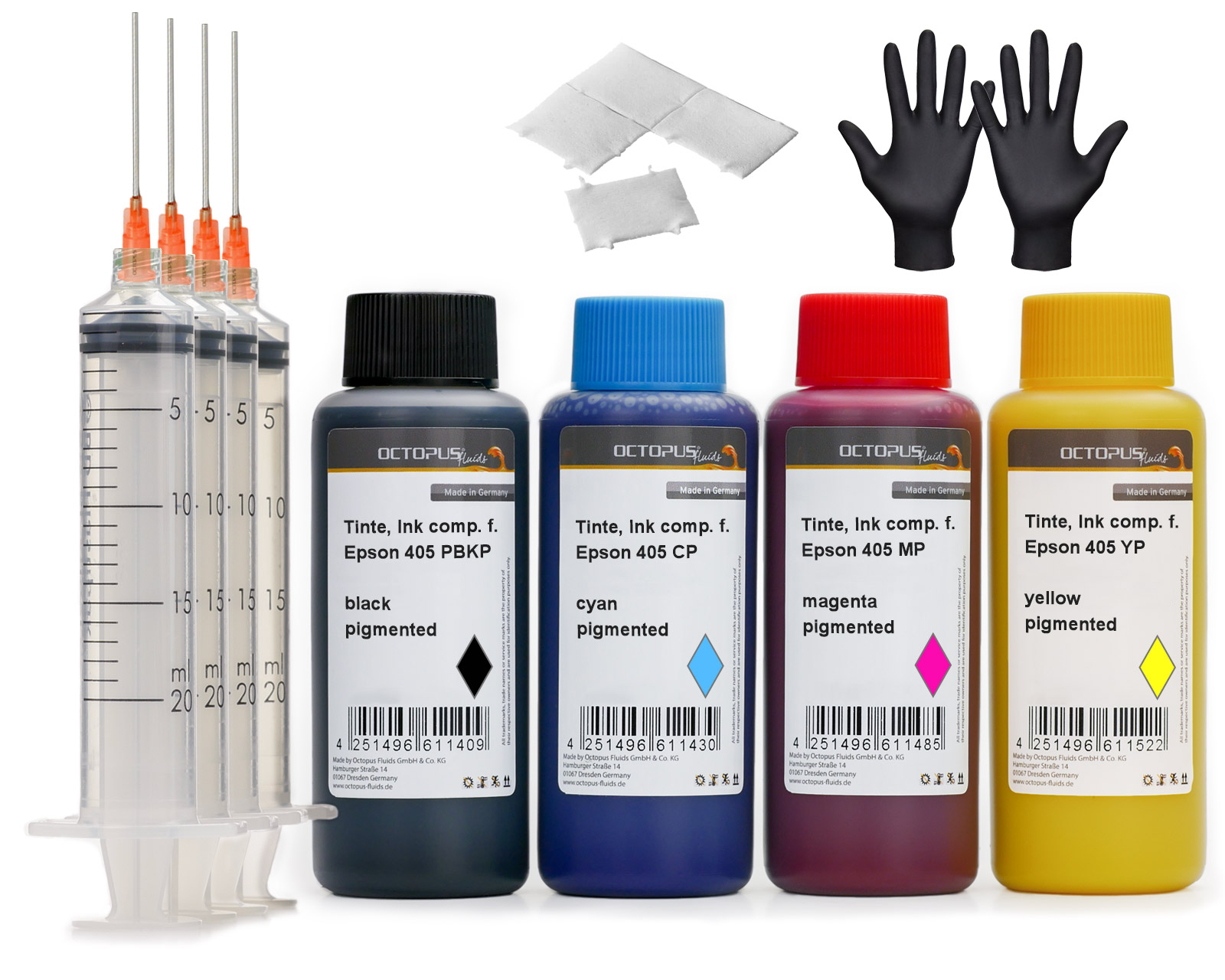 Printer ink set for Epson 405 ink cartridges, WF-3820, WF-4820, WF-7830
Printer ink for Epson WorkForce EC-C 7000, Pro WF-3820, WF-3825, WF-3830, WF-4820, WF-4825, WF-4830, WF-7830, WF-7835, WF-7840, WF-7310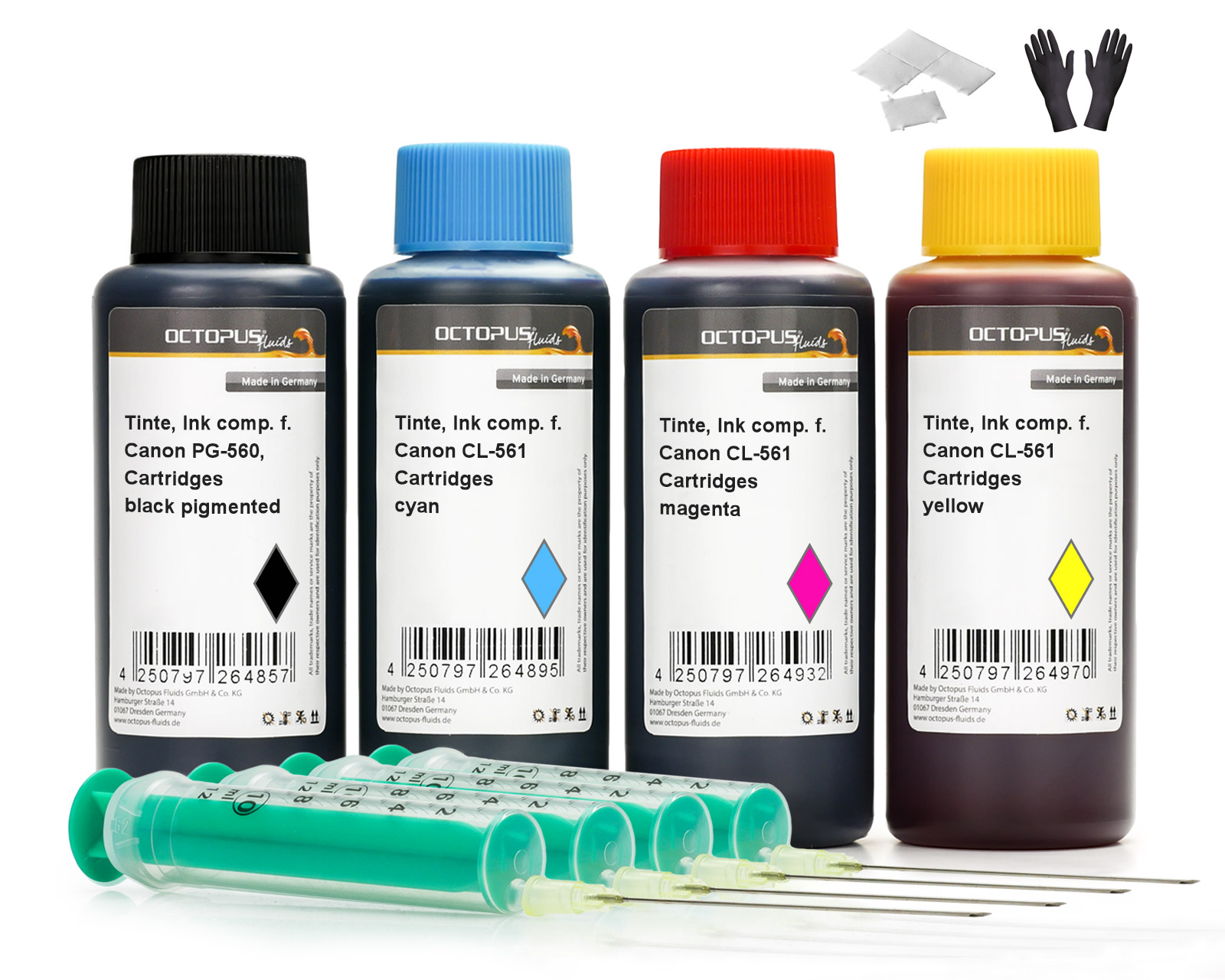 Octopus printer ink set compatible for Canon PG-560, CL-561 ink cartridges, Canon Pixma TS 5300, 7400
Druckertinte für Canon Pixma TS 5300, TS 5350, TS 5350, TS 5351, TS 5352, TS 5353, TS 7400, TS 7450, TS 7450, TS 7451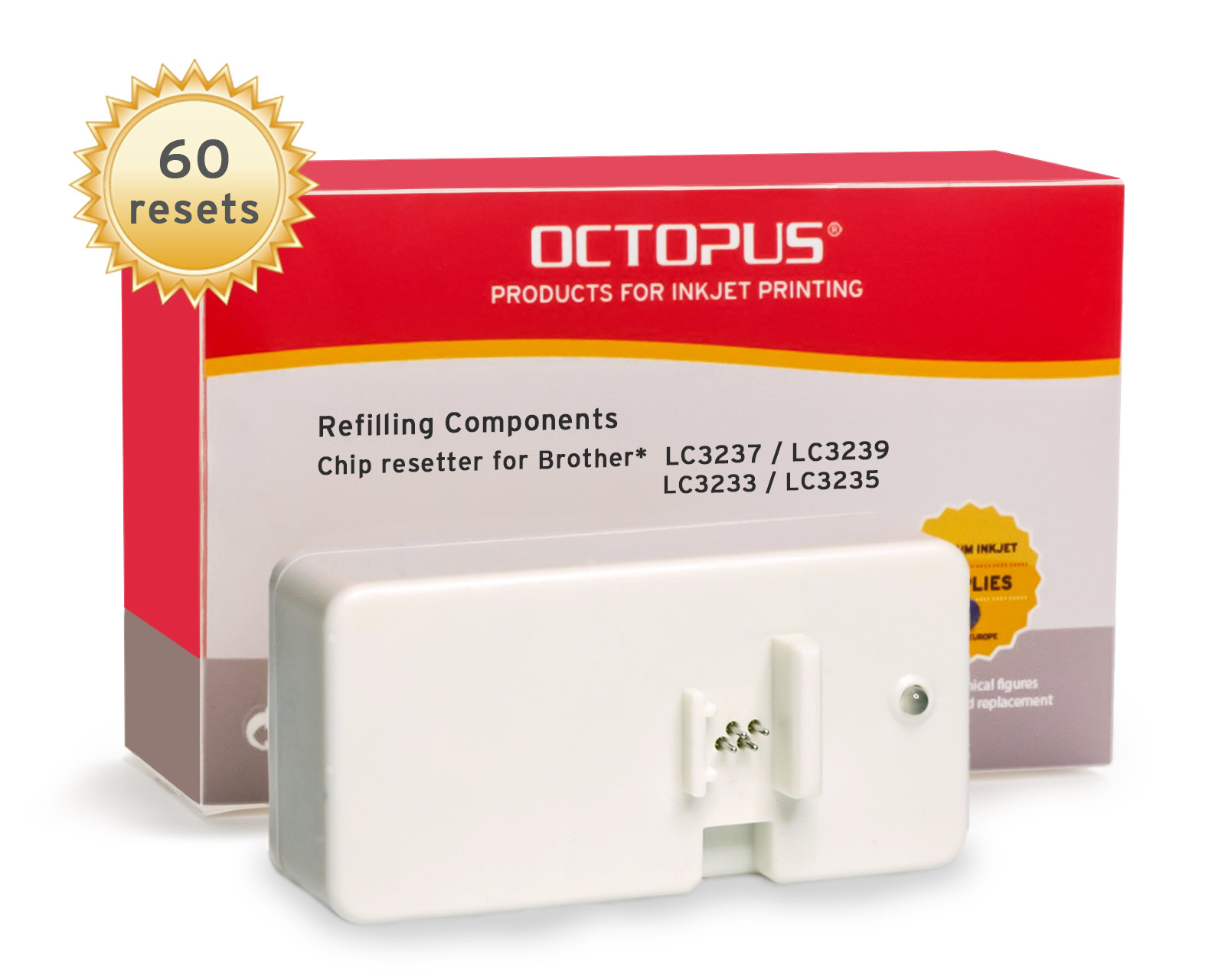 Chipresetter for Brother LC-3237, LC-3239, LC-3233, LC-3235 inkjet cartridges, for 60 Resets
Chip Resetter for resetting Brother LC-3237, LC-3239, LC-3233, LC-3235 und Brother DCP-J 1100, HL-J 6000, HL-J 6100, MFC-J 1300, J 5945, J 6945, J 6947 cartridges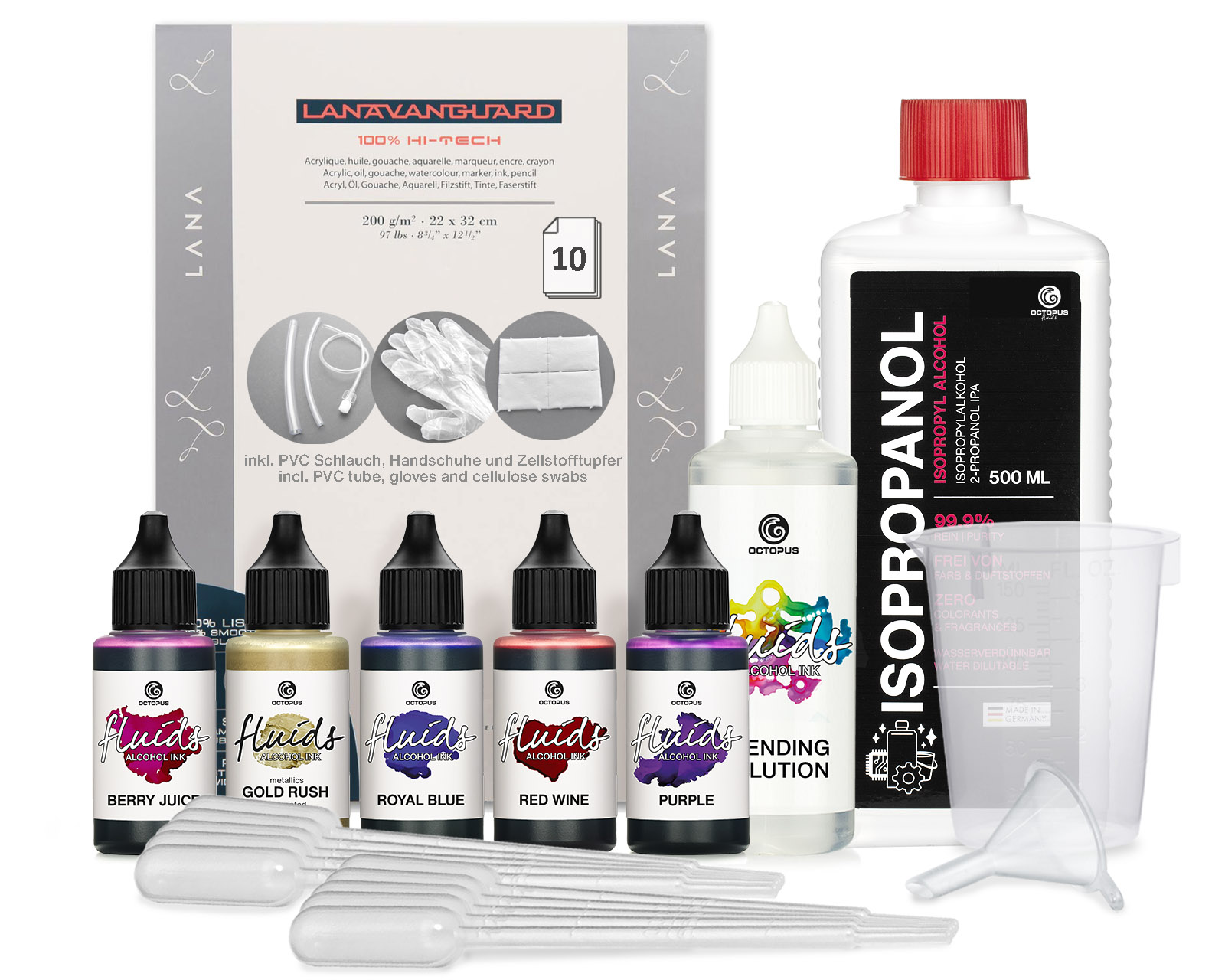 Octopus Fluids Alcohol Ink Complete Kit GOLDEN EVE with Blending Solution, Alcohol Ink Paper and accessoreies for fluid art, 5 x 30 ml
Start now with Alcohol Ink painting with the complete set Octopus Fluids alcohol inks from Germany. 5 colours Alcohol Ink, Blending Solution and all accessories in a set.