Druckkopfreinigung mit Druckkopfreiniger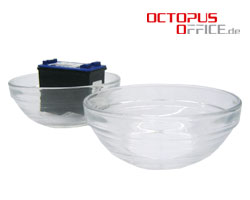 Eine Druckkopfreinigung wird nötig, wenn sich das Druckergebnis ihres Tintenstrahldruckers zusehends verschlechtert. Das kann sich ausdrücken in Form von Streifen, blassen Farben oder gar Auslassen bestimmter Farben.
Das alles kann Ausdruck für eine Verstopfung der Düsen im Druckkopf sein.
Die Ursachen hierfür sind z.B. eine ungünstige, nicht für den Patronentyp geeignete Tinte oder Überlagerung, d.h. wenn sehr selten mit dem Drucker gedruckt wurde kann es passieren, dass die Tinte in den Patronen klumpt oder gar eintrocknet und somit den Druckkopf versstopft.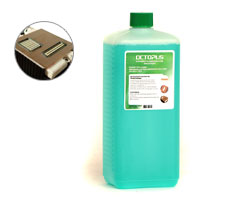 Das heißt nun aber nicht, dass die Druckköpfe unbrauchbar geworden sind. Es besteht die Möglichkeit einer Druckkopfreinigung mit einem wirksamen Druckkopfreinger.
Der Heimanwender benötigt hierfür eine flache Schale und einen sogenannten Druckkopfreiniger. Diesen können Sie auch in unserem Online-Shop in Form eines Konzentrates erwerben.
Man stelle nun die Patronenhalterung (in der normalerweise der Druckkopf integriert ist) oder die Patrone (wenn Patrone und Druckkopf eine Einheit bilden) mit dem Druckkopf nach unten in die Schale und fülle diese mit der Druckkopfreiniger-Lösung bis die kleinen Düsen vollständig mit Wasser bedeckt sind. Nun müssen noch ein paar Tröpfchen der Lösung von oben aufgetröpfelt werden in die Stelle, wo sonst die Patrone eingesetzt wird. Der letzte Schritt entfällt bei Druckerpatronen, bei denen der Druckkopf bereits integriert ist.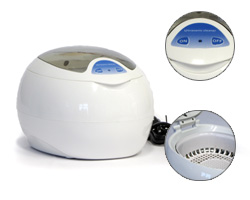 Nun muss der Druckkopf eine ganze Weile in der Lösung stehen, am besten über Nacht. Danach muss der Druckkopfreiniger wieder entfernt werden, also durch Schütteln oder einfaches Auskippen.
Jetzt sollte der Druckkopf samt Patrone wieder in den Drucker eingesetzt und 3-4 Seiten großflächig gedruckt werden.
Sollte das Druckergebnis sich nach der Druckkopfreinigungnicht verbessert haben, können Sie davon ausgehen, dass der Druckkopf defekt ist und ausgetauscht werden muss.
Für Profi-Anwender (Refill-Shops etc.) lohnt sich eine Druckkopfreinigung mit einem Ultraschallgerät. Damit verkürzt sich die Zeit der Druckkopfreinigung auf maximal drei Minuten. Das Prinzip bleibt dasselbe, wird jedoch unterstützt durch Ultraschallwellen, die den Druckkopfreiniger zum Schwingen bringen und sich die Verschmutzungen somit besser lösen.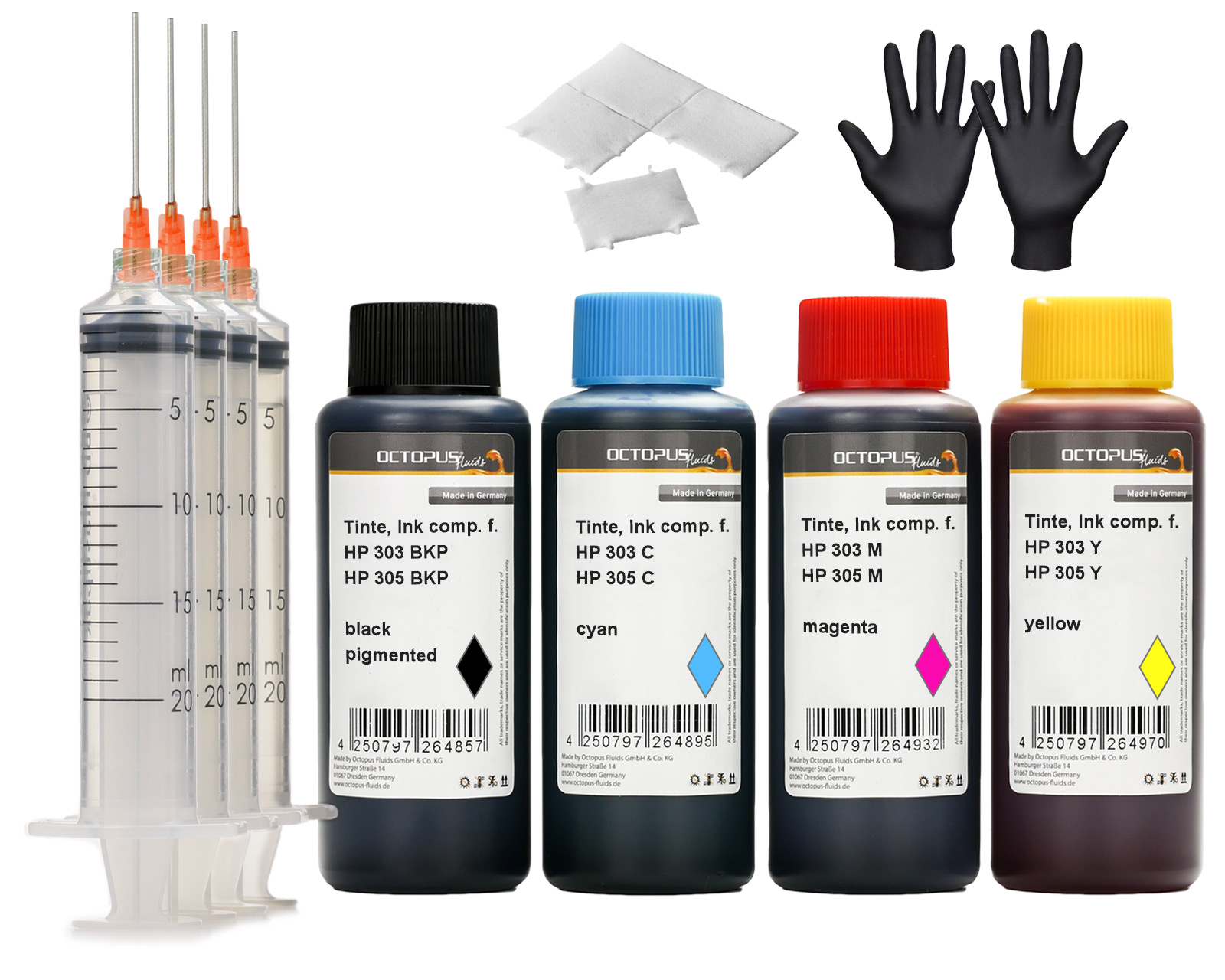 Printer Ink Set for HP 303 and HP 305 Ink cartridges
Printer ink for HP ENVY, Photo 7130, 7134, 6232, 7830, 6230, 6234, 6220, Tango, DeskJet 2700 Series, DeskJet Plus 4100 Series, Envy 6000 Series, Envy Pro 6400 Series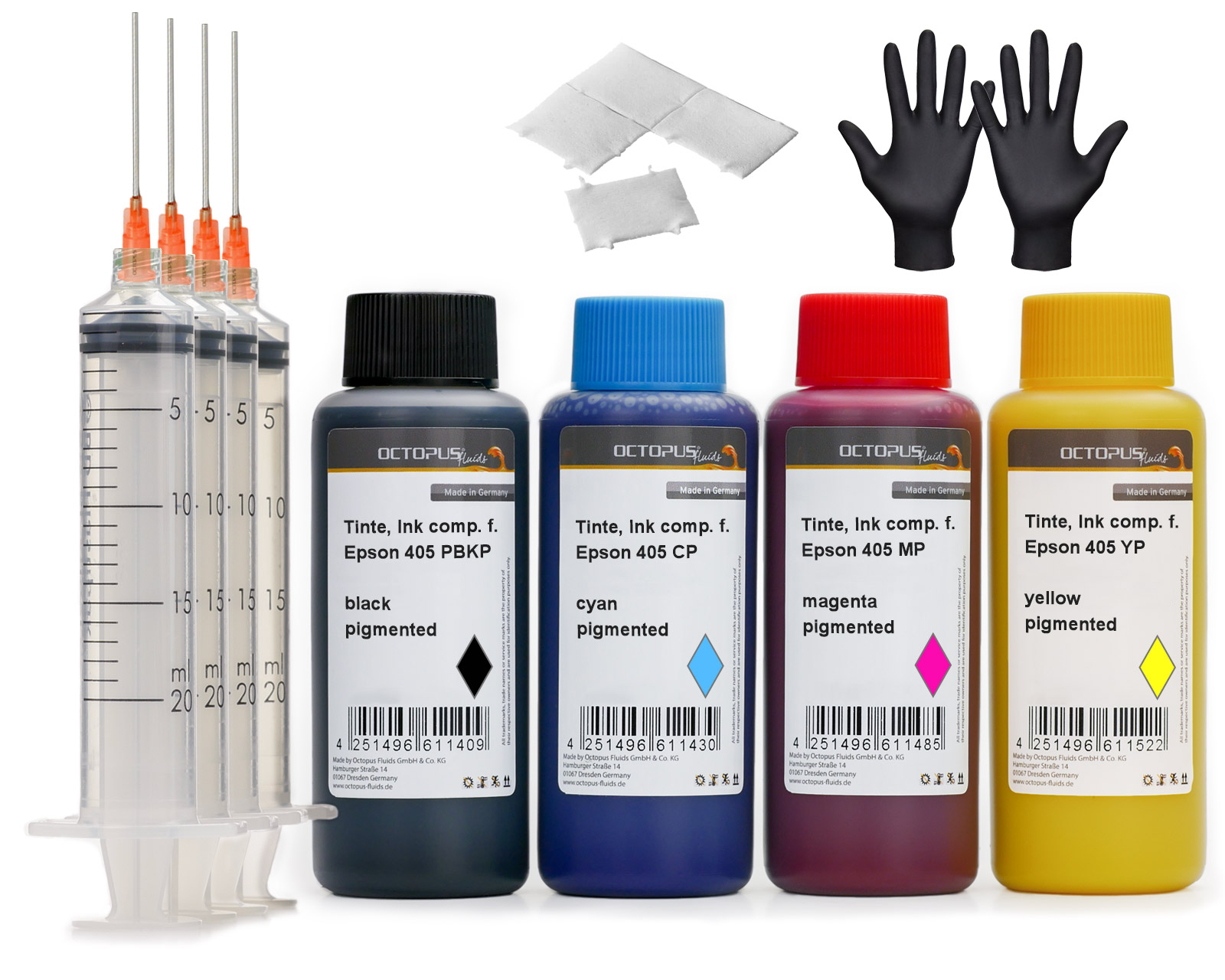 Printer ink set for Epson 405 ink cartridges, WF-3820, WF-4820, WF-7830
Printer ink for Epson WorkForce EC-C 7000, Pro WF-3820, WF-3825, WF-3830, WF-4820, WF-4825, WF-4830, WF-7830, WF-7835, WF-7840, WF-7310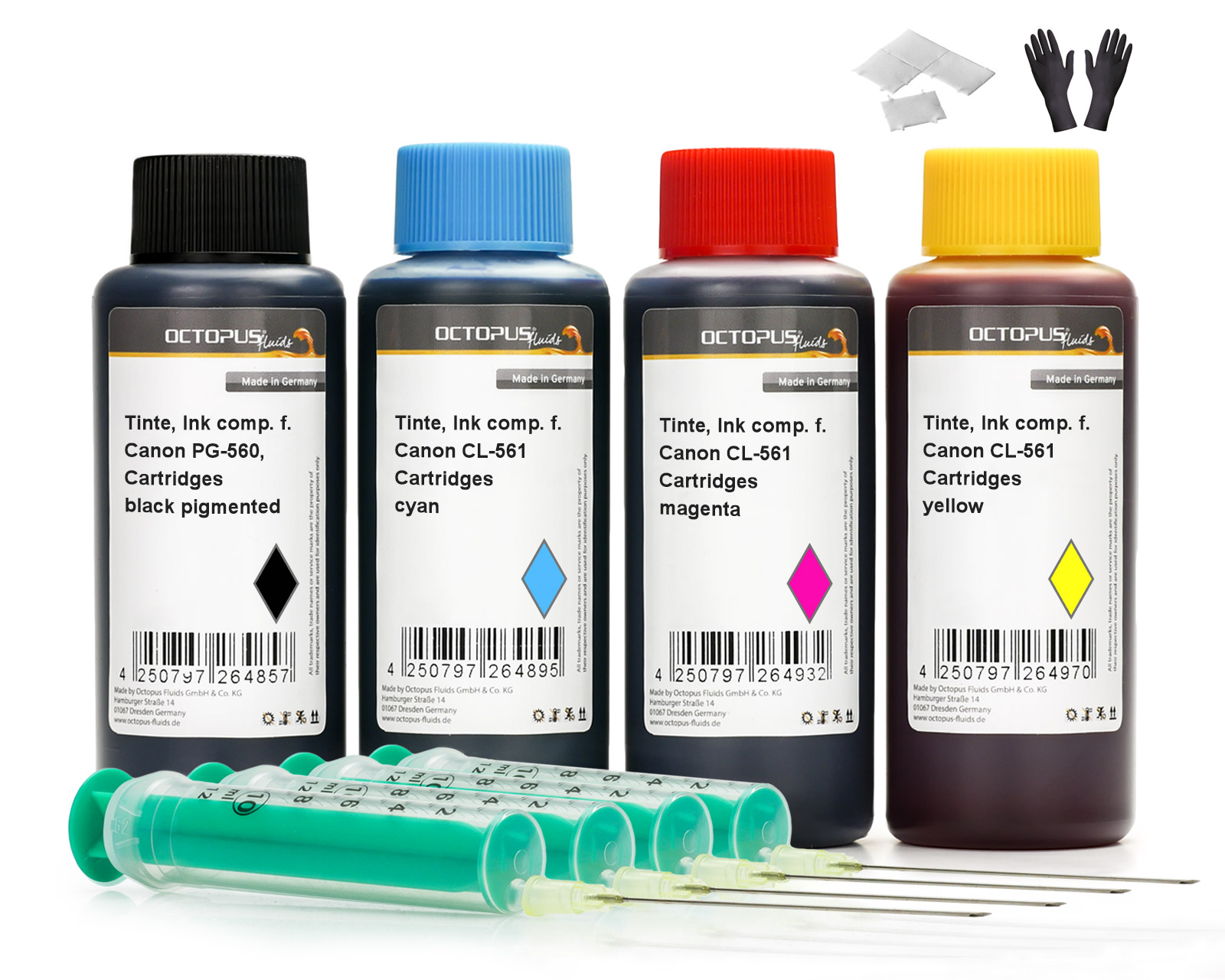 Octopus printer ink set compatible for Canon PG-560, CL-561 ink cartridges, Canon Pixma TS 5300, 7400
Druckertinte für Canon Pixma TS 5300, TS 5350, TS 5350, TS 5351, TS 5352, TS 5353, TS 7400, TS 7450, TS 7450, TS 7451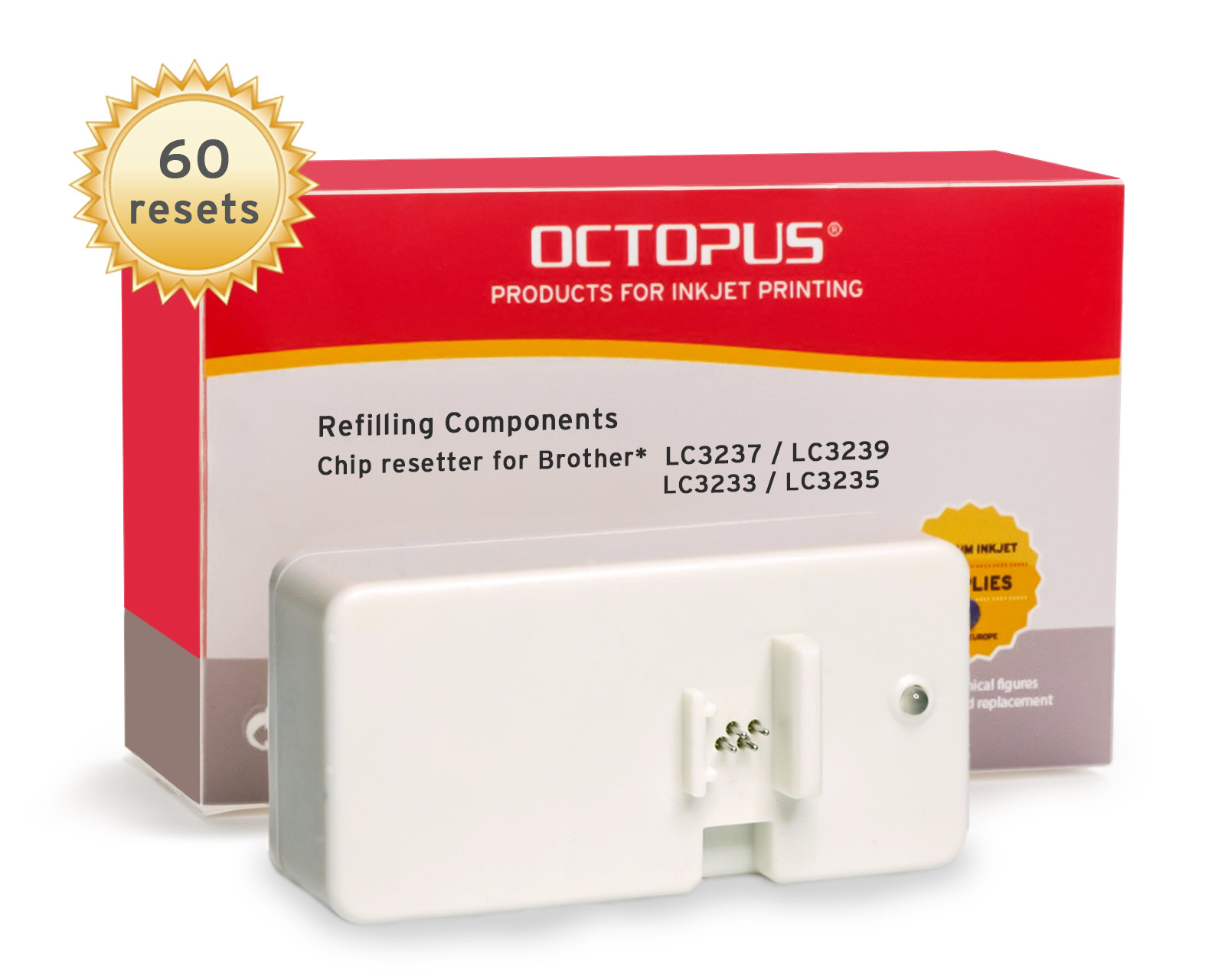 Chipresetter for Brother LC-3237, LC-3239, LC-3233, LC-3235 inkjet cartridges, for 60 Resets
Chip Resetter for resetting Brother LC-3237, LC-3239, LC-3233, LC-3235 und Brother DCP-J 1100, HL-J 6000, HL-J 6100, MFC-J 1300, J 5945, J 6945, J 6947 cartridges
5 x 30 ml Octopus Fluids Alcohol Ink Complete Kit GOLDEN EVE with Blending Solution, Alcohol Ink Paper and accessoreies for fluid art
Start now with Alcohol Ink painting with the complete set Octopus Fluids alcohol inks from Germany. 5 colours Alcohol Ink, Blending Solution and all accessories in a set.