Der Begriff Impact-Drucker ist abgeleitet vom englischen Wort "impact", was so viel wie "Aufschlag, Aufprall" bedeutet.
Als Impact-Drucker werden daher Drucker bezeichnet, die die Farbe mechanisch auf das Druckmedium übertragen. Das geschieht entweder mit Nadeln oder mithilfe eines Typenrades. Das Prinzip wird auch bei Schreibmaschinen verwendet. Dort erzeugen Hämmerchen mit den Schrifttypen über ein Farbband Buchstaben auf dem Papier.
Impact-Drucker sind durch ihre recht einfache Bauweise wartungsfreundlich und erlauben das Drucken von Durchschlägen. Jedoch arbeiten sie sehr laut und sind in ihrer Grafikfähigkeit sehr eingeschränkt. Einige Druckertypen (solche mit Einzelanschlag) sind von Vornherein gar nicht grafikfähig durch feststehende Zeichensätze. Zu nennen sind hier z.B. Typenraddrucker oder Kugelkopfdrucker.
Zu den begrenzt grafikfähigen Impact-Druckern gehören Nadeldrucker, Walzendrucker oder Banddrucker.
Heutzutage werden fast nur noch sogenannte Non-Impact-Drucker verwendet (z.B. Tintenstrahldrucker, Laserdrucker, Thermodrucker, Sublimationsdrucker). Sie arbeiten schneller und bringen bessere Ergebnisse in Bezug auf die Druckqualität.
Impact-Drucker werden heute nur noch verwendet, wenn Durchschläge beim Drucken benötigt werden.
35x 30 ml Octopus Fluids Resin Ink Set, Alcohol Ink for Epoxy Resin and UV Resin
Colour-intensive alcohol ink for colouring epoxy resin and UV resin. Colour-faithful and without brown tint. 35 radiant epoxy resin colours in an economy set.
Chipresetter for Brother LC-3237, LC-3239, LC-3233, LC-3235 inkjet cartridges, for 60 Resets
Chip Resetter for resetting Brother LC-3237, LC-3239, LC-3233, LC-3235 und Brother DCP-J 1100, HL-J 6000, HL-J 6100, MFC-J 1300, J 5945, J 6945, J 6947 cartridges
Refill Ink set for Brother LC-3211, LC-3213 cartridges, CMYK
Set for Brother LC-3211, LC-3213, Brother DCP-J 572, DCP-J 770, DCP-J 772, DCP-J 774, MFC-J 490, MFC-J 491, MFC-J 497, MFC-J 890, MFC-J 895 a.o.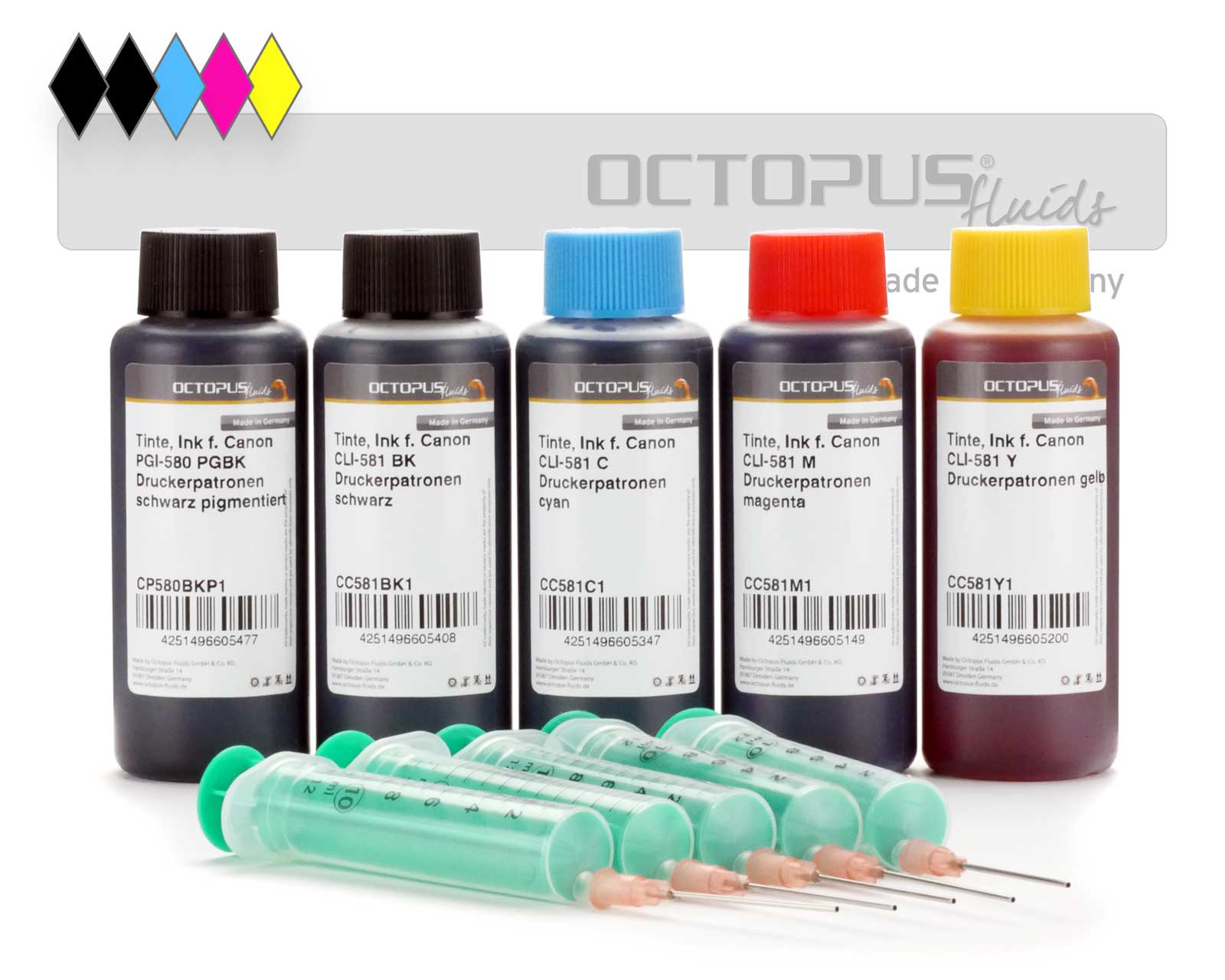 Refill ink kit for Canon PGI-580 PGI-280, CLI-581, CLI-281 inkjet cartridges
Original Printer Cartridge Lexmark 34 xl black.
Refill ink kit for Epson 33, Expression Premium XP-530, XP-630, XP-830 CMYK
Refill inks specifically for Epson 33, Epson Expression Premium XP-530, XP-540, XP-630, XP-635, XP-640, XP-645, XP-830, XP-900, XP-7100 printers. Set comprising 5 ink colours and refill syringes.