Kann man alternative Tinten miteinander vermischen? Wie verhält sich Tinte beim Mischen?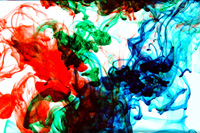 Das ist eine sehr interessante Frage. Diese haben wir unseren Tintenlieferanten gestellt und bekamen folgende Antwort:
Jeder Tintenhersteller (Octopus Fluids, OCP, Sensient usw.) versucht, Tinte zu entwickeln, die der Originaltinte, physikalisch und chemisch so nah wie möglich kommt. Das muß er auch, denn die Tinte soll ja die gleichen Ergebnisse erzielen. ... So weit, so klar....
Klar ist auch, dass es kein Tintenhersteller schafft, die Originaltinte 1 zu 1 nachzubauen. Das wäre so, wie wenn unsere Mutter das Mittagessen 1 zu 1 so kocht, wie das Oma immer getan hat. Aber manche Mütter können es besser, manche schlechter. Zurück zum Thema...
Aber die Tinte kommt dem Original in den meisten Fällen sehr, sehr nah und verträgt sich auch sehr gut mit dem Original. Deshalb ist es kein Problem, wenn in der Patrone noch Reste der Originaltinte verblieben sind und diese mit der Nachfülltinte vermischt werden (nur Premiumtinten!!! Universaltinte ist davon ausgeschlossen).
Jetzt sieht es aber so aus, dass jeder Tintenhersteller zur Ermittlung der besten Rezeptur eigene Herangehensweisen hat. Dies führt dazu, dass fünf Tintenhersteller fünf unterschiedliche Rezepturen entwickeln und nach diesen, mit teilweise unterschiedlichen Rohstoffen, Rohstofflieferanten und Mischungsverhältnissen Tinte herstellen. Alle fünf Hersteller haben ihre Tinte auf beste Kompatibilität zum Original getestet. Also macht es nichts, wenn noch restliche Originaltinte im Behälter ist. Denn diese Tinten vertragen sich gut.
Und jetzt kommt die große Frage, wie verträgt sich die Nachfülltinte mit einer anderen Nachfülltinte???
Kein Laborant, den ich gefragt habe, konnte hier mit absoluter Bestimmtheit eine positive bzw. auch negative Antwort geben. Es wurde noch nicht getestet. Aber jeder Laborant hat mir bestätigt, dass es durchaus zu Komplikationen kommen kann, wenn diese Tinten untereinander gemischt werden. Der Grund liegt in den unterschiedlichen Rezepturen, die nicht aufeinander abgestimmt wurden.

Fazit: Beim Mischen von alternativen Tinten bleibt ein hohes Restrisiko.
Octopus bietet Ihnen vier unterschiedliche Tintensortimente:
Die hochwertige "Octopus Fluids"
Die andere hochwertige "OCP Tinte"
Die Markentinte von "InkTec"
Die billigere "PureInk"
Auch bei diesen Tinten ist nicht auszuschließen, dass es zu Problemen beim Vermischen kommen kann. Deshalb empfehlen wir: Bleiben Sie bei der von Ihnen gewählten Sorte. Häufiges wechseln kann unter bestimmten Umständen zu Komplikationen führen.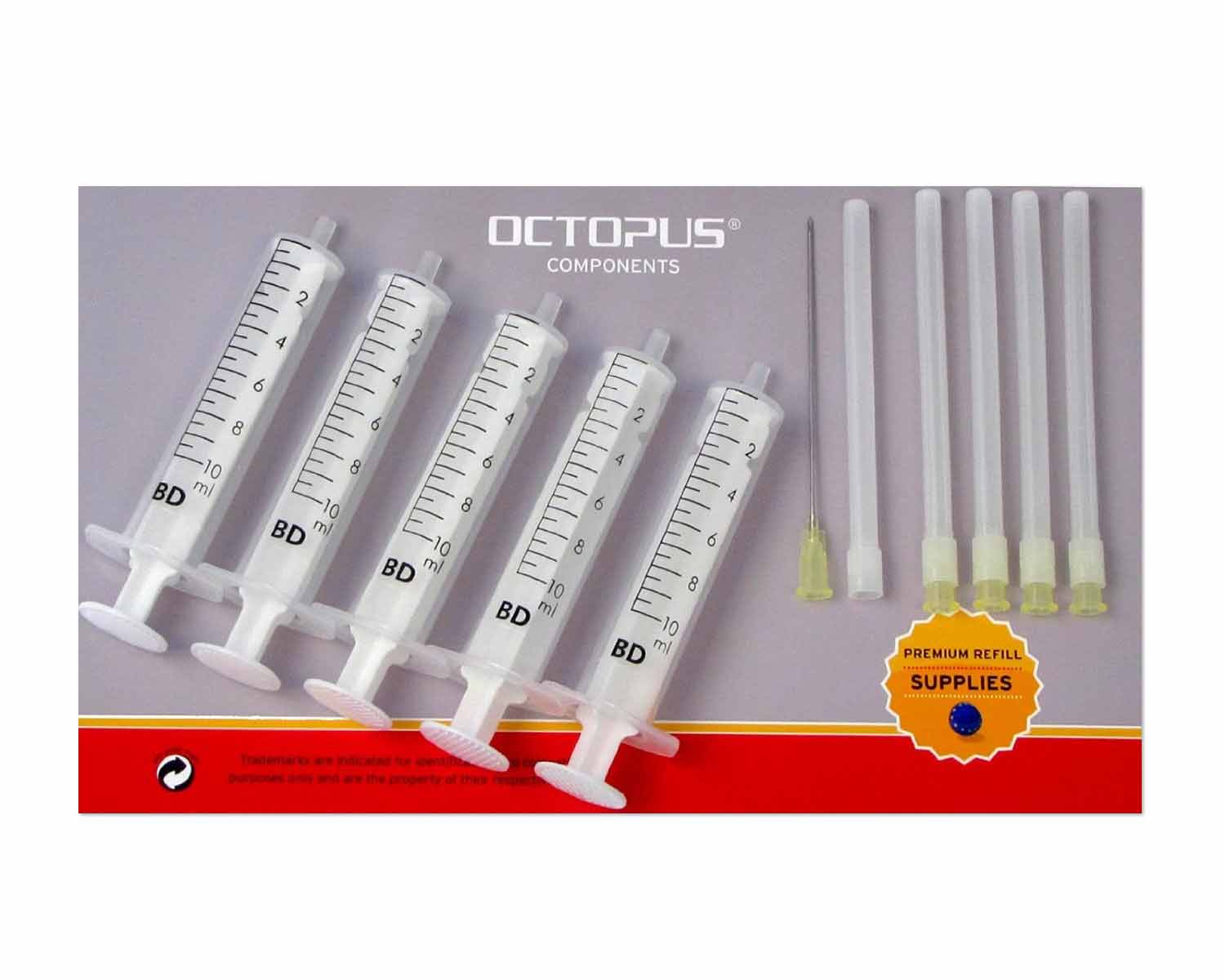 Ink Syringes with Needles (5 pcs.)
Use these Ink Syringes with Needles for an easier Refill of you Printer Ink Cartridges.
QU-Fill™ PROFI for HP® 932, 950, 953, 970, 980 and Primera spring valve cartridges, brass
QU-FILL Profi* refill tool for Primera 053464, 053461, 053462, 053463 and HP® 932, 950, 953, 970, 980 dof solid brass for ball valve cartridges. Endless durability.
Set with chip resetter for Canon PGI-570, CLI-571 inkjet cartridges and 5x refill ink
Der Canon Chipresetter für PGI-570 und CLI-571 mit Tinte für Pixma MG 5700, MG 6800 und TS 5000, TS6000 Drucker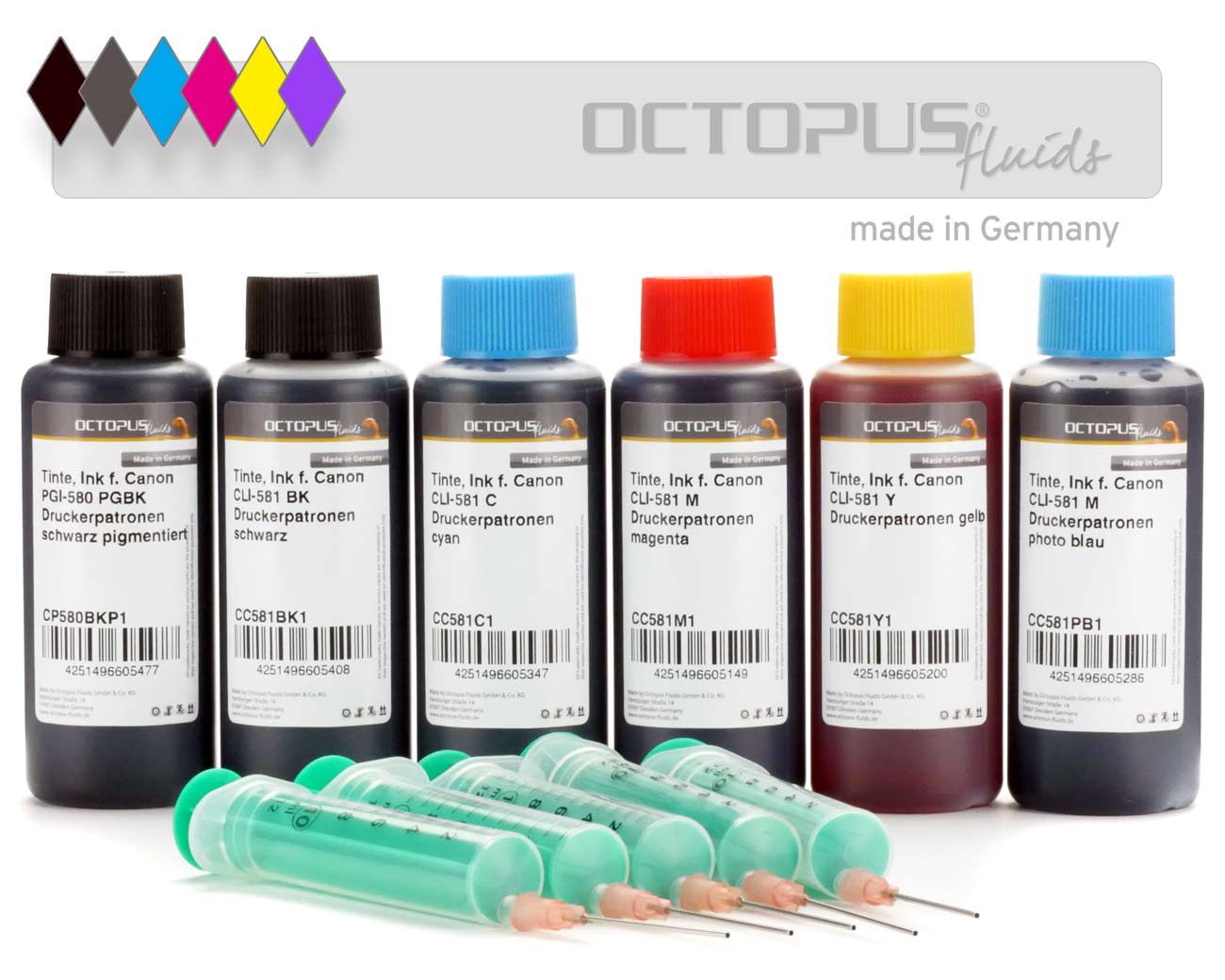 Refill ink kit for Canon PGI-580 PGI-280, CLI-581, CLI-281 with photo blue
Druckertinten für Canon Pixma TS 8120, TS 8126, TS 8150, TS 8151, TS 8152, TS 9120, TS 9150, TS 9155
Refill ink kit for Epson 104, EcoTank ET-2710, ET-2711, ET-4700 CMYK
Refill inks specifically for Epson EcoTank ET-2710, ET-2710 Series, ET-2711, ET-2712, ET-2714, ET-2715, ET-2720, ET-2721, ET-2726, ET-4700 printers. Set comprising four ink colours and refill syringes.
Refill Ink set for HP 30, 31, 32 Smart Tank 315, 450, 455, 457, 550, 555, 559, 570, 655, CMYK
Refill ink set for HP 30, 31, 32 XL HP Smart Tank 315, Wireless 450, Wireless 455, Wireless 457, Plus 550, Plus 555, Plus 559, Plus 570, Plus 655 a.o.