Die Rasterung bezeichnet in der Drucktechnik, das Umsetzen von Bilddaten in ein Druckraster.
Der Einsatz eines Druckrasters ist ein Verfahren der Druckvorstufe innerhalb der Drucktechnik.
Druckmaschinen haben zumeist eine bestimmte, sehr begrenzte Auswahl von Farben, die sie ausschließlich rein drucken können. Die meisten Druckverfahren können somit keine Halbtöne darstellen (abgesehen beispielsweise vom tiefenvariablen oder flächentiefenvariablen Tiefdruck und NIP-Verfahren). Das Problem ist, dass an einer Stelle entweder ein Farbpunkt gedruckt werden kann oder nicht. Es kann nicht gesteuert werden, ob wenig oder viel Farbe an einem Bildpunkt verdruckt wird. Als Lösung werden Texte, Bilder und Grafiken ? sofern diese nicht ausschließlich aus den reinen Druckfarben bestehen ? zur Darstellung verschiedener Graustufen oder Farbtöne gerastert. Um Mischungen zwischen den Druckfarben oder verschiedene Helligkeiten dieser darstellen zu können, werden dabei sehr feine Druckpunkte der Farben nebeneinander/übereinander gedruckt, um den gewünschten resultierenden Farbeindruck zu erzielen.
Beim Rastern werden Bilddaten in spezifizierte Druckdaten umgesetzt. Dabei werden aus Halbtonvorlagen binäre Informationen (drucken/nicht drucken) errechnet. Der Eindruck von Farbtonwerten und Graustufen wird durch eine geeignete Anordnung von Volltonpunkten (Rasterpunkten) erreicht.
Wurden vor ca. 30 Jahren Rastereffekte mittels Glasgravurraster oder speziellen Rasterfilmfolien erreicht, werden heute spezielle Imagesetter (Laserbelichter) die mit einer extra dafür entwickelten Software, dem ?RIP? (Raster Image Processor) arbeiten, verwendet. Beim RIP-Prozess werden generierte Daten (PS oder PDF-Dateien etc.) in druckfähige Pixel-(Bilder) oder Vektordaten (Line-Work) umgewandelt.
Je nach technischen Gegebenheiten ist es möglich bzw. notwendig, verschiedene Arten der Rasterung anzuwenden.
Auf einer Fläche von zum Beispiel 16x16 Belichterpunkten wird ein Halbtonpixel zusammengesetzt. Je mehr Belichterpixel sich auf diesem 16er Quadrat befinden, um so dunkler wirkt die Stelle. Sind jedoch nur weniger Belichterpunkte in dem Quadrat versammelt wirkt die Stelle aus der Entfernung hell.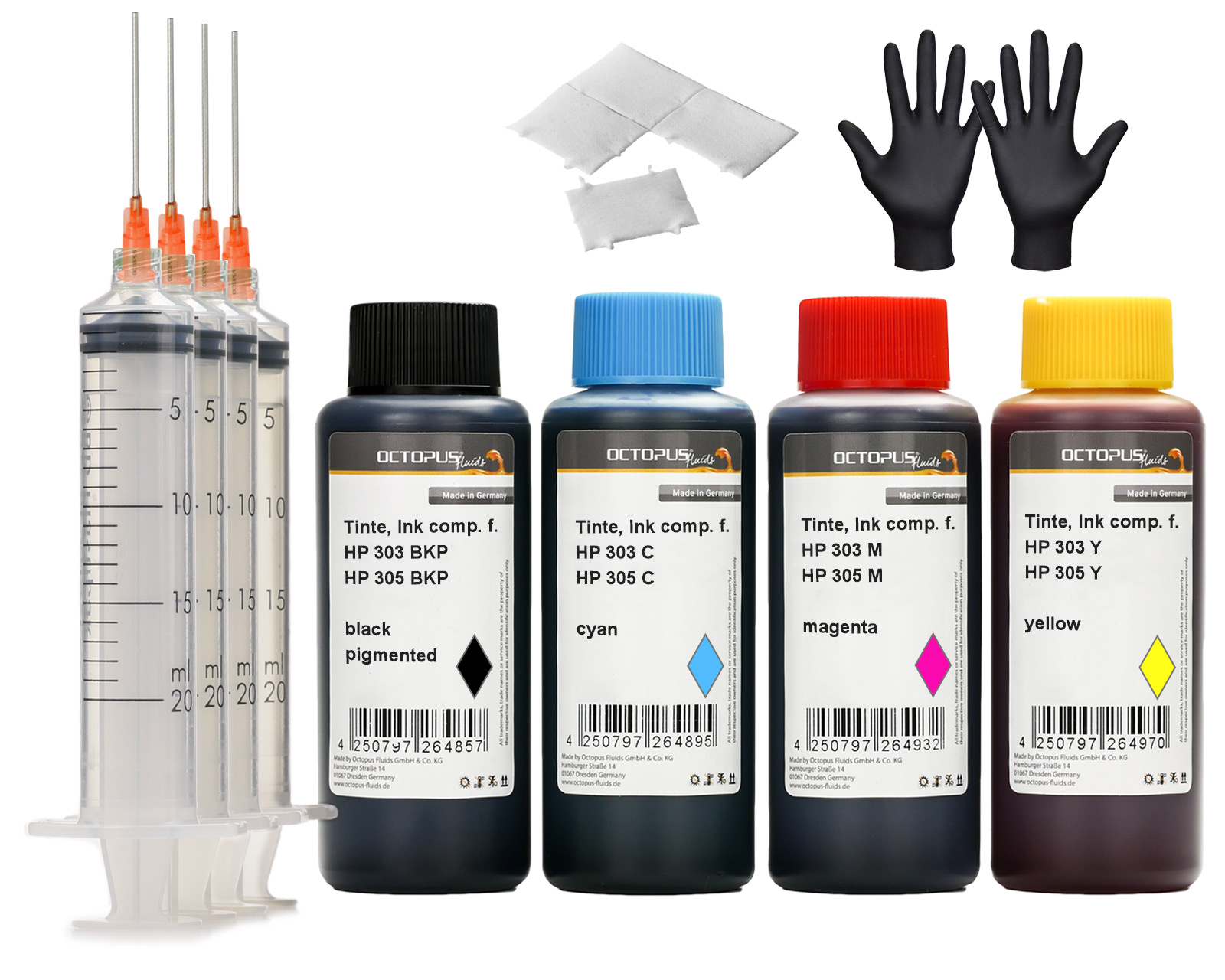 Printer Ink Set for HP 303 and HP 305 Ink cartridges
Printer ink for HP ENVY, Photo 7130, 7134, 6232, 7830, 6230, 6234, 6220, Tango, DeskJet 2700 Series, DeskJet Plus 4100 Series, Envy 6000 Series, Envy Pro 6400 Series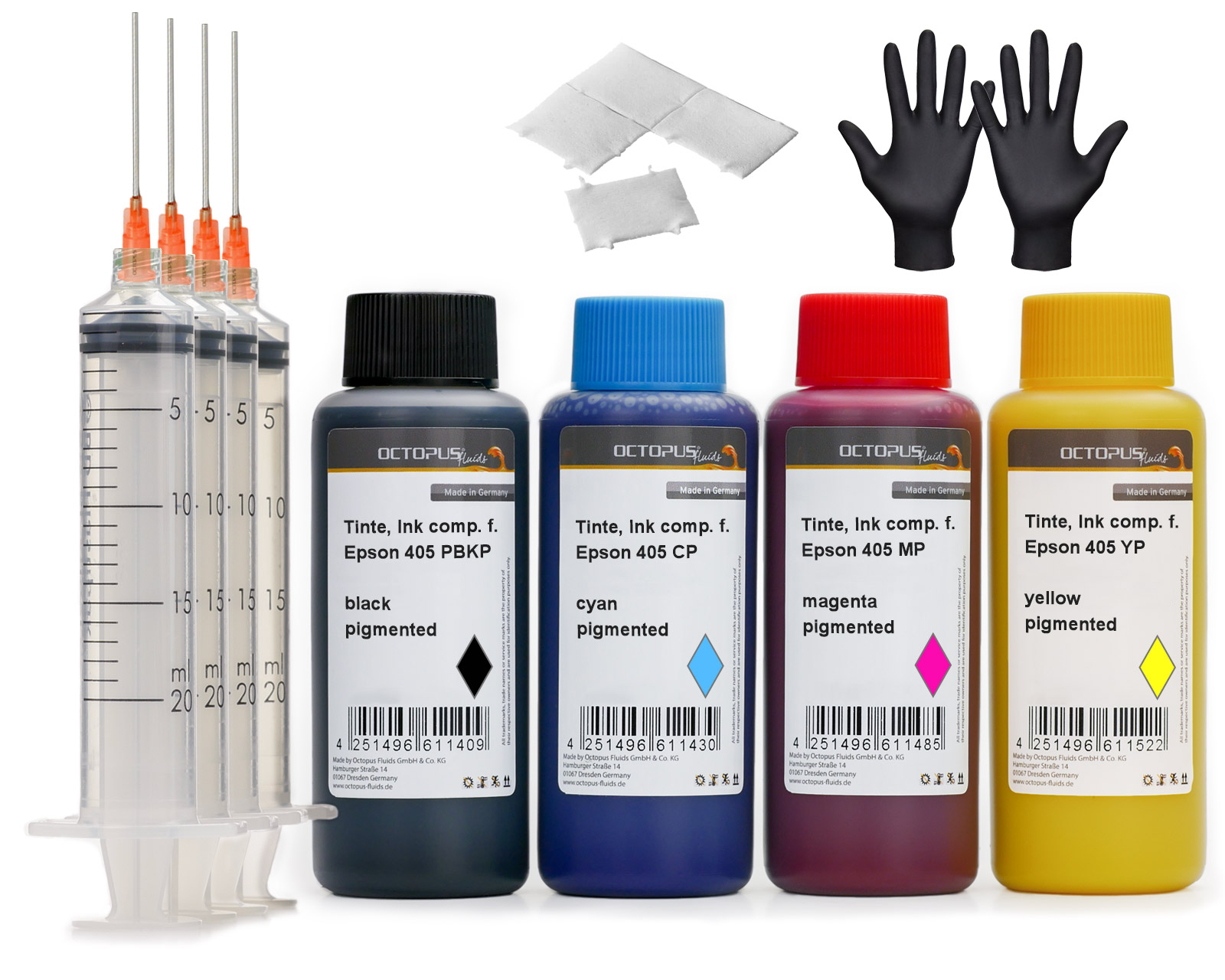 Printer ink set for Epson 405 ink cartridges, WF-3820, WF-4820, WF-7830
Printer ink for Epson WorkForce EC-C 7000, Pro WF-3820, WF-3825, WF-3830, WF-4820, WF-4825, WF-4830, WF-7830, WF-7835, WF-7840, WF-7310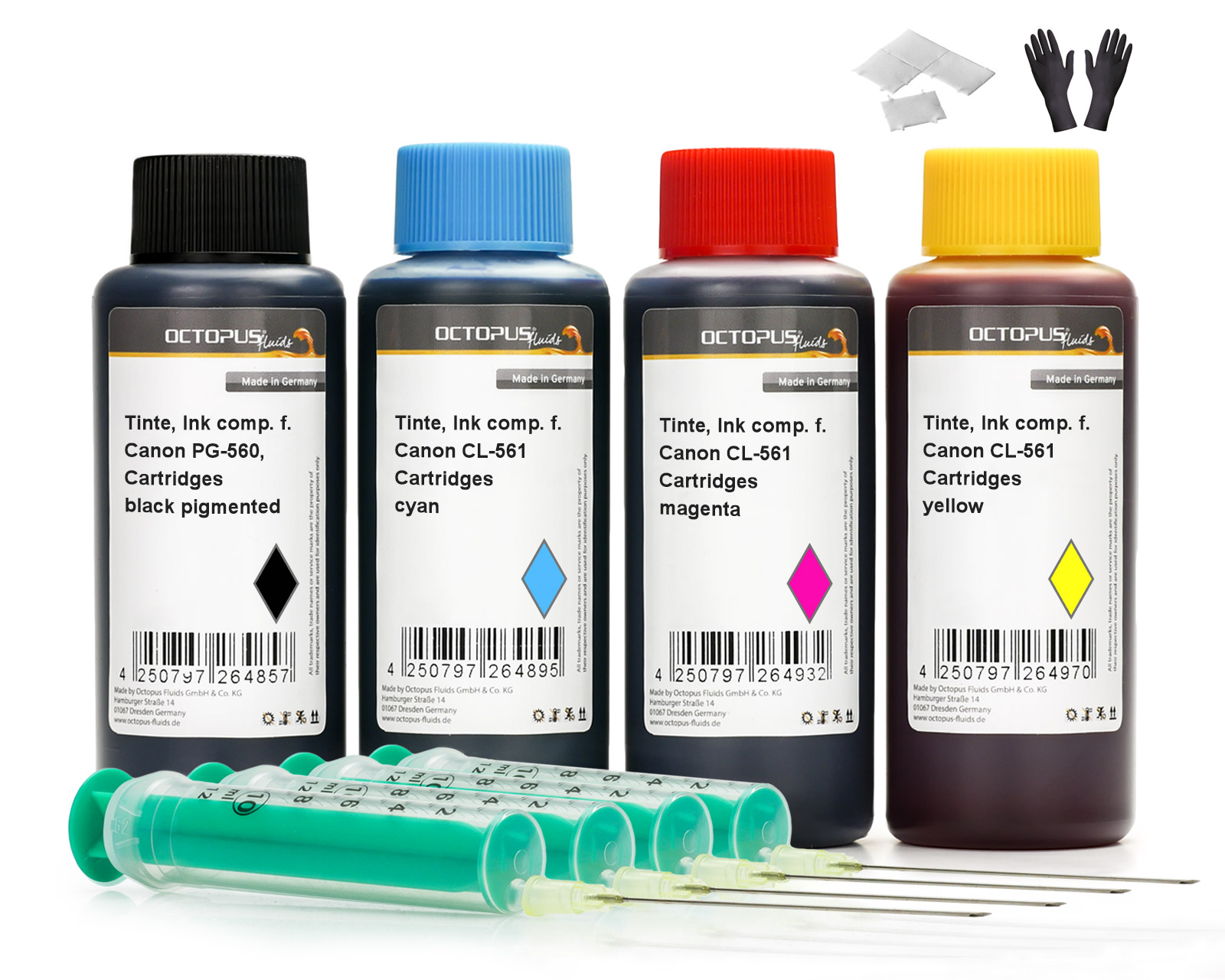 Octopus printer ink set compatible for Canon PG-560, CL-561 ink cartridges, Canon Pixma TS 5300, 7400
Druckertinte für Canon Pixma TS 5300, TS 5350, TS 5350, TS 5351, TS 5352, TS 5353, TS 7400, TS 7450, TS 7450, TS 7451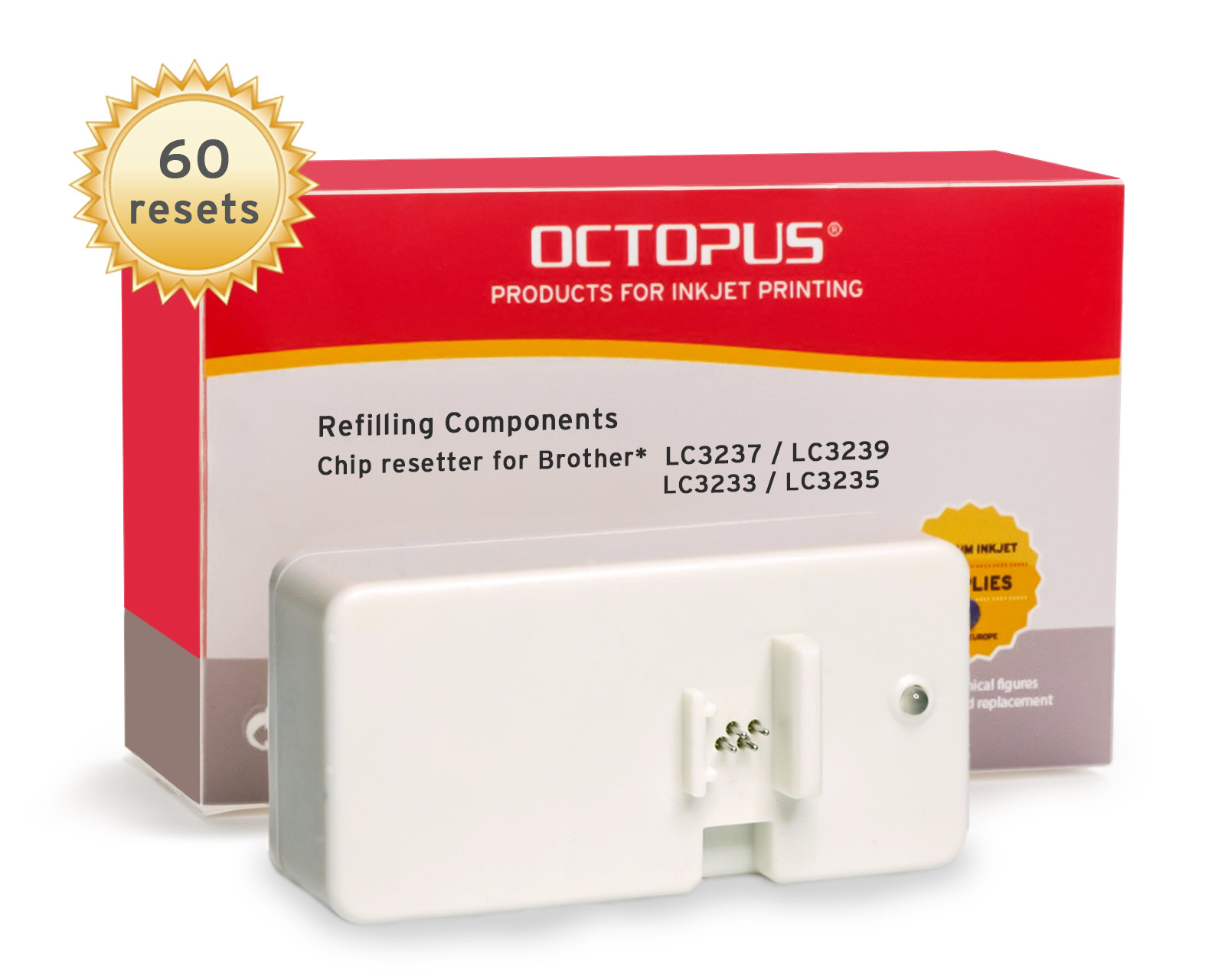 Chipresetter for Brother LC-3237, LC-3239, LC-3233, LC-3235 inkjet cartridges, for 60 Resets
Chip Resetter for resetting Brother LC-3237, LC-3239, LC-3233, LC-3235 und Brother DCP-J 1100, HL-J 6000, HL-J 6100, MFC-J 1300, J 5945, J 6945, J 6947 cartridges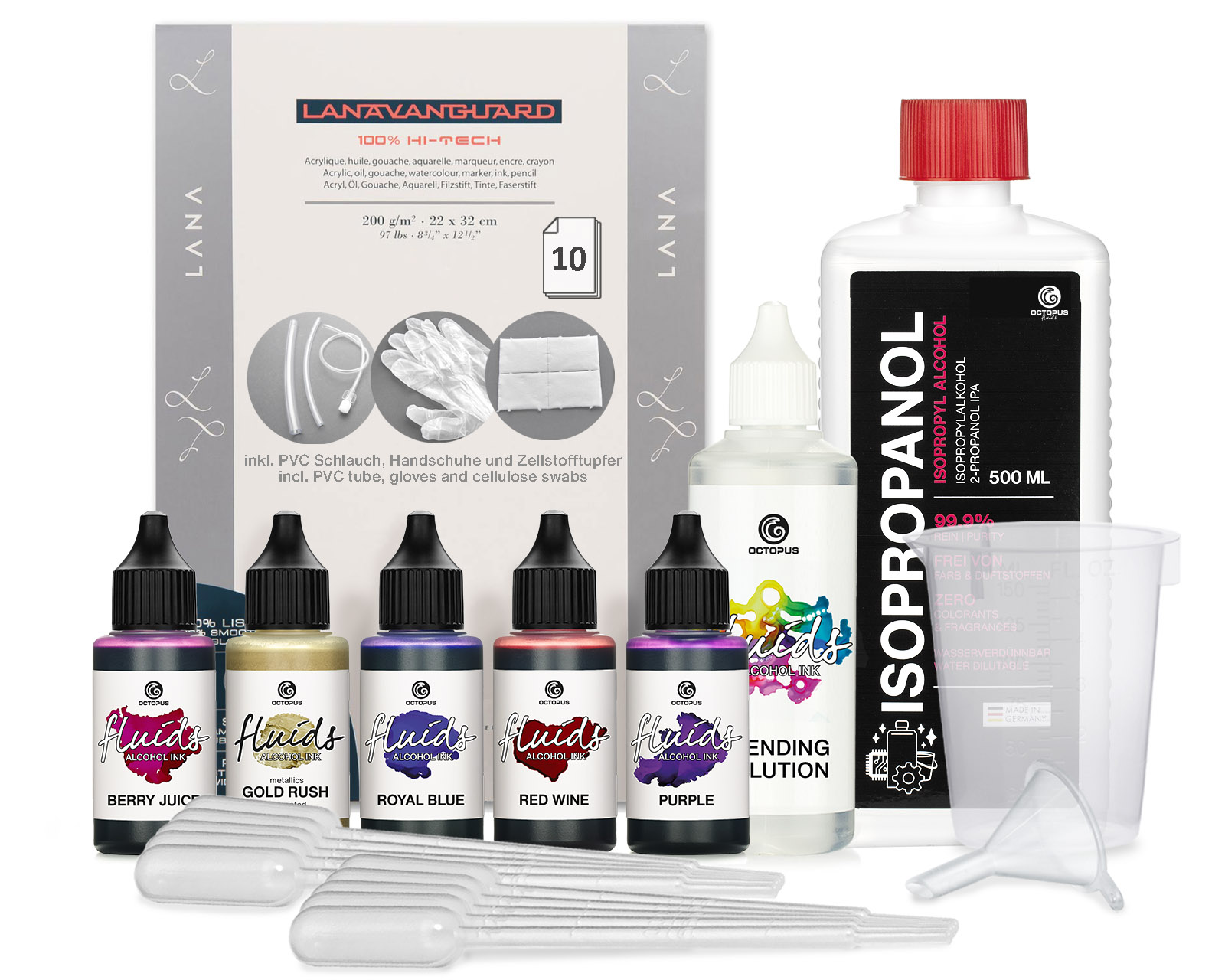 Octopus Fluids Alcohol Ink Complete Kit GOLDEN EVE with Blending Solution, Alcohol Ink Paper and accessoreies for fluid art, 5 x 30 ml
Start now with Alcohol Ink painting with the complete set Octopus Fluids alcohol inks from Germany. 5 colours Alcohol Ink, Blending Solution and all accessories in a set.