USB steht für "Universal Serial Bus" und ist eine serielle Schnittstelle, über die externe Geräte, wie z.B. Drucker, an einen Computer angeschlossen werden können.
Entwickelt wurde das System von der Firma Intel und 1996 auf den Markt gebracht. Der USB stellt eine Abwandlung des IEEE-1394 (der sogenannten FireWire) dar, die im Gegensatz zum USB auch außerhalb von Computern Anwendung findet.

An die USB-Schnittstellen eines Computers (die sog. Ports) können über Hubs theoretisch bis zu 127 Geräte angeschlossen werden, wobei jeder Hub jedoch schon als ein Gerät angesehen wird. So ergibt sich eine reale Menge von 127 minus Anzahl der eingesetzten Hubs.
Die erste Generation von USB Anschlüssen (1.x) hatte eine Datenübertragungsrate von 1,5 MB/s (low speed) bis zu 12 MB/s (full speed). Damit lagen diese Anschlüsse in Sachen Geschwindigkeit jedoch weit hinter den FireWires (400 MB/s) zurück, waren aber für weniger anspruchsvolle Applikationen wie Scanner und Drucker, Tastaturen und Mäuse durchaus ausreichend.

Seit dem Jahr 2000 ist die neue Generation USB 2.0 auf dem Markt, die Datenübertragungsraten von bis zu 480 MB/s (high speed) bietet, was die Raten von FireWire übertrifft. Diese Geschwindigkeiten sind ausreichend um auch anspruchsvollere Applikationen wie externe Festplatten anschließen zu können. Nach Abzug von Overhead liegt die effektive Rate des USB 2.0 jedoch nur noch bei 320 MB/s.

USB-Schnittstellen sind, anders als FireWire, in der Lage, angeschlossene Geräte mit Strom zu speisen. Jedoch ist die Summe des angelegten Stromes, je nach Ausführung, auf 100 bis 500 mA begrenzt. Geräte mit einem höheren Bedarf müssen durch eine eigen Stromversorgung extern gespeist werden.

Im Jahre 2003 legte FireWire dann in Sachen Geschwindigkeit nach und brachte FireWire 800 heraus, welches Datenübertragungsraten von bis zu 3200 MB/s bietet. Nach wie vor gilt jedoch, dass FireWire durch aufwändigere Technik immer noch teurer ist als USB.
35x 30 ml Octopus Fluids Resin Ink Set, Alcohol Ink for Epoxy Resin and UV Resin
Colour-intensive alcohol ink for colouring epoxy resin and UV resin. Colour-faithful and without brown tint. 35 radiant epoxy resin colours in an economy set.
Chipresetter for Brother LC-3237, LC-3239, LC-3233, LC-3235 inkjet cartridges, for 60 Resets
Chip Resetter for resetting Brother LC-3237, LC-3239, LC-3233, LC-3235 und Brother DCP-J 1100, HL-J 6000, HL-J 6100, MFC-J 1300, J 5945, J 6945, J 6947 cartridges
Refill Ink set for Brother LC-3211, LC-3213 cartridges, CMYK
Set for Brother LC-3211, LC-3213, Brother DCP-J 572, DCP-J 770, DCP-J 772, DCP-J 774, MFC-J 490, MFC-J 491, MFC-J 497, MFC-J 890, MFC-J 895 a.o.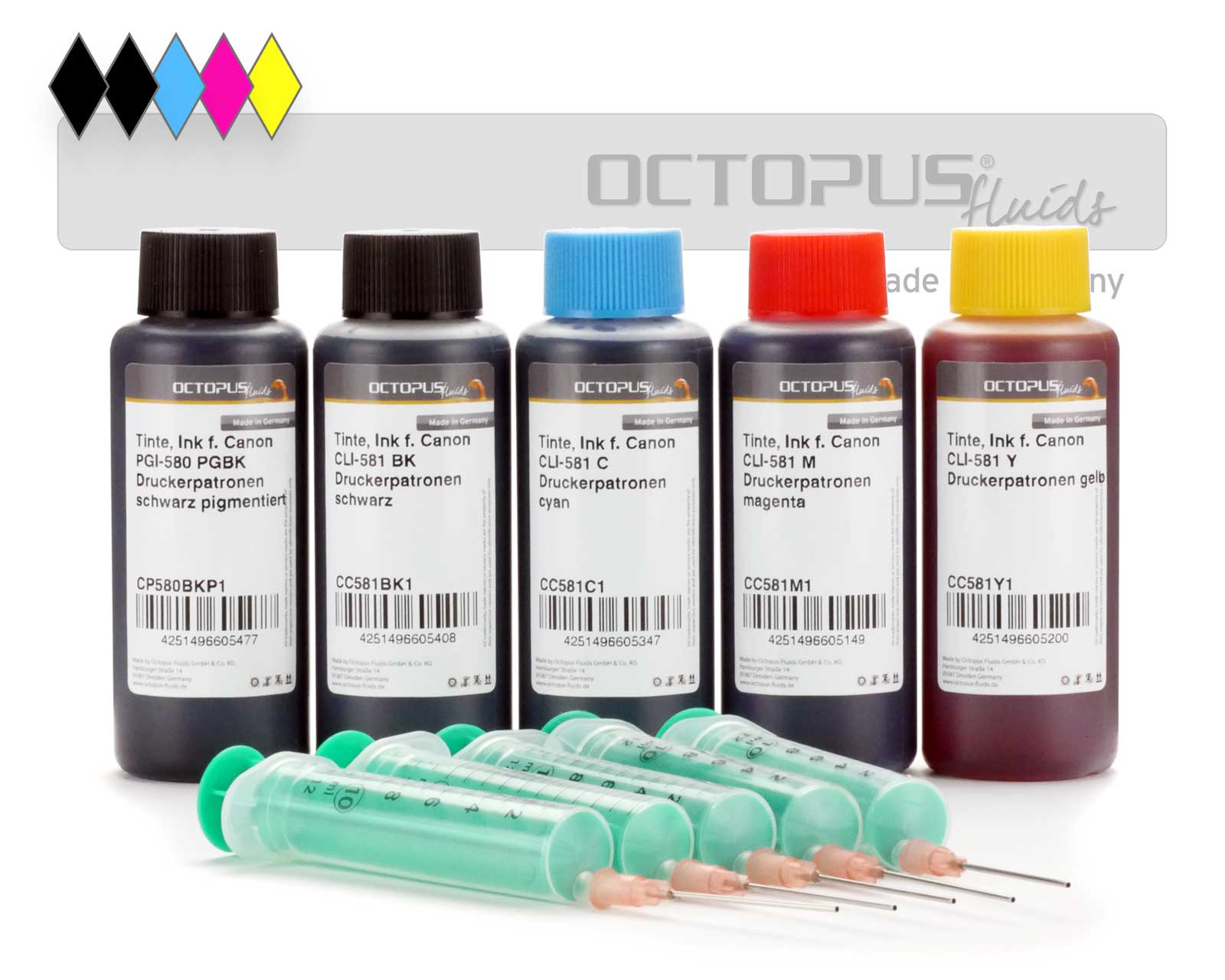 Refill ink kit for Canon PGI-580 PGI-280, CLI-581, CLI-281 inkjet cartridges
Original Printer Cartridge Lexmark 34 xl black.
Refill ink kit for Epson 33, Expression Premium XP-530, XP-630, XP-830 CMYK
Refill inks specifically for Epson 33, Epson Expression Premium XP-530, XP-540, XP-630, XP-635, XP-640, XP-645, XP-830, XP-900, XP-7100 printers. Set comprising 5 ink colours and refill syringes.