Druckerpatronen Nachfüllen
Mittlerweile haben sich zahlreiche Profi-Refiller sehr professionell in das Druckerpatronen Nachfüllen mittels Nachfülltinte eingearbeitet.
Das Nachfüllen von Druckerpatronen mit Nachfülltinte ist bei den meisten InkJet Druckern kein großes Problem. Nachfülltinte wird für jeden erdenklichen Druckertyp am Markt angeboten. Die Preise dafür liegen weit unter dem Preis einer Original-Druckerpatrone. So ist es möglich, das Nachfüllen im Vergleich zu Original-Druckerpatronen um bis zu 80% günstiger anzubieten.
Nichtsdestotrotz sollten beim Druckerpatronen Nachfüllen verschiedene Dinge beachtet werden. So beginnt ein erfolgreiches Nachfüllen mit der richtigen Auswahl der entsprechenden Tinte.

Druckerhersteller sind bestrebt, nicht nur Ihre eigenen Geräte, sondern ebenso im Folgegeschäft ihre originalen Druckerpatronen an den Mann zu bringen. Das bedeutet, dass das Durckerpatronen Nachfüllen so stark wie möglich erschwert werden soll.
Das geschieht über gewisse Sicherungsmethoden, wie z.B. Chips, die beim Nachfüllen ausgewechselt werden müssen. Auch die fehlenden Standards tragen dazu bei. Die Hersteller von Druckerpatronen versuchen hierbei die Drucksysteme so kompliziert wie möglich zu gestalten, sodass nur spezielle Tinten für den jeweiligen Druckertyp verwendet werden können.
Für den Endverbraucher bedeutet das, dass er weder jede beliebige Nachfülltinte erwerben sollte noch eine Universaltinte für alle Druckermodelle zur Verfügung hat.
Im Gegenteil, für ein erfolgreiches Druckerpatronen Nachfüllen sollten die Tinten speziell für das jeweilige Patronenmodell tauglich sein. Man kann natürlich auch Universaltinte verwenden, jedoch sind die Druckergebnisse bei weitem nicht befriedigend. Zudem kann die Tinte der Druckerpatrone schaden, das heißt, sie könnte verstopfen oder einfach kaputt gehen.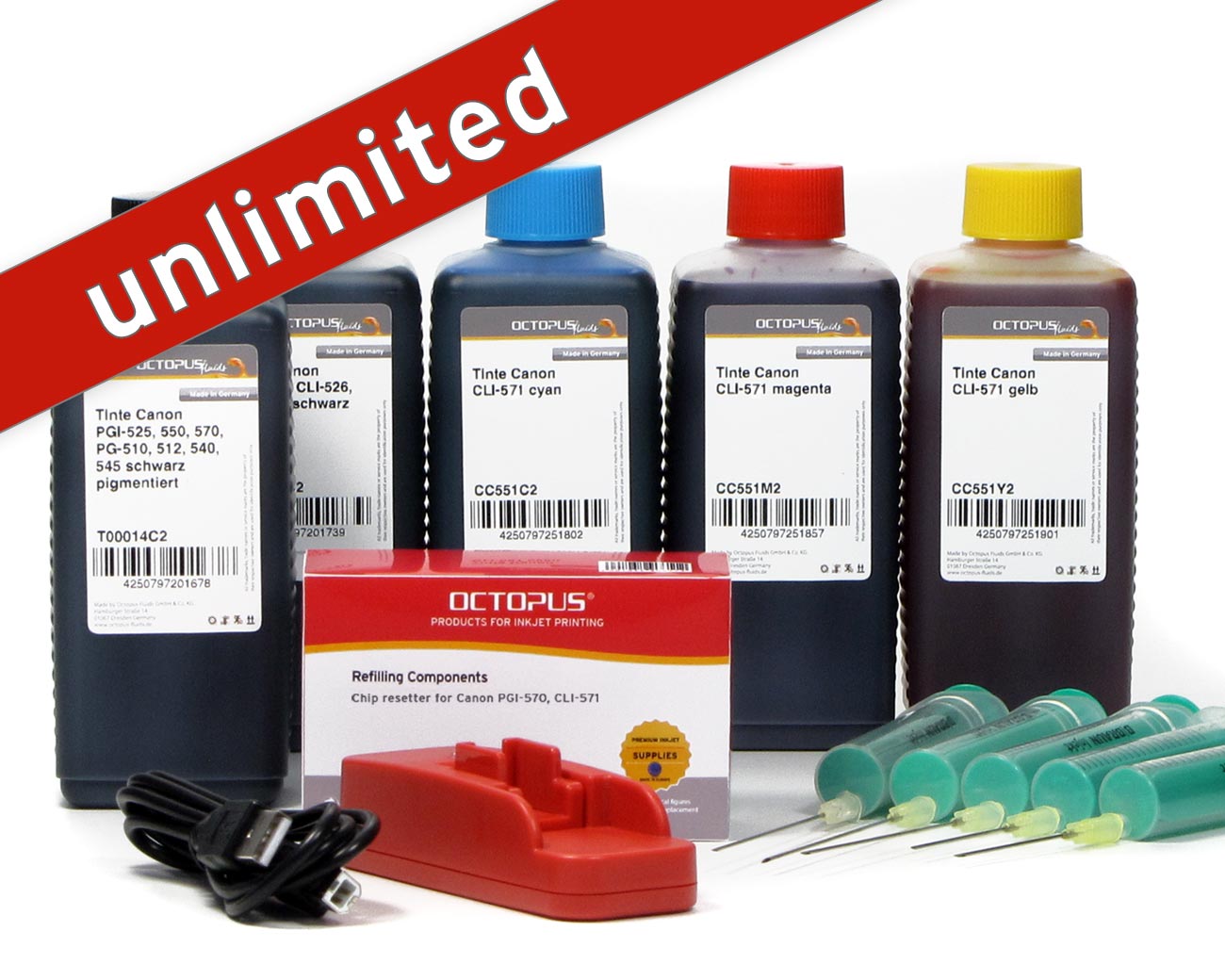 Set with chip resetter for Canon PGI-570, CLI-571 inkjet cartridges and 5x refill ink
Reset and refill Canon PGI-570 and Canon CLI-571 printer cartridges, unlimited Chipresetter
Chipresetter for Canon PGI-550, CLI-551 inkjet cartridges with 5x refill ink
Reset and refill Canon PGI-550 and Canon CLI-551 printer cartridges, this Chipresetter is for unlimited resets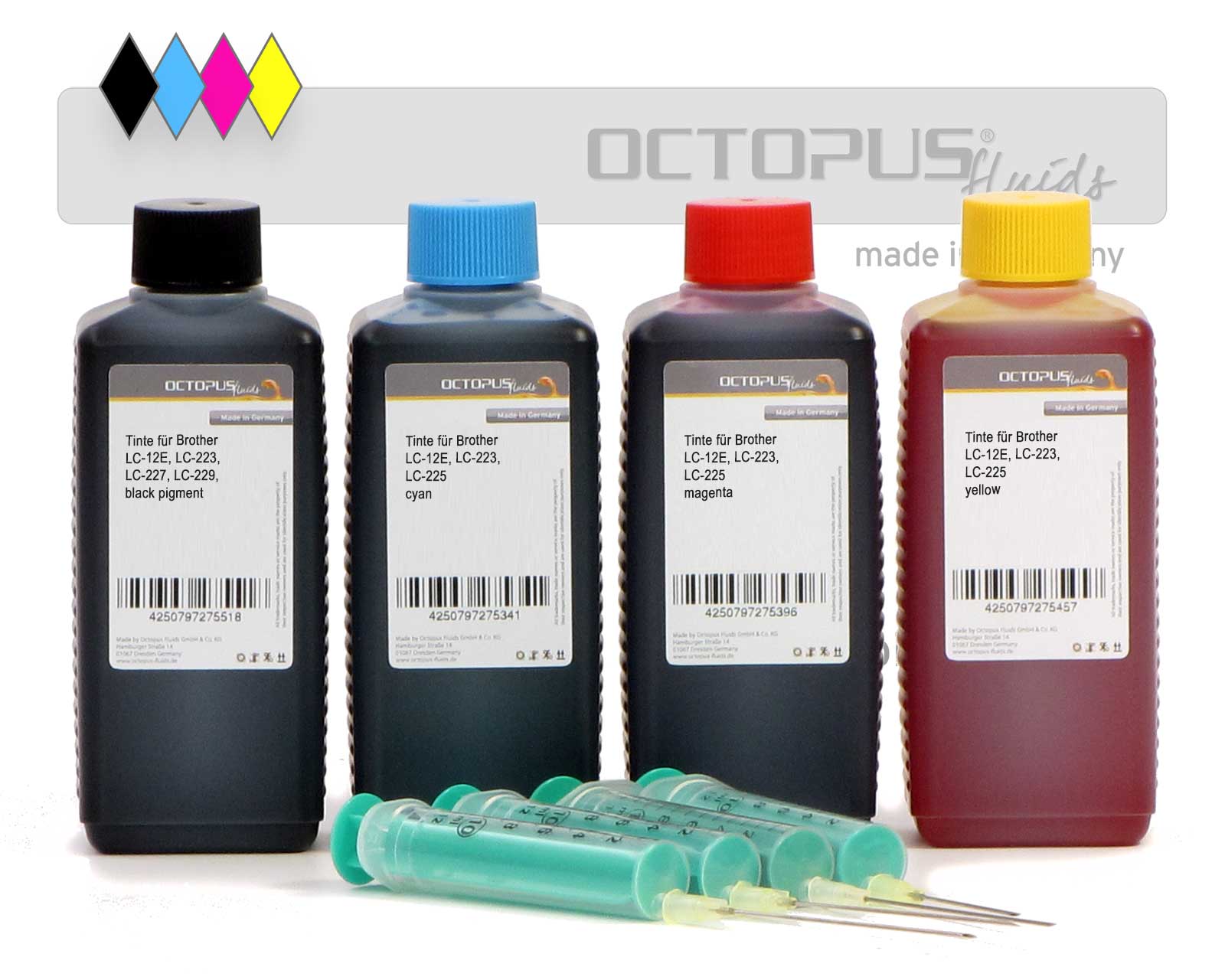 Ink set Brother LC-223, LC-225, LC-227, LC-229, LC-12E
Ink set for Brother LC-223, LC-225, LC-227, LC-229 cartridges, every colour. Buy online.
Set of refillable cartridges for Brother LC-227, LC-225 with ink refill kits
Complete kit for Brother LC-227, LC-225, DCP-J 4120, MFC-J 4420, MFC-J 4425, MFC-J 4620, MFC-J 4625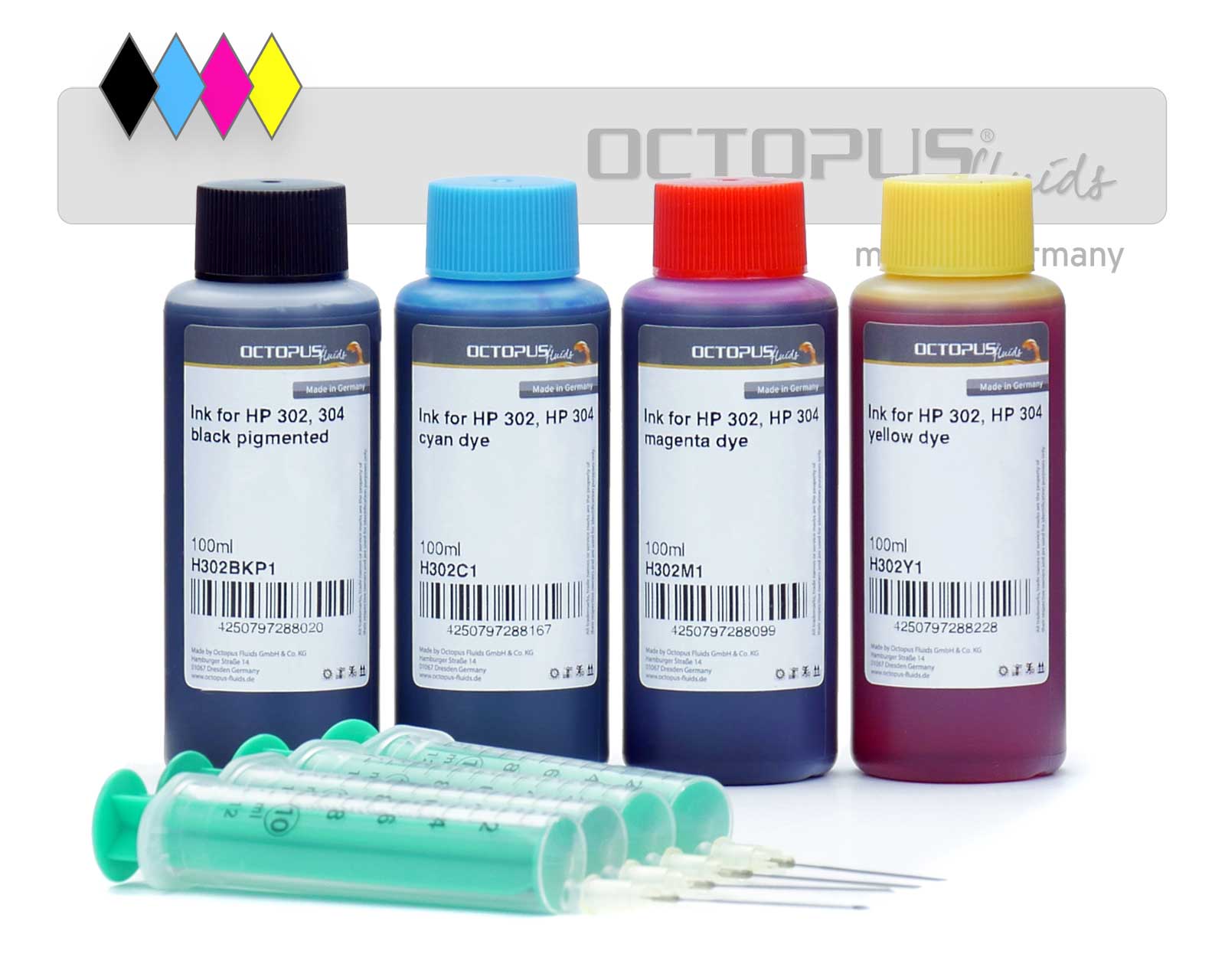 Refill ink kit for HP 302, HP 304 four colours
HP 302, HP 304 refill inks and syringes. Buy online.