Nachfüllanleitung für Brother TN-3380, HL-5450, HL-6180
Auf den ersten Blick werden Sie sehen, dass die Tonerkartusche Brother TN-3380, HL-5450, HL-6180 keinen Verschlussstopfen besitzt. Bei dieser Kartusche ist die Einfüllöffnung unter dem Resethebel versteckt. In dieser Anleitung zeigen wir Ihnen Schritt für Schritt, wie Sie die Tonerkartusche Brother TN-3380, HL-5450, HL-6180 befüllen und den Resethebel zurücksetzen.
Vorbereitung zum Befüllen:
Nehmen Sie die Tonerkartusche Brother TN-3380, HL-5450, HL-6180 und lösen Sie die zwei Schrauben der seitlichen Abdeckung (Abbildung 1). Die Abdeckung ist jetzt nur noch mit einem Widerhaken befestigt. Lösen Sie den Widerhaken mit einem kleinen, flachen Schraubendreher (Abbildung 2). Danach können Sie die Abdeckung herunternehmen. Darunter können Sie diverse Zahnräder und eventuell den Resethebel erkennen. Zuerst nehmen Sie (wenn schon vorhanden) den Resethebel und die Feder (Abbildung 3) und danach die zwei Zahnräder herunter (Abbildung 4).
Anschließend können Sie den Verschlussstopfen herausnehmen (Abbildung 5). Bevor Sie die Tonerkartusche wiederbefüllen, müssen Sie den Resttoner entfernen. Saugen Sie diesen mit einem Tonerstaubsauger ab oder schütteln Sie diesen in einen dichten Plastikbeutel aus. Aufgrund des häufigen Erwärmens und wieder Abkühlens hat der Resttoner andere physikalische Eigenschaften als neuer Nachfülltoner. Deshalb würde der neue und der alte Toner miteinander verklumpen.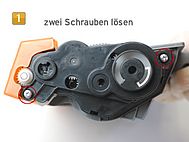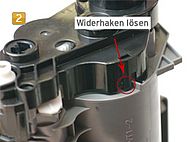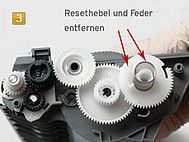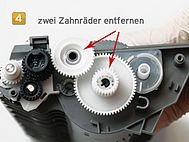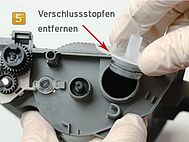 Befüllen der Tonerkartusche Brother TN-3380, HL-5450, HL-6180:
Nehmen Sie die Flasche mit Nachfülltoner und schütteln Sie diese leicht auf. Schrauben Sie danach den Einfülltrichter auf die Tonerflasche und füllen Sie vorsichtig den Toner in die Tonerkartusche (Abbildung 6). Wenn Sie den Toner nachgefüllt haben, können Sie den vorher entfernten Verschlussstopfen wieder einsetzen. Anschließend müssen Sie nur noch den Resethebel zurücksetzen.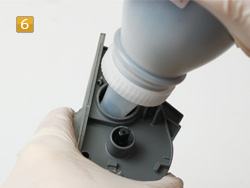 Einsetzen des Resethebels an Brother TN-3380, HL-5450, HL-6180:
Der Resethebel ist eine mechanische Vorrichtung, die jede gedruckte Seite mitzählt und Ihnen anzeigt, wann die Tonerkartusche wieder leer ist. Bei Starterkartuschen (sind beim Druckerkauf dabei) muss der Resethebel nach der Erstbefüllung eingebaut werden. Bei nachgekauften Kartuschen ist der Resethebel schon vorhanden und Sie müssen diesen nur auf "voll" zurückdrehen. Nachdem Sie den Verschlussstopfen eingesetzt haben, müssen Sie die zwei zuvor entfernten Zahnräder wieder einsetzen. Achten Sie darauf, dass bei dem größeren Zahnrad die Erhebung nach rechts unten zeigt (Abbildung 7).
Setzen Sie danach den Resethebel und die Feder ein. Die Erhebung auf dem Resethebel muss ebenfalls nach rechts unten zeigen (Abbildung 8). Anschließend können Sie die vorher entfernte seitliche Abdeckung wieder einsetzen. Wenn Sie die Abdeckung wieder eingesetzt haben, sollte der Resethebel genauso eingesetzt sein, wie in Abbildung 9 dargestellt. Jetzt können Sie die Tonerkartusche wieder in den Drucker einsetzen und weiterdrucken.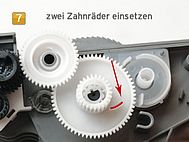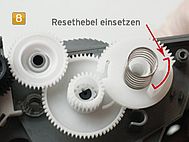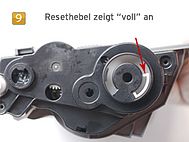 Sicherheitshinweis für den Umgang mit Nachfülltoner:
Nachfülltoner und Tonerpulver können bei unsachgemäßer Handhabung Gesundheitsschäden hervorrufen. Wir empfehlen beim Befüllen von Tonerkartuschen ausdrücklich den Einsatz von Atemschutzhilfsmitteln oder Absaugkammern. Darüber hinaus kann Tonerpulver und Nachfülltoner bei einem entsprechenden Sauerstoffgemisch hochentzündlich sein. Achten Sie außerdem darauf, dass Sie auf keinen Fall die Fotoleiter-Trommel berühren oder direktem Sonnenlicht aussetzen. Dies kann zu fehlerhaften Ausdrucken führen.
Octopus übernimmt keine Verantwortung für Erfolg oder Misserfolg der beschriebenen Vorgehensweise.
Alle Hersteller und Markennamen dienen nur zur Kenntlichmachung der Kompatibilität und sind Eigentum der jeweiligen Rechteinhaber.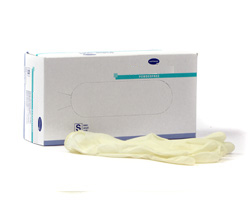 Latex gloves standard, powder free
The Canon Chip Resetter with power supply Canon cartridges PGI-520, CLI-521.
Protective Mask FFP2
Use this Protective Mask for breathing protection while refilling your Laser Toner Cartridges.