Nachfüllanleitung für Brother TN-242, HL-3142
Leider besitzt diese Serie Tonerkartuschen von Brother TN-242, HL-3142 keinen integrierten Verschlussstopfen. Deshalb müssen in diesem Fall zum Lötkolben greifen und eine separate Einfüllöffnung hineinschweißen. In unserer Anleitung zeigen wir Ihnen Schritt für Schritt, wie Sie vorgehen müssen und wie Sie den Resethebel wieder korrekt einsetzen.


Vorbereitung zum Befüllen:
Bevor Sie mit heißen Lötkolben die Einfüllöffnung hineinschmelzen, müssen Sie noch das Etikett auf der Oberseite entfernen (Abbildung 1). Anschließend können Sie mit dem Lötkolben an die markierte Stelle die Öffnung einschmelzen (Abbildung 2). Nach dem Sie die Öffnung hineingeschmolzen haben, müssen Sie die Ränder säuberlich entgraten. Achten Sie darauf, dass keine Plastikspäne in die Tonerkartusche gelangen. Die Plastikspäne können das Druckwerk schädigen und die Tonerkartusche unbrauchbar machen.

Bevor Sie mit dem Befüllen beginnen, müssen Sie den noch vorhandenen Alttoner entfernen. Aufgrund unterschiedlicher chemischer Eigenschaften zwischen neuen und verbrauchten Toner kann es zu Verklumpungen des vermischten Toners führen. Saugen Sie den Alttoner mit einem Tonerstaubsauger ab oder schütteln Sie ihn in einen dichten Plastikbeutel aus.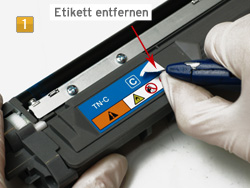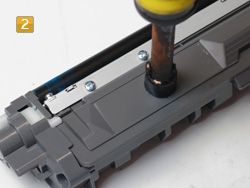 Befüllen der Tonerkartusche Brother TN-242, HL-3142:
Schütteln Sie die Flasche mit Nachfülltoner leicht auf und schrauben Sie danach den Einfülltrichter darauf. Der Trichter erleichtert Ihnen das Dosieren und Einfüllen. Füllen Sie anschließend den neuen Toner in die Kartusche ein (Abbildung 3). Nachdem Sie Ihre Tonerkartusche befüllt haben, müssen Sie die Einfüllöffnung wieder verschließen. Nehmen Sie dazu ein passend großes Stück Gewebeklebeband und kleben es auf die Öffnung (Abbildung 4). Achten Sie darauf, dass kein Toner aus der abgeklebten Öffnung herausrieselt. Falls doch etwas Toner herausrieselt, entfernen Sie das Gewebeklebeband und kleben Sie ein neues Stück darauf.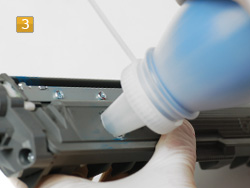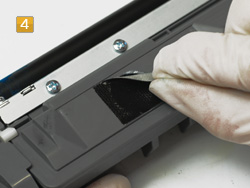 Einbauen des Resethebels an Brother TN-242, HL-3142:
Um den Resethebel einzubauen, müssen Sie die seitliche Abdeckung entfernen. Lösen Sie dazu die zwei markierten Schrauben (Abbildung 5). Die Abdeckung ist jetzt nur noch mit einem Widerhaken befestigt. Mit einem kleinen, flachen Schraubendreher können Sie den Widerhaken lösen (Abbildung 6) und anschließend die Abdeckung herunternehmen. Nehmen Sie die abgenommene seitliche Abdeckung und setzen Sie vorsichtig die Feder des Resethebels ein (Abbildung 7).

Anschließend können Sie den Resethebel einsetzen. Achten Sie darauf, dass der Abschnitt ohne Zähne nach rechts zeigt (Abbildung 8). Jetzt müssen Sie nur noch die vorher eingesetzte Feder spannen. Drücken Sie mit einem kleinen Schraubendreher die Feder hinter die Plastiknase (Abbildung 9). So zeigt der Resethebel "voll" an und Sie können weiter drucken. Wenn der Resethebel schon vorhanden ist, müssen Sie diesen nur zurückdrehen. Der Resethebel muss nur noch um etwa 270 Grad zurückgedreht werden (Abbildung 10). Damit zeigt der Resethebel ebenfalls wieder "voll" an und Sie können weiter drucken.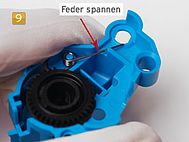 Sicherheitshinweis für den Umgang mit Nachfülltoner:
Nachfülltoner und Tonerpulver können bei unsachgemäßer Handhabung Gesundheitsschäden hervorrufen. Wir empfehlen beim Befüllen von Tonerkartuschen ausdrücklich den Einsatz von Atemschutzhilfsmitteln oder Absaugkammern. Darüber hinaus kann Tonerpulver und Nachfülltoner bei einem entsprechenden Sauerstoffgemisch hochentzündlich sein. Achten Sie außerdem darauf, dass Sie auf keinen Fall die Fotoleiter-Trommel berühren oder direktem Sonnenlicht aussetzen. Dies kann zu fehlerhaften Ausdrucken führen.
Octopus übernimmt keine Verantwortung für Erfolg oder Misserfolg der beschriebenen Vorgehensweise.
Alle Hersteller und Markennamen dienen nur zur Kenntlichmachung der Kompatibilität und sind Eigentum der jeweiligen Rechteinhaber.
Remanufactured Brother TN-242 BK, HL 3142, 3152, 3172 toner cartridge black
This laser toner cartridge TN-242 BK has been refilled and all wear parts have been replaced.
Remanufactured Brother TN-246 M, HL 3142, 3152, 3172 toner cartridge magenta
This laser toner cartridge TN-246 M has been refilled and all wear parts have been replaced.