Tonerkartusche druckt graue Streifen

Wenn Ihr Ausdruck in Druckrichtung graue Streifen auf dem Papier hinterlässt, kann dies mehrere Gründe haben.
In den meisten Fällen liegt dies an einer alten Halbleiter-Trommel auch OPC genannt. Die OPC Halbleiter-Trommel wird durch den Drucker erhitzt und schmelzt den Toner auf das Papier. Halbleiter-Trommeln haben meist die zwei- bis dreifache Lebensdauer im Vergleich zur Laufzeit der Tonerkartusche. Die Lebensdauer wird vom Druckerhersteller in Seitenzahlen angegeben. In fast allen Fällen spricht man hierbei von der "Druckleistung bei 5% Deckung von z.B. 20.000 Seiten". Da dieser Wert (5%) nur ein Durchschnittswert bzw. statistischer Wert ist, kommt letztendlich meist eine andere Anzahl gedruckter Seiten heraus.
Wir machen oft die Erfahrung, dass Ausdrucke durchschnittlich mehr als 5% Deckung aufweisen und somit auch die Seitenreichweiten von Halbleiter-Trommeln nicht die, wie im Beispiel oben, genannten 20.000 Seiten erreichen. Demzufolge ist die Halbleiter-Trommel eher verbraucht und hinterlässt dann graue Streifen beim Ausdruck.
An einer defekten Halbleiter-Trommel können auch andere Dinge schuld sein. Prüfen Sie bitte auch den Abstreifer. Ist dieser beschädigt, reicht es nicht aus, nur die Trommel zu wechseln die von dem alten Abtreifer erneut in Mitleidenschaft gezogen wird.
Octopus Refill Toner Powder for Brother HL 2130, 2240, 2250, 2270, TN-2010, TN-2210, TN-2220 (no OEM)
Contains 75g of Toner powder for a print capacity of 2.600 pages at 5% coverage.
Toner powder Brother TN 2320, TN-2310, HL-L 2300, HL-L 2320, HL-L 2340 , 80g
Toner powder for approx. 2,600 pages at 5% coverage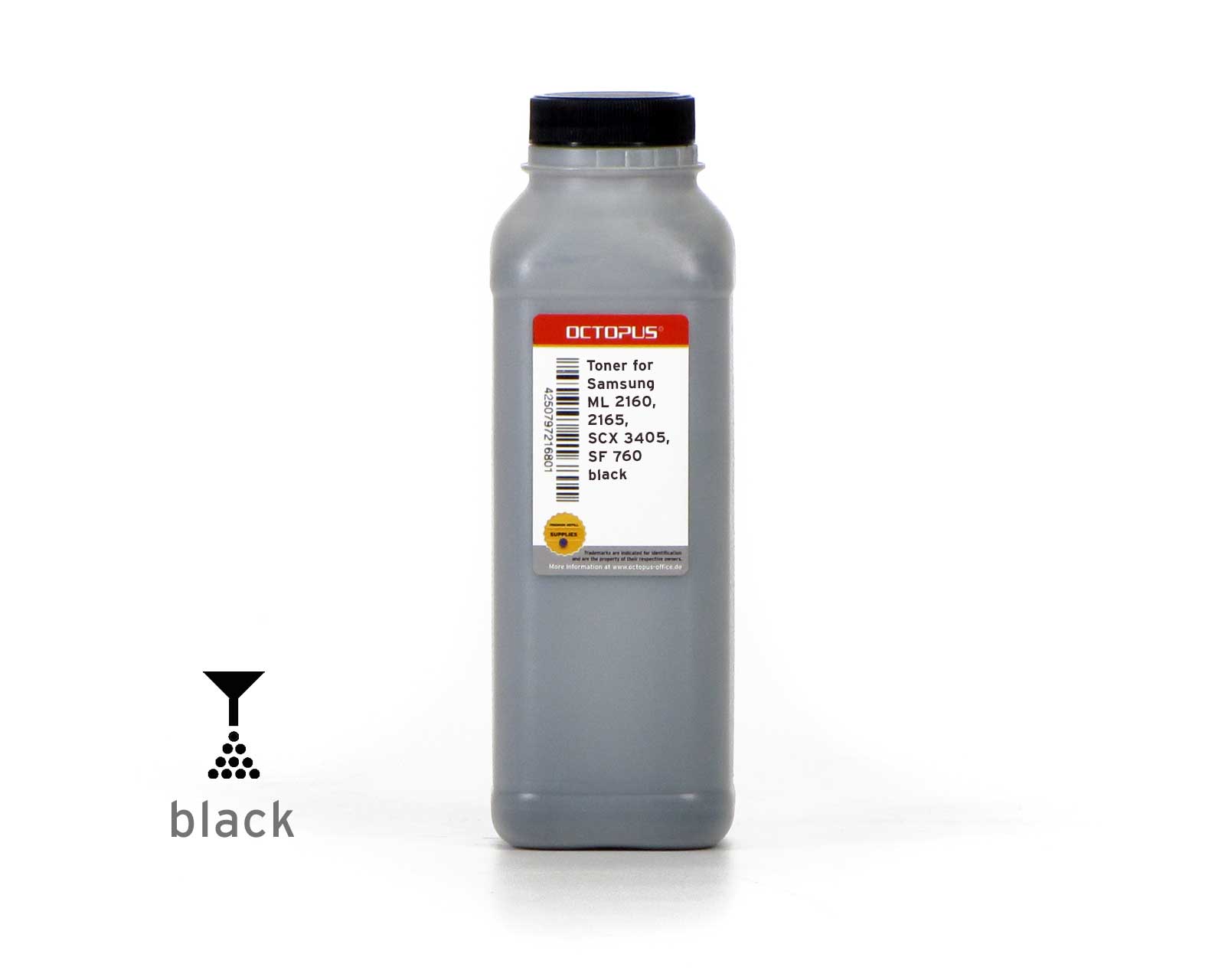 Samsung SL-M 2020, ML 2160, 2165, SCX 3405, SF 760 toner powder, bulk toner
Content: 55g of bulk toner, sufficient for approx. 1,500 pages at 5% coverage.
Toner powder , bulk toner for Brother TN 350, TN 2000, HL 2040, 2070 black
Contains 80g of toner powder for a print capacity of 2.500 pages at 5% coverage.