Laserkartusche druckt helle Streifen

Dieses Merkmal tritt oft auf, wenn der Toner in der Kartusche verbraucht ist und dadurch nicht mehr über die gesamte Kartuschenbreite anliegt. Bei neuen Tonerkartuschen kann dies passieren, wenn die Kartusche hochkant gelagert wurde und das Tonerpulver dadurch nur auf einer Seite der Tonervorratskammer liegt. Meist muß in diesen Fällen die Kartusche noch nicht gewechselt werden.
Es reicht in den meisten Fällen, die Tonerkartusche aus dem Drucker zu entnehmen und in waagerechter Haltung leicht aufzuschütteln. Das Tonerpulver verteilt sich so auf die gesamte Breite der Kartusche. Beim nächsten Ausdruck steht in allen Bereichen genügend Pulver zur Verfügung.
Sollte der Effekt erneut auftreten, können Sie diesen Vorgang einfach wiederholen. Zwei- bis dreimal können sie diesen Vorgang wiederholen und die Lebensdauer Ihrer Kartusche verlängern. Bei neuen Kartuschen sollte dieser Effekt nach dem ersten Mal bis zum Aufbrauchen des Toners nicht wieder auftauchen.
Manchmal tritt dieser Effekt auch durch einen verunreinigten Corona-Draht auf. Der Corona-Draht sorgt für die Aufladung der Halbleiter-Trommel (OPC). Ist dieser mit Staub oder Flusen verschmutzt, kann er die OPC an den entsprechenden Stellen nicht mehr vernünftig aufladen. Die OPC-Drum wird deshalb an den Stellen nicht genug Tonerpulver aufnehmen können und das Druckbild somit helle Streifen aufweisen.
Octopus Refill Toner Powder for Brother HL 2130, 2240, 2250, 2270, TN-2010, TN-2210, TN-2220 (no OEM)
Contains 75g of Toner powder for a print capacity of 2.600 pages at 5% coverage.
Toner powder Brother TN 2320, TN-2310, HL-L 2300, HL-L 2320, HL-L 2340 , 80g
Toner powder for approx. 2,600 pages at 5% coverage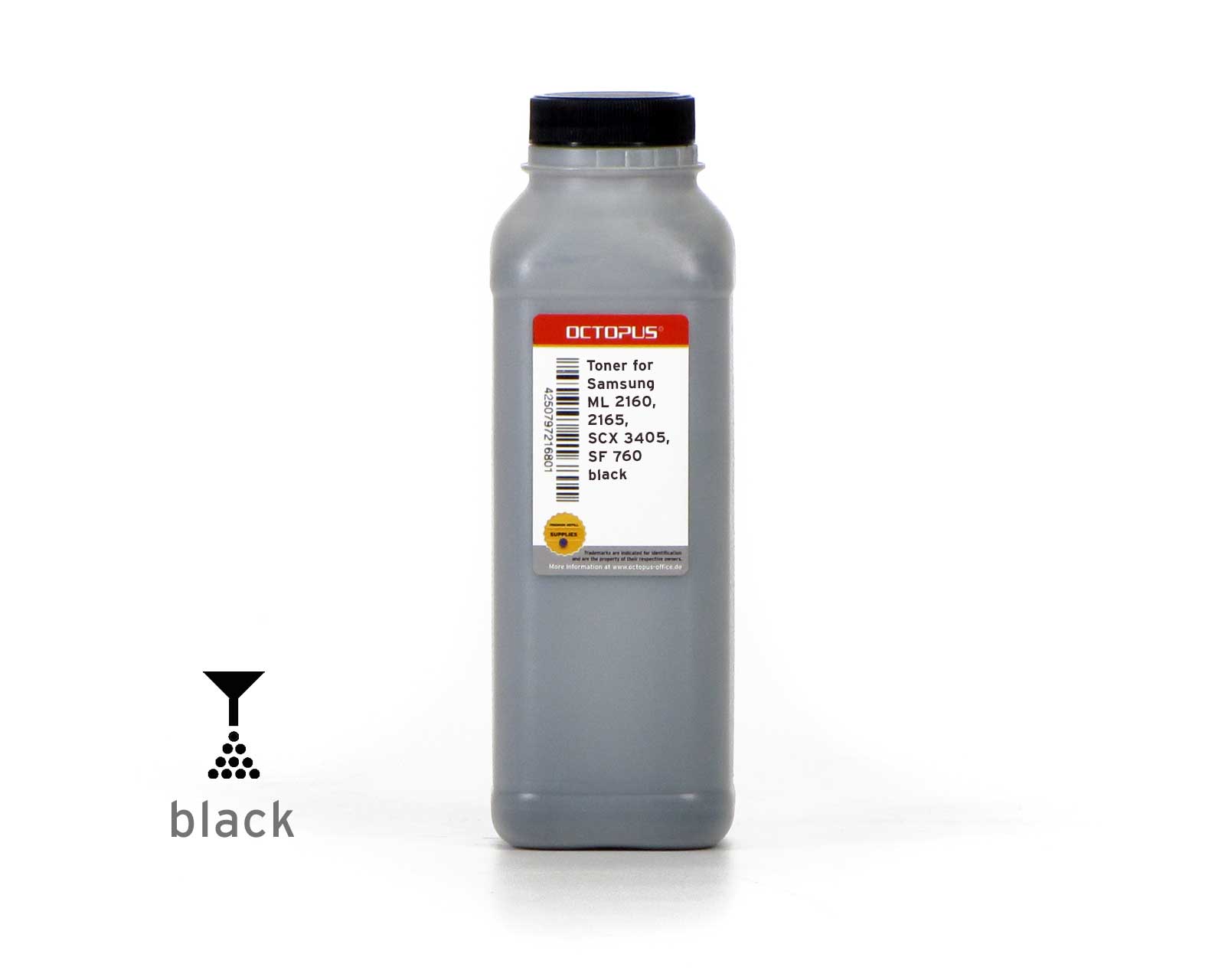 Samsung SL-M 2020, ML 2160, 2165, SCX 3405, SF 760 toner powder, bulk toner
Content: 55g of bulk toner, sufficient for approx. 1,500 pages at 5% coverage.
Toner powder , bulk toner for Brother TN 350, TN 2000, HL 2040, 2070 black
Contains 80g of toner powder for a print capacity of 2.500 pages at 5% coverage.