Kyocera TK-1130, FS-1030 MFP, FS-1130 MFP, Ecosys M 2530 DN, M 2030 Nachfüllanleitung
Das Befüllen der Kyocera TK-1130 Tonerkartuschen ist recht einfach. Alles in allem müssen zwei Dinge getan werden. Zum Ersten soll in die Kartusche neues Tonerpulver nachgefüllt werden und zum Zweiten muss der Chip an der Tonerkartusche ersetzt werden.
Auf dem folgenden Bild sehen Sie, seitlich der Kartusche, eine durch Deckel verschlossene Öffnung. Diese Öffnung wird bei der Herstellung der TK-1130 Kartusche zum Einfüllen des Tonerpulvers verwendet. Leider lässt sich der Deckel, da er eingeschweißt ist, nicht ganz so einfach entfernen. Deshalb verwenden wir bei unserer Befüllmethode eine neue, selber angefertigte Öffnung auf der Oberseite der Kyocera TK-1130 Kartusche. Um diese Öffnung in die Kartusche zu bekommen, verwenden wir einen Lötkolben mit speziellem Lochschweißaufsatz (Art.Nr. LTK1) aus unserem Octopus Sortiment.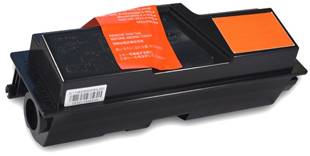 Einfüllen des Nachfülltoners in die Kyocera TK-1130, FS-1030 MFP, FS-1130 MFP, Ecosys M 2030 Kartuschen
Wie schon erwähnt, fertigen wir für die Befüllung an der Kyocera TK-1130 eine neue Öffnung an. Damit diese Öffnung nach der Befüllung wieder gut verschlossen werden kann, wählen wir dafür eine ebene, gerade Fläche aus (siehe Bild 1). Andere Stellen bergen die Gefahr, Teile innerhalb der Kartusche zu beschädigen. Nachdem unser Lötkolben heiß genug ist, schweißen wir mit leichtem Druck ein Loch in die Kartusche. Der Lochschweißaufsatz des Lötkolbens ist so gefertigt, dass die entstandene Öffnung groß genug ist, um Später den Nachfülltoner einfüllen zu können.
Lassen Sie den Rand noch etwas abkühlen und beginnen Sie jetzt das restliche, alte Tonerpulver aus der Kartusche zu entfernen. (Achtung Staubentwicklung, treffen Sie ausreichend Sicherheitsvorkehrungen, verlassen Sie geschlossene oder ungeeignete Räume). Zum Entfernen des Alttoners führen Sie die Kartusche in einen geeigneten Auffangbehälter oder Stecken Sie sie in einen dichten Foliensack. Schütteln Sie die Kartusche leicht in Richtung der neu angefertigten Öffnung. Das Tonerpulver rieselt jetzt leicht raus. Das Altpulver sollte auf jeden Fall entfernt werden, da es sich durch die häufige Erwärmung und viel Bewegung, aus physikalischen Gründen nicht mehr so gut mit dem neuen Nachfülltoner vermischt. Im schlechtesten Fall leidet die Qualität Ihrer Ausdrucke darunter.
Im nächsten Schritt füllen Sie in die neue Einfüllöffnung das Tonerpulver für die Kyocera TK-1130, FS-1030 MFP, FS-1130 MFP, Ecosys M 2530, Ecosys M 2030 Tonerkartuschen. Verwenden Sie dafür keine Universaltoner. Vor dem Einfüllen des Toners macht es sich gut, wenn Sie das Pulver, bei verschlossener Flasche leicht aufschütteln. Im aufgeschüttelten Zustand besitzt Nachfülltoner flüssige Eigenschaften. Jetzt lässt er sich über einen Trichter ganz leicht in die Kartusche einfüllen. Halten Sie die Flasche hierfür ca. im 30° - 45° Winkel. Wenn das Pulver stoppt, drehen Sie die Flasche ganz leicht bis es weiterfließt.
Ist das Tonerpulver eingefüllt, verschließen Sie die Öffnung dicht mit etwas Gewebeband.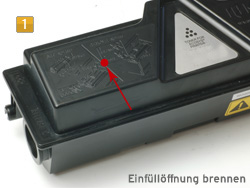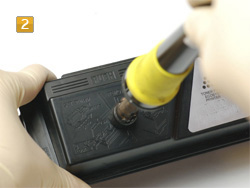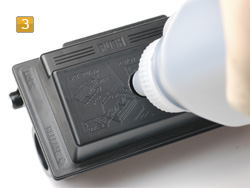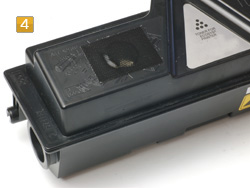 Ersetzen des Chips an der Kyocera TK-1130, FS-1030 MFP, FS-1130 MFP, Ecosys M 2030 Kartusche
Der Chip der Kyocera TK-1130 Lasertoner ist ein RFID Chip. Diese Art von Chips sind im Wesentlichen daran zu erkennen, dass Sie so flach wie Papier sind und in den meisten Fällen einfach aufgeklebt werde. Genauso verhält es sich auch in unserem Fall.
Den Chip finden Sie auf der Kartusche siehe Bild. Der Chip sollte unbedingt entfernt werden. Ziehen Sie ihn einfach ab. Der neue Chip (in unserem Octopus Sortiment erhältlich) hat eine selbstklebende Rückseite. Ziehen Sie das Trägerpapier ab und kleben Sie den Chip einfach auf die Fläche des alten Chips.
Ihre Kyocera TK-1130 sollte jetzt richtig befüllt sein. Sie können sie wieder in den Drucker einsetzten. Wenn Sie alles richtig gemacht haben, druckt die Kartusche so wie das Original weiter.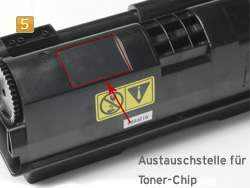 Toner cartridge Kyocera TK-1130 for FS 1030, FS 1130
Original toner cartridge for Kyocera TK-1130 with a capacity of approx. 3,000 pages at 5% coverage.
Protective Mask FFP2
Use this Protective Mask for breathing protection while refilling your Laser Toner Cartridges.
Sicherheitshinweis für den Umgang mit Nachfülltoner:
Nachfülltoner und Tonerpulver können bei unsachgemäßer Handhabung Gesundheitsschäden hervorrufen. Wir empfehlen beim Befüllen von Tonerkartuschen ausdrücklich den Einsatz von Atemschutzhilfsmitteln oder Absaugkammern. Darüber hinaus kann Tonerpulver und Nachfülltoner bei einem entsprechenden Sauerstoffgemisch hochentzündlich sein. Achten Sie außerdem darauf, dass Sie auf keinen Fall die Fotoleiter-Trommel berühren oder direktem Sonnenlicht aussetzen. Dies kann zu fehlerhaften Ausdrucken führen.
Octopus übernimmt keine Verantwortung für Erfolg oder Misserfolg der beschriebenen Vorgehensweise.
Alle Hersteller und Markennamen dienen nur zur Kenntlichmachung der Kompatibilität und sind Eigentum der jeweiligen Rechteinhaber.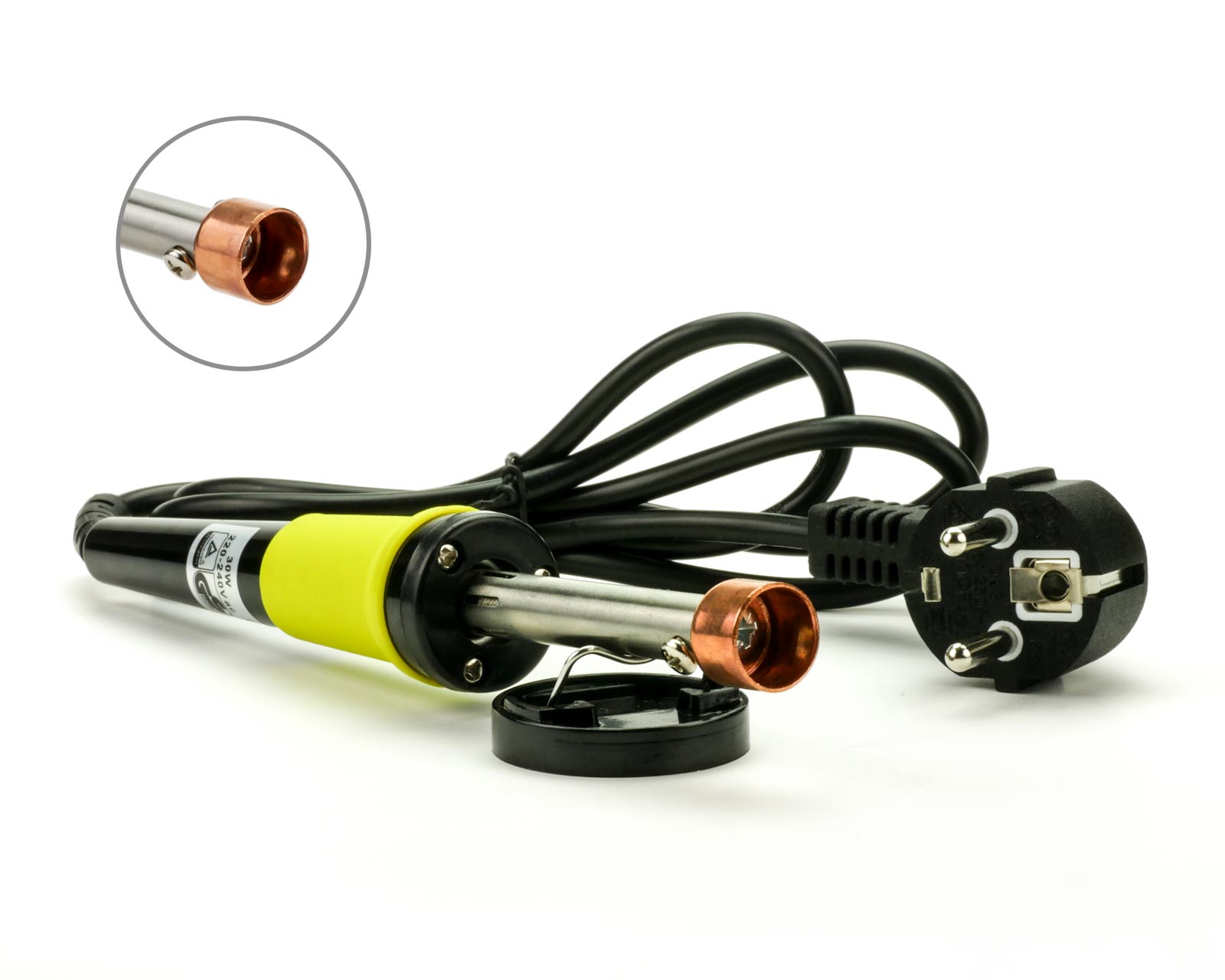 Soldering Iron, Hole making Tool
Use this Soldering Iron, Hole making Tool to melt a fill port into your laser toner cartridge.
Funnel for Toner Powder, Toner Refills
Toner Funnel for well-directed refills of Uninet Toner Powder.
Adhesive Tape to close the Filler Hole, 2.75m
Use this Adhesive Tape to close the filler hole of your laser toner cartridge.