Nachfüllanleitung Kyocera TK-310, FS-2000, FS-3900, FS-4000
Die Tonerkartuschen von Ihrer Kyocera TK-310, FS-2000, FS-3900, FS-4000 sind in der Regel sehr einfach zu befüllen. Da die Kartusche nur eine Art Tank und keine aufwändige Mechanik und Elektronik besitzt, ist es (fast) unmöglich etwas verkehrt zu machen! In dieser Anleitung zeigen wir Ihnen, wie Sie Ihre Tonerkartusche "wieder zum Laufen bekommen".
Vorbereitung zm Befüllen der Tonerkartusche Kyocera TK-310, FS-2000, FS-3900, FS-4000:
Diese Tonerkartusche von Kyocera ist, unüblich für Kyocera, ganz einfach über Verschlussstopfen zu befüllen. Ziehen Sie vorsichtig den Verschlussstopfne heraus (Abbildung 1). Bevor Sie jetzt Ihre Tonerkartusche mit einem Toner befüllen, müssen Sie zuvor den alten Toner entfernen. Saugen Sie den Alttoner mit einem Tonerstaubsauger ab oder schütteln Sie diesen in einen dichten Plastikbeutel aus.
Aufgrund des häufigen Erwärmens und Abkühlens haben alter und neuer Toner andere chemische und physische Eigenschaften und können in dem Fall miteinander verklumpfen. Dies würde Ihre Tonerkartusche unbrauchbar machen.
Befüllen der Tonerkartusche Kyocera TK-310, FS-2000, FS-3900, FS-4000:
Nehmen Sie die Flasche mit neuem Tonerpulver und schütteln Sie diese leicht auf. Das Aufschütteln macht den Toner fließfähig und Sie können ihn dann besser dosieren. Schrauben Sie anschließend den Einfülltrichter auf die Tonerflasche. Füllen Sie jetzt vorsichtig den neuen Toner in die Kartusche (Abbildung 2).
Wenn Sie den neuen Toner eingefüllt haben, können Sie die Einfüllöffnung wieder mit dem Verschlussstopfen verschließen. Nach der Befüllung müssen Sie nur noch den Chip austauschen.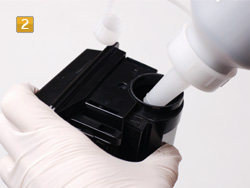 Chiptausch an Kyocera TK-310:
Diese Serie von Kyocera ist mit einem Funk-Chip (auch RFID Chip genannt), ausgestattet. Dieser Chip übermittelt den Tonerfüllstand von Tonerkartusche an den Drucker und warnt, wenn die Tonerkartusche leer ist. Diesen Chip sollten Sie bei jeder Wiederbefüllung austauschen. Da der Funkchip keine Kontakflächen besitzt, ist er leicht zu übersehen. Deshalb zeigen wir Ihnen wie Sie den Chip austauschen können.
Auf der Unterseite der Tonerkartusche, direkt neben dem Tonerauslass, ist die Fläche, wo der Tonerchip darauf geklebt ist (Abbildung 3). Ziehen Sie den alten Chip ab und ersetzen Sie ihn durch den neuen Chip. Nachdem Sie Ihre Tonerkartusche wiederbefüllt und den Tonerchip ausgetauscht haben, können Sie Ihre Tonerkartusche wieder in den Drucker einsetzen und in gewohnter Weise weiterdrucken.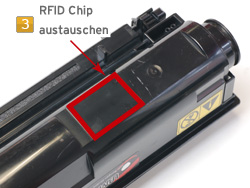 Sicherheitshinweis für den Umgang mit Nachfülltoner:
Nachfülltoner und Tonerpulver können bei unsachgemäßer Handhabung Gesundheitsschäden hervorrufen. Wir empfehlen beim Befüllen von Tonerkartuschen ausdrücklich den Einsatz von Atemschutzhilfsmitteln oder Absaugkammern. Darüber hinaus kann Tonerpulver und Nachfülltoner bei einem entsprechenden Sauerstoffgemisch hochentzündlich sein. Achten Sie außerdem darauf, dass Sie auf keinen Fall die Fotoleiter-Trommel berühren oder direktem Sonnenlicht aussetzen. Dies kann zu fehlerhaften Ausdrucken führen.
Octopus übernimmt keine Verantwortung für Erfolg oder Misserfolg der beschriebenen Vorgehensweise.
Alle Hersteller und Markennamen dienen nur zur Kenntlichmachung der Kompatibilität und sind Eigentum der jeweiligen Rechteinhaber. Octopus® übernimmt keine Garantie, Verantwortung oder Haftung für den Erfolg oder etwaige Folgen, resultierend aus den Vorgehensweisen seiner Anleitungen.
Toner refill kit for Kyocera TK-310, 320, 330, FS 2000
Content: 1x 385g of toner powder for a print capacity of 12,000 pages at 5% coverage, 1x replacement chip, 1x funnel
Toner powder Kyocera TK 310, FS 2000 black
Contains 385g of Toner powder for a print capacity of 12.000 pages at 5% coverage.
Replacement Chip Kyocera TK-310, TK-320, TK-330, FS 2000, 3900
Replacement chip for full printing capacity of approx. 20,000 pages at 5% coverage.
Laser Toner Cartridge Kyocera FS 2000, 3900, 4000 TK 310
This Compatible Laser Toner cartridge Kyocera FS 2000, 3900, 4000, TK 310 has been refilled. All wearing parts have been replaced by new ones.