Refill Instructions for Canon PGI-550, CLI-551 cartridges
Prepare your workplace by making sure that no permanent staining with ink is possible. Make sure to only use ink that was released for the Canon PGI-550 and CLI-551 cartridges and printers. Do not use "Universal ink". To refill the Canon cartridges you will need the following supplies:
a small drill (1.5mm)

syringes and needles (70mm)
up to 15ml Refill Ink for Canon PGI-550 black pigmented
up to 7ml Refill Ink for Canon CLI-551 black, cyan, magenta, yellow
up to 22ml Refill Ink for Canon PGI-550XL black pigmented
up to 11ml Refill Ink for Canon CLI-551XL black, cyan, magenta, yellow
The given amounts of ink can only be filled in if the cartridge is completely empty.
How to refill the Canon PGI-550, CLI-551 cartridges:
Take the cartridge Canon PGI-550 or CLI-551 and drill a small hole at the place marked in picture 1. Take a needle and insert it through the sponge into the rear tank inside the cartridge (see picture 2). Please note that with XL-cartridges you can insert the needle further, because they do not have a partition wall. Please read the detailed dokumentation on the new cartridge series below. If the needle is inserted far enough into the tank you can see it through the prismatic window (picture 3). The ink has to be filled into this area.
Now put the filled syringe onto the needle and insert the ink into the rear tank (picture 4). When you have filled the tank you can draw back the syringe a little and insert the remaining ink slowly into the sponge. When ink leaks from the ink outlet or the drilled filler opening you have filled the cartridge a little too much. Therefore, draw back about 1ml ink into the syringe.Now you are done refilling this cartridge. Seal the filler opening with adhesive tape or hot glue. If you use hot glue make sure not to leave a bulge. It could cause problems when you reinsert the cartridge back into the printer.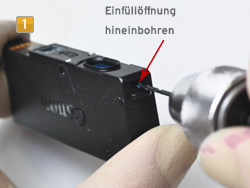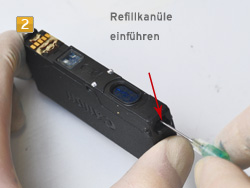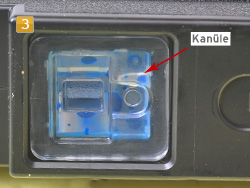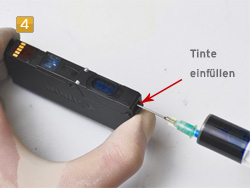 All trademarks, trade names or service marks are the property of their respective owners and are used for identification purposes only.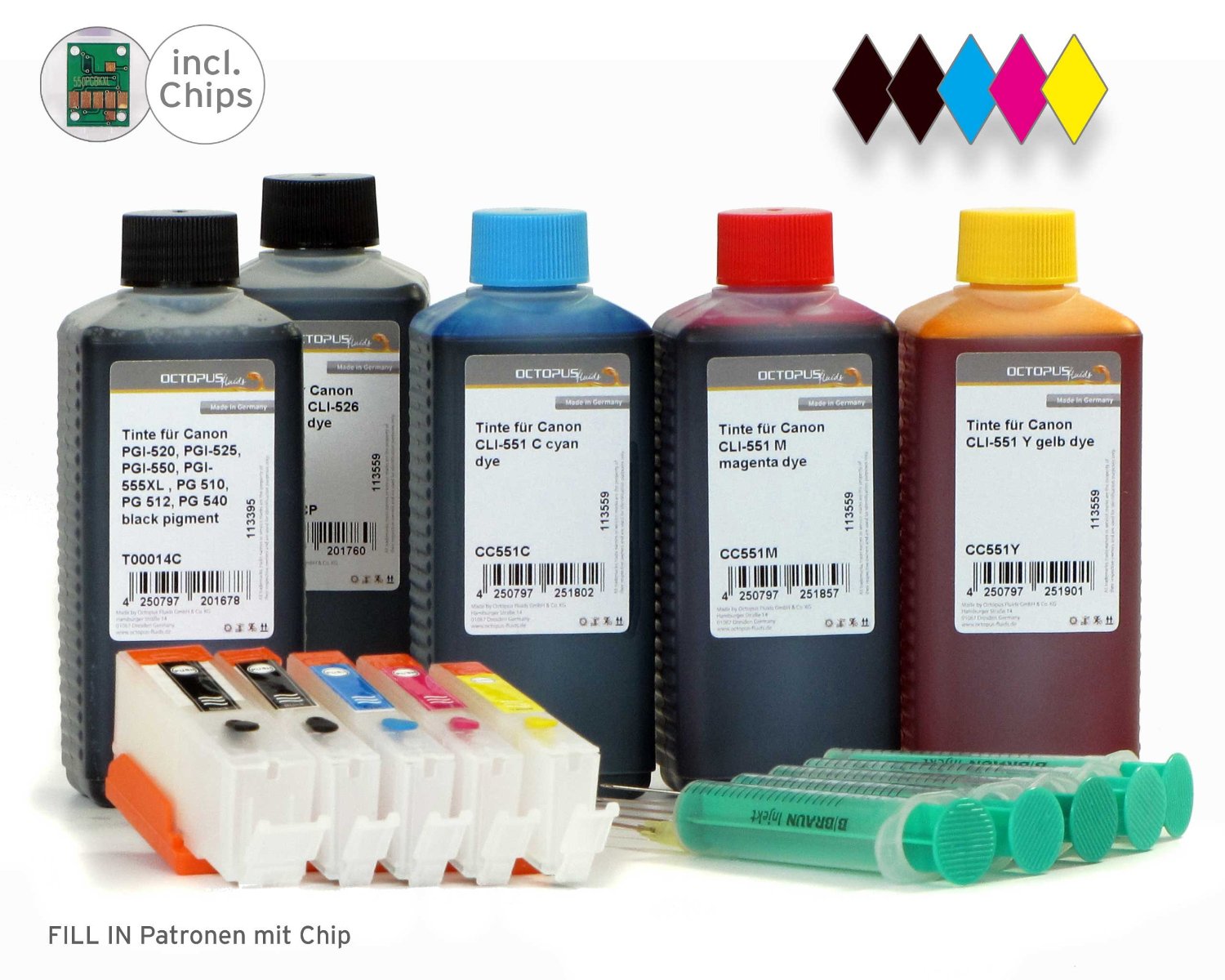 Refillable cartridges Canon PGI-550, CLI 551 with 5x ink
Set of refillable cartridges with five colours of ink. Equivalent to approx. 100 Canon PGI-550 and CLI-551 cartridges. Save up to 90% of your printing costs!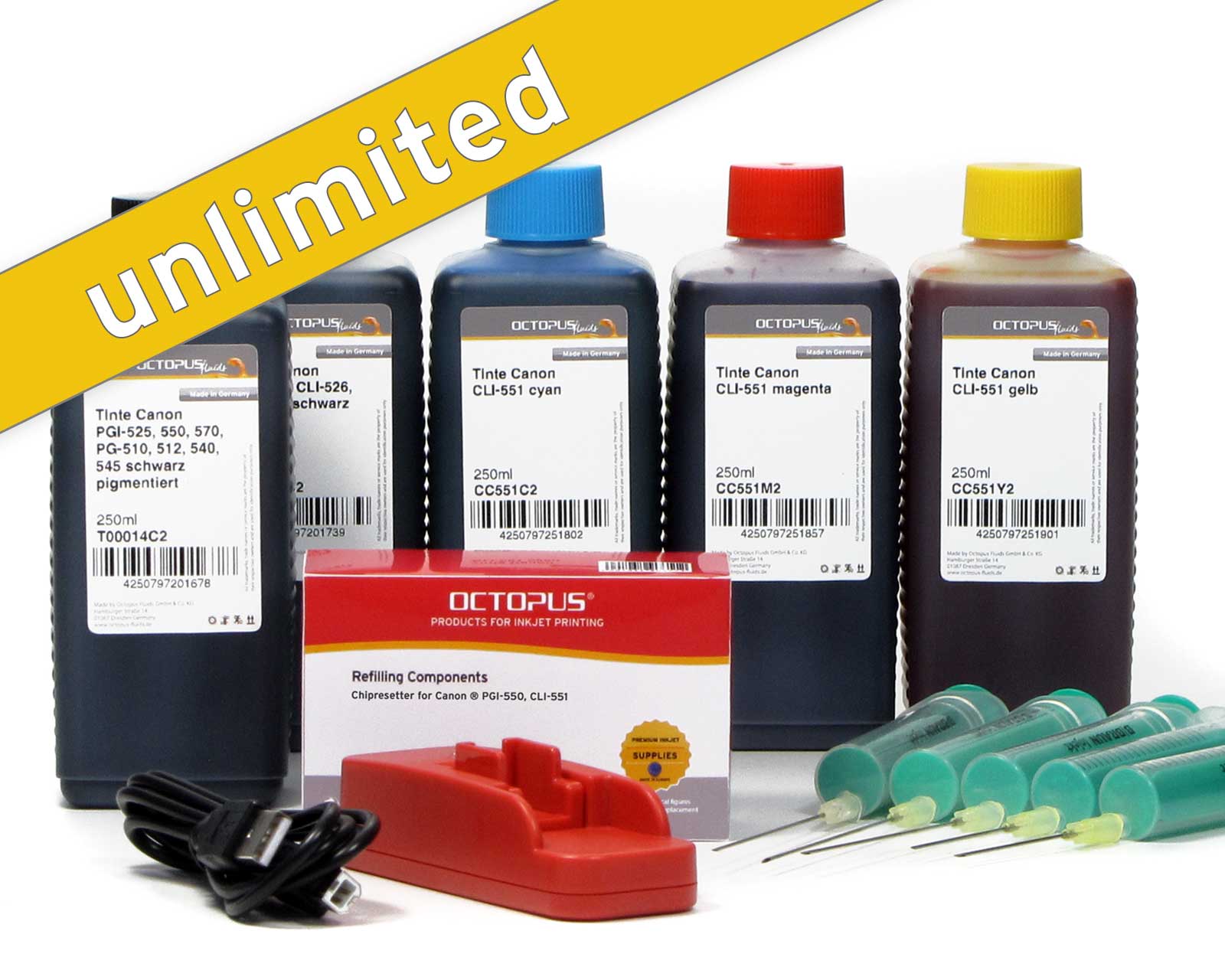 Chipresetter for Canon PGI-550, CLI-551 inkjet cartridges with 5x refill ink
Reset and refill Canon PGI-550 and Canon CLI-551 printer cartridges, this Chipresetter is for unlimited resets
Ink refill kit Canon CLI-551, CLI-551XL color
Ink refill kit with 3 x 50ml of coloured ink for Canon CLI-551, CLI-551XL cartridges.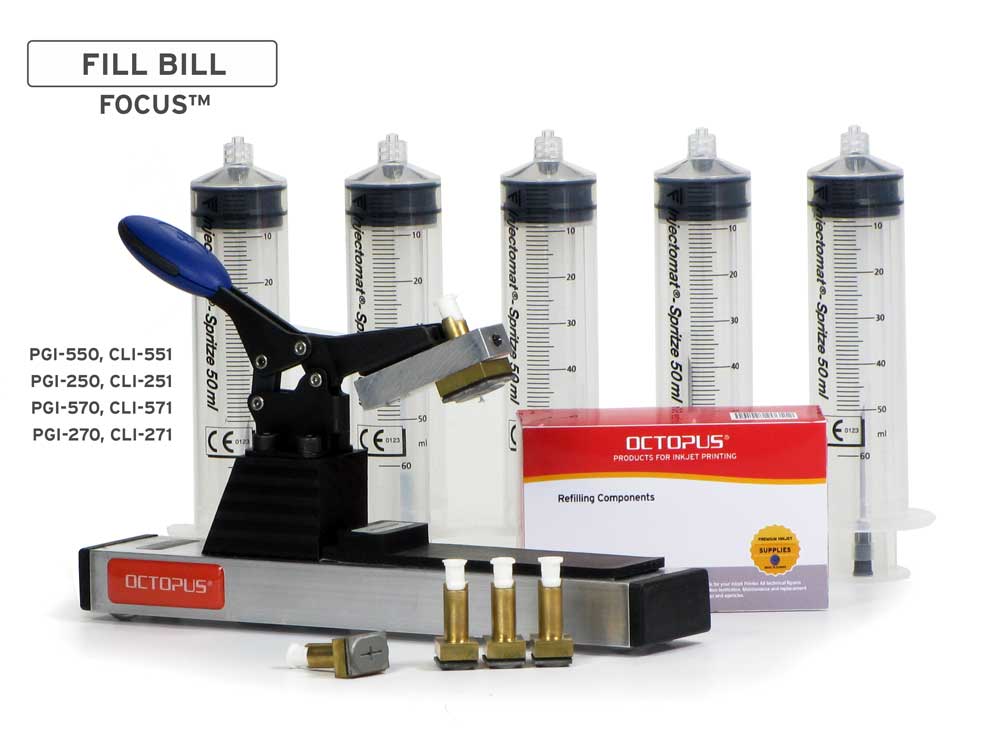 Fill Bill FOCUS CP550 for Canon PGI-550, 570, CLI-551, 571 cartridges
Easy-to-use refill tool for PGI-550, PGI-570 and CLI-551, CLI-571 cartridges. For refilling with the vacuum method, incl. fill cuffs and refill syringes.