Canon Maxify MB 5050 with PGI-2500 printer cartridges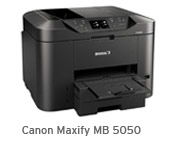 Our test printer for the Canon PGI-2500 ink cartridges is a brand new Canon Maxify MP 5050. With this model we document the installation process when the printer is switched on for the first time, the insertion of the setup cartridge set as well as the ink level messages from the ink chips on the PGI-2500 cartridges. All experiences made during this process are the basis for creating our refill instructions and tips for filling the cartridges and for handling the ink level message or the cartridge chips.
In the further use we give the ink cartridges together with the Canon Maxify MP 5050 into the development laboratory of our ink manufacturer, the Octopus Fluids GmbH & Co. KG. It is located in the same house, one floor below. There the original inks are analysed and the requirements for our new refill inks are documented. The new printer inks developed by our chemists are tested with this device. For this purpose, countless test pages have to be printed on different papers and the ink formula has to be optimized continuously, depending on the results.
Our initial experience in filling cartridges is used again in the laboratory. Because somehow the newly developed refill ink has to be filled in. Here we gather even more experience, which refines our already online instructions.
Only after about 1.000 absolutely satisfying test pages with our Canon Maxify MP 5050 and the newborn Octopus ink the chemists release the refill inks for sale. In the case of the Canon PGI-2500, these are highly pigmented inks with a very large colour gamut and therefore brilliant image printing results.
See in the following video the start-up of the printer.
Translated with www.DeepL.com/Translator