Refill instruction for Samsung ML 1610, ML 1615, ML 2010, ML 2510, SCX 4321
For refilling cartridge Samsung ML 1610, 1615, 2010, 2510 follow the instructions below:
Put the cartridge (picture 1) on the table and remove the marked screws. The side cover is just held by a small holding clip. You can release this cover through a light pressing with a screw driver (picture 2). Lever the cover from the cartridge carefully. You can see the filler opening under the cover now (picture 3). Remove the plug and fill the bulk toner into the cartridge. Close the filler opening after refilling with the closing plug.
Please note:
The cartridge Samsung ML 1610, 1615, 2010, 2510 has to be absolutely leak-free. You can check it through a light tapping of the cartridge on a white piece of paper. There should not trickle any toner out of the cartridge. You can put the cover back on the cartridge afterwards. Fix it with the screws again. Then you have to replace the safety device of the cartridge Samsung ML 1610, 1615, 2010, 2510 with a new one after each filling (pictures 4, 5).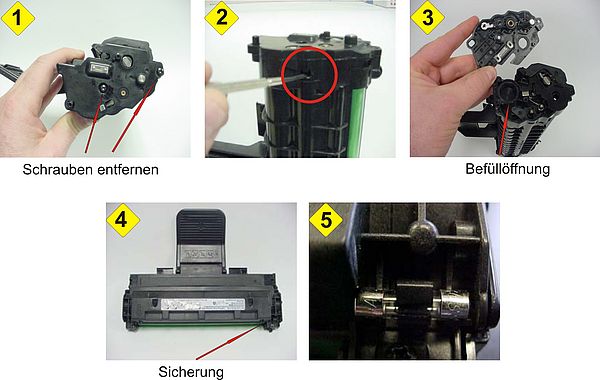 It may happen, that the printerstarts to print out stripes or a grey film after you refilled it 2 or 3 times. In this case the photo conductor drum is exhausted. For changing the drum, you have to disassemble the cartridge. A proper rebuilt instruction may be delivered as well.


OPC Drum for Samsung ML1610, Dell 1100
OPC drum for drum units Samsung ML 1610, 1640, 2240, Dell 1100.