Refill Instructions for Samsung ML-1510, 1710, 1755
Place the cartridge in front of you as shown in the picture. On the side is a closing plug. Before refilling the toner cartridge, you should pour out the rest of the toner powder or exhaust it with an aspirator for toner powders. Otherwise the physical and chemical characteristics of the old and the new toner powders could lead to a formation of clots. Now you can fill in the toner with the help of a funnel. Afterwards you seal the hole with the closing plug. The cartridge is now refilled.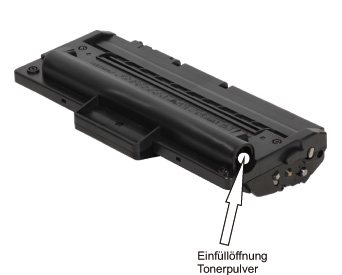 After you have refilled the cartridge for 2 to 3 times it is possible that stripes or a grey veil appear on your printouts. In this case you need to change the drum unit of the cartridge.
Safety instructions for the handling of refill toners
Refill toner and toner powder may cause serious health problems if not handled carefully. We recommend always using breathing protection or suction chambers while filling toner cartridges. Furthermore, toner powder and refill toner can be highly flammable with an appropriate oxygen mixture. Please note as well, that you should touch the photoconductor drum in no case or expose it to direct sunlight. This could lead to faulty print-outs. Octopus Office will not take any responsibility for success or failure of the described procedure.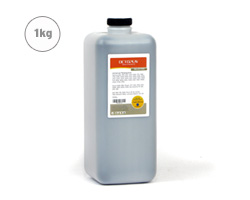 Bulk Uni-Kit Toner for Samsung, Xerox, Dell, Ricoh, Lexmark 1kg
Octopus Bulk Uni-Kit Toner is suitable for more than 100 printer models.