Abstreifer, Wiper Blade (Trommelabstreifer)
Trommel-Abstreifer (Wiper Blade) befinden sich in allen Laserkopierern, Laserdruckern und Lasertonergeräten. Seine Aufgabe ist es die Fotoleitertrommel von nicht auf das Papier übertragenen Tonerresten zu reinigen. Dieser Reinigungs-Prozess dient der Vorbereitung zur Neuaufnahme von Tonerpulver für den nächsten Druckvorgang.
Ein Abstreifer besteht aus einer Metallschiene und einem darauf befestigten Kunststoffstreifen. Er ist ein Verschleißteil der Kartusche. Wenn der Kunststoffteil des Abstreifers zu alt wird färbt er sich oft gelblich. Beim Ausdruck kann es dann zu Geisterbildern kommen. Dies liegt an der ungenügenden Reinigung der Fotoleitertrommel, welche das vorherige Druckbild mit dem Resttoner noch mal druckt. Bei der Wiederbefüllung der Kartusche macht es oft Sinn den Trommel-Abstreifer (Wiper Blade) gleich mit zu wechseln. Sollten Sie die Fotoleitertrommel erneuern sollte der Trommel-Abstreifer unbedingt mitgewechselt werden.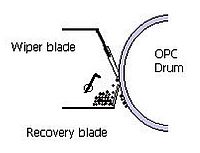 Der Trommel-Abstreifer ist entgegen der Trommellaufrichtung in der Kartusche befestigt. So streift er den restlichen Toner nicht ab, wie es sein Name verrät. Tatsächlich schiebt er den Resttoner von der Trommel. Ähnlich wie wir mit einem Schneeschieber Schnee vor der Garage entfernen. In manchen Fällen kann dies zum sogenannten "Blade Flip" führen. Dabei kippt der Abstreifer nach hinten um. Wie Ihr Schneeschieber wenn Sie zu schnell über ein hervorstehenden Stein schieben. Um diesen Effekt zu vermeiden sollte der Abstreifer bzw. die Trommel nach dem Wechseln entsprechend gleitfähig gemacht werden. Hierfür eignet sich der Einsatz von speziellem Trommel-Puder.
Trommelabstreifer und Trommelpuder erhalten Sie in unserem Onlineshop in vielen Ausfertigung und für fast alle Gerätetypen.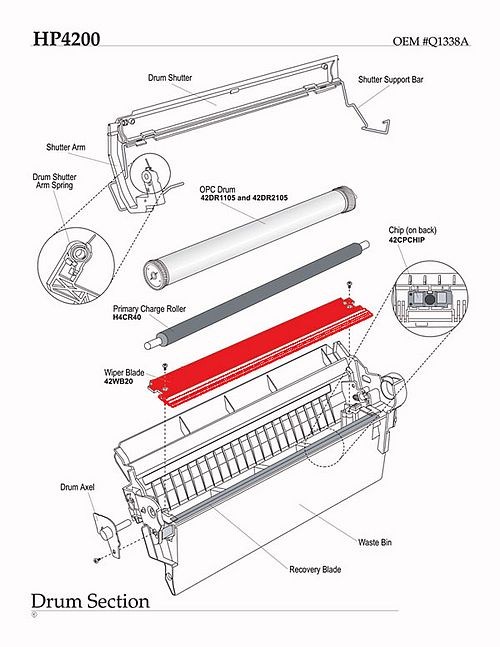 Octopus Refill Toner Powder for Brother HL 2130, 2240, 2250, 2270, TN-2010, TN-2210, TN-2220 (no OEM)
Contains 75g of Toner powder for a print capacity of 2.600 pages at 5% coverage.
Toner powder Brother TN 2320, TN-2310, HL-L 2300, HL-L 2320, HL-L 2340 , 80g
Toner powder for approx. 2,600 pages at 5% coverage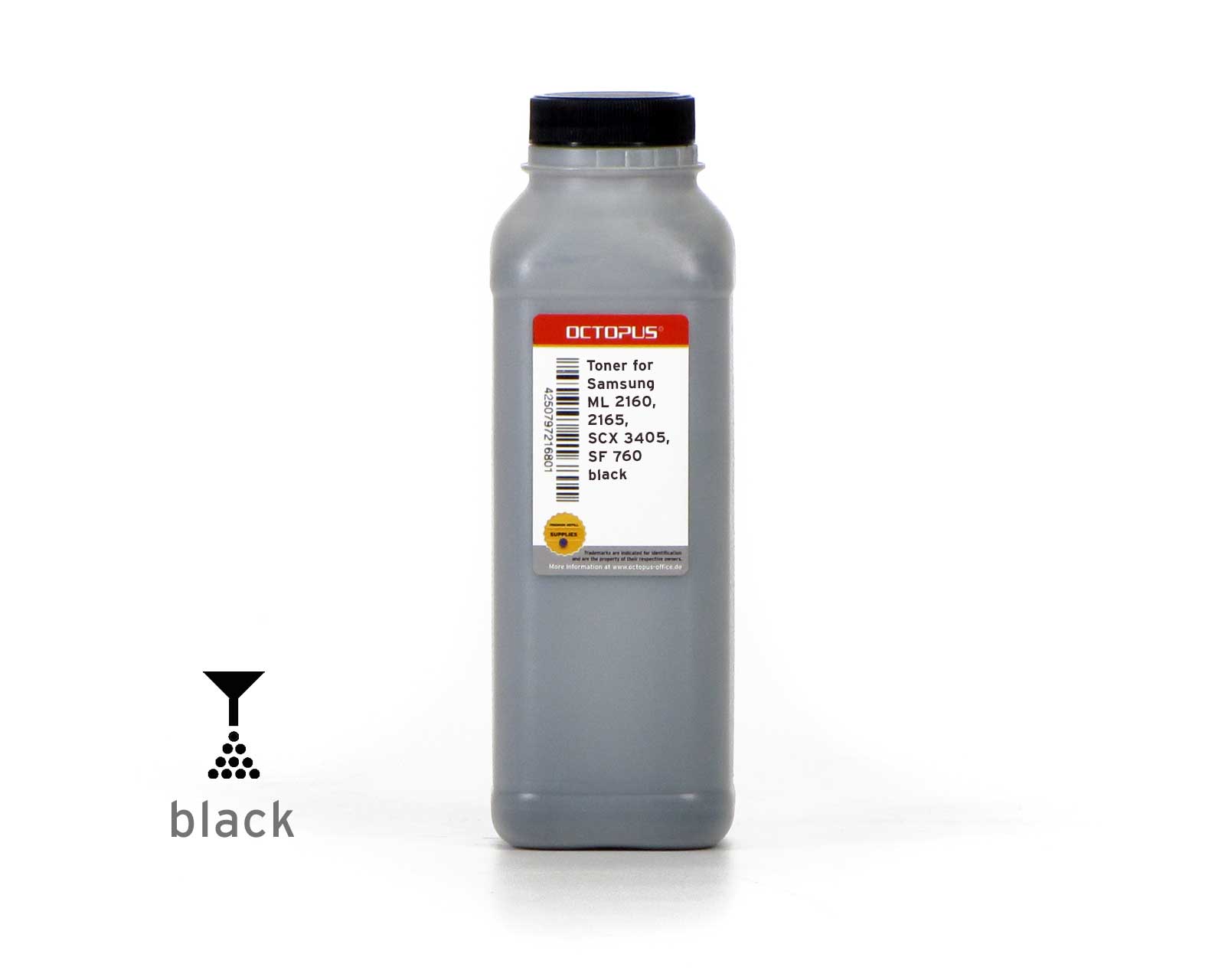 Samsung SL-M 2020, ML 2160, 2165, SCX 3405, SF 760 toner powder, bulk toner
Content: 55g of bulk toner, sufficient for approx. 1,500 pages at 5% coverage.
Toner powder , bulk toner for Brother TN 350, TN 2000, HL 2040, 2070 black
Contains 80g of toner powder for a print capacity of 2.500 pages at 5% coverage.