Refill instruction for Brother cartridges LC-02, LC-04, LC-600, LC-800, LC-50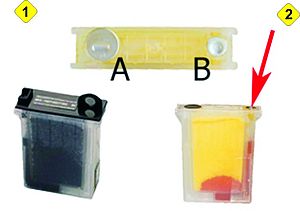 For refilling you need the tools below:
syringes and needles
5 ml of each ink (cyan, yellow, magenta)
cutter knife
adhesive tape
Do the following to refill the cartridges Brother LC-02, LC-04, LC-600, LC-800, LC-50:
Remove the cover of the Brother cartridge from the upper part of the cartridge. The cover is just engaged. You can release it with a small screw driver.
Now you should see two labels. The small label (B) covers the ink suction. You will inject the ink in this suction. The big label (A) covers an connecting area between sponge chamber and aeration chamber.
You can see two more openings on the rear side of the cartridge. One of them is the ink outlet. You have to close this outlet with a piece of tape before refilling. You can identify this opening, because there is some ink on it. Afterwards, you can put the cartridge straight on the table and stab through the label (B) on the upper part of the cartridge with the needle.
Fill the ink into the small chamber until it is full. Wait a moment, so the ink can be absorbed by the sponge. Repeat this procedure until the sponge is saturated up to 5mm under its top level. Insert as much ink as necessary to fill the small side chamber.
Close the cartridge quickly with a piece of tape afterwards, so the sponge won´t absorb more ink. Fix the tape in a way that it doesn´t come off and has no leaky points. The cartridge is now refilled.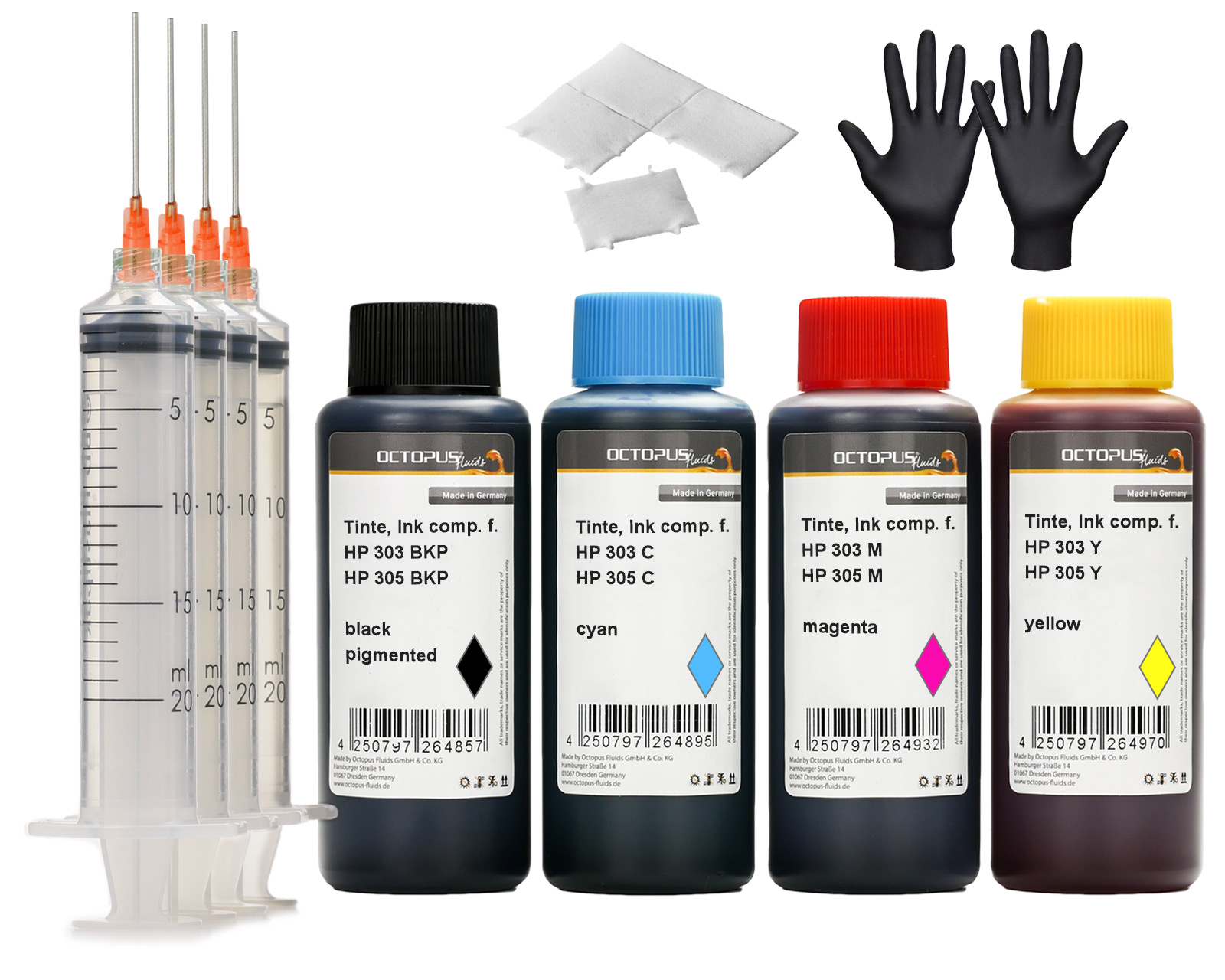 Printer Ink Set for HP 303 and HP 305 Ink cartridges
Printer ink for HP ENVY, Photo 7130, 7134, 6232, 7830, 6230, 6234, 6220, Tango, DeskJet 2700 Series, DeskJet Plus 4100 Series, Envy 6000 Series, Envy Pro 6400 Series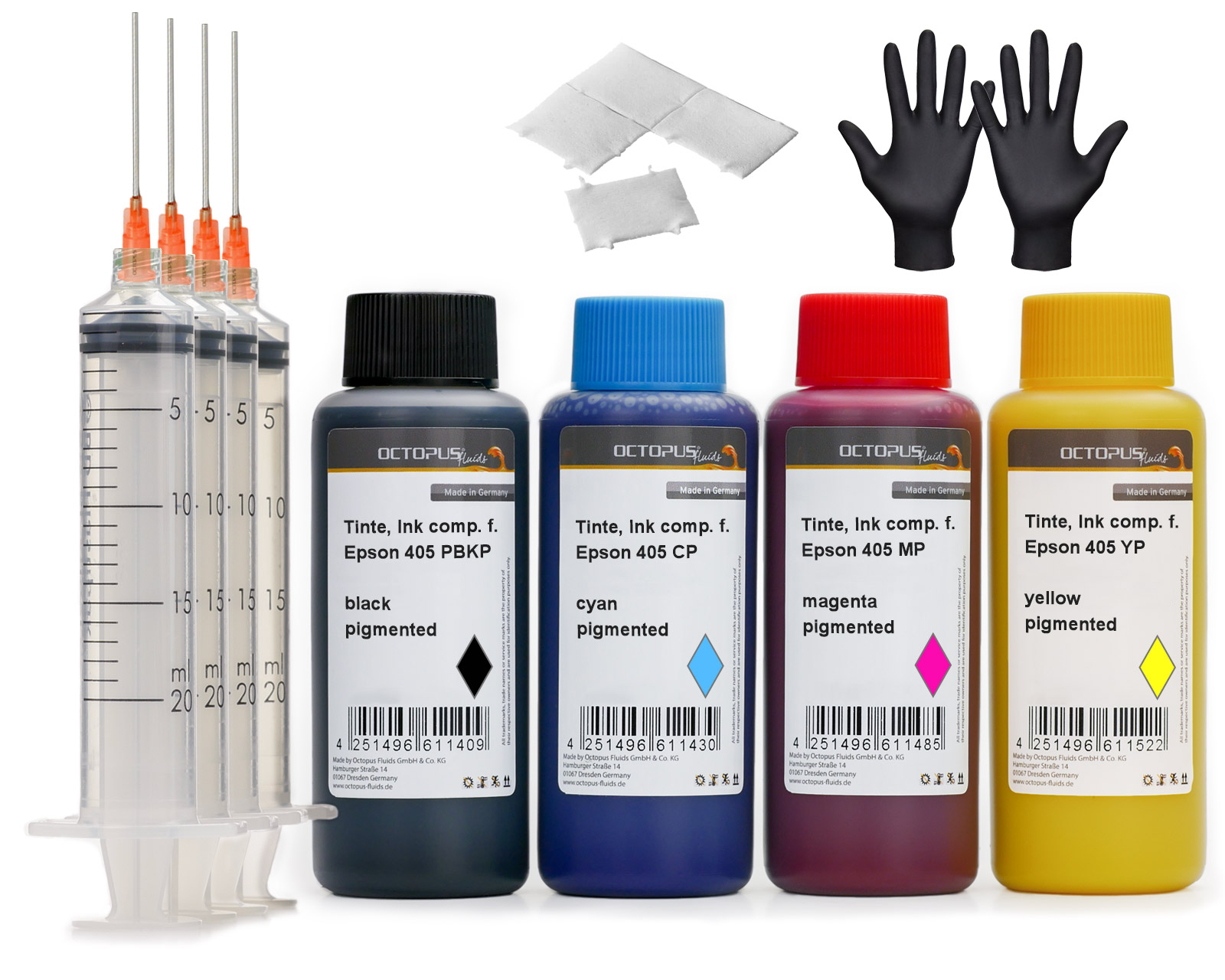 Printer ink set for Epson 405 ink cartridges, WF-3820, WF-4820, WF-7830
Printer ink for Epson WorkForce EC-C 7000, Pro WF-3820, WF-3825, WF-3830, WF-4820, WF-4825, WF-4830, WF-7830, WF-7835, WF-7840, WF-7310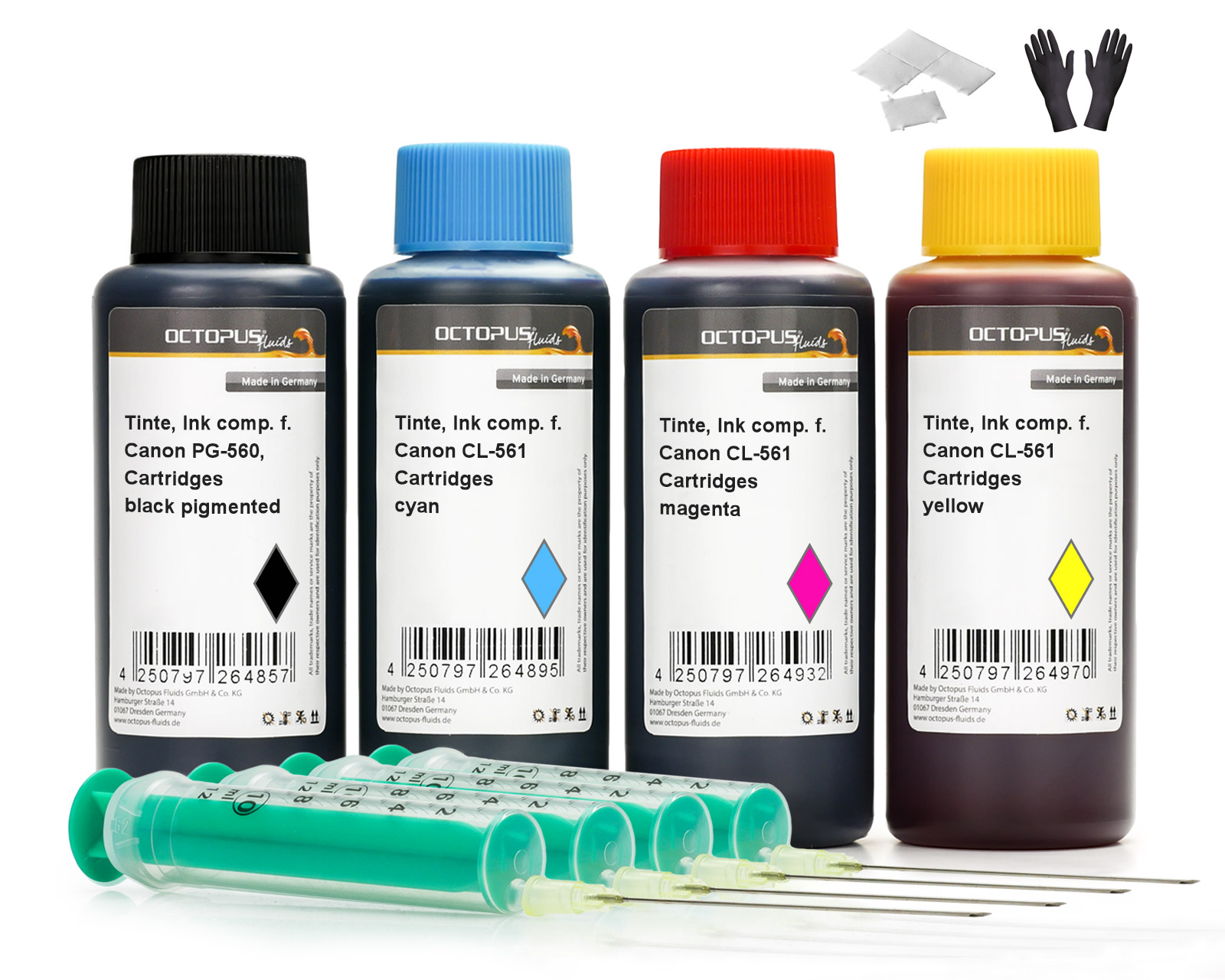 Octopus printer ink set compatible for Canon PG-560, CL-561 ink cartridges, Canon Pixma TS 5300, 7400
Druckertinte für Canon Pixma TS 5300, TS 5350, TS 5350, TS 5351, TS 5352, TS 5353, TS 7400, TS 7450, TS 7450, TS 7451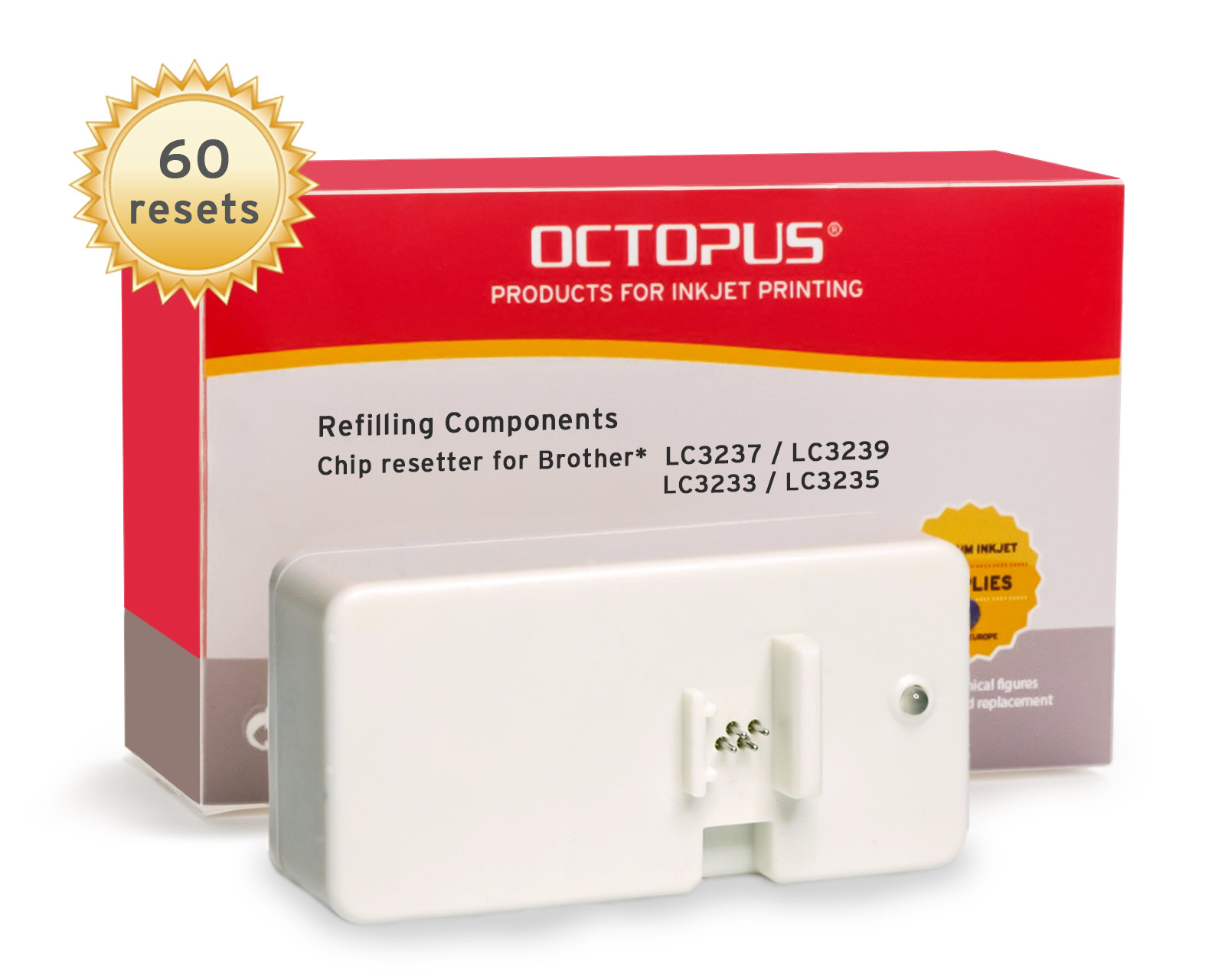 Chipresetter for Brother LC-3237, LC-3239, LC-3233, LC-3235 inkjet cartridges, for 60 Resets
Chip Resetter for resetting Brother LC-3237, LC-3239, LC-3233, LC-3235 und Brother DCP-J 1100, HL-J 6000, HL-J 6100, MFC-J 1300, J 5945, J 6945, J 6947 cartridges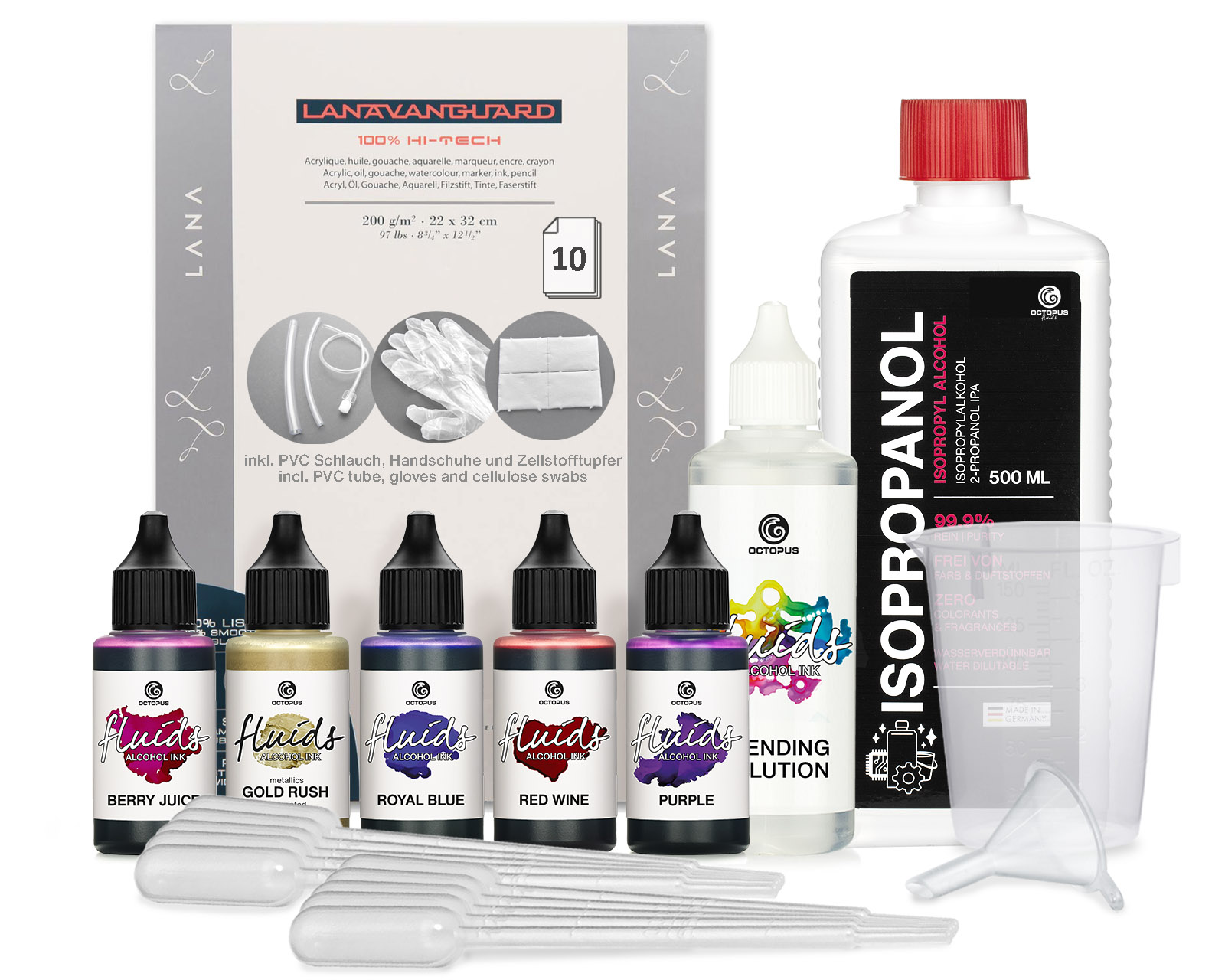 Octopus Fluids Alcohol Ink Complete Kit GOLDEN EVE with Blending Solution, Alcohol Ink Paper and accessoreies for fluid art, 5 x 30 ml
Start now with Alcohol Ink painting with the complete set Octopus Fluids alcohol inks from Germany. 5 colours Alcohol Ink, Blending Solution and all accessories in a set.