Nachfüllanleitung für Kyocera TK-550, FS-C 5200 Cyan, Magenta, Gelb
Die drei farbigen Tonerkartuschen von Kyocera TK-550 sind ebenfalls sehr leicht zu befüllen. Die Farbkartuschen sind etwas schmaler und haben eine in ihrer entsprechenden Farbe gehaltene Oberseite. Jetzt zeigen wir Ihnen, wie Sie Ihre Kyocera TK-550 Tonerkartuschen wiederbefüllen.
Vorbereitung zum Befüllen:
Der Aufwand, um die Tonerkartusche zu befüllen, hält sich in Grenzen. Sie müssen nur mit dem Lötkolben eine kleine Einfüllöffnung hineinbrennen, den Toner nachfüllen und anschließend den Tonerchip austauschen.
Die Einfüllöffnung für das neue Tonerpulver schmelzen Sie mit einem Lötkolben in die farbige Oberseite der Tonerkartusche (Abbildung 1). Entgraten Sie die Ränder der Einfüllöffnung, nachdem Sie diese mit dem Lötkolben hineingeschmolzen haben. Bitte geben Sie acht, dass keine Plastikspäne in das Innere der Tonerkartusche gelangen.Aufgrund unterschiedlicher Druckprozesse, kann es sein, dass sich in der Tonerkartusche noch Resttoner befindet. Diesen Resttoner müssen Sie vor der Wiederbefüllung in einen dichten Plastikbeutel herausschütteln oder mit einem Tonerstaubsauger absaugen.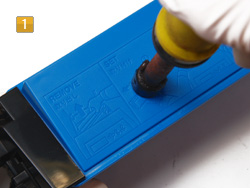 Befüllvorgang an der Tonerkartusche Kyocera TK-550:
Nachdem Sie den Resttoner entfernt haben, können Sie Ihre Tonerkartusche befüllen. Nehmen Sie die Flasche mit Nachfülltoner und schütteln Sie diese leicht auf. Zum besseren Dosieren der Tonermenge empfehlen wir Ihnen einen Einfülltrichter auf die Tonerflasche zu schrauben. Füllen Sie jetzt vorsichtig den neuen Toner in die Kartusche (Abbildung 2).
Um die vorher hineingeschmolzene Einfüllöffnung nach der Befüllung wieder zu verschließen, empfehlen wir Ihnen Gewebeklebeband. Kleben Sie dazu ein passend großes Stück Gewebeklebeband auf die Einfüllöffnung (Abbildung 3). Bitte beachten Sie, dass unter dem Gewebeklebeband kein Toner herausrieseln darf. Wenn doch Toner herausrieselt, kleben Sie das Band noch einmal oder ein neues Stück Gewebeklebeband darauf.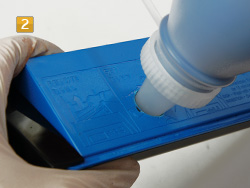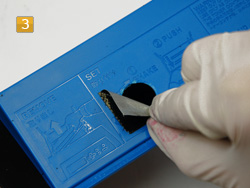 Tauschen des Tonerchips an Kyocera TK-550:
Um den Tonerfüllstand zu überwachen und Sie darauf hinzuweisen wann die Kartusche leer wird, hat Kyocera einen Tonerchip in jede Kartusche eingesetzt. Diesen Chip müssen Sie nach jeder Wiederbefüllung ersetzen.Kyocera benutzt bei vielen seiner Tonerkartuschen RFID-Chips. Diese übermitteln über Funk die Daten an den Drucker. Deswegen ist es auf den ersten Blick nicht offensichtlich, dass man einen Chip austauschen muss.
Bei den farbigen ebenso wie bei der schwarzen Kartusche ist der Chip nur "ein schwarzer Aufkleber" (Abbildung 4). Den alten ziehen Sie vorsichtig ab und kleben den neuen Chip darauf. Jetzt ist Ihre Tonerkartusche wieder einsatzbereit und Sie können diese in Ihren Drucker einsetzen.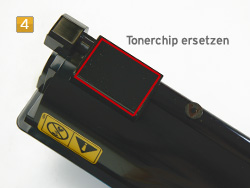 Kyocera TK-550, 552, 554, Toner powder black
Content: 140g of bulk toner, sufficient for approx. 7,000 pages at 5% coverage.
Kyocera TK-550 replacement chip black
Replacement chip for full printing capacity of approx. 7,000 pages at 5% coverage.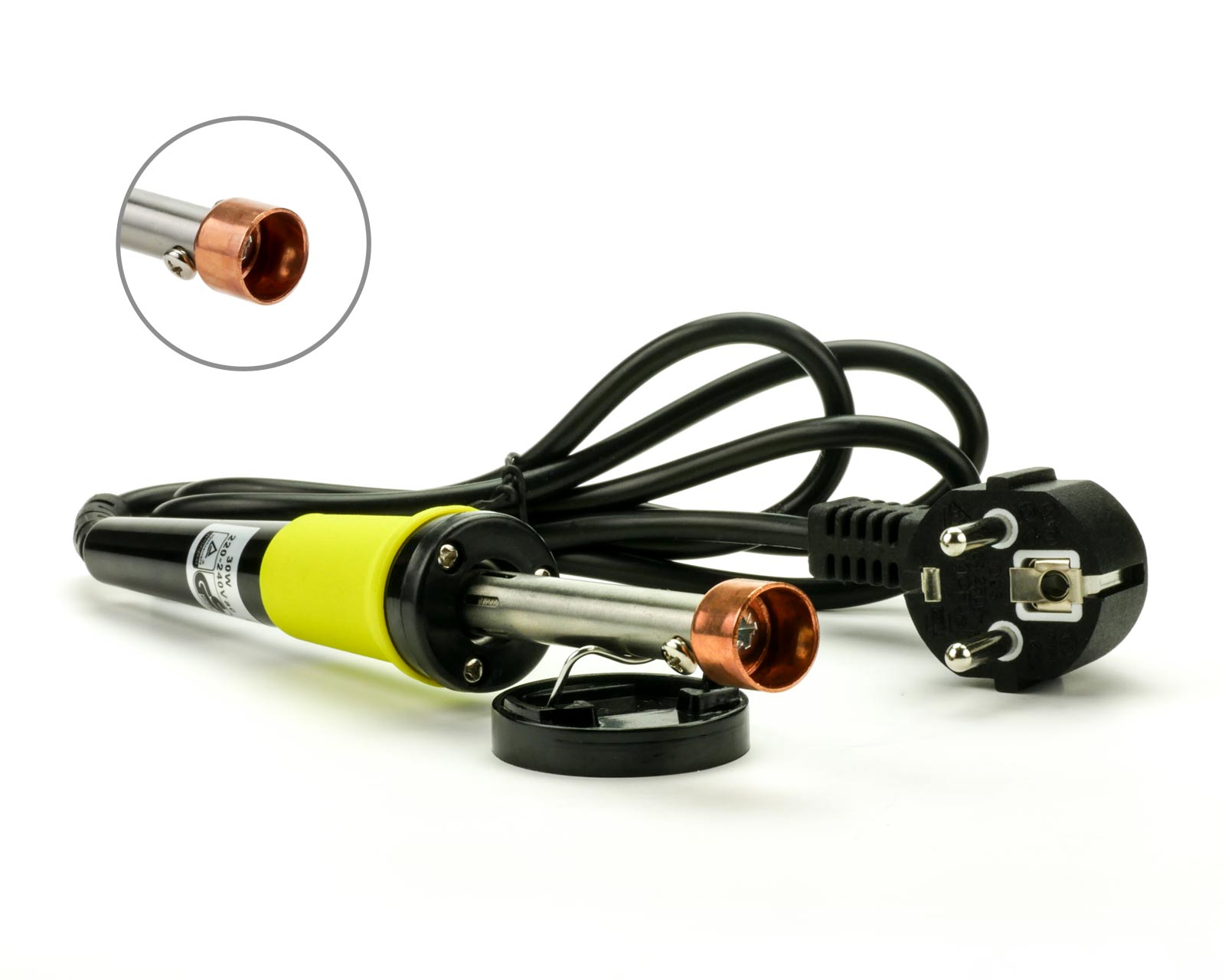 Soldering Iron, Hole making Tool
Use this Soldering Iron, Hole making Tool to melt a fill port into your laser toner cartridge.
Sicherheitshinweis für den Umgang mit Nachfülltoner:
Nachfülltoner und Tonerpulver können bei unsachgemäßer Handhabung Gesundheitsschäden hervorrufen. Wir empfehlen beim Befüllen von Tonerkartuschen ausdrücklich den Einsatz von Atemschutzhilfsmitteln oder Absaugkammern. Darüber hinaus kann Tonerpulver und Nachfülltoner bei einem entsprechenden Sauerstoffgemisch hochentzündlich sein. Achten Sie außerdem darauf, dass Sie auf keinen Fall die Fotoleiter-Trommel berühren oder direktem Sonnenlicht aussetzen. Dies kann zu fehlerhaften Ausdrucken führen.
Octopus übernimmt keine Verantwortung für Erfolg oder Misserfolg der beschriebenen Vorgehensweise.
Alle Hersteller und Markennamen dienen nur zur Kenntlichmachung der Kompatibilität und sind Eigentum der jeweiligen Rechteinhaber. Octopus® übernimmt keine Garantie, Verantwortung oder Haftung für den Erfolg oder etwaige Folgen, resultierend aus den Vorgehensweisen seiner Anleitungen.