Nachfüllanleitung für Kyocera TK-550, FS-C 5200 Schwarz
Die Tonerkartuschen Kyocera TK-550, FS-C 5200 sind wie fast alle Kyocera Tonerkartuschen sehr einfach zu befüllen. In dieser Anleitung zeigen wir Ihnen wie es funktioniert.
Vorbereitung zum Befüllen an Kyocera TK-550:
Um die Tonerkartusche erfolgreich zu befüllen, müssen Sie nur eine Einfüllöffnung mit einem Lötkolben hineinschmelzen und den Chip austauschen. Es ist leider nicht möglich den Chip zu resetten. Nehmen Sie den Lötkolben und schmelzen Sie mit einem heißen Lötkolben eine Einfüllöffnung hinein (Abbildung 1). Nachdem Sie die Öffnung hineingeschmolzen haben, müssen Sie die Ränder entgraten, damit später das Gewebeklebeband besser hält und abdichtet. Achten Sie darauf, dass keine Plastikspäne in die Tonerkartusche gelangen. Dies könnte zu Schäden in der Tonerkartusche führen.
Bevor Sie mit dem Nachfüllen beginnen, müssen Sie den eventuell noch vorhandenen Resttoner entfernen. Schütteln Sie den Resttoner in einen dichten Plastikbeutel aus oder saugen Sie ihn mit einem Tonerstaubsauger ab.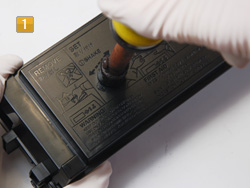 Befüllen der Tonerkartusche Kyocera TK-550:
Nehmen Sie die Flasche mit Nachfülltoner und schütteln Sie diese leicht auf. Schrauben Sie danach den Einfülltrichter auf die Tonerflasche. Füllen Sie jetzt vorsichtig das Tonerpulver in die Kartusche (Abbildung 2). Nachdem Sie den Toner nachgefüllt haben, müssen Sie die Einfüllöffnung wieder verschließen. Nehmen Sie dazu ein passend großes Stück Gewebeklebeband und kleben Sie es dicht über die Einfüllöffnung (Abbildung 3). Achten Sie darauf, dass kein Toner herausrieseln kann.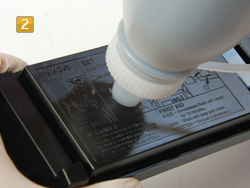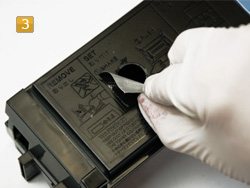 Chipaustausch an Kyocera TK-550:
Da diese Tonerkartuschen von Kyocera über einen Chip verfügt, muss dieser nach jeder Befüllung ausgetauscht werden. Der Tonerchip hat die Aufgrabe den Tonerfüllstand zu überwachen und Ihnen mitzuteilen, dass die Tonerkartusche leer wird. Bei dieser Tonerkartusche ist ein RFID-Chip eingesetzt. Das heißt, das dieser keine normalen Kontaktflächen besitzt, sondern mittels Funk mit dem Drucker kommuniziert.
Desweiteren ist der Chip nicht sofort als Chip zu erkennen. Bei dieser Kartusche sieht der Chip aus wie ein "schwarzer Aufkleber". Das ist der Chip. Den müssen Sie gegen den neuen Chip austauschen (Abbildung 4). Entfernen Sie den alten Chip und kleben Sie an die gleiche Stelle den neuen. Jetzt ist Ihre Kartusche TK 550 wieder befüllt und Sie können diese in den Drucker einsetzen und weiterdrucken.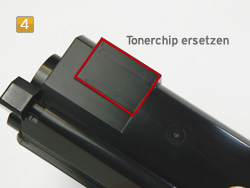 Kyocera TK-550 replacement chip cyan
Replacement chip for full printing capacity of approx. 6,000 pages at 5% coverage.
Kyocera TK-550 replacement chip magenta
Replacement chip for full printing capacity of approx. 6,000 pages at 5% coverage.
Sicherheitshinweis für den Umgang mit Nachfülltoner:
Nachfülltoner und Tonerpulver können bei unsachgemäßer Handhabung Gesundheitsschäden hervorrufen. Wir empfehlen beim Befüllen von Tonerkartuschen ausdrücklich den Einsatz von Atemschutzhilfsmitteln oder Absaugkammern. Darüber hinaus kann Tonerpulver und Nachfülltoner bei einem entsprechenden Sauerstoffgemisch hochentzündlich sein. Achten Sie außerdem darauf, dass Sie auf keinen Fall die Fotoleiter-Trommel berühren oder direktem Sonnenlicht aussetzen. Dies kann zu fehlerhaften Ausdrucken führen.
Octopus übernimmt keine Verantwortung für Erfolg oder Misserfolg der beschriebenen Vorgehensweise.
Alle Hersteller und Markennamen dienen nur zur Kenntlichmachung der Kompatibilität und sind Eigentum der jeweiligen Rechteinhaber. Octopus® übernimmt keine Garantie, Verantwortung oder Haftung für den Erfolg oder etwaige Folgen, resultierend aus den Vorgehensweisen seiner Anleitungen.