Anleitung zum Tauschen der Bildtrommel an Samsung ML-1660, ML-1666, SCX-3200, SCX-3205
Nach zwei bis drei Befüllungen wird die Bildtrommel nicht mehr in der Qualität drucken, die Sie gewohnt sind. Die Ausdrucke sind streifig oder einseitig bedruckt oder entsprechen nicht mehr Ihren Anforderungen. Dann ist es Zeit, die Bildtrommel auszutauschen. Mit unserer Schritt-für-Schritt Anleitung zeigen wir Ihnen, wie Sie die Bildtrommel schnell und einfach austauschen.
Bei sensiblen Bauteilen, wie der Bildtrommel, empfehlen wir Ihnen generell das Tragen von Handschuhen. Desweiteren ist zu beachten, dass die Bildtrommel Licht empfindlich ist und nicht zu lange Helligkeit ausgesetzt sein darf.
Auseinanderbauen der Tonerkartusche Samsung ML-1660, ML-1666, SCX-3200, SCX-3205:
Um die Bildtrommel Ihrer Kartusche Samsung ML-1660, ML-1666, SCX-3200, SCX-3205 austauschen zu können, müssen Sie zuerst die seitlichen Abdeckungen entfernen und die zwei Hälften der Kartusche auseinander nehmen.
Schneiden Sie dazu an beiden seitlichen Abdeckungen die drei Schweißpunkte ab (Abbildung 1 und 2) und nehmen dann die seitlichen Abdeckungen herunter (Abbildung 3). Jetzt müssen Sie noch die zwei Schweißpunkte an der Vorderseite der Tonerkartusche abschneiden (Abbildung 4) und können anschließend den Resttonerbehälter vorsichtig abnehmen (Abbildung 5).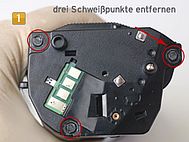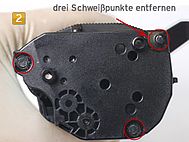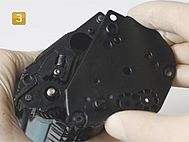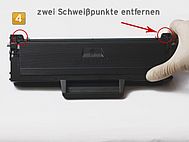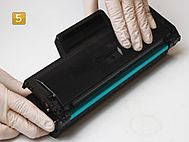 Austausch der Bildtrommel an Samsung ML-1660, ML-1666, SCX-3200, SCX-3205:
Nachdem Sie den Resttonerbehälter abgenommen haben, können Sie darunter die Bildtrommel erkennen. Diese ist auf einer Achse gelagert. Ziehen Sie vorsichtig die Achse heraus (Abbildung 6) und entnehmen Sie die alte Bildtrommel. Die neue Bildtrommel ist in Schutzpapier eingeschlagen. Ziehen Sie das Schutzpapier erst ab, wenn die Bildtrommel eingebaut ist.
Setzen Sie vorsichtig die in Schutzpapier eingeschlagene Bildtrommel ein (Abbildung 7 und 8). Achten Sie darauf, dass die Zahnräder in einander greifen. Jetzt können Sie das Schutzpapier vorsichtig entfernen (Abbildung 9). Achten Sie darauf, dass Sie die Bildtrommel nicht beschädigen und nicht mit bloßen Händen anfassen.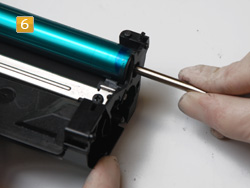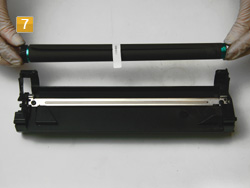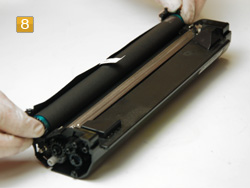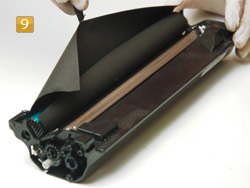 Zusammenbauen der Tonerkartusche Samsung ML-1660, ML-1666, SCX-3200, SCX-3205 nach dem Tauschen der Bildtrommel:
Achten Sie bitte darauf, dass die Achse, auf der die Bildtrommel lagert, auf einer Seite eine Einkerbung hat (Abbildung 10). Somit lässt sich die Achse nur in einer Richtung einbauen. Führen Sie die Achse durch die Bildtrommel hindurch (Abbildung 11). Setzen Sie anschließend den vorher entfernten Resttonerbehälter wieder auf und fügen Sie die seitlichen Abdeckungen wieder an. Achten Sie darauf, dass sich alles leichtgängig und ohne Gewalt zusammenfügen lässt. Durch die neue Bildtrommel werden Ihre Ausdrucke auch wieder qualitativ hochwertig sein.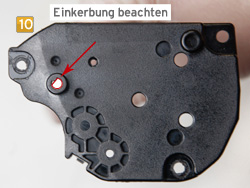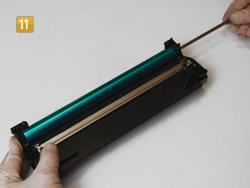 Sicherheitshinweis für den Umgang mit Nachfülltoner:
Nachfülltoner und Tonerpulver können bei unsachgemäßer Handhabung Gesundheitsschäden hervorrufen. Wir empfehlen beim Befüllen von Tonerkartuschen ausdrücklich den Einsatz von Atemschutzhilfsmitteln oder Absaugkammern. Darüber hinaus kann Tonerpulver und Nachfülltoner bei einem entsprechenden Sauerstoffgemisch hochentzündlich sein. Achten Sie außerdem darauf, dass Sie auf keinen Fall die Fotoleiter-Trommel berühren oder direktem Sonnenlicht aussetzen. Dies kann zu fehlerhaften Ausdrucken führen.
Octopus übernimmt keine Verantwortung für Erfolg oder Misserfolg der beschriebenen Vorgehensweise.
Alle Hersteller und Markennamen dienen nur zur Kenntlichmachung der Kompatibilität und sind Eigentum der jeweiligen Rechteinhaber.
Samsung ML 1660, ML 1666, SCX 3200, SCX 3205 toner powder, chip, funnel
Toner refill kit with toner powder, chip and funnel. An all-inclusive kit.
Samsung ML 1660, ML 1666, SCX 3200, SCX 3205 Nachfülltoner
Contains 45g of Toner powder for a print capacity of 1.500 pages at 5% coverage.
Replacement Chip Samsung ML 1660, 1666, SCX 3200, 3205 black
Replacement Chip for a print capacity of 1.500 pages.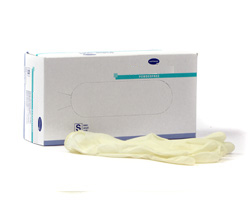 Latex gloves standard, powder free
The Canon Chip Resetter with power supply Canon cartridges PGI-520, CLI-521.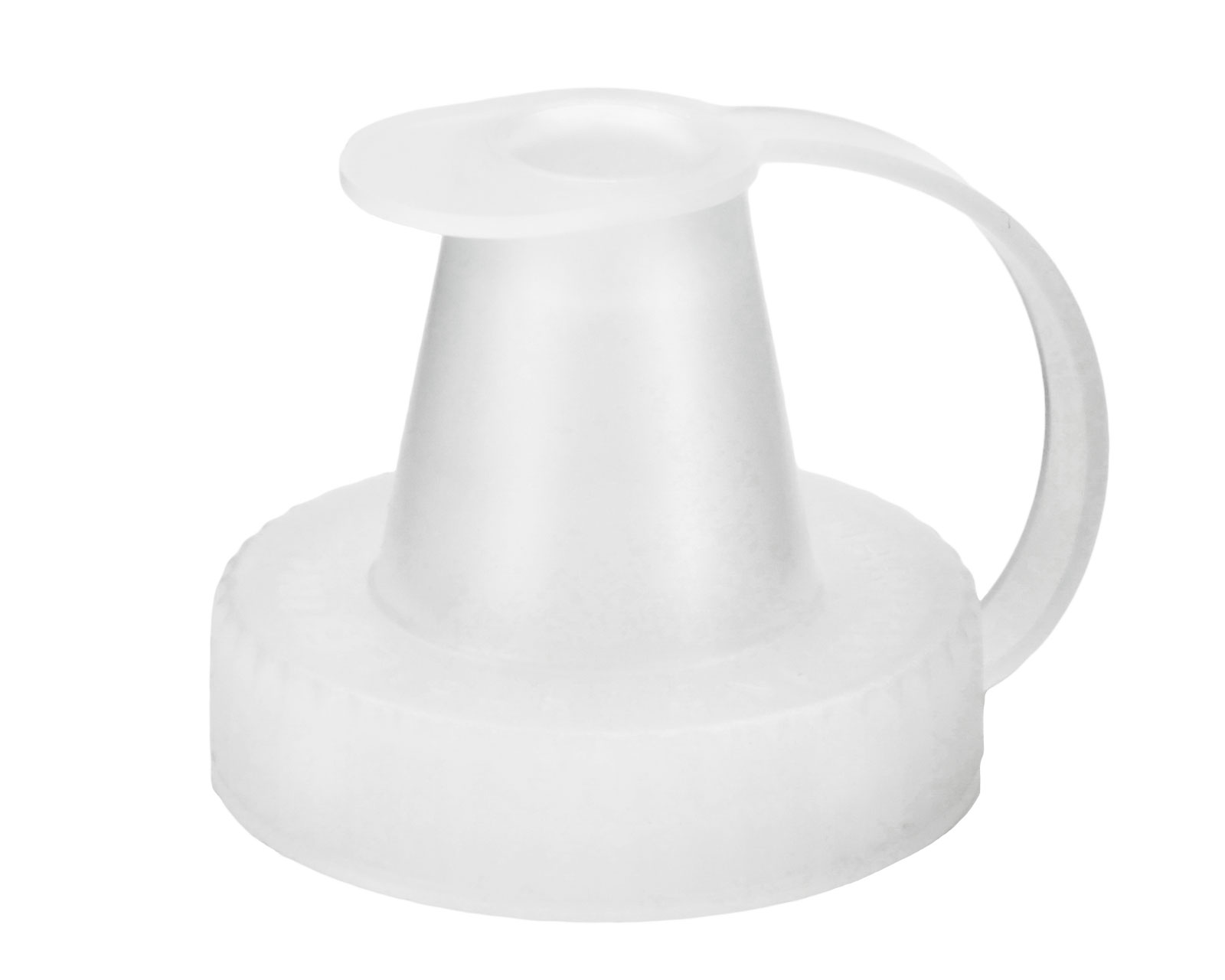 Funnel for Toner Powder, Toner Refills
Toner Funnel for well-directed refills of Uninet Toner Powder.
Remanufactured Laser Toner Cartridge Black Samsung ML 1660, SCX 3000
This MLT-D 1042 S laser toner cartridge has been refilled and all wear parts have been replaced.