Nachfüllanleitung Samsung ML-2950, ML-2955, SCX-4728, SCX-4729
Diese Tonerkartusche Samsung ML-2950, ML-2955, SCX-4728, SCX-4729 ist relativ einfach wiederzubefüllen. Sie müssen nur die seitliche Abdeckung entfernen und schon können Sie den Verschlussstopfen entfernen und die Kartusche befüllen. Danach müssen Sie nur noch den Chip ersetzen bzw. überkleben.
Vorbereitung zum Befüllen:
Nehmen Sie die Tonerkartusche und schneiden Sie vorsichtig die drei Schmelzpunkte ab (Abbildung 1). Jetzt ist die seitliche Abdeckung nur noch mit drei Widerhaken befestigt (Abbildungen 2, 3 und 4). Mit einem kleinen, flachen Schraubendreher können Sie die Widerhaken lösen und die seitliche Abdeckung herunternehmen.
Darunter können Sie den Verschlussstopfen erkennen (Abbildung 5). Entfernen Sie den Verschlussstopfen und legen diesen beiseite; er wird nach dem Befüllen wieder benötigt. Das Entfernen des Verschlussstopfens ist etwas kompliziert und Sie könnten den den Verschlussstopfen kaputtmachen. Deshalb empfehlen wir Ihnen vorsichtshalber gleich einen neuen mitzubestellen. Bevor Sie den neuen Toner einfüllen, müssen Sie den Resttoner, der noch in der Tonerkartusche ist, entfernen. Schütteln Sie diesen in einen dichten Plastikbeutel aus oder saugen Sie den Resttoner mit einem Tonerstaubsauger ab. Aufgrund des häufigen Erwärmens hat der Resttoner andere Eigenschaften als neuer Toner. Dies kann zu Verklumpungen des Toners führen.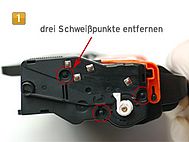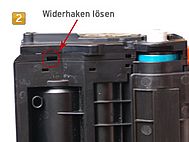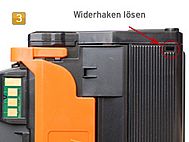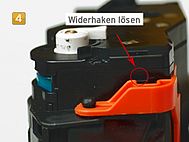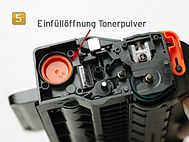 Befüllen der Kartusche Samsung ML-2950, ML-2955, SCX-4728, SCX-4729:
Nehmen Sie die Flasche Nachfülltoner und schütteln Sie diese leicht auf. Schrauben Sie danach den Einfülltrichter darauf und füllen Sie den Toner in die Kartusche ein (Abbildung 6). Wenn Sie den Toner eingefüllt haben, können Sie den Verschlussstopfen wieder einsetzen.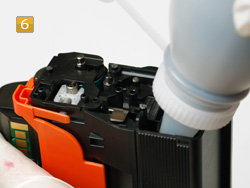 Chiptausch an der Kartusche Samsung ML-2950, ML-2955, SCX-4728, SCX-4729:
Die Tonerkartusche ist mit einem Chip ausgestattet, welcher ausgetauscht werden muss, wenn Sie die Tonerkartusche befüllt haben. Bei dieser Serie von Samsung gibt es zwei verschiedene Füllmengen (1500 Seiten und 2500 Seiten). Dementsprechend gibt es auch zwei unterschiedliche Tonerchips mit den entsprechenden Reichweiten.
Der Chip für die geringere Reichweite wird einfach nur auf den vorhandenen Originalchip geklebt (Abbildung 7) und schon können Sie weiter drucken.
Für den Tonerchip mit der größeren Reichweite (2500 Seiten) muss man die Tonerkartusche auseinanderbauen. Die Anleitung dafür folgt in Kürze.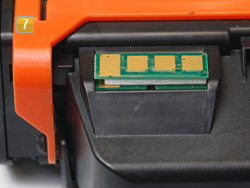 Wenn Sie Ihre Tonerkartusche befüllt und den Chip getauscht oder geklebt haben, können Sie diese wieder in umgekehrter Reihenfolge zusammenbauen. Achten Sie darauf, dass sich alles leichtgängig und ohne Gewalt zusammenfügen lässt. Falls die seitliche Abdeckung nicht hält, können Sie diese mit etwas Klebeband fixieren.
Sicherheitshinweis für den Umgang mit Nachfülltoner:
Nachfülltoner und Tonerpulver können bei unsachgemäßer Handhabung Gesundheitsschäden hervorrufen. Wir empfehlen beim Befüllen von Tonerkartuschen ausdrücklich den Einsatz von Atemschutzhilfsmitteln oder Absaugkammern. Darüber hinaus kann Tonerpulver und Nachfülltoner bei einem entsprechenden Sauerstoffgemisch hochentzündlich sein. Achten Sie außerdem darauf, dass Sie auf keinen Fall die Fotoleiter-Trommel berühren oder direktem Sonnenlicht aussetzen. Dies kann zu fehlerhaften Ausdrucken führen.
Octopus übernimmt keine Verantwortung für Erfolg oder Misserfolg der beschriebenen Vorgehensweise.
Alle Hersteller und Markennamen dienen nur zur Kenntlichmachung der Kompatibilität und sind Eigentum der jeweiligen Rechteinhaber.
Samsung ML 2950, 2951, 2955, SL-M 2870, 2820, 2670, toner powder black, 70g
Content: 70g of bulk toner, sufficient for approx. 2,500 pages at 5% coverage.
Replacement chip Samsung ML 2950, 2951, 2955, SCX 4728, 4729 black
Replacement chip for full printing capacity of approx. 2,500 pages at 5% coverage.
Funnel for Toner Powder, Toner Refills
Toner Funnel for well-directed refills of Uninet Toner Powder.
Protective Mask FFP2
Use this Protective Mask for breathing protection while refilling your Laser Toner Cartridges.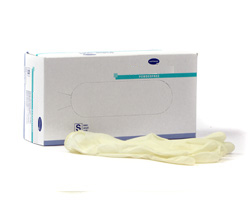 Latex gloves standard, powder free
The Canon Chip Resetter with power supply Canon cartridges PGI-520, CLI-521.
Remanufactured Samsung ML 2950, 2951, SCX 4726 toner cartridge
This MLT-D 103L laser toner cartridge has been refilled and all wear parts have been replaced.